Olas Tacos Bar & Grill
Viva Shoal Bay Beach Tacos!
By: Louise Fayet
Let's taco 'bout Olas! A cute beach shack right on Shoal Bay beach, Olas has been making waves. It is the talk of the island for two reasons that pair perfectly: Tasty beach tacos and a rum punch that contends for "best on-island!"
Welcome To Olas...!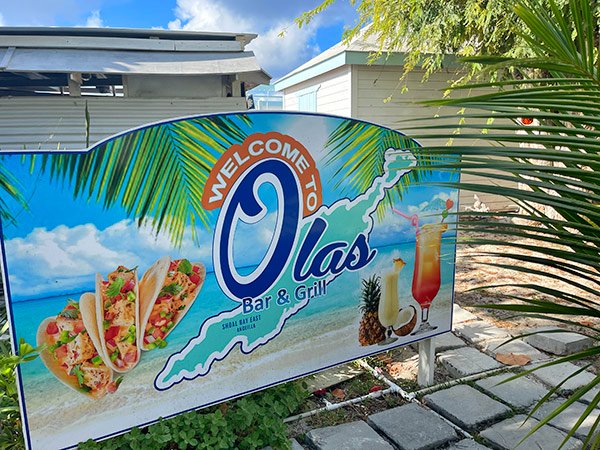 Situated in the middle of Shoal Bay, near Madeariman, Olas is perfectly placed. It is within a few steps of the bay's enticing blue water.
Breathtaking Shoal Bay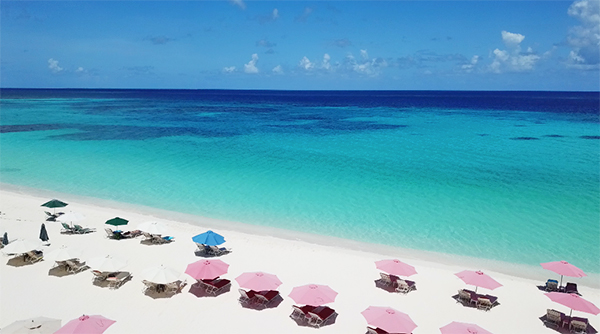 This wooden beach shack is owned and operated by Bev and his partner, Eulandy. Some of you may know Bev, who also runs The Fountain Resort in Shoal Bay.
Hello Eulandy!

Olas is beautifully decorated with dried coconut and palm tree leaves, giving it a warm Caribbean vibe.
We settled at our table where the blue views are plentiful and the relaxing music soothes your soul.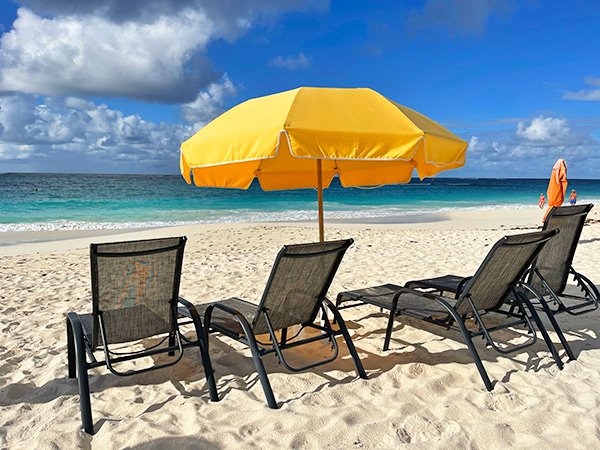 Best Cocktails in Anguilla?
Olas offers an ocean of refreshing drinks to beat the warm Anguilla sun. First up?
Eulandy's Fresh Margarita!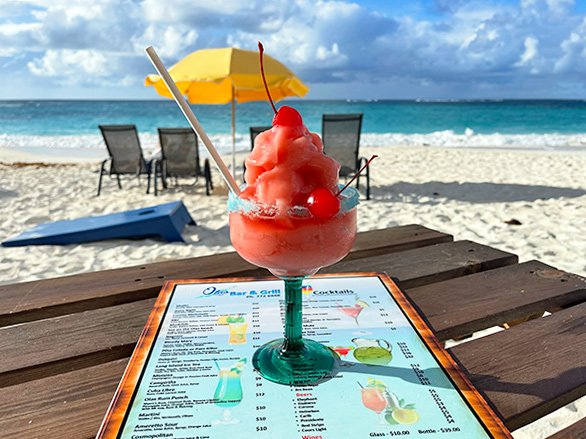 Eulandy fills her cocktails with passion, love and care. Her margarita is prepared with pride. Made with the freshest ingredients, these are extra-refreshing! The passionfruit and mojito go down as BEST on-island.
Mojito & Passion Fruit Margarita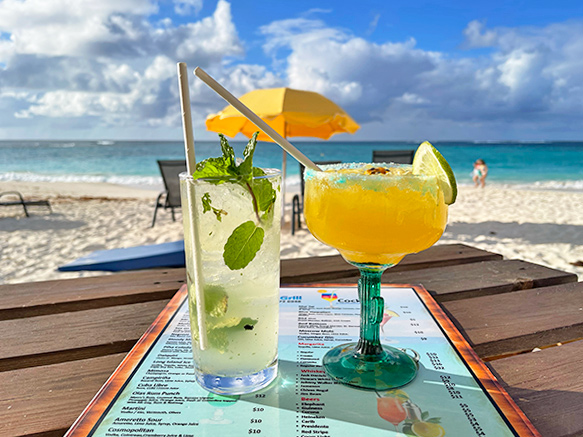 Eulandy has also perfected the recipe for a potent rum punch! We watched as she sliced fresh fruit - and she did not skimp out on the rum! These rum punches are as strong as they come.
Eulandy's Famous Rum Punch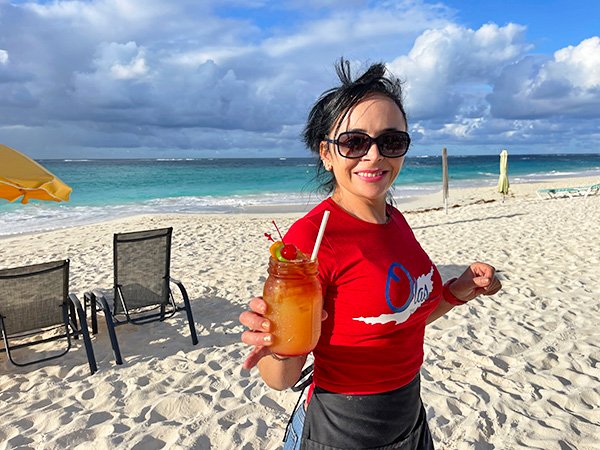 From the frozen section we also sampled the pina colada which had a unique twist. It is made with plenty of fresh ingredients and real chunks of coconut.
Pina Colada & Fruity Fresh Rum Punch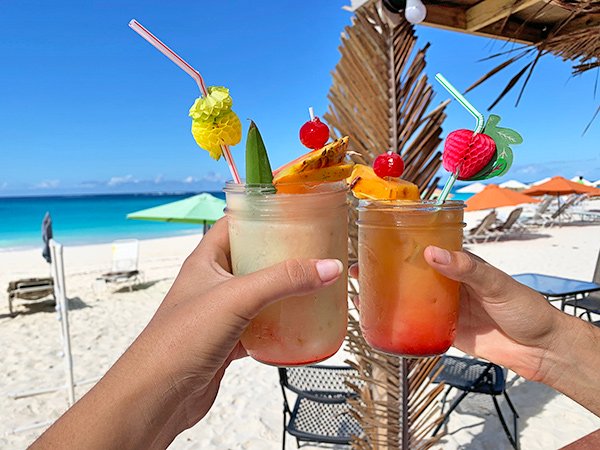 Speaking of frozen drinks, you can't leave without trying Eulandy's frozen margarita. She will color it an eye-catching electric blue if you ask. Margarita options don't end there. The Red Bottom is picturesque. A potent cocktail, it is made with Silver Tequila, Grand Marnier, St. Germaine, fresh lime juice and sweet grenadine.
Refreshing Frozen Margarita & The Classy "Red Bottom"

With our cocktails in hand, tacos called...
A Spec-taco-lar Lunch!
The menu begins with appetizers of green salad, onion rings, freshly made guacamole, salsa and chips, picaditas and...
Yummy Chalupas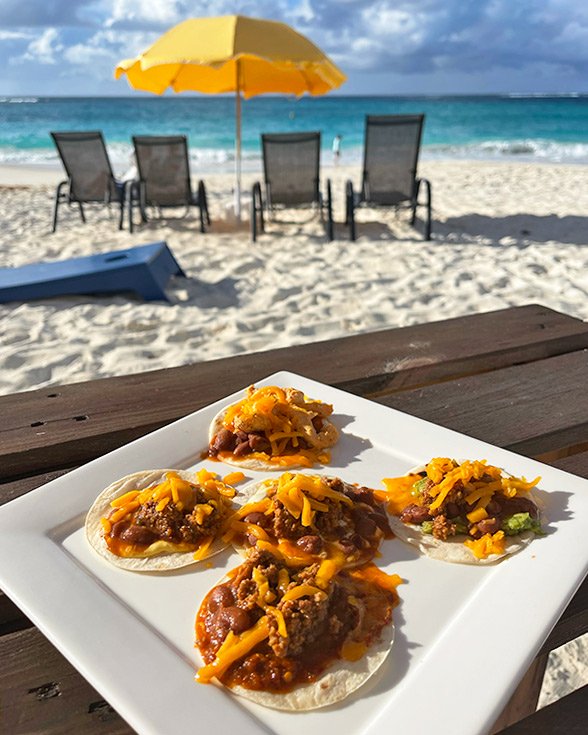 A specialty dish of Mexico, these five mini chalupas pack a whole lot of flavor. It is a great plate for sharing.
If you love tostones as much as I do, then Olas will make your day. Their Topped Tostones are locked and loaded!
Olas' Loaded Tostones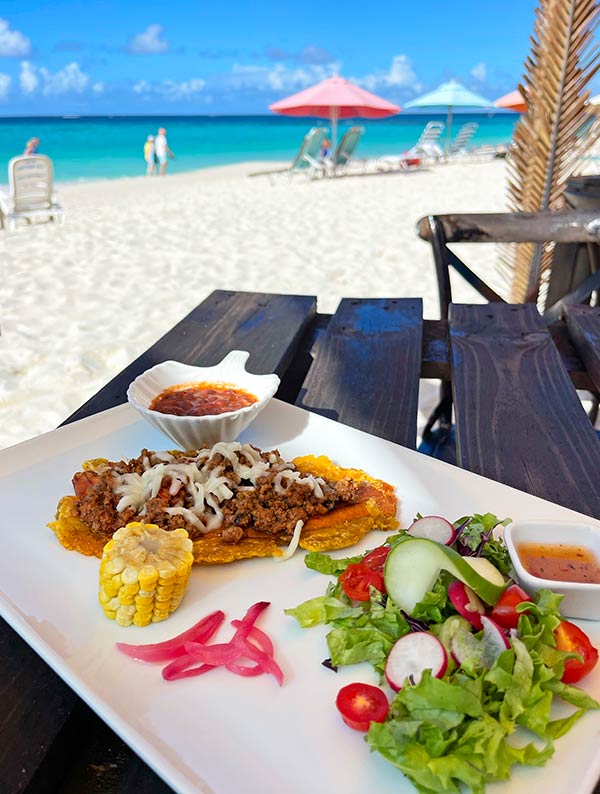 This gigantic tostone is patted down and fried until a crisp, golden brown. It is topped up with a savory, meaty salsa and served with a side of boiled corn, beans and a green salad made up of fresh lettuce, cherry tomatos, zesty radishes and a light vinaigrette.
This is one hearty starter!
Looking for a lighter bite? Start with Olas'...
Crispy Tortilla Chips, Salsa & Guacamole

Freshly made and served with spicy salsa and creamy guacamole, these crispy chips are a pleasure 'til the last bite.
After starters, the menu explands into a variety of kebabs, fajitas and tacos, burritos, tostadas, chimichangas and quesadillas. Choose your filling: Grilled mahi mahi, chili lime chicken, Al Pastor pork, steak, ground beef, grilled lobster, shrimp, cauliflower and veggie mixes.
First up, as recommended by our waitress...
Grilled Mahi Fish Tacos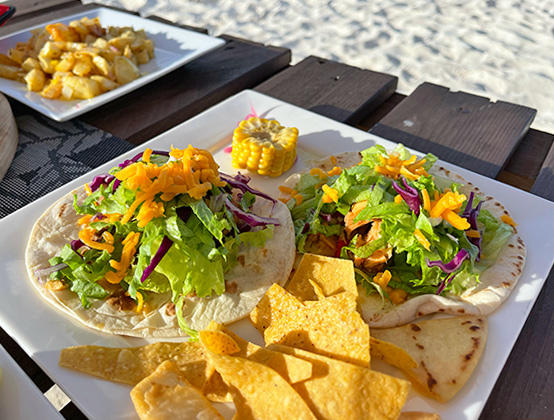 Fresh grilled fish tacos are topped with lettuce, pico de gallo, lime cream, chipotle mayo, jalapeño and grated cheddar cheese. I absolutely loved these tacos, dipping them in the lime cream made them even better! All tacos are served with chips and boiled corn.
Room for more? Don't miss the shrimp tacos...
Shrimply Amazing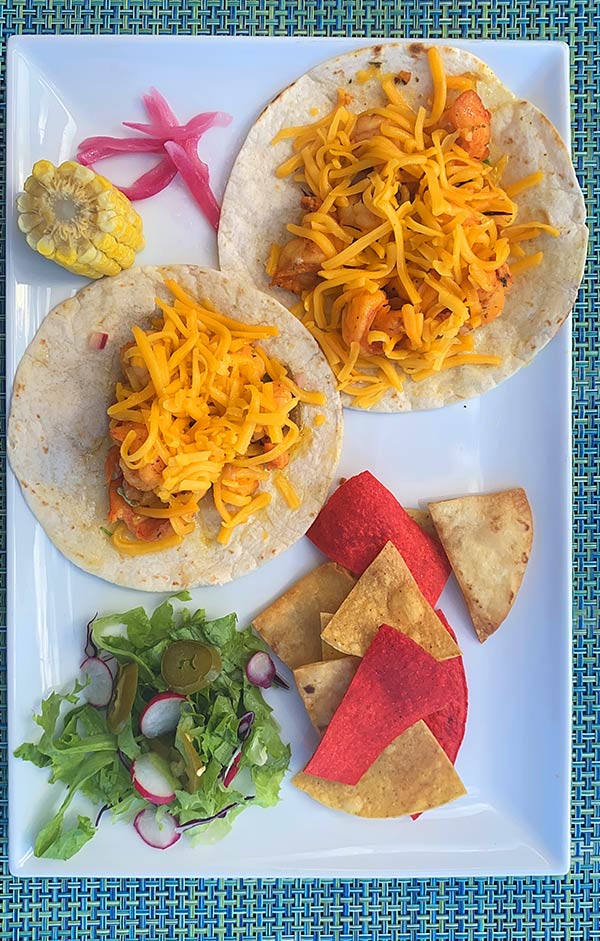 Eulandy's team tops these savory shrimp tacos with an abundance of cheddar cheese.
Most highly recommended of all? Olas' vegan tacos, served in a hard shell. A mix of quinoa, garbanzo beans and guacamole fills each taco. The quinoa is prepared with coconut oil, giving each bite rich flavor.
Olas' Rich & Refreshing Quinoa Hardshell Tacos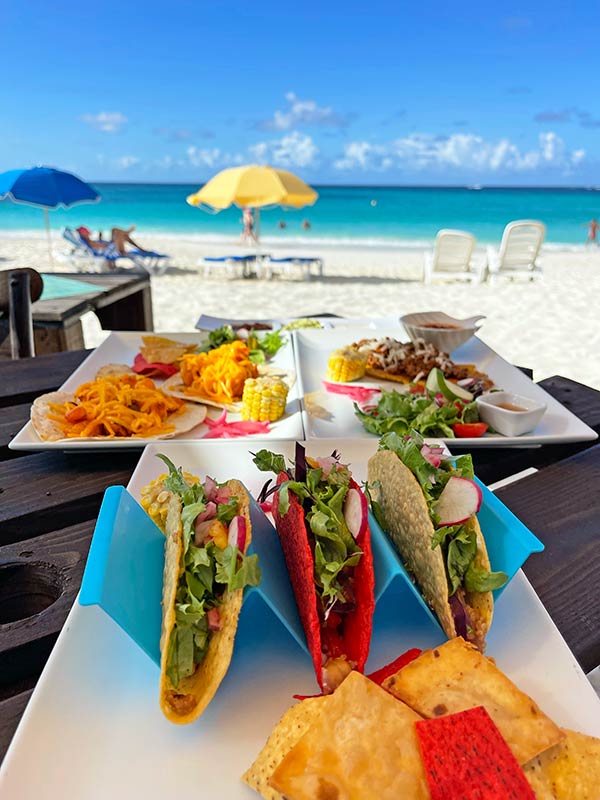 These tacos are topped with lettuce, a slice of radish, purple onion and a drizzle of sweet pico de gallo. Spicy salsa, guacamole, and sour cream are served on the side.
These tacos are healthy and delicious!
Next up, the Adobo steak quesadillas...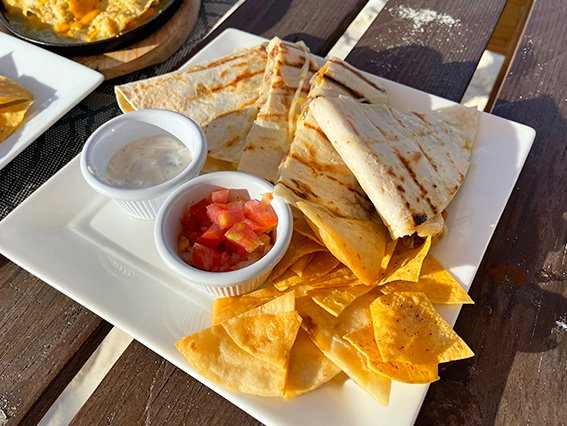 Olas' quesadillas are loaded with flavor! Our favorite? The Adobe Steak quesadillas. Succulent pieces of steak are grilled to perfection and layered with chipotle mayo, cheddar cheese, lettuce and jalapeños. These come with a side of chips and tomato salsa.
Lastly from this section...
Al Pastor Pork Enchiladas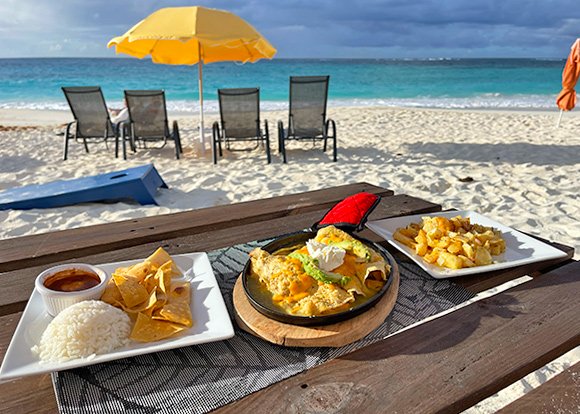 Two enchiladas are served in a hot iron pan. The pork enchiladas are mixed with pineapple and covered in a sweet sauce. The whole creation is finished with sour cream, cheese and slices of avocado. The dish also comes with a side of chips, rice and beans.
The menu doesn't end there. Olas features a variety of sides. Choose from beans, tostones, fried plantain, onion rings, french fries, sweet potato fries and sautéed potatoes.
Delicious Sautéed Potatoes

In addition to Mexican flare, Olas serves up classic beach burgers, chicken wings, grilled lobster, salmon, crayfish and so much more.
Scrumptious Bacon Cheese Burger

For dessert, what makes a sunny day on Shoal Bay even better?
Homemade Warm Brownie with Ice Cream

If you're craving something super cool, Eulandy's Mudslides make for an excellent dessert drink.
Did Somebody Say, "Mudslide?"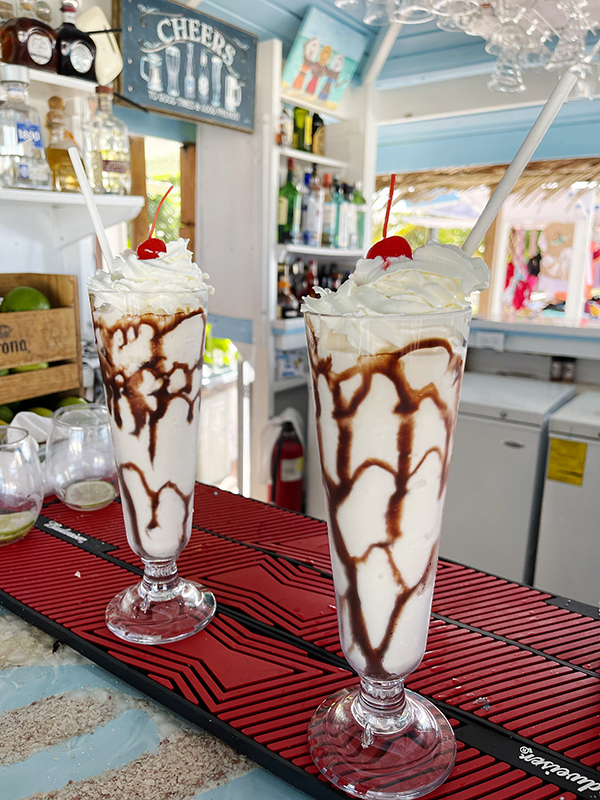 Olas' Beach Boutique
After lunch, browse Olas' beachside boutique.
Olas' Beachside Boutique

Eulandy is passionate about her beachside outpost. She hand-picks all of the inventory, including sun visors, hand-woven beach totes, bikinis, rashguards and a variety of Shoal Bay and Olas' t-shirts.
After a little shopping, what's next for your beach day itinerary?
It's simple.
Grab a Corona Michelada and hang out...
The White Sands of Shoal Bay are Calling!
From location, to vibe, to drinks and food, Olas lives up to the hype!
Hours: Open daily from 11am-6pm
Tel: (264) 772-6948
Menu: Click here