Bar Soleil...
Malliouhana's Iconic Sunset Bar
By: Louise Fayet
Malliouhana has long been one of the island's top spots come sunset hour. Perched high on dramatic cliff-top, the resort offers a breathtaking view across Meads Bay and to the horizon.
Welcome to Malliouhana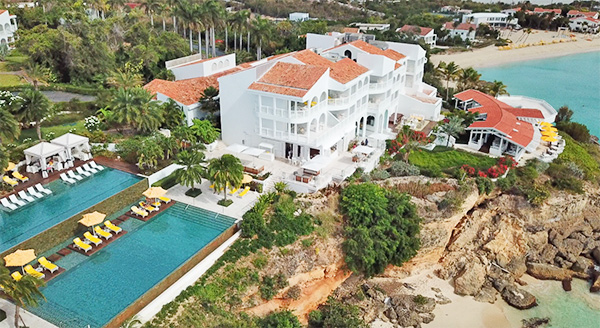 This view is one of the many reasons why Malliouhana's bar is an iconic spot. Previously called Sunset Bar, Malliouhana's famous bar is back, now named Bar Soleil.
Welcome to Bar Soleil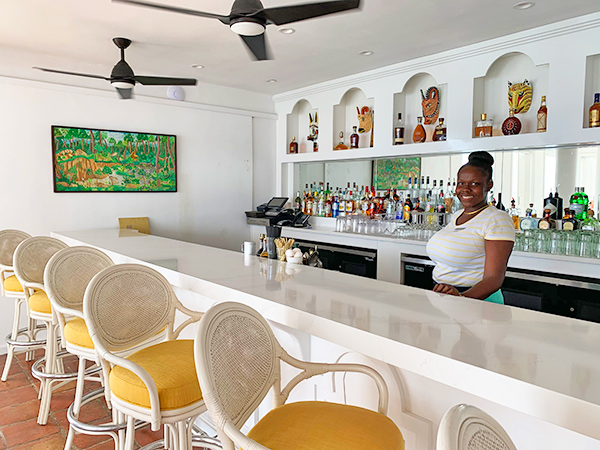 Step Inside Bar Soleil
The bright, chic room opens to the sea with spacious lounge seating lining the walls.
Wrap Around Lounging

The open-air seating allows for large partys to relax, loosen up and enjoy the upscale ambiance.
Large wooden shutters fold back, letting a gentle sea breeze blow in. The view of the blue sea and sky make you feel like you are sitting in a sky tower.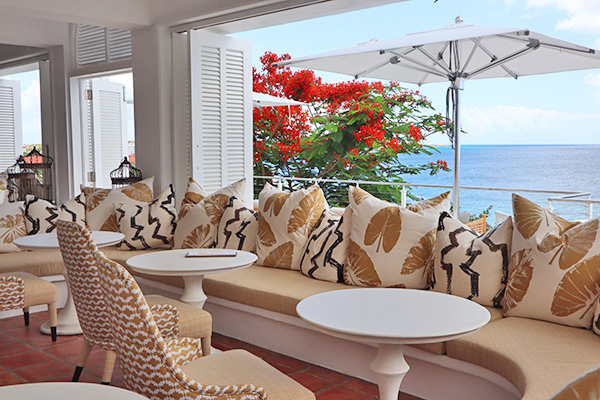 Further inside the bar, and slightly separated by white columns, are two more open dining areas. These dining areas are adorned with splashes of blue and Malliouhana's classic Haitian artwork.
Out on The Terrace
For a closer look at Anguilla-blue, outdoor seating is plentiful at Bar Soleil.
Arched Doorway to The Outdoor Terrace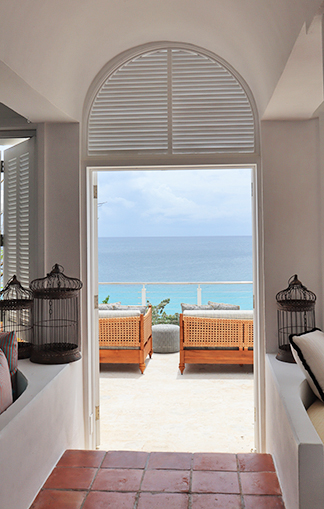 Plush, oversized couches line the terrace. A jaw-dropping panoramic ocean scene lays before you.
Outside Seating With Blue Views

Around the corner and adjacent to the pool, more lounging couches invite you for cocktails and dining pool-side.
Pick a spot to unwind and let your sweet waitress tend to your every need.
Imaginative Cocktails
Another defining aspect to Malliouhana's Bar Soleil? The beautiful and unique cocktails. One look at the cocktail menu and you are sure to be impressed.
Ocean Views & Soleil-Rita

We settled into the afternoon with the Ocean Views and Soleil-Rita.
Luminous with a vivid shade of blue, Ocean Views is eye-catching! The delightful cocktail is made with silver rum, ginger liqueur, Prosecco and most delightful of all, fresh mint grown on the Malliouhana grounds. A bubbly surprise, Ocean Views leaves you care-free and completely refreshed.
Cocktails to Match The View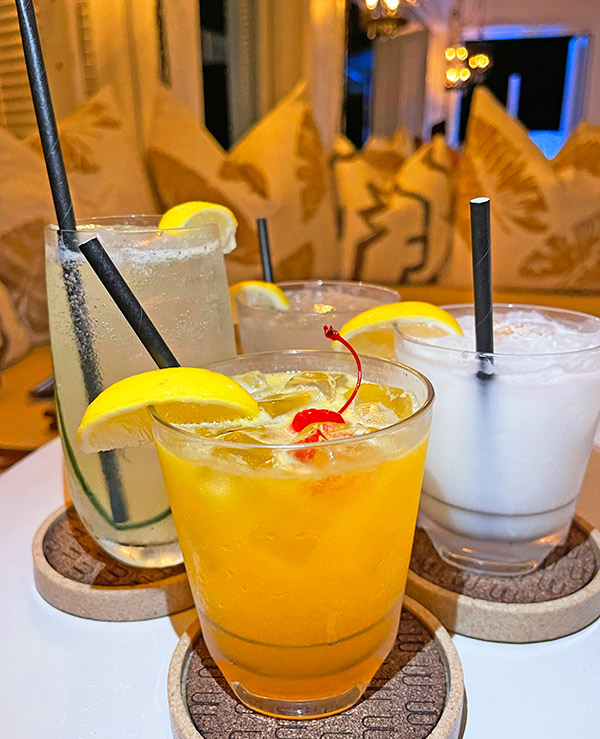 The Soleil-Rita on the other hand is made with Don Julio Reposado, Cointreau, passion fruit, lime and citrus-passion flower espuma. It is finished with freshly picked basil leaves from the property. Sweeter than Ocean Views and equally enjoyable.
What's For Lunch?
In addition to serving up creative cocktails, Bar Soleil serves lunch daily. The menu begins with a selection of dips including guacamole, Caribbean red pea hummus and...
Smoked Eggplant Dip

A smooth mixture of smoked eggplant and garlic, the dip is garnished with minced basil and powdered paprika. The smoky eggplant is nicely enhanced by the bite from the garlic. The dip is served with crisp, toasted pita.
The menu continues with two types of crudos. The Ahi Tuna Poke is one of the restaurant's most popular menu items. From there, the menu moves into a large selection of salads such as watermelon panzanella, roasted beet salad and butternut squash.
An uncommon finding at restaurants in Anguilla, Bar Soleil's menu offers a selection of "Pitas."
Blackened shrimp, avocado, grilled chicken & bacon or...
Crispy Fish Pita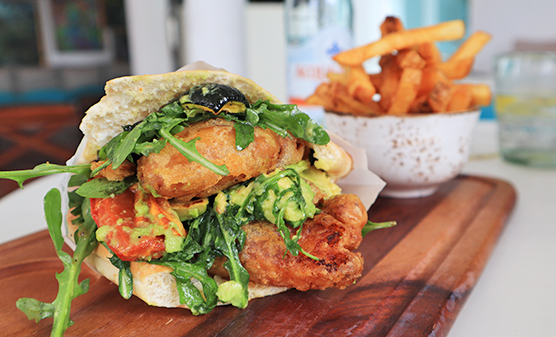 What a whopping pita! This pita is filled with fresh fish, coated and fried in a crispy batter. What else is inside? Smooth avocado, sweet tomatoes, grilled slices of zucchini and a tangy tzatziki. All ingredients blend together perfectly. This crispy fish pita is one of the best I have had!
The dish comes with your choice of French fries or a salad. Who are we kidding? It is almost impossible to not choose French fries ;-)
After the "Pitas," the menu expands into the "Classics." Classics include a decadent cheeseburger with garlic aioli and Chef Jusman's recommendation...
Jerk Chicken Club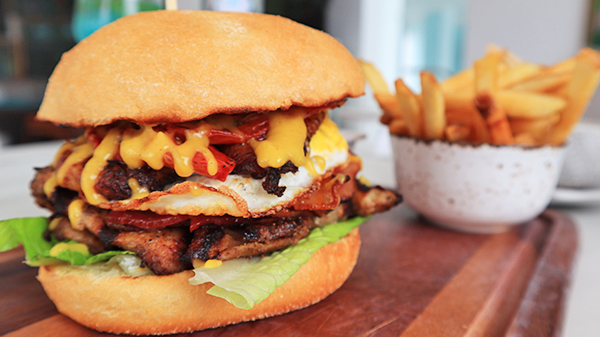 We thought the Crispy Fish Pita was a mouth full... until we saw the Jerk Chicken Club!
This sandwich stacks jerked chicken strips on fried sweet plantain, a fried egg, lettuce and strips of bacon. Most scrumptious of all, the burger is slathered with a mango ketchup. Enclosed in two soft buns, this burger is INCREDIBLE.
Bar Soleil Desserts
Lunch is not complete without a sweet treat. Luckily Bar Soleil knows how to satisfy your sweet cravings! Chocolate walnut brownie, ice-creams & sorbet, pineapple compote, Pyrat rum chocolate crumble and...
Banana Caramel Split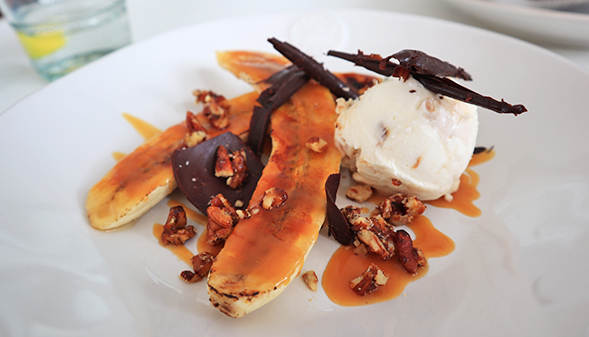 A banana is split in half and covered in caramel. The tops of the banana are completely caramelized. On the side? A generous scoop of toffee ice-cream. All topped off with hazelnuts, walnuts and chocolate shavings, it is the most chic banana split!
Last but not least?
Panna Cotta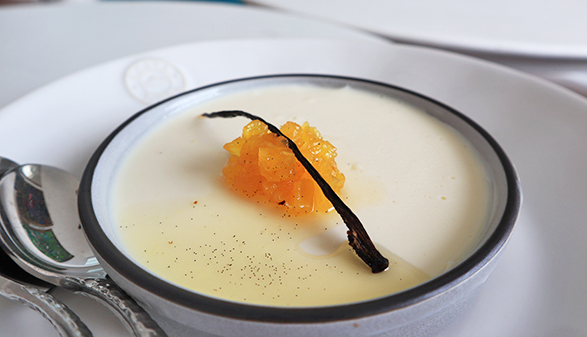 The presentation is most elegant! Creamy white chocolate panna cotta is topped with real vanilla bean and cubed jelly.
As we dined inside, curious birds roamed the luscious gardens of Malliouhana.
Thrush Bird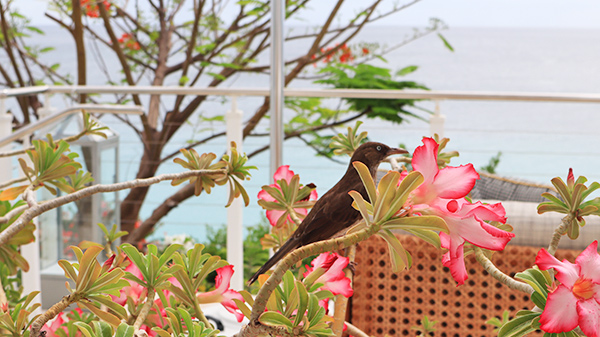 Parting is always such sweet sorrow, sweeter still at Bar Soleil. As you walk the property, your senses come alive. Flowers bloom, palms sway and the fragrance from the fresh herb garden pleases your nose.
Malliouhana always impresses. Impeccable cuisine, cocktails and ambiance, Chefs Jusman and Patricio and restaurant manager, Ramon have done a spectacular job. Bar Soleil and Cafe Celeste are, in one word, perfect. Chefs, we will see you again soon!
Directions, Hours & Contact
Hours: Lunch and drinks: Daily and in the evening.
Menu: Click here
Tel: 264-476-6111
Directions: At Malliouhana resort.