Bar Soleil...
Malliouhana's Iconic Sunset Bar
By: Louise Fayet
Perched high on dramatic cliff-top, the resort offers a breathtaking view across Meads Bay and to the horizon.
Welcome to Malliouhana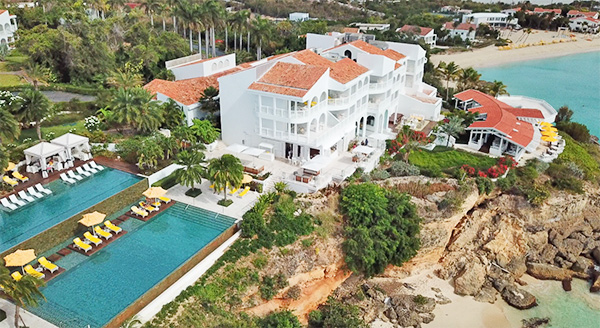 This view is one of the many reasons why Malliouhana's bar is an iconic spot. Previously called Sunset Bar, Malliouhana's famous bar is back, now named Bar Soleil.
Welcome to Bar Soleil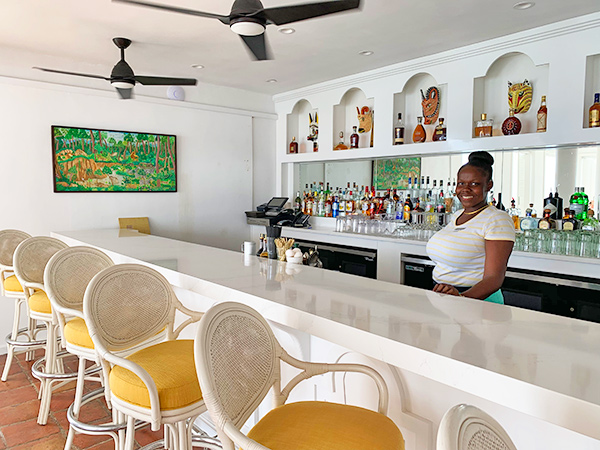 Step Inside Bar Soleil
The bright, chic room opens to the sea with spacious lounge seating lining the walls.
Wrap Around Lounging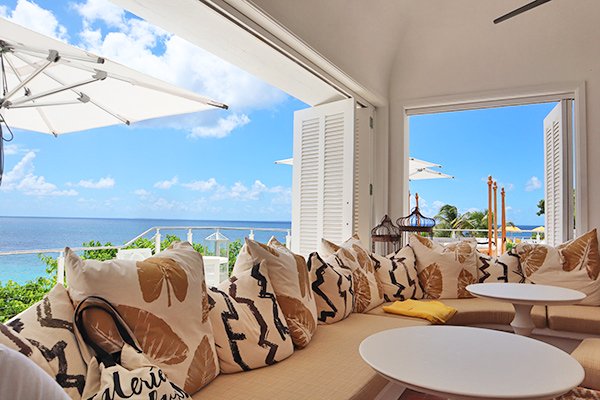 The open-air seating allows for large parties to relax, loosen up and enjoy the upscale ambiance.
Large wooden shutters fold back, letting a gentle sea breeze blow in. The view of the blue sea and sky make you feel like you are sitting in a sky tower.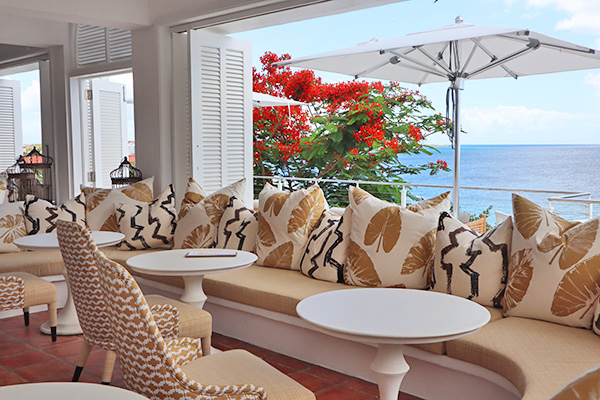 Further inside the bar, and slightly separated by white columns, are two more open dining areas. These dining areas are adorned with splashes of blue and Malliouhana's classic Haitian artwork.
Sunsets at Bar Soleil
For a closer look at Anguilla-blue, outdoor seating is plentiful at Bar Soleil.
Plush, oversized couches line the terrace. A jaw-dropping panoramic ocean scene lays before you.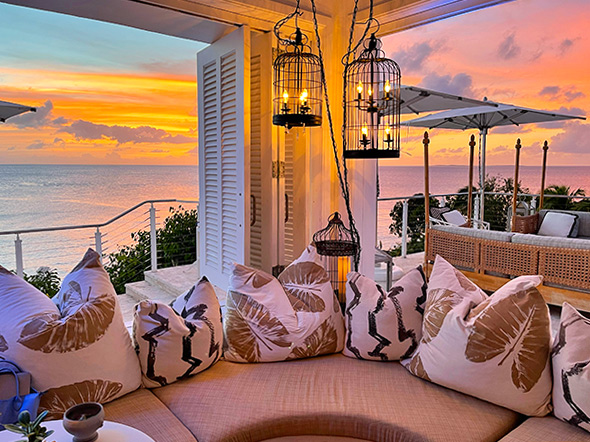 Malliouhana's Bar Soleil has long been one of the island's top spots come sunset hour.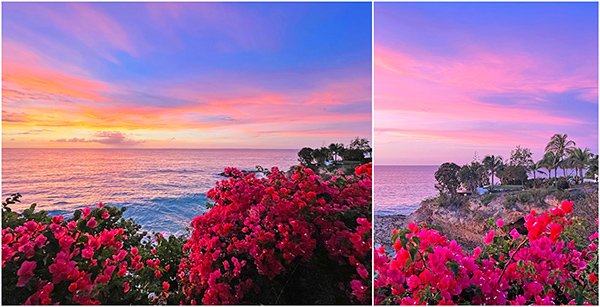 Around the corner and adjacent to the pool, more lounging couches invite you for cocktails and dining pool-side.
Pick a spot to unwind and let your waiter tend to your every need.
Imaginative Cocktails
Another defining aspect to Malliouhana's Bar Soleil? The beautiful and unique cocktails. One look at the cocktail menu and you are sure to be impressed.
We love the Soleil-Rita made with Don Julio Reposado, Cointreau, passion fruit, lime and citrus-passion flower espuma. It is finished with freshly picked basil leaves from the property!
What's on The Menu?
In addition to serving up creative cocktails, Bar Soleil serves lunch and dinner daily. The menu begins with a selection of dips including guacamole, Caribbean red pea hummus and...
Smoked Eggplant Dip

A smooth mixture of smoked eggplant and garlic, the dip is garnished with minced basil and powdered paprika. The smoky eggplant is nicely enhanced by the bite from the garlic. The dip is served with crisp, toasted pita.
For a taste of all of the dips, order the grilled vegetable platter.
Grilled Vegetable Platter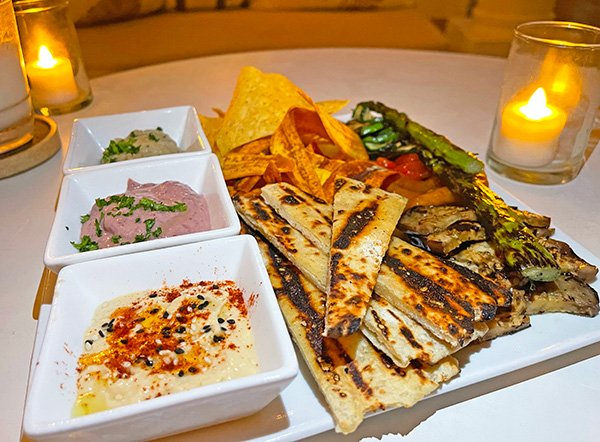 The plate includes servings of Caribbean red bean dip, chickpea lemon hummus and my favorite, roasted eggplant dip. Scoop those dips up with corn and plantain chips and grilled flatbread and vegetables!
The menu expands into "Sandwiches & Burgers." First up, the Crispy Chicken Sandwich.
I am always a bit skeptical when it comes to chicken sandwiches as some tend to be too dry. But, oh boy! Did Bar Soleil change my mind!
A hefty piece of chicken breast, it is crispy on the outside and moist on the inside, lathered in a spicy mayo and ranch dressing. The slices of pickle bring a burst of freshness to each bite.
The crunchy French fries were also very impressive and, word of warning... very addictive!
Also up for grabs, the grilled steak sandwich, the Anguillian lobster roll, cajun shrimp BLT pita, the Malliouhana burger and...
Fish Burger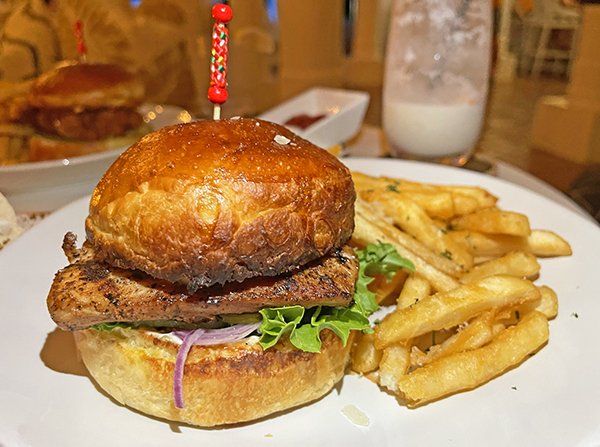 A fillet of flaky mahi mahi is grilled to perfection and topped with spanish onion, lettuce, tomato and a zesty tartar sauce. All on a fluffy baked bun, this sandwich is filling and delicious.
Next, the taco bar...
Being big taco lovers, we always order one of each: Skirt steak, grilled shrimp and chicken.
Loaded Tacos

Served on soft flour tortillas with shaved cabbage slaw, lime crema, pico de gallo, fresh avocado and home made passion fruit hot sauce, these tacos hit the spot!
Juicy Shrimp Taco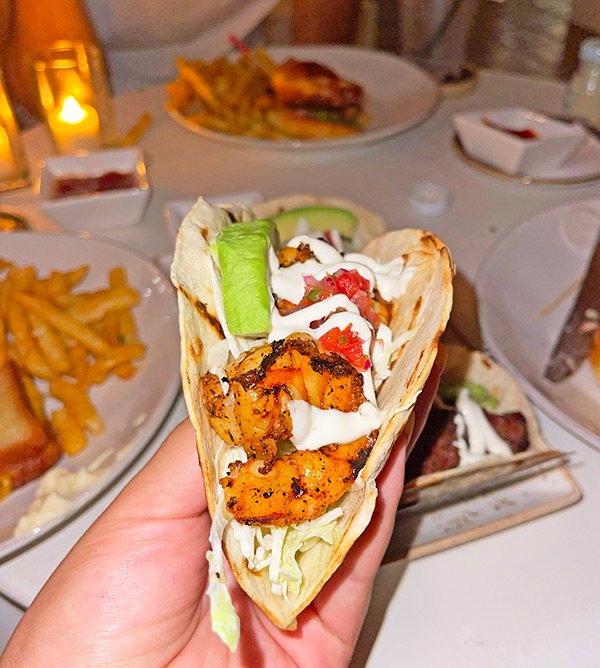 Dinner is not complete without a sweet treat. Luckily Bar Soleil knows how to satisfy your sweet cravings!
Bar Soleil Desserts
Crispy churros, ice cream sandwiches and...
Coconut Sundae

Scoops of coconut ice cream and smothered in homemade coconut whipped cream, toasted coconut brittle and served with a coconut butter cookie! Each spoonful is a tropical explosion in your mouth. We are coco-nuts about this dessert!
If you are more of a coffee lover, try the...
Homemade Lady Fingers Tiramisu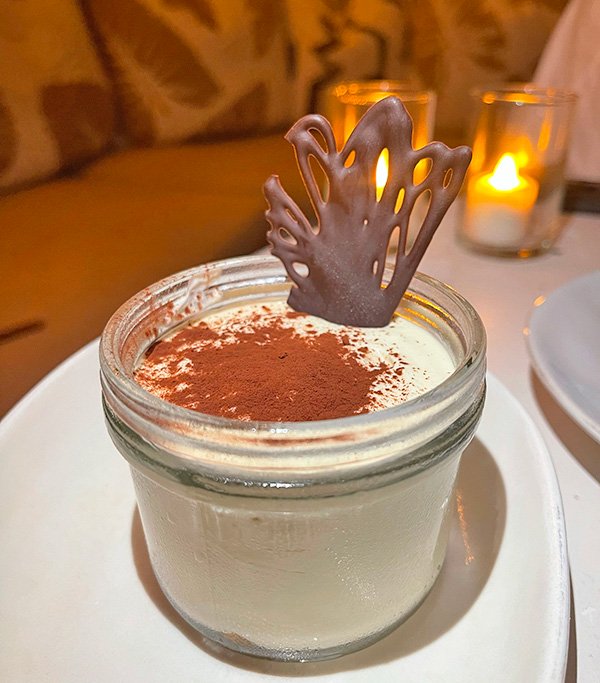 Made with coffee and mascarpone cream. This tiramisu is so light and airy, it is hard not to lick the jar!
Parting is always such sweet sorrow, sweeter still at Bar Soleil. As you walk the property, your senses come alive. Flowers bloom, palms sway and the fragrance from the fresh herb garden pleases your nose.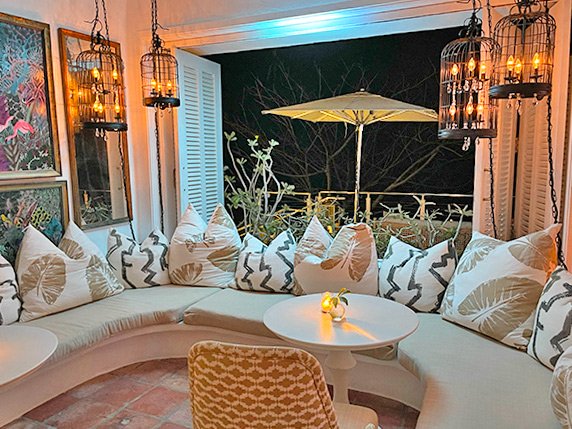 Malliouhana always impresses. Impeccable cuisine, cocktails and ambiance. Bar Soleil and Celeste are, in one word, perfect. Chefs, we will see you again soon!
Directions, Hours & Contact
Hours: Open daily for lunch, dinner & drinks.
Menu: Click here
Tel: 264-476-6111
Directions: At Malliouhana resort.