The Sunset Bar at Malliouhana...
Casual-Chic Lunch With A View
Update 2019: The Sunset Bar is now Bar Soleil.
The Sunset Bar at Malliouhana has been creating magic memories of sunset drinks since our family's first trip to Anguilla in 2002. Perched on dramatic cliffside that separates Meads Bay from Long Bay, its recently upgraded setting is Hollywood-elegant, promising more magic to come.
Today, "sunset" at Malliouhana's Sunset Bar begins at noon. You can enjoy lunch, a mid-afternoon snack or sunset drinks while taking in its casual-chic atmosphere.
Malliouhana's Pool View
As You Approach The Sunset Bar at Malliouhana

Relaxed Lunch Vibes

When I first heard that Malliouhana was no longer serving lunch in their signature restaurant, disappointment set in. "Would a pool-side setting really deliver the same Malliouhana experience?" I wondered.
Hesitation dissipated the moment we stepped foot on Sunset Bar's terrace.
The Terrace at The Sunset Bar at Malliouhana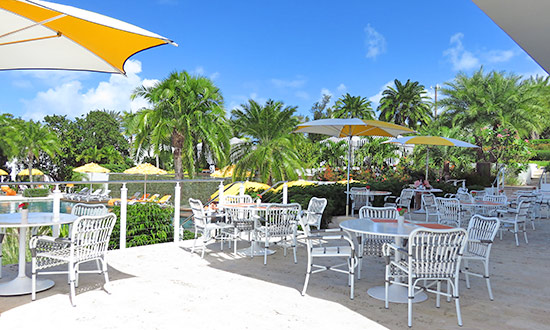 The views overlook their chic pool...
... and the open blue ocean.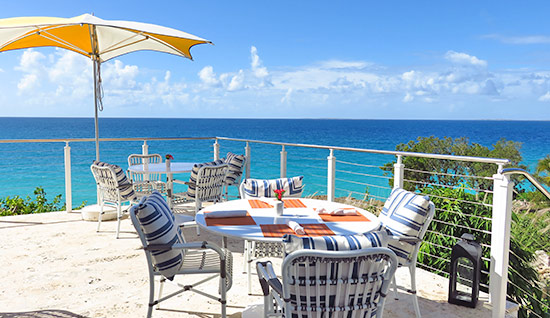 The scenery is both varied and spectacular. Music plays at The Sunset Bar at Malliouhana, just adjacent to the terrace, and a gentle breeze blows in from the east.
The feel is distinctly cooler (in both atmosphere and temperature), more laid-back. Throw a cover-up over your bathing suit and settle into the relaxed ambiance.
Meet Your Hosts
Update 2016: Since this article was written, Malliouhana has introduced a new chef. Read about the new menu & world renowned Executive Chef Marc Alvarez here.
Malliouhana's Executive Chef Ortiz and Director of Food & Beverage, Jorge have crafted a stylish afternoon eatery on Sunset Bar's terrace. Set amidst lush gardens, a blend of Anguillian and Latin cuisine is featured on the restaurant's diverse lunch menu.
With Executive Chef Ortiz & Director of Food and Beverage, Jorge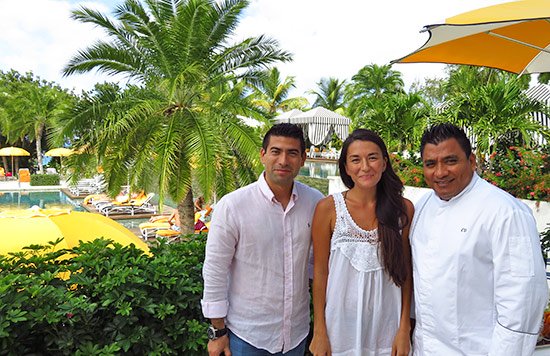 "For example, our fresh snapper ceviche with leche de tigre, blends Peruvian and Anguillian influences," Chef Ortiz explained as we looked at the menu. It was time to see if our new experience at Sunset Bar would measure up to our sunset cocktail memories.
Eating at Sunset Bar
Lunch begins with Johnny cakes and warm, house-made rolls served with tapenade. We are partial to rosé wines. Malliouhana's expert Sommelier Albert Lake suggested a crisp glass of Pampelonne.
Johnny Cakes & House-Made Rolls With Tapenade

The afternoon was off to a sublime start. This was the view from our table...
Pool View and Sea View From The Terrace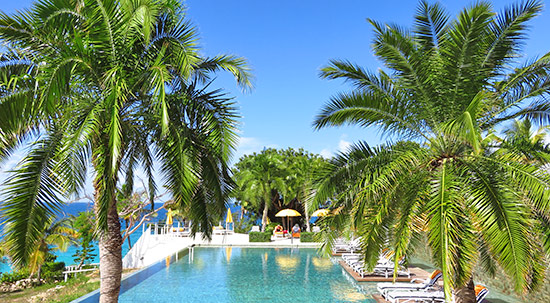 "Small Plates"
The lunch menu is split into three sections, "Small Plates," "Taco Corner!" and "A Little Big Larger." "Small Plates" focuses on fresh, cool and crisp dishes. We started with the guacamole.
Guacamole with Mango Salsa

Avocado is diced and topped with cotija cheese and served with mango salsa and savory plantain chips. The mango salsa adds a colorful, sweet bite to the dish. An excellent way to begin a meal at Malliouhana.
If you are dining with a larger group, I recommend ordering a few "Small Plates" to share. With so many options on the menu (ex., blue fin tuna tartare, red snapper ceviche, crayfish "Aguachile"), it is the best way to taste it all.
Blue Fin Tuna Tartare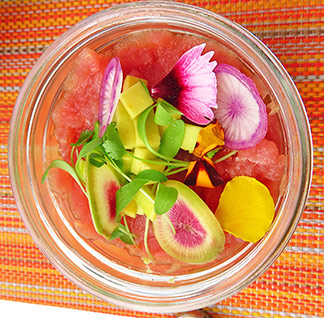 We shared the blue fin tuna tartare.
The tuna is layered on top of avocado and served with yucca chips.
Mild in flavor, it is a gentle and refreshing dish...
... with a particularly pretty presentation, topped with radish and petunias!
The snapper ceviche, by contrast, has a fuller-flavor.
True to Chef Ortiz's words, fresh snapper is bathed in leche de tigre, bringing this dish back to its Peruvian roots.
Chef completes the snapper with red onion, carrots, corn, ginger and lemon. Sweet potato chips are served on the side.
Snapper Ceviche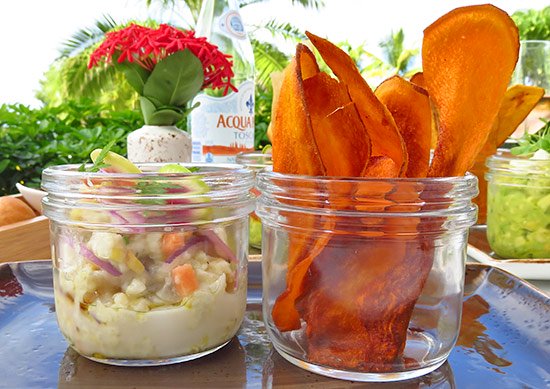 Also on the "Small Plates" menu is the...
Chilled Cucumber Soup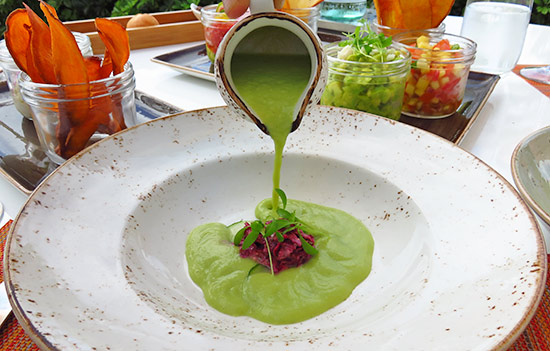 Pickled beet remoulade and fresh slices of cucumber fill the center of the bowl. Chilled cucumber soup, with Malliouhana basil (grown on-property) and Greek yogurt, is poured over the beets whose punchy flavor is contrasted by the cool cucumbers. Creamy in texture, the Greek yogurt brings a fresh and healthy sip to the soup.
The Mixed Grain Salad is one of two salads on the menu. Farro, white beans, black beans, quinoa, chia and olives are combined with almond oil and tahini.
Mixed Grain Salad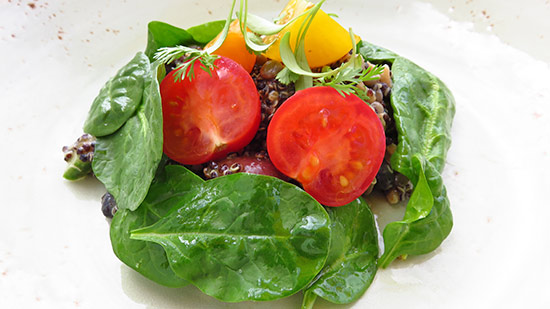 The flavors work together, creating a tangy taste. Complete with cucumber, local spinach and cherry tomatoes, it is a substantial and robust salad that is good for you, too. It is a definite repeat.
Taco Corner!
Things get serious when you move to the next part of Malliouhana's lunch menu, their "Taco Corner!"
The most authentic and gourmet tacos in Anguilla, Chef Ortiz impresses on many accounts.
Wild Mushroom Tacos

The corn tortillas are charcoal-grilled and cheese is melted into the tortillas as they are crisped to perfection over open flame. The "shell" itself is divine, rich in smokey flavor.
Fillings? Choose from a selection of wild mushroom, chicken, grilled fish and suckling pig.
The wild mushroom tacos are topped with pickled radish and served with a side of caramelized red onions and hot peppers (grown on-site in Malliouhana's garden). The combination is absolutely outstanding.
Still hungry?...
"A Little Bit Larger"
Malliouhana answers your stomach's call with the third part of their menu, "A Little Bit Larger."
Classic lunch fare is enhanced by creative touches. Take for example, their gourmet burger...
Cast Iron Charred Burger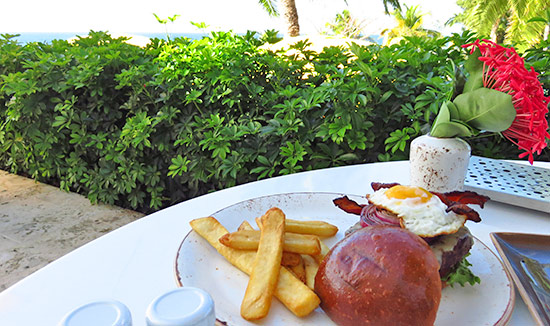 It is served on a homemade brioche, charred in a cast-iron pan, layered with bacon, wild mushrooms, grilled onions and topped with a fried egg. Thick-cut, golden-crisp steak fries are served on the side.
And yes, this towering burger is every bit as delicious as it sounds!
A vegetarian? Malliouhana has you covered with an option so tasty it tempts even non-vegetarians...
Butternut Squash-Rice & Peas "Falafel" Burger
AKA Malliouhana's Veggie Burger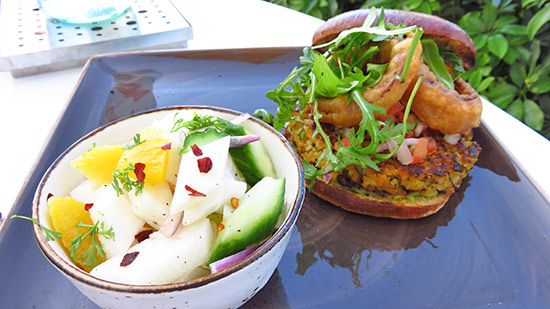 Far from being what is often an afterthought or an obligation on a menu, this is a totally unique creation. Chef takes it to unaccustomed heights.
The patty is a combination of traditional Anguillian rice and peas, butternut squash and chili oil. Popped on a homemade brioche, the bun is lined with guacamole, the patty topped with onion rings. Jicama salad is served on the side.
Zesty, it was pronounced the most innovative veggie burger our vegetarian dining companion has ever tried.
There is truly something for everyone on Chef Ortiz's lunch menu. For those who enjoy spicy bites?
Hoisin Duck Lettuce Wrap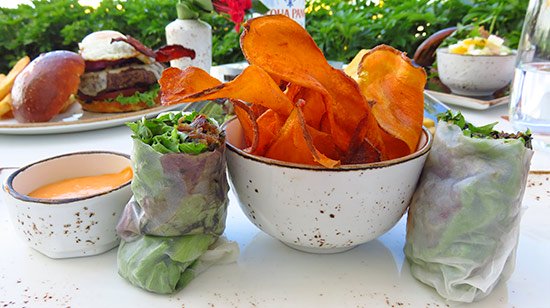 The Hoisin Duck Wrap brings the heat. Extremely spicy, brace your taste buds! Succulent duck is spiced with Sriracha aioli, and served with spring onions and cilantro in a spring roll wrap. Heatseekers will be satisfied with this option.
Tip: If the duck is tempting but the heat is worrying, ask to turn the heat down a bit.
Finally, the sandwich that I call "Dad's favorite"...
Seared Strip Loin Sandwich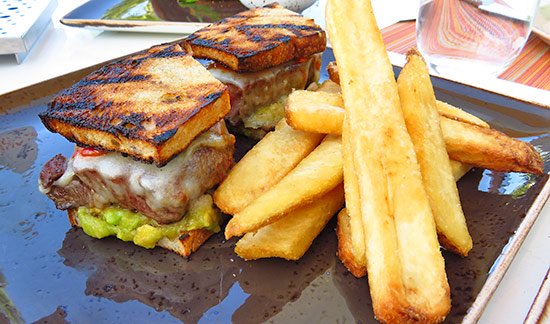 Strip loin steak is expertly-grilled and served on sourdough bread with avocado, grilled tomatoes, mozzarella and arugula. The warm tomatoes offset the sharp arugula, which complements the mozzarella and the beef. This is more than your standard, excellent steak sandwich. Each bite is irresistibly intriguing.
An Anguilla Card Partner
The Restaurant at Malliouhana and The Sunset Bar at Malliouhana are both Participating Partners of the Anguilla Card (link opens a new tab/window). Enjoy a 10% discount on all 65+ Participating Partners (hotels, villas, restaurants, activities, transportation).
Wrapping Up Lunch at Sunset Bar
A wide variety of haute-cuisine lunch eats and exquisite wines, all served in a casual-chic setting... Malliouhana proves, yet again, that they can do it all!
As you leave, turn to take in one more glimpse of the view. You will wish that you could settle back in and do lunch at Malliouhana all over again.
New magic memories are indeed made at The Sunset Bar. And come night fall?...
Evening Tapas at The Sunset Bar at Malliouhana
Mood music, sultry sunsets and a fun Asian-Latin inspired menu... these are the three key ingredients to a sublime night at The Sunset Bar Malliouhana!
Come evening time, Malliouhana's Sunset Bar serves up light, tapas-style bites with a fun menu called "Chino Latino." What's on the menu?
Rock Lobster "Tortita" - with sweet chile sauce and petit turnip

Lobster and petit turnip are fried to a golden-crisp brown, resulting in a creation that's almost like a croqueta. With a dab of mayo on the side and garnished with scallions, it is a winner of a dish.
Beef Tenderloin "Tiradito" - with sesame seeds, avocado, scallions and mayo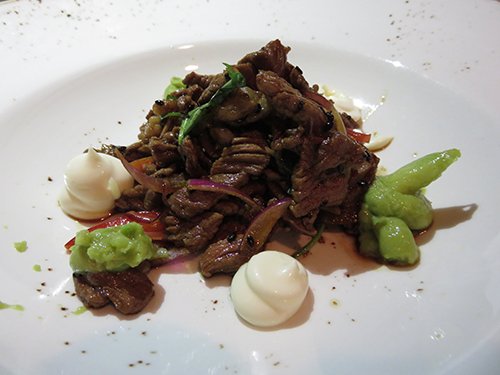 A mini mountain of succulent beef, the dish is sprinkled with sesame seeds and served with avocado mousse and mayo. The Asian and Caribbean flavors flow together perfectly.
Other menu items include...
Lemongrass Shrimp Tempura - with crushed avocado and pickled petit radish
Fried Rice & Peas - with chicken, beef, shrimp, chipotle and scallions
Charred Octopus - with scallions, white beans and Scotch Bonnet pepper
In their classic bar, perched over Meads Bay, The Sunset Bar at Malliouhana boasts an elegant atmosphere and one of the best sunset spots in Anguilla. Come Saturday night, Leslie Nanton adds to the ambiance with his crooner-style voice and covers of classics. To get a feel for Leslie's style, watch this clip here...
Lunch and evening tapas are served daily at The Sunset Bar at Malliouhana.