Chef Marc Alvarez Re-Defines Haute Cuisine at
The Restaurant at Malliouhana
Update 2019: Chef Jusman So is now at Malliouhana's signature restaurant, Cafe Celeste. More on Chef Jusman and Cafe Celeste here.
With a reputation for its haute cuisine and prestigious setting, The Restaurant at Malliouhana has long set the standard for fine dining region-wide. Today, the restaurant introduces Executive Chef Marc Alvarez who promises to push that reputation higher yet.
Executive Chef Marc Alvarez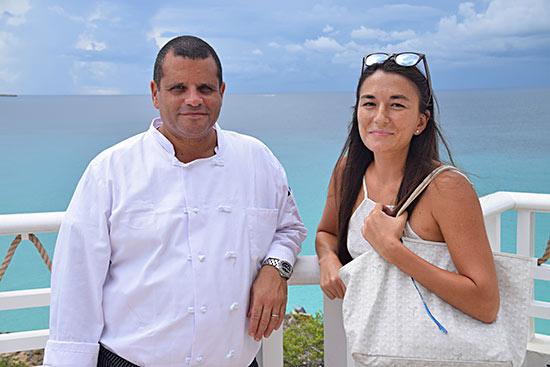 You may remember Chef Marc Alvarez who elevated the profile of Covecastles in 2015. He has developed a cult following over his years in the kitchen. Known and loved by discerning palates, his cuisine has often been described as "genius" by high-profile travel magazines.
A match made in heaven, The Restaurant at Malliouhana is a perfect fit for Chef Marc's sophisticated cuisine. Let's take a look at what Chef Marc has brought to Malliouhana.
Raw Bar

Chef Marc's lunch menu starts at the "Raw Bar." Seemingly simple dishes are flawlessly executed.
The first half of the raw bar is made up of a "Seafood Sampler." Seasonal oysters, Little Neck clams, Top Neck clams, poached shrimp and chilled local crayfish.
Seafood Sampler

Chef Marc sources each of the delicacies, the seasonal oysters generally coming straight from the cold Atlantic waters of Maine.
Delightfully refreshing, this is the way to go on a warm, tropical afternoon in Anguilla.
Chef Marc's sampler comes with a homemade cocktail sauce, and my personal favorite, a mignonette with a sharp shallot tang. Atop an oyster, it is a winning combination.
Crudo and two ceviches complete the rest of the raw bar menu.
First...
Conch & Watermelon Ceviche

Fresh chunks of conch are diced and combined with watermelon, tomato and cilantro. The watermelon lends a sweet hint to each bite. It is served with spicy popcorn. A fun touch, it adds a light crunch with a kick.
For a taste of Anguilla's premier catch...
Mahi Mahi Ceviche

Mahi mahi is bathed in Leche de Tigre and topped with cilantro. Chef Marc brings a unique twist to this dish, lacing the broth with extra spice. Be WARNED: this dish has a building heat.
It all pairs perfectly with cassava chips. Light and mild, the chips do not detract from the subtle flavors of the mahi mahi and Leche de Tigre.
Sandwiches & Pizzas
More robust is Chef Marc's beach fare, "Sandwiches and Pizzas". "Classic" dishes are transformed into one of a kind creations.
For example, Chef's BLT. It is far from your standard bacon-lettuce-and-tomato. Guanciale replaces bacon, avocado is added, standard lettuce is swapped for gem lettuce, it is served on a homemade brioche bun and layered with fresh crayfish.
When it comes to pizza, Marc's signature pies cannot be beat. His famous Bianca that captivated our taste buds last year is, thankfully, on the menu.
To see the full Sandwiches & Pizzas menu, click here.
Greens & More
Next on Chef's menu is "Greens & More." Chef satisfies cravings for light yet interesting dishes. You won't see a "chicken caesar" here.
Instead, Chef Marc makes a mean Thai chicken salad. NOTE: If you can't handle spice, let Chef know. This salad is fire-engine red hot.
The star of the show? The Ahi Tuna and Kingfish Poke Bowl.
Ahi Tuna & Kingfish Poke Bowl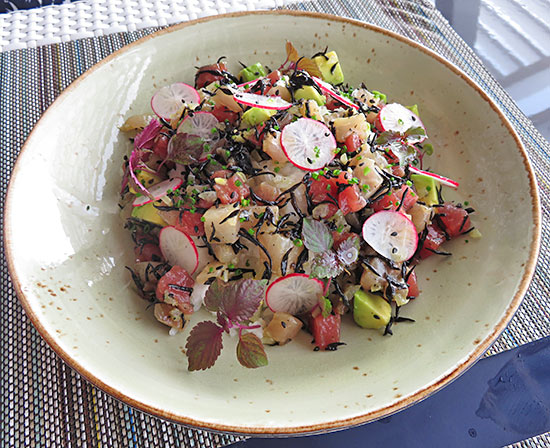 Generous amounts of tuna and kingfish are mixed with avocado, cucumber and mirin-crisped Hijiki seaweed. The entire concoction is laced with a potent wasabi vinaigrette. A dish with a bite, it is addictive.
What makes it extra-special? The dish's base. The tuna and kingfish mix is set on Chef Marc's cooked to perfection sushi rice. A tricky staple to get right, Chef has his technique down pat. He explained the intricate process - heating the rice, cooling the rice and preparing and mixing in the vinegar. It is no easy feat on a warm island with limited ingredients. But, nothing is too tricky for Chef Marc.
From The Sea
Rounding out the menu are three dishes "From the Sea."
Large plates for big appetites, Chef Marc teases tastebuds with creations including "lion fish and chips" and Maine mussels with Belgium fritters. The exotic lionfish, served with an esplette aioli, is next on our "to try" list.
Report to come.
Desserts
Chef Marc closes lunch on a sweet high note.
Ice cream sandwiches are not new to Malliouhana's dessert menu, but Chef Marc makes this nostalgic summertime favorite a dish of his own.
Mini Ice Cream Sandwiches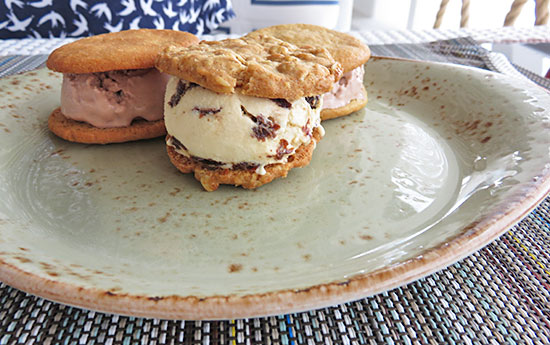 Chef Marc has shrunk the previously over-sized (and difficult to manage) cookie sandwich into three mini sweet treats. The cookies are soft and moist, breaking gently to your bite.
There are three gourmet flavors. Mint cookie with white chocolate gelato, peanut butter cookie with nutella-banana gelato and oatmeal cookie with rum raisin gelato. Each different and equally divine, it is impossible to choose a favorite.
Valrhona Chocolate Semifreddo

Last but not least, the Valrhona Chocolate Semifredo is the pick of the day if it is a fresh, light dessert you seek. Semi-frozen mousse is coated with chocolate, dusted with chocolate and sprinkled with seasalt. A touch bitter on its own, dip it in the passion fruit glaze to taste the full effect. The bitter-sweet comination is heavenly.
Forever a fan of Chef Marc's talent and culinary prowess, Chef is truly "home" at Malliouhana. We look forward to seeing what comes next.
Stay tuned for our dinner report.