Covecastles Restaurant...
Artistic Cuisine Atop an Open Flame
Update 2018: Covecastles has closed.
Update 2016: Chef Marc Alvarez is no longer at Covecastles. Covecastles has a NEW menu and they are now open daily for breakfast and lunch. More on the NEW Covecastles Restaurant here.
In the late 90's, Covecastles Restaurant was known as one of the region's best. The man solely responsible for that distinction? Chef Marc Alvarez.
Covecastles Restaurant's Executive Chef Marc Alvarez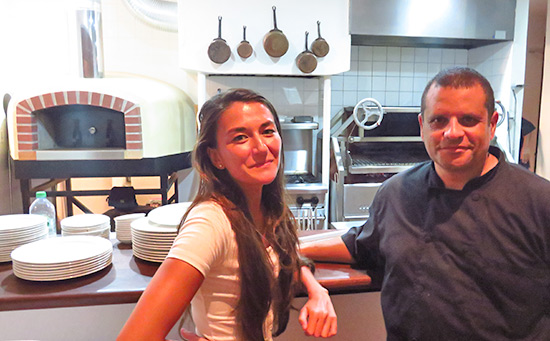 A graduate of the Culinary Institute of America, who honed his skills at the likes of Aureole in NYC, Chef Marc's cuisine put Anguilla on the culinary map. CN Traveler and Robb Report raved over his dishes, the word "genius" often peppering their reviews. Known for creative and intriguing cuisine, he took Anguilla by storm.
Since closing in the early 2000's, today, Covecastles Restaurant has re-opened to great acclaim once again with their Executive Chef Marc Alvarez.
Inside Covecastles Restaurant
Our family had never dined at the original Covecastles Restaurant, so this was an entirely new experience. If Covecastles Restaurant is new to you, too, it can be tricky to find in the dark of night. Drive in through the gates and keep going past private villas 1-5 until you see the restaurant's sign.
The intimate restaurant is set in the midst of Covecastles' exclusive villas.
Dinner Ambiance at Covecastles Restaurant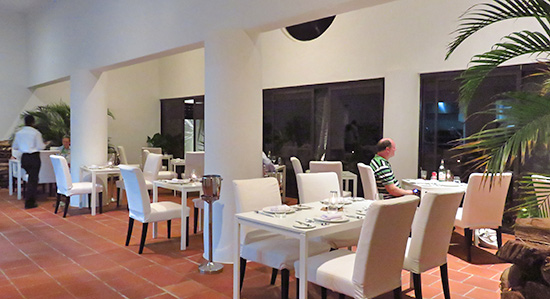 Tucked away, quiet and serene, its secluded setting adds a subtle air of exclusivity to the restaurant. Elegant, yet somehow understated, as you walk inside, you feel as though you have stumbled upon a hidden gem.
Inside, the dining room looks out to Shoal Bay West and the faint lights of St. Martin in the distance. The room backs onto an open-air kitchen, with a bar for those who want to watch the show! Chef Marc's kitchen is home to two of the finest pieces of equipment in Anguilla...
Covecastles' "Forno Bravo Roma" Wood Fire Oven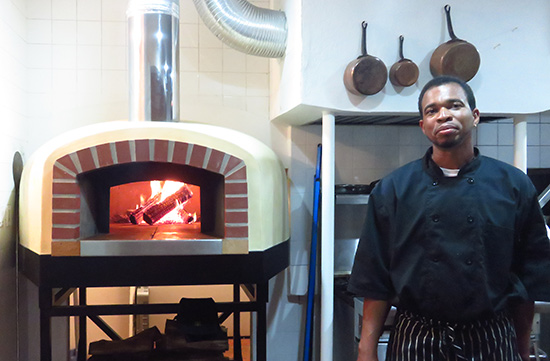 The "Forno Bravo Roma" wood fire oven (which uses oak wood only) and the Grillworks Large Format 64 Grill (an open flame grill, which uses oak and two types of hardwood charcoal). It is the only grill of its kind in the Caribbean. "It's exciting," Chef Marc smiled as he explained the grill, "it took months to make and to ship. It was worth the wait!"
Executive Chef Marc Alvarez's Dinner Menu
Your tastebuds are first introduced to the rich wood oven flavors with Johnny cake flat bread.
Johnny Cake Flat Bread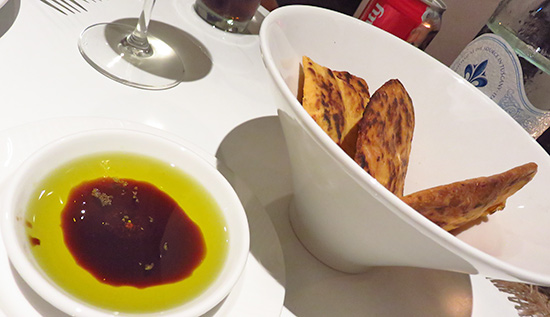 Chef adds cornmeal and a variety of spices to Johnny cake ingredients before pounding the dough down and rounding it out. The flat breads are then set to bake in the Forno Bravo Roma oven.
Light, yet with that hearty Johnny cake texture, and with a touch of spice and a hint of oak, I had to slow down and remind myself... don't fill up on bread, Nori!
Starters
The waiter handed us our menus as we enjoyed the flat bread. Two simple pages list a modest number of starters and mains, and one page lists the daily specials. A short menu often implies a small number of dishes done extremely well, and that is the case at Covecastles Restaurant. Each dish is involved and intricate.
For example, strawberry grouper escabéche is served with tomato honey, arugula and sweet plantains. Spicy big eye tuna with grilled pineapple gazpacho, avocado, rice paper and wasabi. Roasted baby octopus with watermelon tartare, pistachio crumble, basque pepper, su tinta vinaigrette.
Sashimi of Winter Fluke with Japanese Pepper & Avocado Oil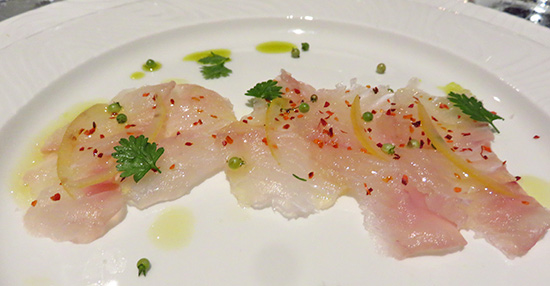 We went with the special of the day, sashimi of winter fluke with Japanese pepper and avocado oil. Soft pieces of fluke are expertly sliced, not too thin and not too thick. Its gentle nature is offset by the robust avocado oil. The Japanese pepper adds a pleasant kick. I hope this dish makes an appearance on the main menu.
It can be argued that the wood fire oven and grill are the focal points of dining at Covecastles, but the sashimi that night is proof that Chef Marc does not need a wood oven to wow!
Wood Fired Mains
Of course, that should not suggest that the oven should be overlooked, either.
Chef Marc's mains emphasize the wood fire oven and the wood & charcoal grill. Our neighboring diner recommended the Magret duck breast, with creamed leeks, wild mushrooms and purple carrot gastrique. "Duck is my dish," she enthused, "and this was one of the very best I've had anywhere. The reduction sauce is out of this world."
Update 2016: Since writing this article, we have since tried the Magret duck breast. It is, just as our neighboring diner (above) said... exquisite. By far, Anguilla's dish of the year!
Pan Roasted Wild Striped Bass with Roast Corn & Asparagus Ragout and Smoked Dashi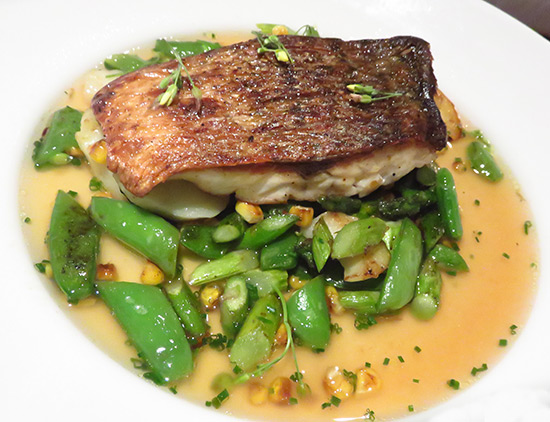 My dining partner that night and self-proclaimed Chef Marc Alvarez fan, Vince Cate went with the special of the day, a pan roasted wild striped bass complete with roast corn and asparagus ragout with smoked dashi.
Other menu mains include... Mahi mahi grilled in banana leaves and served with a crisp rice cake, fennel-apple slaw and pomegranate vinaigrette. Grass fed NY steak with 4-peppercorn-coffee rub, confit potatoes and wilted greens.
I tried the big eye tuna with balsamic, quinoa, swiss chard and wasabi vinaigrette.
Big Eye Tuna with Balsamic, Quinoa, Swiss Chard and Wasabi Vinaigrette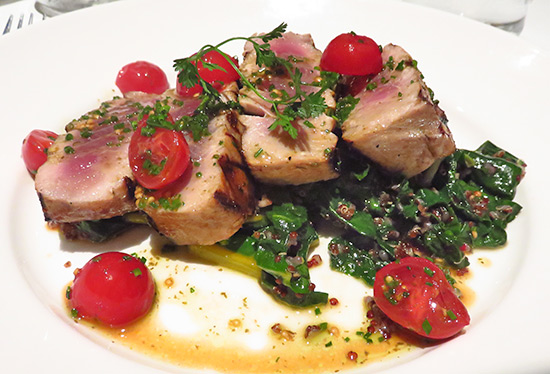 A beautiful pairing, the tuna and wasabi vinaigrette are a match made in heaven. Grilled on an open charcoal and oak-fueled flame, the charcoal and oak essence shines through in each bite of tuna. Exquisite.
As the evening drew to a close, we thanked Chef Marc. Fully energized and excited about re-creating a unique dining experience in Anguilla, Chef Marc explained his menu...
"It changes depending on what's fresh and best. We're working closely with our fishermen and distributors to provide the highest quality ingredients and to showcase unique flavors," he paused before beaming, "And, of course, we're having a lot of fun with the wood oven and grill!"
Between the grill and oven and the complex nature of his winning dishes, Chef Marc is passionately impressing palates yet again. He is right at home at Covecastles Restaurant.
That night, Vince left a bigger believer in Chef Marc than ever, and I am a new fan.
Update: Returning to Covecastles For Lunch
Since falling in love with Chef Marc's cuisine for dinner, we have returned countless times for lunch. A number of salads and interesting specials make up the lunch menu. They are available in addition to Chef Marc's artisan pizzas (now available for lunch and dinner). The star of the show? The Bianca pizza.
Covecastles For Lunch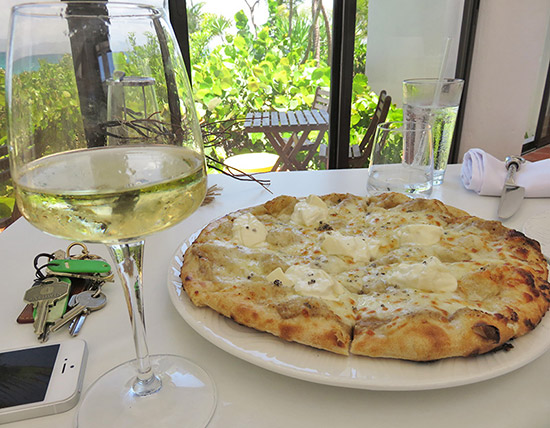 One of the most popular pizzas on Chef Marc Alvarez's lunch menu at Covecastles, it's hard to explain just how memorable the Bianca pizza is.
Normally a fan of thin crust pizza, Chef Marc has made me a believer in the slightly thicker crusted Bronx-style pizza.
The Bianca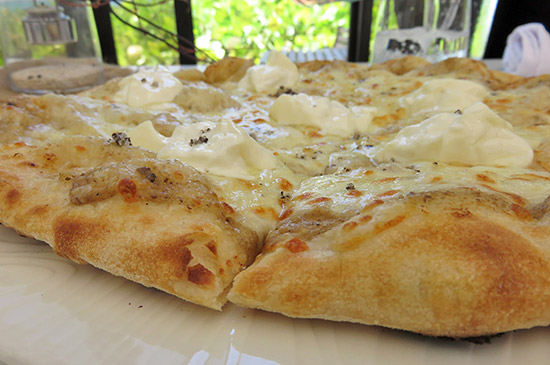 It's a low yeast, long rise sourdough that takes 36 hours to ferment before being baked at 700 degrees in Chef's Forno Bravo oven. The pizza itself comes out with a perfect amount of chew and a rich wood-oven flavor.
As for Bianca? Truffle fromage, pecorino pepato, mozzarella, ricotta, roasted garlic and homemade truffle salt all top the pizza base. The large chunks of ricotta melt into the heat of the pizza, each bite rich in savory flavor.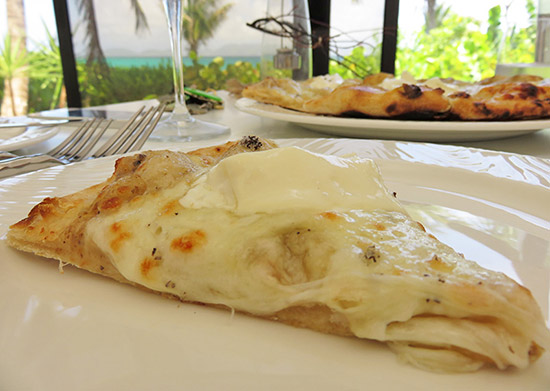 Before biting into this pizza, BEWARE. Bianca will have you hooked!
Thank YOU, Chef Marc for this outstanding creation & see you again very soon, Bianca ;-)
Location, Hours & Map
Directions: Head towards Shoal Bay West and turn into Covecastles driveway. Keep going on that road, passing Covecastles' private villas 1-5. The restaurant is marked with a sign.
Hours: Breakfast, lunch and dinner. Closed Sunday.
Tel: 264-497-6801