Try Jacala's Steak and Herb-Crushed Potato...
A Unique Twist on Traditional "Steak-Frites" &
An Exceptional Anguilla Dining Experience
Jacala At A Glance
Looking for an exceptional culinary experience? Look no further than Jacala.
Alain and Jacques worked together for years at Malliouhana, Anguilla's most luxurious hotel from the 1980s-2000s. With a sophisticated understanding of food, wine and service, Jacala is one of the top restaurants on the island, offering oustanding French cuisine.
More on Jacala, below...
If I miss anything about living in Montreal, Quebec, Canada, it's the dining.
Restaurant after restaurant served consistently great food.
Montreal is a French city, with many French restaurants. I always looked forward to a classic French specialty, "Steak-Frites," or steak and french fries
One Parisian style restaurant, Entrecote St. Jean, strictly served Steak-Frites, with your choice of soup or salad as a starter. That was it, the only item on the menu. And they did it well.
Steak-Frites is a staple on any French menu, and it is one that I miss now that we no longer live in Montreal, now that Anguilla is home.
That was until we tried Anguilla dining at Jacala...
(*Please note: Jacala doesn't serve a traditional style of Steak-Frites. Their filet mignon is served with an herb-crushed potato... A unique twist on the Steak-Frites!)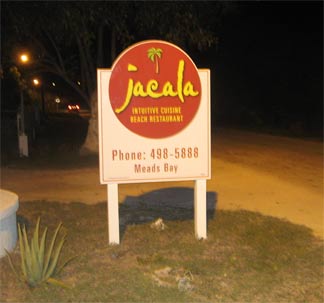 Admittedly, when Jacala first opened, we didn't know much about it. And their sign didn't give much away.
On top of the very litte marketing and advertising, in the early days, it was difficult to get a reservation. A quiet hype had been building.
With a desire to put an end to the "busy signal," we took a sharp turn left into Jacala one evening when passing through Meads Bay. My Dad dropped in and asked if they had room for dinner.
They did not, but they offered a reservation for the following evening. My Dad took it!
Before exiting the building, he took a look around. The restaurant was only at half capacity. How bizarre. Amongst the clientele were 4 familiar faces. The General Managers of Cap Juluca, CuisinArt, Malliouhana and Viceroy, each dining at Jacala separately.
Dying to know just how good Jacala was, my Dad crashed their dinners and promptly asked how their meal was.
A resounding... "Outstanding!" from each GM.
The 4 General Managers confirmed it. It was definite. We were on for the following evening!
Inside Jacala
Enter Jacala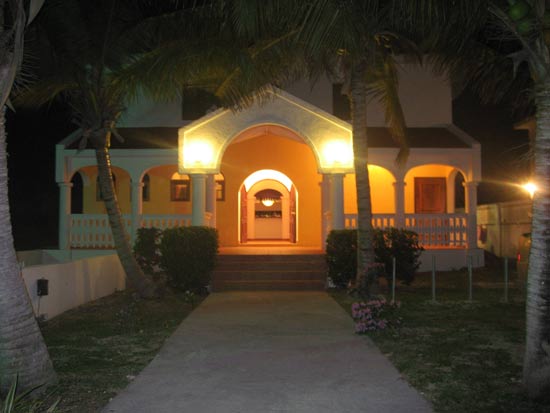 Upon entering Jacala, one particular thing became evident. Jacala is quiet.
We would later be informed that the reason they kept their capacity low was to provide a calmer environment in which they could deliver true five-star, personalized service.
Less tables does mean better service, and also a more serene Anguilla dining experience.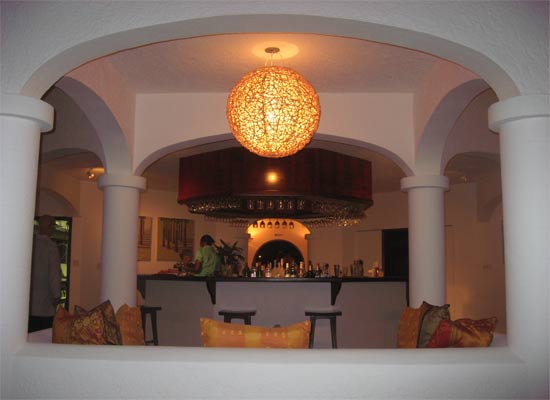 The Morrocan inspiration throughout is elegant, and the lulling of the waves just outside creates a romantic, beachside setting.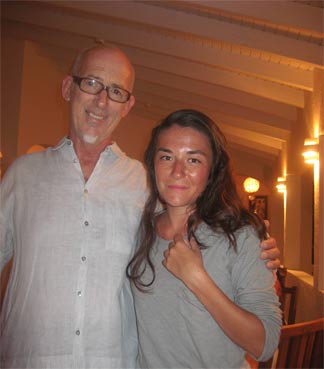 We were greeted by the owner/manager, Jacques Borderon.
Jacques has worked for over twenty years in high-end dining.
For years he worked at Malliouhana's prestigious restaurant with friend Alain Laurent.
Jacques and Alain left Malliouhana to create their own restaurant right on Meads Bay, one of Anguilla's best beaches.
Jacques is a gracious host, and Alain prepares the meals.
Kind and inviting Jacques brought us to our tranquil table, tucked away on the side of the restaurant.
Jacala opens onto a deck, which they keep gently lit at night, creating a beautiful evening effect.
We will return in the daytime to have the Anguilla dining experience on their lunch deck, and sample their lunch menu.
Lunch Deck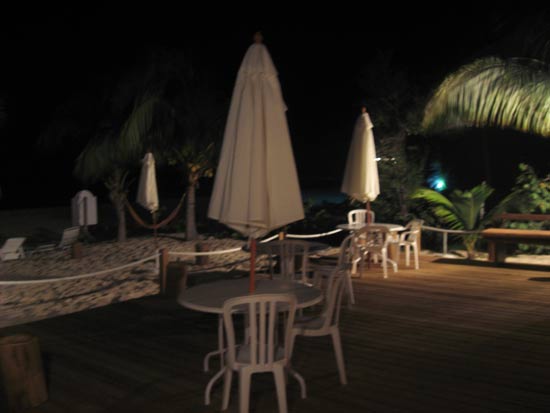 Jacques seated us at our table, and left us in the care of a kind waitress. He promised he would return.
The table was beautifully set...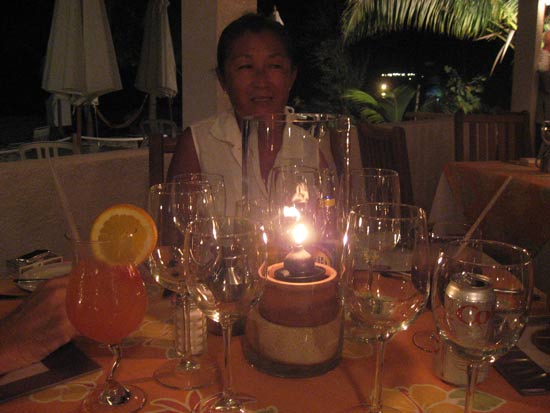 Our waitress brought the evening's menu and took our drink order, but not our wine order. Jacques would help us with that only after we had ordered our entrees. ;-)
The menu covered a range of classics and favorites, with a twist.
Their starters include:
Conch chowder flavored with fennel, crispy puff pastry stick
Feta cheese and grilled vegetable "terrine," pesto sauce
Sauteed duck liver foie gras served with sweet onion marmalade
My Mom, Yuki and I were hooked by the conch chowder. My Dad went with a "marinated tuna tartar with wakame, olive oil and ginger."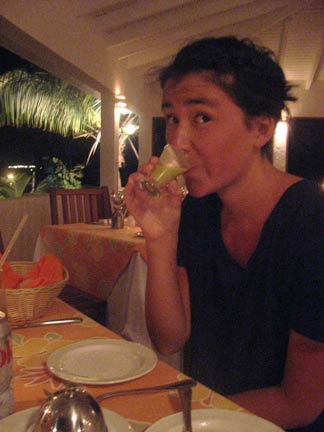 Their entrees include:
Calamari risotto with Provencal flavors
Seared teriyaki marinated tuna loin, mashed plantain and stir fry asparagus
Sauteed filet mignon, sauce "Marchand de vin" herb crushed potato
Breaded breast of chicken stuffed with lobster, shellfish sauce and carrot puree
There is only one steak I order in Anguilla, and that is da'Vida's steak, the best steak on the island.
Otherwise, when Anguilla dining, I like to stick to seafood.
But that night, the filet mignon was calling my name.
Our waitress took our dinner order and brought us a warm basket of fresh French bread.
While enjoying cocktails and munching on bread, we thought we were awaiting our starters until we saw Jacques approaching with complimentary "shots" of chilled cucumber soup.
Deliciously refreshing.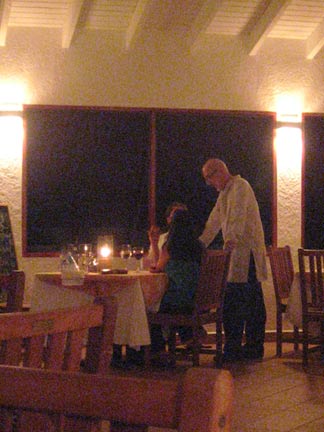 As we sipped our soup, we took note of Jacques' style.
He personally went from table-to-table ensuring that his customers weren't simply "satisfied," but were having an evening to remember.
Jacques makes your Jacala Anguilla dining experience.
From explaining the menu in great detail, to helping you select the perfect bottle of wine for our table...
Jacques meets all of your Anguilla dining needs.
It is a personal experience.
You feel the care and attention to detail.
The service is personal, the ambiance is peaceful, and with Meads' waves?
It's a recipe for one of the great Anguilla dining experiences.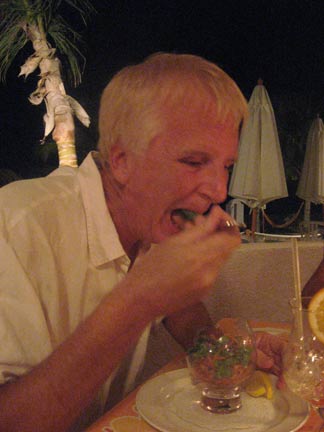 And I haven't even mentioned the food yet!
My Dad highly recommends their tuna tartare as an appetizer.
The blend of seasoning is just right, one of the best tuna tartares he has tasted.
Our conch chowder was in the same league!
If you are planning on ordering a large entree though, I would skip the starters.
With the bread, complimentary soup and conch chowder, I knew the steak would be a stretch for my stomach, especially since...
Jacala's filet mignon is one of the best I have ever had. I didn't want to leave a bite behind!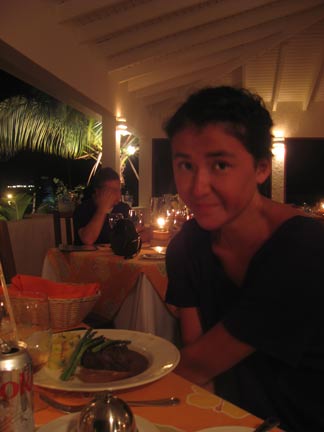 The steak was cooked to perfection, the sauce flavorful without being over-powering or overly creamy.
Fresh asparagus was served on the side.
The potatoes enhanced the meal.
The "herb crushed potato" mixture was outstanding, the best way I have ever had potatoes.
Somewhere between a french-fry and a mashed potato, this potato was soft and creamy on the inside, and lightly fried on the outside.
With a world-class steak, this was one of the best steak-potatoes combinations I have ever tried.
Each bite was better than the last.
Jacala's filet mignon may not be a traditional French classic Steak-Frites, but it's better than any Steak-Frites I have had in Montreal, or even in New York's finest French restaurants.
I would take their "herb crushed potato" over french fries any meal of the week!
The saddest part of the evening was not being able to polish off my plate. Next time, no bread, no starters, just the Steak-Frites!
The evening was winding down.
Before departing, we thanked Jacques warmly for an exceptional experience, and kindly asked to be introduced to the second half of his team, Alain.
We needed to meet the man behind the exquisite menu...
Meet Alain Laurent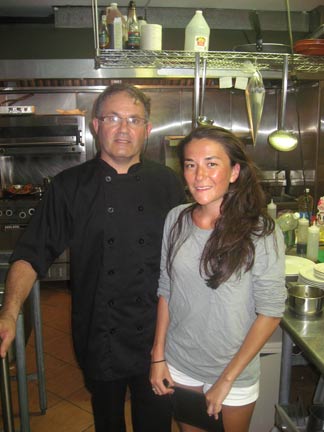 It had been a special Anguilla dining experience.
Jacques told us that in the early days he was keeping his capacity at 20. Today, his limit is 35, even during the busiest of nights.
He compromises nothing for quality!
From the sea, to the steak, to the service, to the serene setting... Jacala is doing it right. They are one of the great Anguilla restaurants.
Directions, Hours & Contact
Directions: Jacala is located on the road that runs behind Meads Bay.
Jacala
Good for outstanding French dining, service and knowledgeable wine pairings.
Hours: Jacala is open for lunch and dinner, Wednesday-Sunday.
Tel: 264-498-5888