Jacala...
An Exceptional Anguilla Dining Experience
When it comes to "top Anguilla dining," Jacala is one restaurant that makes everyone's list. And by everyone, I mean everyone. The jetset, the yacht crowd, the "regulars." Even Martha Stewart declared Jacala her "favorite" in all of the Caribbean.
One bite into Chef Alain's wakame-marinated tuna carpaccio, with a view of Meads Bay blue, and the hype makes sense.
Beachfront at Jacala on Meads Bay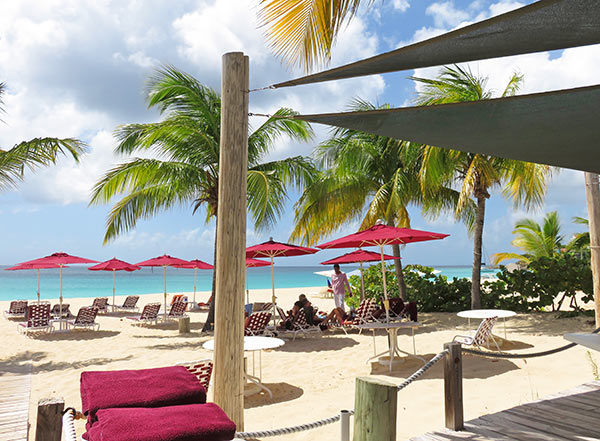 Chef Alain has refined his craft of fine French dining for decades. He formerly operated Malliouhana's prestigious Michel Rostang restaurant in the 1980's. Today, his experience and expertise shines through on the shores of Meads Bay, evening and afternoon.
Jacala, Je T'aime!
Our love for Jacala has become a full blown love affair over the years. It is a favorite for long, leisurely family lunches. The kind of afternoons that end as the sun starts to dip low in the sky.
A routine so well-established, afternoons at Jacala begin with a chilled glass of rose and our menu favorites.
To start, the grilled watermelon and goat cheese salad for me. The watermelon's juices bring a sweet, warm touch to the goat cheese. The combination is enhanced by the balsamic dressing.
Watermelon & Goat Cheese Salad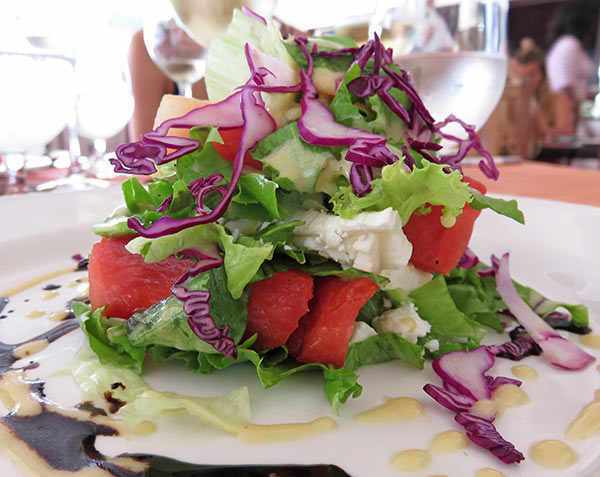 My Dad opts to begin with the lobster soup, flavored with fennel. Served with a crispy puff pastry stick, the presentation is always almost enough for me to change my "entree" order.
Lobster-Fennel Soup with Puff Pastry

But then I remember. This tuna carpaccio may be the best ever. Slices of fresh tuna are marinated in a savory wakame, olive oil and soy sauce blend. Wasabi lightly coats the underbelly of the tuna carpaccio, making the dish rich in Asian flavor.
Wakame-Marinated Tuna Carpaccio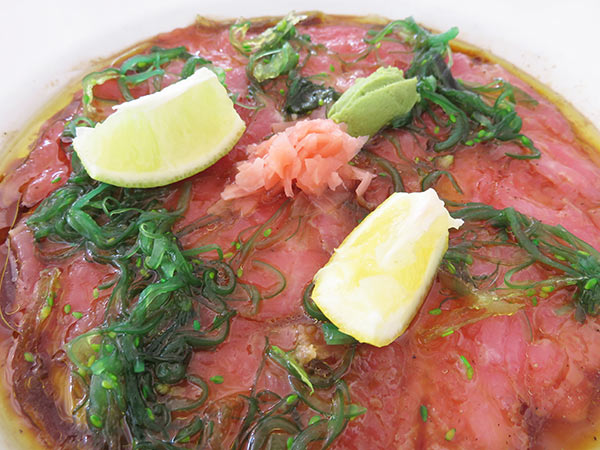 Perhaps Jacala's most famous dish of all is their robust Steak Tartare. Coarsely hand chopped and prepared at your table, the preparation is part of the experience. It is flavored to your spice-liking. Tip: It goes down best with an order of potato wedges on the side.
The Steak Tartare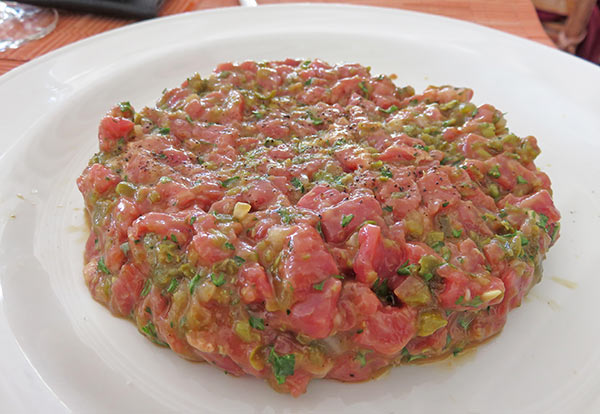 After Alain's fine French cuisine? It's onto a Jacala chaise for a Meads Bay dip and a nap. Yes, it is the formula for Anguilla dining perfection.
How did this Jacala love affair begin?
Falling in Love with Jacala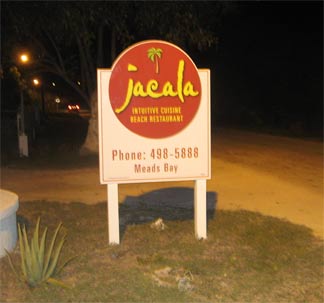 Admittedly, when Jacala first opened many years ago, we didn't know much about it. And their sign didn't give much away.
On top of the very litte marketing and advertising in those early days, it was difficult to get a reservation. A quiet hype had been building.
With a desire to put an end to the "busy signal," we took a sharp turn left into Jacala one evening when passing through Meads Bay. My Dad dropped in and asked if they had room for dinner.
They did not, but they offered a reservation for the following evening. We took it!
Before exiting the building, he took a look around. Among the clientele were 4 familiar faces. The General Managers of Cap Juluca, CuisinArt, Malliouhana and Viceroy (this was before it became Four Seasons), each dining at Jacala separately.
Dying to know just how good Jacala was, my Dad crashed their dinners and promptly asked how their meal was. A resounding... "Outstanding!" from each GM. The 4 General Managers confirmed it. It was definite. We were on for the following evening!
Inside Jacala For Dinner
Upon entering Jacala, one particular thing became evident. Jacala's ambiance is peaceful.
Enter Jacala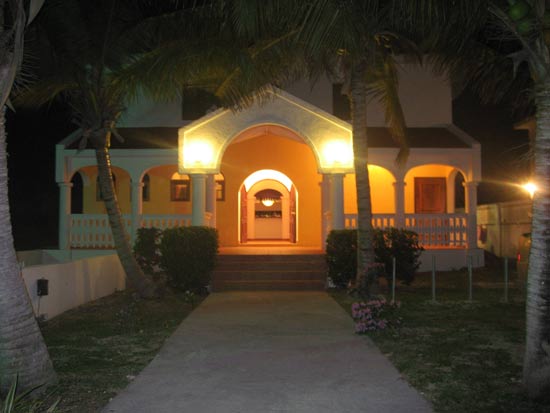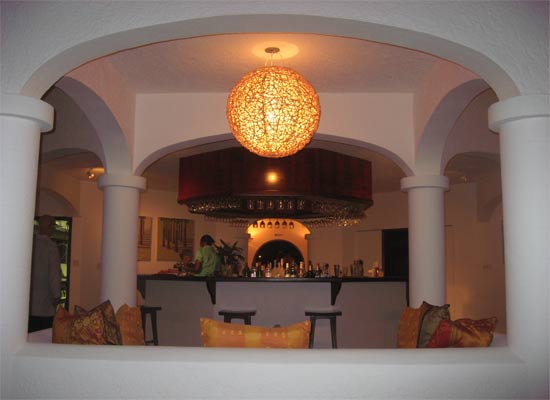 That quiet atmosphere is no accident. They set the restaurant's capacity lower than most restaurants to provide a calm environment to deliver true five-star, personalized service. Less tables means better service, and also a more serene Anguilla dining experience.
The Moroccan inspiration throughout is elegant, and the lulling of the waves just outside creates a romantic, beachside setting.
Meet Jacques Borderon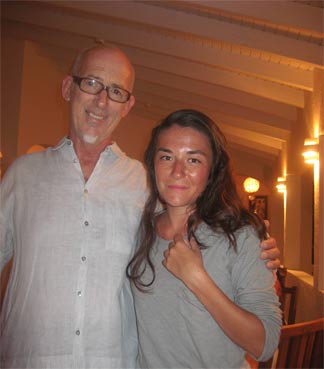 We were greeted by then owner/manager, Jacques Borderon.
Jacques has retired today, but he worked for over twenty years in high-end dining.
He is known for his work at Malliouhana's prestigious restaurant with his dear friend and Jacala's owner/chef, Alain Laurent.
Jacques and Alain left Malliouhana to create their own restaurant right on Meads Bay, one of Anguilla's best beaches.
Meet Alain Laurent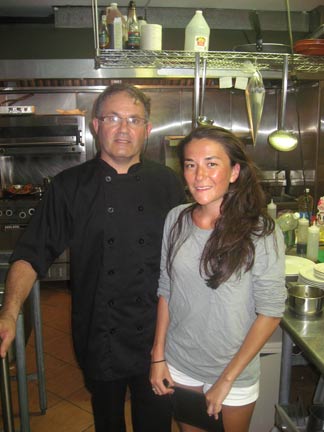 On that first dining experience so many years ago, Jacques brought us to our table, tucked to the side of the restaurant.
Our waitress brought the evening's menu and took our drink order, but not our wine order. Jacques would help us with that, but only after we had ordered our entrees. ;-)
Elegant Table Setting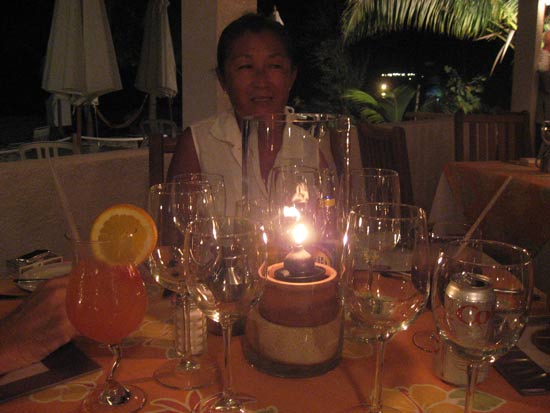 The menu covered a range of French classics and favorites, with a twist.
Starters included:
Lobster soup flavored with fennel, crispy puff pastry stick on the side
Feta cheese and grilled vegetable "terrine," pesto sauce
Sauteed duck liver foie gras served with sweet onion marmalade
My Mom, Yuki and I were hooked by the lobster soup. My Dad went with a "marinated tuna tartare with wakame, olive oil and ginger."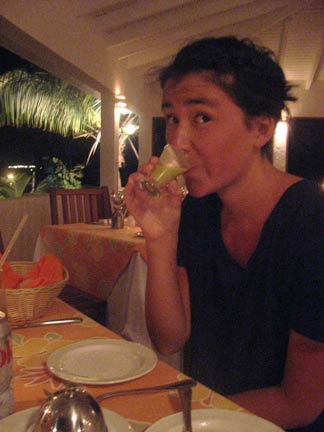 Jacala's entrees included:
Calamari risotto with Provencal flavors
Sauteed filet mignon, sauce "Marchand de vin" herb crushed potato
Breaded breast of chicken stuffed with lobster, shellfish sauce and carrot puree
There is only one steak I order in Anguilla, and that is da'Vida's steak, the best steak on the island.
Otherwise, when Anguilla-dining, I prefer seafood.
But that night, the filet mignon was calling my name.
Our waitress took our dinner order and brought us a warm basket of fresh French bread.
While enjoying cocktails and munching on baguette, we thought we were awaiting our starters until we saw Jacques approaching with complimentary "shots" of chilled cucumber soup.
Deliciously refreshing.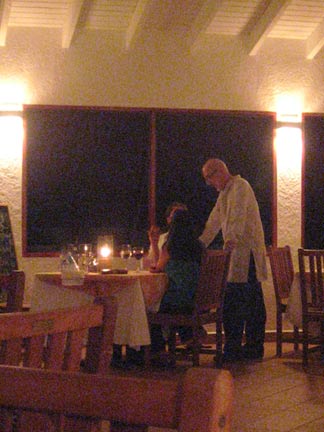 As we sipped our soup, we took note of Jacques' style.
He personally went from table-to-table ensuring that his customers weren't simply "satisfied," but were having an evening to remember.
Jacques makes your Jacala Anguilla dining experience.
From explaining the menu in detail, to helping you select the perfect bottle of wine for our table...
Jacques meets all of your Anguilla dining needs.
Today, since Jacques has retired, he is deeply missed but Jacala lives on!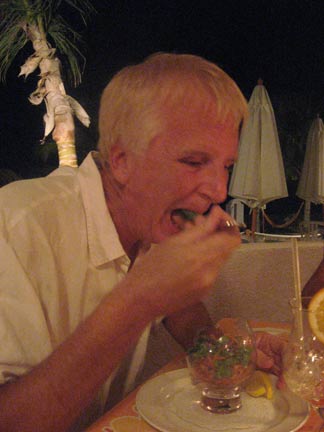 As for the food?
My Dad loved their tuna tartare as an appetizer.
The blend of seasoning was just right, one of the best tuna tartares he has tasted.
Our lobster soup was in the same league.
And as for the entrees?
Jacala's filet mignon was one of the best I have ever had.
I didn't want to leave a bite behind.
The steak is cooked to perfection, the sauce flavorful without being over-powering or overly creamy.
Fresh asparagus is served on the side.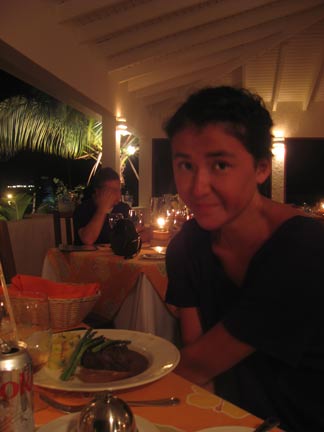 And the potatoes?
They almost steal the show.
The "herb crushed potato" mixture was outstanding.
Somewhere between a french-fry and a mashed potato, this potato "stack" is soft and creamy on the inside, and lightly fried on the outside.
With a world-class steak, Jacala's filet mignon dish makes for one of the best "steak & potatoes" combinations of all time.
From the sea, to the steak, to the service, to the serene setting... Jacala compromises nothing for quality!
Jacala is one of the great Anguilla restaurants that stands the test of time.
Directions, Hours & Contact
Directions: Jacala is located on the road that runs behind Meads Bay.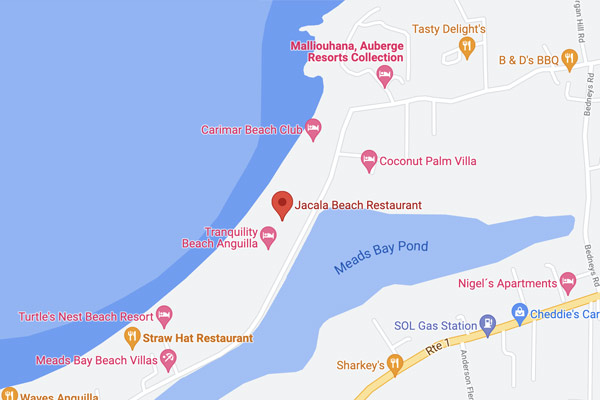 Hours: Jacala is open for lunch and dinner, Wednesday-Sunday.
Tel: 264-498-5888
Menu: Click here