JULIANS...
A Tropical French Bistro at Quintessence
Anguilla's first and only Relais & Châteaux, Quintessence Hotel is equal part elegant boutique hotel and refined high-end restaurant. Since its opening, its restaurant, JULIANS... A Tropical French Bistro, has steadily built a strong reputation for its cuisine.
Quintessence Hotel By Night

That reputation is credit to Chef Dominque Thevenet. He is one of Anguilla's most recognized chefs who quickly rose to fame when he began his career at Covecastles in the 90's. Today, he brings inspired dishes that blend Caribbean and French influences to JULIANS at Quintessence.
Inside JULIANS... A Tropical French Bistro
Quintessence sets an impressive scene come night fall. Outside, fountains flow, bubbling with lights.
Inside Quintessence Hotel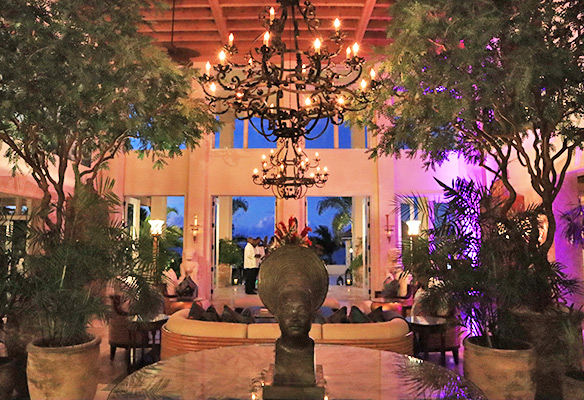 Inside, the eclectic lobby is adorned with hand-selected Brazilian and Haitian artwork. A pianist plays, casting an enchanting aura with a marked sense of sophistication.
The Lobby at Quintessence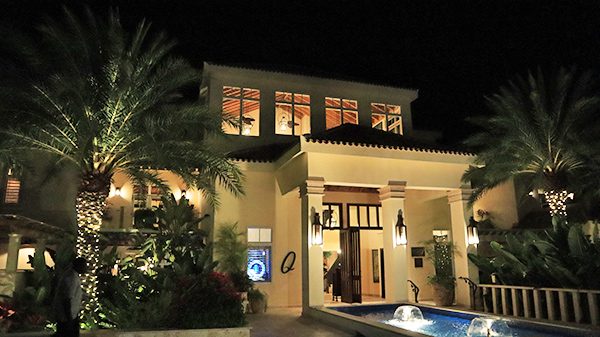 There is no dress code at JULIANS, but its atmosphere inspires the desire to "dress the part."
JULIANS restaurant flanks the western side of the lobby. There are three main dining areas in addition to the bar.
JULIANS Terrace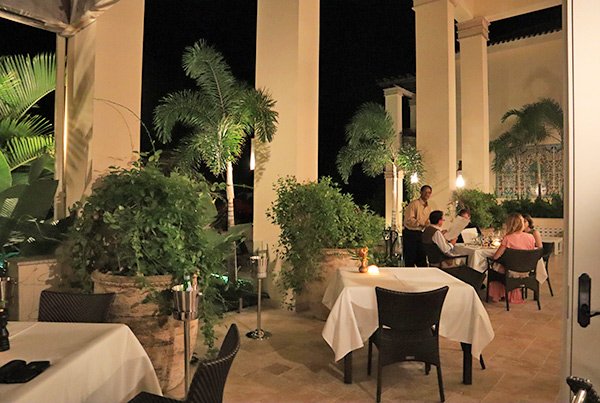 Its outer terrace overlooks the tranquil pool. Open-air, its tall, strong pillars provide a distinctly grand feeling.
Set back from the terrace is the dining room. An intimate room with immaculate lighting, wooden doors and posh seating, it is "classic Caribbean luxury" reminiscent of years gone.
Dining Room at JULIANS

The third and final area is set just behind the dining room. The back patio is perhaps the most private dining area in the restaurant. It is surrounded by lush banana trees and is complete with trickling fountain.
The Back Patio

What is for dinner?
Savory Beginnings at JULIANS
Dinner begins with a basket of Johnny cake-style beignets. Light and crisp on the outside, warm and fluffy on the inside, they are a savory nod to the restaurant's Caribbean surroundings.
Chef Dominique then introduces his cuisine with a delightful amuse bouche, which varies nightly. The one in the photo below is shrimp and crab atop a chilled slice of cucumber.
Shrimp & Cucumber Amuse Bouche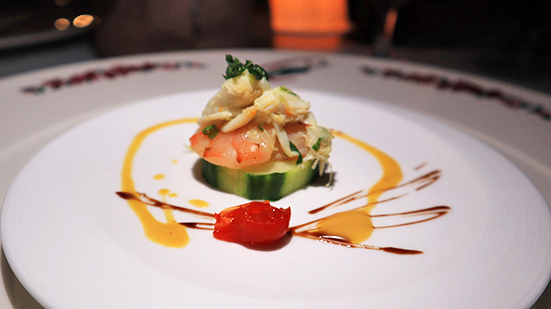 Chef's dinner menu begins with a selection of soups. They include a soup of the day, a French onion soup, coconut lobster with puff pastry and gazpacho.
Anguilla Green Gazpacho

Cucumbers, avocado, green pepper, mint and scallion are emulsified into a refreshing chilled soup. The avocado brings a certain thickness to the gazpacho. Its almost creamy texture is further enhanced by a topping of goat cheese.
Next, are Chef's salads and starters. Salads include a mixed salad, a lobster caesar and...
Goat Cheese & Fig

Warmed goat cheese is wrapped in phyllo and layered with lavender, honey, almond and poached fig. A balance of savory and sweet, it is served with a small salad doused in a sweet port wine dressing.
Non-salad and soup starters include a Burgundy escargot and...
Spicy Local Crayfish Fritter with Creole Dip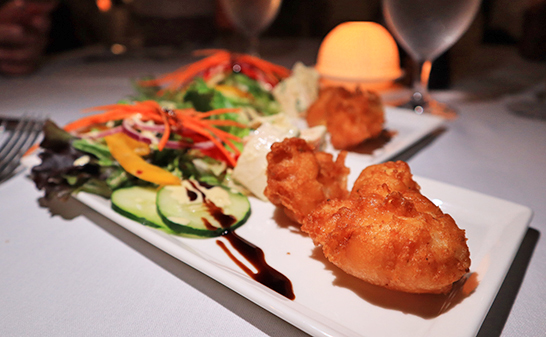 Local crayfish is enveloped in a light, gentle batter and fried to golden-brown perfection. It is served with a side of spicy creole sauce and potato salad. A sizable portion, it is an appetizer "to share."
Enticing Entrées
Chef Dominique's creativity is on full display when it comes to entrées. The menu includes a variety of fine meats such as French rack of lamb, jerk pork tenderlion, veal tenderloin and the rich conch-stuffed chicken breast.
Seafood options include local lobster, a "catch of the day" with passion fruit butter sauce and most curiously of all...
Champagne Scallops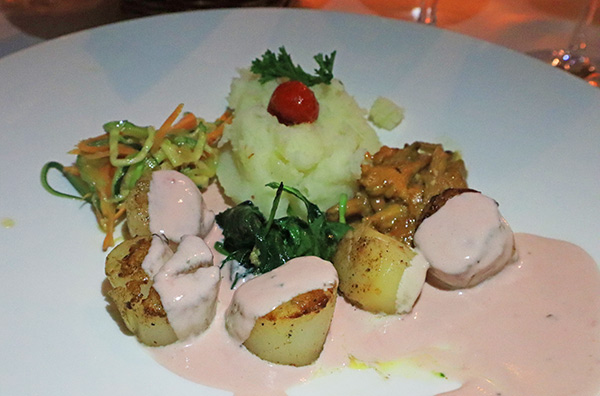 The name simply dazzles the imagination. Pan seared scallops are tossed in a hibiscus blossom champagne cream sauce. The combination is both heavenly and rich, with an ever-so-subtly sweet taste. It is served with mashed potatoes.
Another unusual and enticing creation is Chef's...
Bourbon Vanilla Mahi Mahi

Filet of fresh, flakey mahi mahi is rubbed with coconut. Its perfect compliment is its bourbon-vanilla sauce.
The menu includes a small section of pastas. A personal favorite is the Fettuccini Al Julian.
Fettuccini Al Julian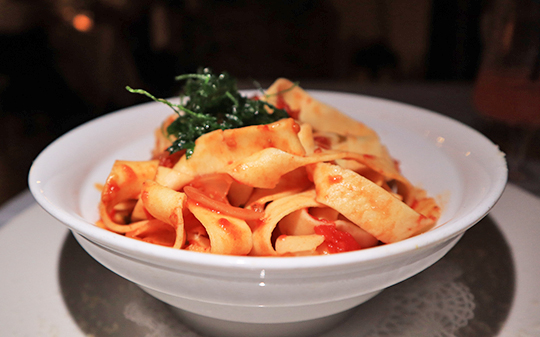 A heaping bowl of handmade pasta with chunks of juicy tomatoes, onions, garlic and basil, this dish tastes like it is straight out of Nonna's kitchen. The flavors scream "fresh" while the serving is substantial!
Rounding out the pasta options is the Lobster Pesto Ravioli.
Lobster Pesto Ravioli

Open faced ravioli is topped with pan-seared lobster medallions. The sizable chunks of lobster are rounded out with spinach, tomato and a local basil pesto.
Sweet Endings
Dinner at JULIANS is not complete without dessert. Chef Dominique's desserts are imaginative. Their inspired names and descriptions call for ordering more than just one. For example...
The "Tower of Power"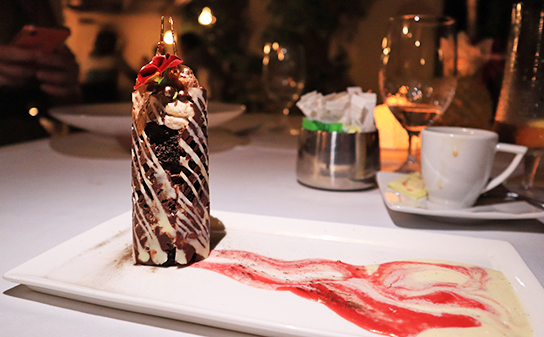 "Lush chocolate cake with praline ice cream and banana mousse is crowned with caramelized nuts." The name and the description calls to you!
Truly lush chocolate cake is layered with praline ice cream and banama mousse. Soft and sumptuous, the caramelized nuts provide a satisfying crunch to the eye-catching dessert.
Another dessert that wins on description, flavor and presentation is...
"Quinn's Surprise"

A fudge brownie is surrounded by a marbled chocolate shell. Dusted with gold flakes, the colors tease the eye. Once placed before you, the entire dome is covered in a hot Bailey's chocolate sauce.
As desserts are polished off, and sips of espresso are drunk, the meal is completed by a plate of sugar cookies.
Sweet Endings at Julian's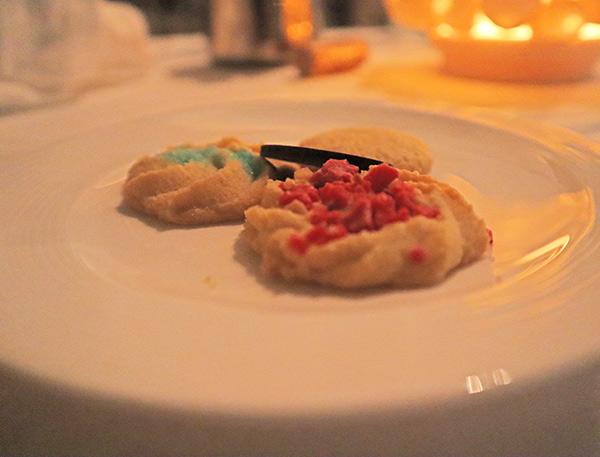 Chef Dominique has crafted a menu where each course builds in creativity and concept. JULIANS - A French Tropical Bistro at Quintessence hotel is the perfect setting for Chef's inspired menu. It is a Relais & Châteaux experience through and through.
See You Next Time Q!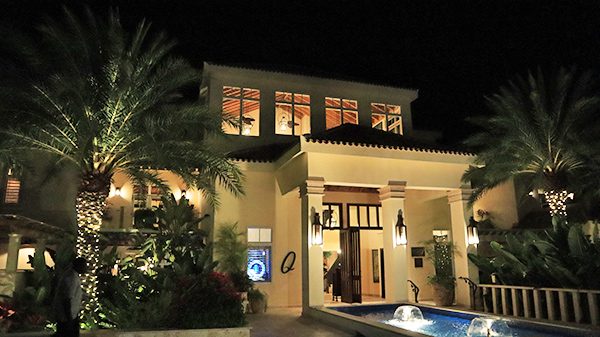 Directions, Contact & Map
Directions: At Quintessence Hotel.
Hours: Open daily for Lunch 11:30am - 3:00pm and Dinner 6:30pm until (last serving at 9pm).
Tel.: 264-498-8106