Ocean Echo...
Beach Life Is Better Here!
There's a saying in Anguilla... "beach life is better here," and it's true!
No where is that saying perhaps more true than at beachfront restaurant, Ocean Echo.
Welcome to Ocean Echo

Ocean Echo is one of the best when it comes to Anguilla's beachfront dining scene. It is a "must do" if you love Anguilla blue and days at the beach.
The Rumzie
The experience begins with...
THE Rumzie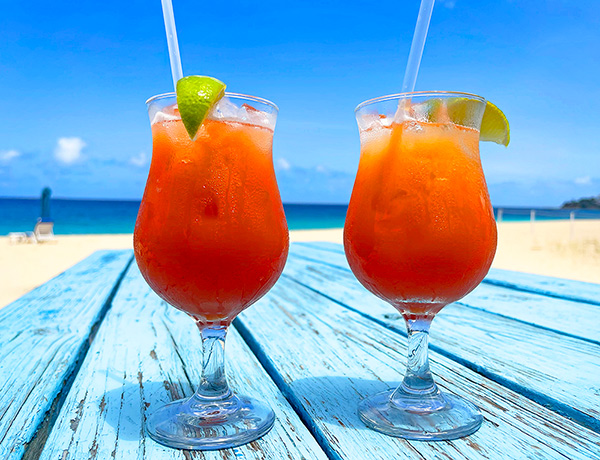 Anguilla's quintessential cocktail, Ocean Echo's version of Anguilla's rum punch (called the Rumzie) is the best our family has had yet.
Equal parts rum and fruity-sweet, it packs a serious punch, one that you may only realize a couple of cocktails in.
WORD OF WARNING: They sneak up on you!
"Is that mango?" "Is that orange?" I've asked the Ocean Echo team over and over, in the most sly of ways. They never give up their secret recipe. And for good reason! They are dangerously good.
Without a doubt, Ocean Echo whips up some of the most beautiful beverages...
Pink Ting & Ocean Echo Lemonade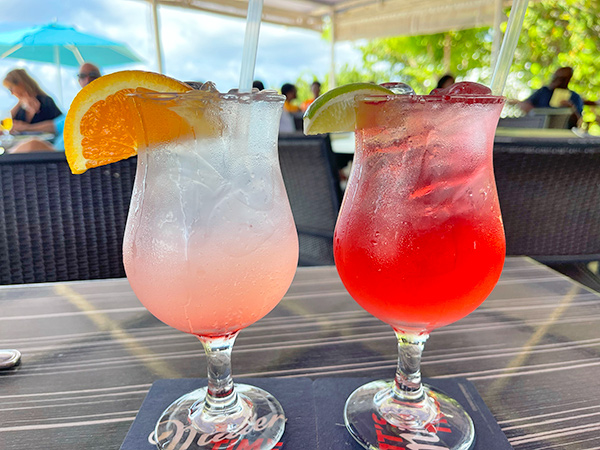 Colorful cocktails in-hand, it's out to the blue view...
Majestic Meads Bay
Worldwide, few beaches compare to the pure azure of Meads Bay...
Meads Bay Blue

This is the endless blue view that awaits you in front of Ocean Echo.
Meads Bay is one of the most unique beaches in the Caribbean. Unmarked by reef, it is all sandy bottom and blue for as far as the eye can see. The sea shimmers in a million shades of light turquoise, the light bouncing and reflecting off of each still ripple on the ocean.
When Meads Bay "wakes up" (in the winter months), you are treated to an awesome view of the bay's powerful waves.
Wave Action on Meads Bay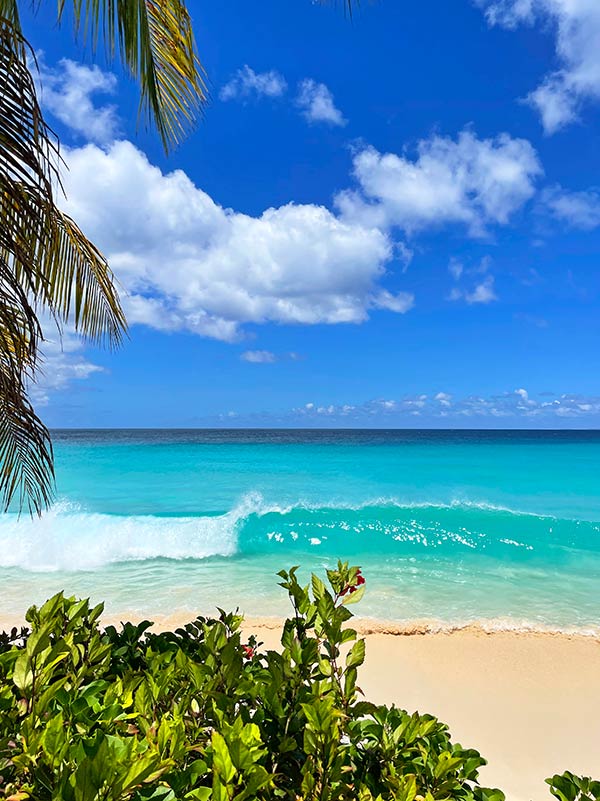 This beach can go from being as still as a pond, to having 9' surfable waves. When that North swell comes in, Ocean Echo has front row seats to the best wave action on the island, and the occasional surfer or two riding them. It is truly one of the island's biggest, most impressive beaches.
Complete with Ocean Echo's signature blue lounge chairs & umbrellas, it is the perfect spot to laze the day away.
What's For Lunch?
Back inside Ocean Echo (or out at your beach chair - whichever you prefer), Ocean Echo serves up a host of tasty beach eats.
The lunch menu features everything from classic staples like hot dogs, burgers and caesar salads, to specialties such as "Ocean Echo chowder served with garlic bread", a honey roasted chicken breast sandwich and "Rasta Pasta".
We always start with a plate of crisp calamari...
Calamari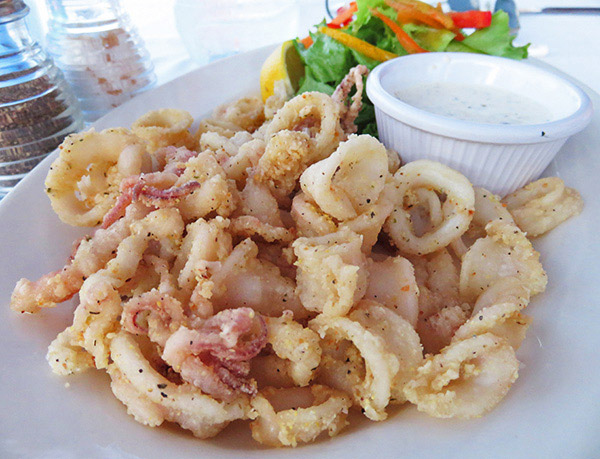 And the Calypso Wings...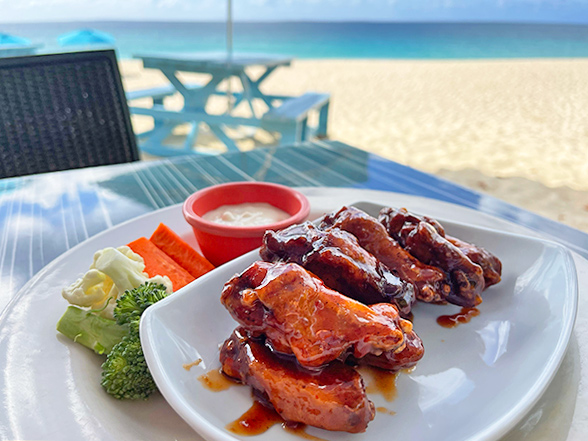 To say that these wings are delicious is an understatment. Crispy and covered in Ocean Echo's sweet chili sauce, they are served with a creamy blue cheese dip and crudités. We always have to order two rounds!
Next up, the perfect beach food for me! The Ocean Echo Club House Sandwich. Simple and true to its name, layers of bacon, cheese and turkey are all stacked on toasted, fresh bread.
Club Sandwich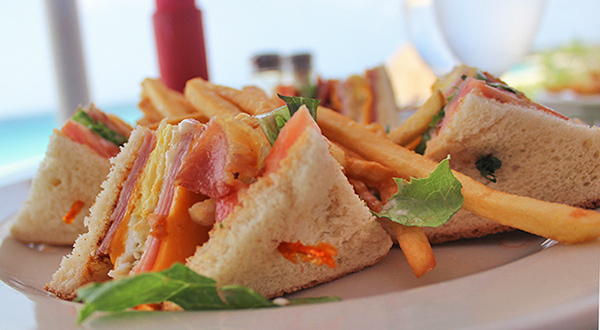 Also from the sandwich options, the classic cheeseburger. Your choice of American, Swiss or pepper jack cheese is layered on a sizeable patty, topped with fried onions and served with a mixed green salad or fries.
Beef Burger with Pepper Jack Cheese

My sister, Yuki is in love with Ocean Echo's Rasta Pasta. It is also Louise's "go to" main course.
Prepared with your choice of olive oil or cream, the dish is loaded with fresh veggies. Each bite is fresh delight!
Chicken Rasta Pasta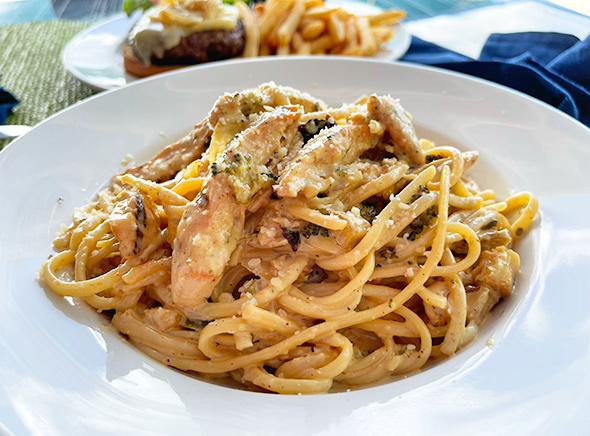 Add chicken, shrimp or just stick with vegetables. Regardless of what you choose, it is filling and packed with flavor.
As for my Dad? Ocean Echo's pizza is reliably one of Anguilla's best...
Jerk Chicken Pizza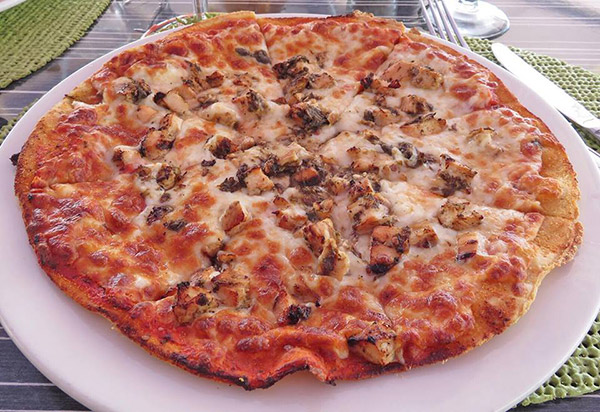 If you love heat, like my Dad, go with the jerk chicken pizza.
For lighter options, Ocean Echo has salads and wraps. The most eye-catching salad being their lobster salad, served in a beautiful conch shell...
Lobster Salad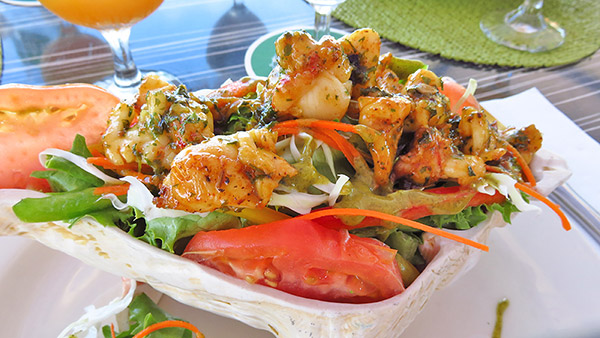 The chicken wrap on a spinach wrap is another popular choice...
The Chicken Wrap

For more of a lively scene, drop in to Ocean Echo on Sunday afternoons when they have live music. The restaurant features different artists week to week.
Riri Music Entertainment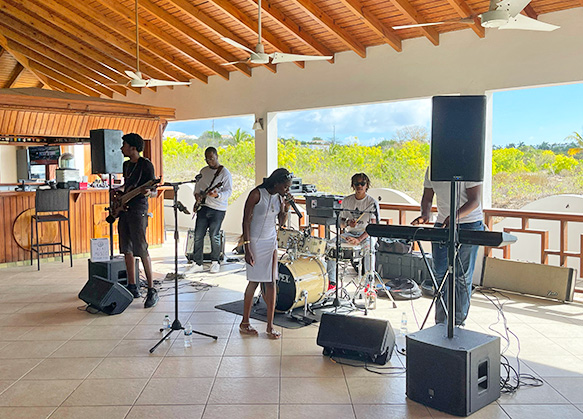 If there's no live music on tap? Enjoy the soothing sound of the "Ocean's Echo" as you dine.
Cocktails on Meads Bay...The Picture Perfect Afternoon....

Totally at ease, it is the setting for beach lovers and one of my #1 choices when relaxation is on my mind.
Sea you at the Beach!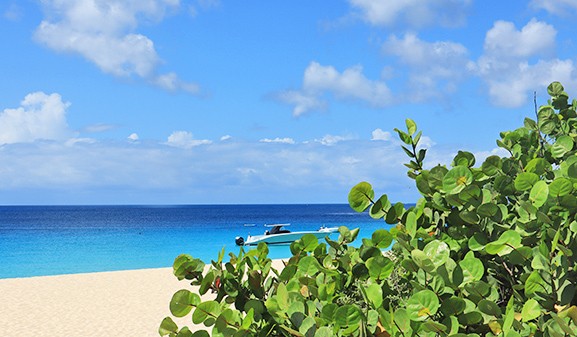 Sophisticated Sunset Dining at Ocean Echo
By: Kirmani Honoré
The atmosphere at Meads Bay completely transforms come sunset hour.
What is a busy, bustling hub for tourists by day, becomes a calm, empty and wide-reaching bay perfect for catching stunning, scarlet views of the Caribbean sunset.
In the same fashion, the atmosphere at Ocean Echo changes come night time. The lunch menu goes from tasty, fun and beachy, to a delectable menu of fine dining choices.
As always, Ocean Echo proves water-front dining is the best way to dine in Anguilla...
Sophisticated Sunsets at Ocean Echo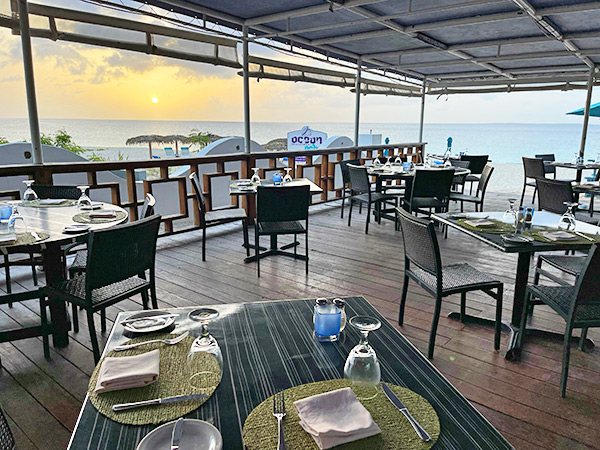 Aim to get to Ocean Echo in time to catch the sunset. As you watch the sun kiss the horizon, your attention turns to Ocean Echo's gourmet menu. Is it a savory Cornish hen or a creamy, filling lobster pasta that is calling your name?
Ocean Echo's dinner experience begins with sincere and attentive service. It is always impeccable. While you decide on your order, their team brings an Ocean Echo bread basket to hold you over...
Melt in Your Mouth, Buttery Bread

Warm, flakey, Johnny cakes and fresh hot buns fill the basket. A most pleasant way to start off the night.
If in doubt when it comes to cocktails, ask your dutiful hosts for a recommendation.
Two top choices we were given? The Sunset Mango Margarita and the refreshing Pomegranate Mojito.
Colorful, Zesty Margarita & The Pomegranate Mojito

Delicious is an understatement! Ocean Echo's fun, colorful cocktails never disappoint.
Special Note: I'm a slow sipper, so I was doubly satisfied! My vibrant mountain of frozen margarita always lasts the entire meal, chilled and tasty 'til the last sip.
To start the menu includes...
Fresh Local Tomatoes & Buffalo Mozarella

This caprese salad bursts with fresh flavors. Big, bright and juicy, these locally sourced tomatoes pair perfectly with the rich buffalo mozarella. The plate is drizzled with in-house pesto and a balsamic reduction.
Next?
Tuna Tataki with a Fresh Seaweed Salad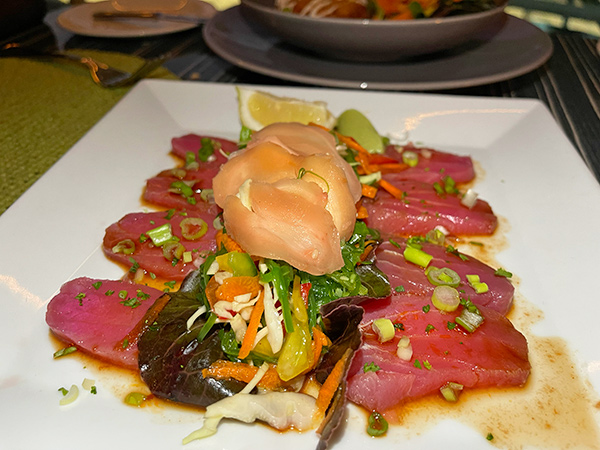 Thick slices of sushi-grade tuna melt in your mouth. The generously sized pieces are topped with pickled ginger, a seaweed salad and a drizzle of ponzu sriracha.
Fun, eclectic and refreshing seafood at sunset? Sign me up!
Another appetizer that's great for sharing...
Crispy Crab Cakes Topped with Mango Pico De Gallo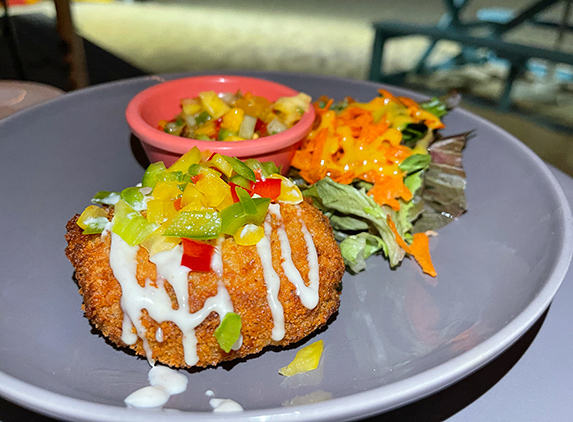 Crispy, panko-encrusted crab cakes are topped a fruity, mango salsa. The tropical mango adds lovely sweet notes. So good, we always have to draw straws to see who gets the last bite!
In the spirit of trying everything on Ocean Echo's cocktail menu, and if you would like another cocktail at this point in the meal, don't miss the Bahama-Mama Rum Punch...
The Bahama-Mama Rum Punch at Ocean Echo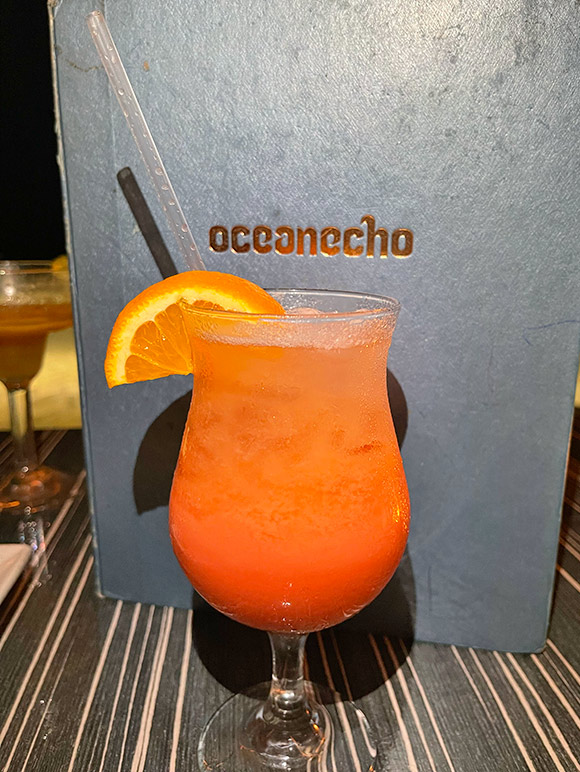 Another Ocean Echo spin on a classic Anguillian cocktail? Yes, please!
Cocktails at the ready, let's dig into our main dishes...
Scrub Island Grilled Crayfish

Louise loves this dish. She always digs in immediately, taking no prisoners!
A mountain of locally sourced fresh crayfish are grilled to perfection. They are served with a side of garlic butter infused with sage and thyme. Farmhouse potatoes and steamed veggies come on the side.
Another enticing main...
Roasted Rack of Lamb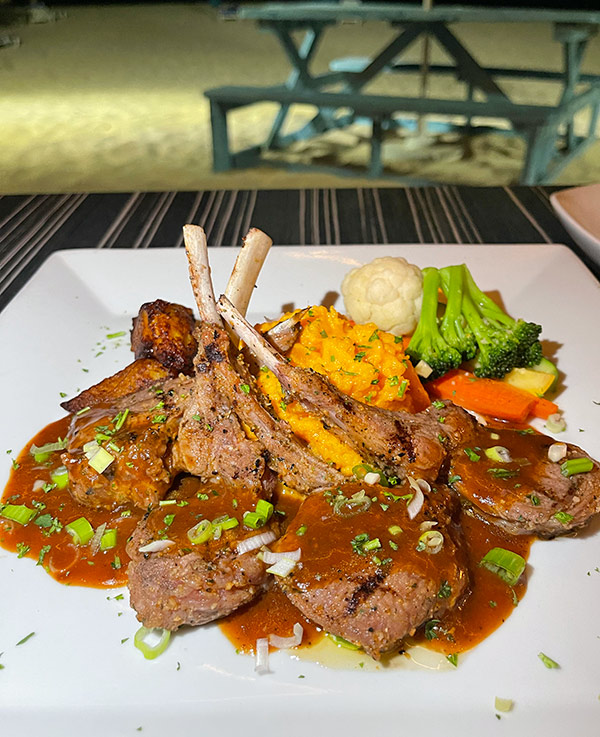 A sumptuous rack of lamb is served with sweet potato puree, Anguillian-style plantain and veggies of the day.
Juicy and cooked to a medium-rare perfection, the meat slides off the rack ever so easily. That's not all. It is topped off with some of the lightest, most delicious gravy I've ever tasted.
Last but not least, it's not an evening at Ocean Echo without...
Homemade Apple Tart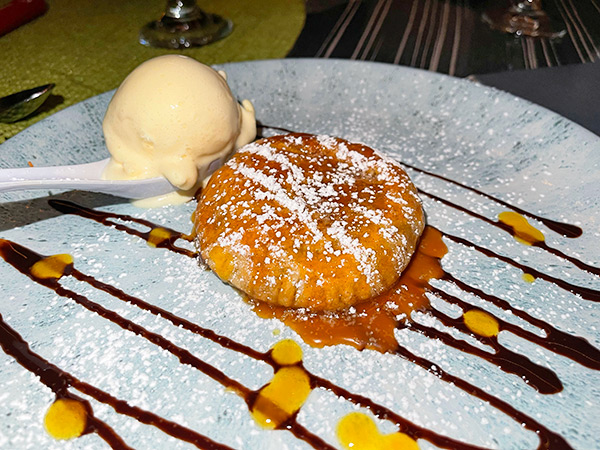 This dessert is the apple of our eyes! Its light, fluffy shell is complemented by its warm, Granny Smith filling. All homemade, this tart takes the cake... or... pie!
After dinner, we love taking an evening stroll along magical Meads Bay.
Meads Bay's Breathtaking Sunset Never Gets Old

Whatever the day and whatever your mood, Ocean Echo is always excellent value!
Directions, Hours & Contact
Directions: Ocean Echo is one of the first establishments as you turn onto the road that runs behind Meads Bay.
Hours: Daily for lunch and dinner.
Tel: 264-582-0269
Menu: Click here