<![endif]-->
Ocean Echo...
Anguilla Beachside Dining on Meads Bay
Ocean Echo At A Glance
By: Kristin Bourne
The best beach-side location on Meads Bay, Ocean Echo is breezy and open to the sea. With tasty menu options and caring staff, this spot has quickly become a favorite for both lunch and dinner. Their Sunday nights are especially loved when they have the popular "Boss" performing live.
More on Ocean Echo, below...
For those who like to see the ocean as you dine, Anguilla has a new spot for you to try...
Opened in late October 2012, Ocean Echo is located on the western end of Meads Bay.
Sitting on the sand and offering views of the sea, the large restaurant has room for dining, dancing, and happy hours.
The interior of Ocean Echo... plenty of space for dancing!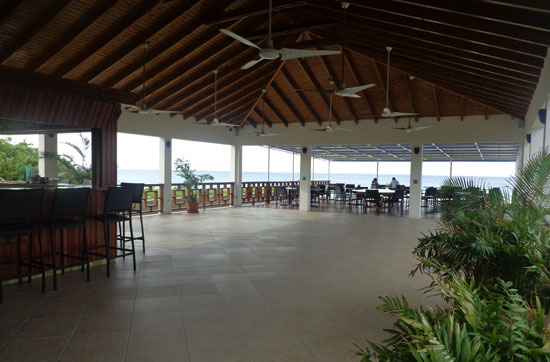 Ocean Echo sits on Meads Bay and it's a perfect spot to catch the sunset over the sea

It's a nice space for receptions and private events as well.
I and a friend stopped in to experience Ocean Echo in between their soft opening which consisted of a BBQ menu and their regular menu roll out in late October 2012.
The Meads Bay beach-side entrance to Ocean Echo

What I found is that Ocean Echo is owned by several people... all from the same family. Even their experienced chef is related!
Prior to Ocean Echo, the chef has spent time at other delicious Anguilla restaurants including an Evoy family favorite, da'Vida, as well as restaurants at Cap Juluca and The Viceroy.
I had the chance to speak with Dillon, who is managing the restaurant and happened to take my order.
I also spoke with Chef Sylvester who explained some of the items on the menu...
When I visited for lunch the menu consisted of soup, appetizers, salads, sandwiches/wraps, and several entrees including catch of the day, grilled crayfish/lobster, stir fry, ribs, and a steak.
Dillon told me that the dinner menu was different from the lunch menu.
Your Ocean Echo chef... Chef Sylvester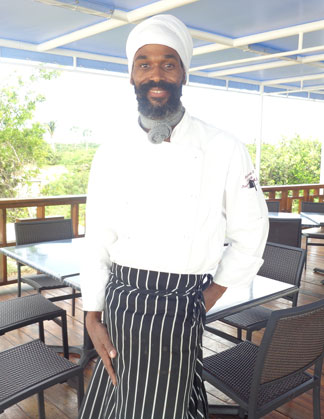 The dinner menu has appetizers that includes salads, spring rolls, chowder, and scallops. The entrees vary from seafood to lamb and pasta.
It was appealing and I'm excited to get back there for dinner some time soon with Nori.
Dillon expects to be revising the menu over time.
As they get rolling they will see what works and doesn't work.
They want to cater to the clientele coming in and make adjustments as they go.
If I were summing up the flavor origins of the menu, overall they seem stem from the Caribbean and Asia.
I started to order the Chilled Gazpacho as Sylvester had recommended it. I noticed it was served with crayfish and all for $12. When I asked Dillon about the crayfish, if it was a whole crayfish or just a bite or two, he told me that it was a typo on the menu and that the gazpacho did not come with crayfish.
Look for little glitches like this to be worked out as they get warmed up as a brand new restaurant. Dillon told me he would be making proper revisions. I'd also recommend asking questions about the menu.
I decided to go with a chicken wrap. I asked Dillon if they could jerk the chicken and he said, "Of course, no problem." It was nice that they were able to customize my order on the spot. The price was reasonable at $12.
When my wrap arrived, the plate looked delicious. The wrap was a decent size, cut in two pieces. Chunks of chicken and peppers were spilling out of it. It was served with french fries and a small salad.
As my friend and I nibbled at the fries, we noted that they were especially good. I prefer smaller, crispier fries and Ocean Echo's were just that. Mind you, no one's fries compare to SandBar's in my opinion, but I would be motivated to get to Ocean Echo if I were craving those light, little, crispy fries!
Jerk Chicken Wrap with fries and salad & Meads Bay for dessert!

My lunch was tasty. Everything was the proper temperature. The view and sound of the sea was of course, a highlight. The staff at Ocean Echo was nice, but still learning.
Once the restaurant truly gets up and running, the growing pains should quickly ease.
It will be great to see if this restaurant can become another nice and consistent option on Meads Bay considering their location is a competitive one with The Viceroy, Blanchards, Blanchards Beach Shack, and Straw Hat all within walking distance.
Keep reading for our update...
Update: The Food, Service & View!
Since we last visited Ocean Echo, we have been back and have good news.
Ocean Echo is at the top of their game!
Me and Dillon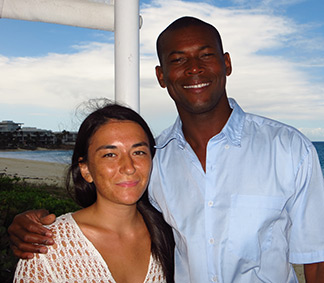 First, the people at Ocean Echo are some of my favorite people in Anguilla.
Dillon owns and manages this more refined beach restaurant.
He welcomes you at lunch and makes sure you are well taken care of.
Fun and warm-hearted, we always look forward to catching up with Dillon!
Dillon has long dreamed of owning a restaurant on the beach. And really, he has the best location of all, being right on Meads Bay...
The View To The West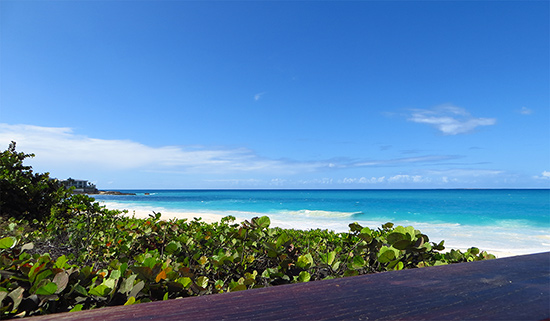 Straight Ahead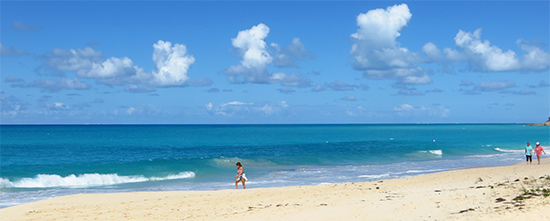 Meads Bay is one of the island's biggest, most impressive beaches. This beach can go from being as still as a pond, to having 9' surfable waves. When that North swell comes in, Ocean Echo has front row seats to the best wave action on the island, and the occasional surfer or two riding them (watch for me - I'm the beginner who is always falling off her board ;-)).
Dillon plans to continue to expand his business out onto the beach. Soon, he will have loungers, umbrellas, an outdoor BBQ and even a bar on the beach, open late into the night.
After we caught up with Dillon, he left us in the care of our friendly, down to earth and helpful waitress, Andrea.
She explained the menus and brought us our drinks.
The lunch menu features everything from classic staples like hot dogs, burgers and caesar salads, to specialties such as "Ocean Echo chowder served with garlic bread", a honey roasted chicken breast sandwich and "Rasta Pasta".
My sister, Yuki, went for the Ocean Echo Club House Sandwich. The chicken wrap caught my eye. And my Mom was set on the Rasta Pasta!
We watched the waves roll in, lulled by their rythm and enjoyed the gentle breeze that blows through the open beachside restaurant. This is the setting for beach lovers.
In good time (quick without being "too" quick), our waitress emerged from the kitchen, plates in hand.
"Rasta Pasta"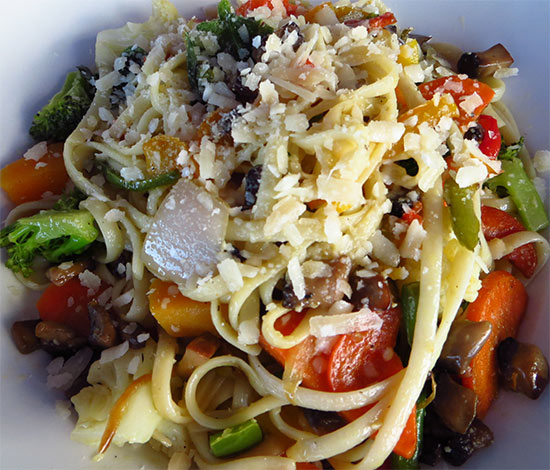 The Rasta Pasta is filled with succulent, fresh vegetables. It is $20. You can add shrimp and chicken for a small extra cost. My Mom "ooohed" and "aaaahed" through the meal. Light and fresh! It is a linguini pasta tossed with onions, mushrooms, garlic, broccoli, peppers, carrots and spinach. Not over salted, and without any type of heavy, overpowering flavor.
"Ocean Echo Club House"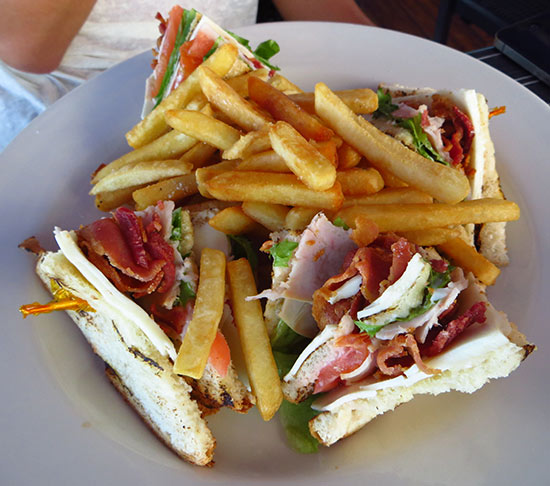 As for the Ocean Echo Club House, Yuki says it's one of the best club sandwiches on the island. Filled with turkey, bacon, cheese, fried egg (Yuki skipped the egg), lettuce and tomato, the key is really in the bread.
They don't simply toast the bread. They grill it, giving it a different texture, a better texture! This comes with fries or salad and is $12.
Note: Since Kristin's visit (which you can read about above), they have changed their fries to a thicker cut fry.
The Chicken Wrap

The chicken wrap was a delightful surprise.
Kristin, in her review above, noted that she ordered her chicken wrap "jerked."
They have since changed how they do it.
Today, it is loaded with sweet and sour Asian flavors!
Served in a tangy tortilla, it is loaded with fresh vegetables and big chunks of chicken. The wrap costs $14.
Overall, the prices are fair.
Before leaving, we had a chance to meet the man behind the scenes, Sylvester.
Sylvester, The Chef at Ocean Echo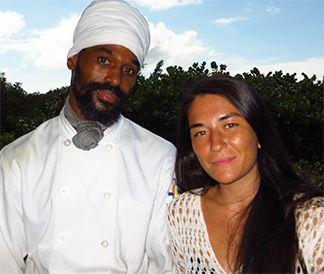 He is the magic, right at the center of where it all happens!
A sweet and gentle person, he takes great care in creating each and every dish.
In our conversation, I noted the wonderful Asian flavors in the chicken wrap. He said that he has been focusing more and more on Asian cuisine as it has been dominating culinary contests around the world.
Sylvester is certainly on the up and up on what's going on in the world of fine dining!
He has worked at several high-end establishments in Anguilla, and plans to continue his culinary studies in the UK.
This lunch pleases in more ways than one! From the location, to the company, to the nourishing food prepared with pride, I'm happy to say that Ocean Echo is a top spot for lunch on the island.
If you aren't in the mood for eating, I highly recommend coming here for a drink in the late afternoon or early evening. The setting is remarkable, especially for those like me, who find pleasure in the simplicity of just watching the waves roll. :-)
Directions, Hours & Contact
Directions: Ocean Echo is one of the first establishments as you turn onto the road that runs behind Meads Bay.
Ocean Echo
Good for lunch with a beachside location.
Hours: Daily for lunch and dinner.
Tel: 264-582-0269