The Evolution of
Edward's Inn aka Sydan's...
Sandy Ground's Historic Hotel
By: Kristin Bourne
All around the world Anguilla is known for its luxury accommodation and service. Most of the talk centers on luxurious villas and sizable resorts. Belmond, Four Seasons, and Aurora are all familiar names.
And while Anguilla is still a luxury destination, it also has lovely, moderately priced hotels, villas, and other cozy lodgings for travelers on a shoe-string.
Even at such steep discounts compared to luxury hotels, these establishments provide efficient service and high value rooms.
Welcome To Edward's Inn aka Sydan's

Edward's Inn (or Sydan's as it is locally called), was one of the first inns for budget travelers. In fact, it is the oldest hotel in Sandy Ground! It sure has come a long way from where it first began 4 decades ago.
I met with owner/operator Anne Edwards one September morning.
She shared a lot with me. It all started with how Sydan's came to be…
The Evolution of Sydan's
In the late 70's and early 80's, Anne returned to Anguilla after being away at university.
She noticed a need from St. Martin visitors to Sandy Ground.
The Sydan's Courtyard Today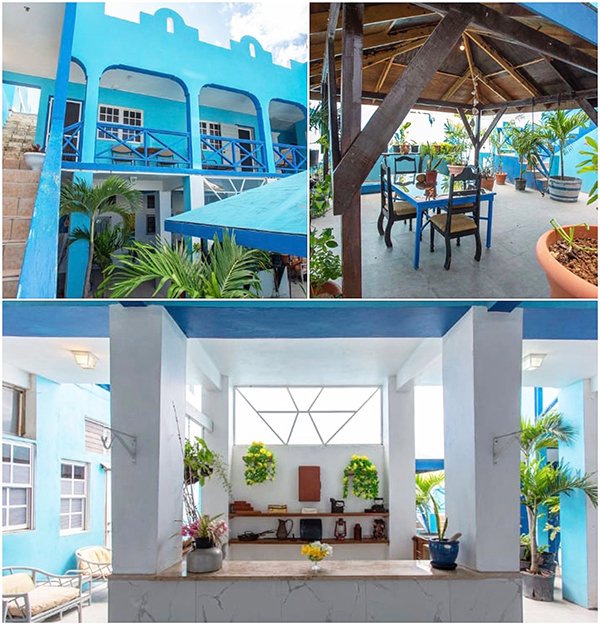 Although still quiet, Sandy Ground is the hub of boat activity to Anguilla.
Boat passengers would disembark and roam around Sandy Ground where at that time, there wasn't much for them to find.
Anne and her Aunt acted as unofficial hostesses if they came across a visitor with a need. They would make hot tea in the event someone was feeling sick and make them feel at home.
This led Anne to build a bar and restaurant where Sydan's is today. It was called Sydan's back then too. Syd is Anne's brother who was key in enabling Sydan's to get up and running and continue through the years.
Meet Anne Edwards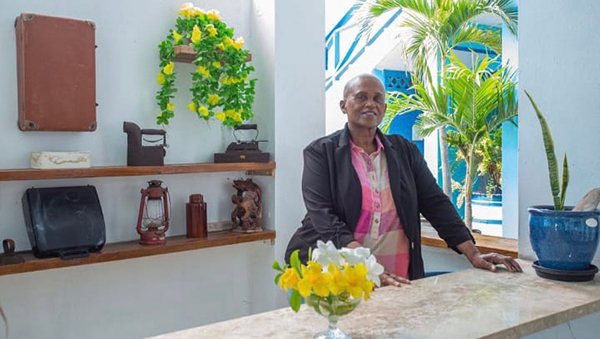 They used to hold a dance every month with different bands. They served burgers, chicken & chips, milkshakes, ice cream and drinks.
Soon after Johnno's began a humble operation under a tree across the street where where he had music every Sunday.
With demand building in Sandy Ground, the first two apartments of Sydan's were constructed.
Inside Sydan's / Edward's Inn
Today, Edward's Inn (formerly Sydan's) is still owned and operated by Anne and her family. Twelve beautiful units each have their own private kitchen, ensuite bathroom, sweeping views and easy beach access.
Units differ in size and are separated into 3 categories: Duplex, studio and apartment.
Generally the apartment units are a bit cozier and perfect for longer stays.
Edward's Inn Apartment Unit

The larger duplex and studio units flank the southern end of the Inn's quad and touch the edges of the Sandy Ground's historic salt pond.
Edward's Inn Duplex Unit

These single bedroom units are two-floors with the bedroom on the top floor.
The duplex units are Sydan's most popular for their pretty view of the salt pond. Every duplex and studio unit comes with a private balcony that takes full advantage of Anguilla's breathtaking Sandy Ground landscape.
Southern View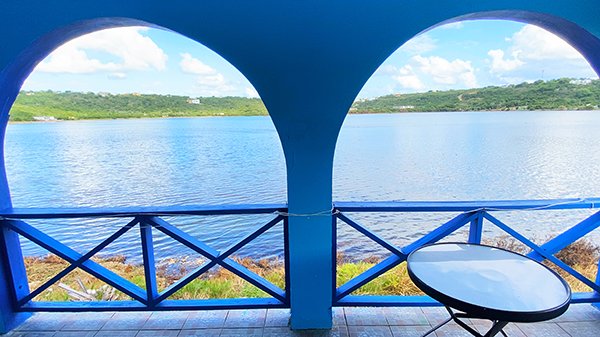 The property is adorned with meaningful art donated from Anne's past students and other patrons that have fallen in love with her charm and vision.
Meaningful Art Decorates Edward's Inn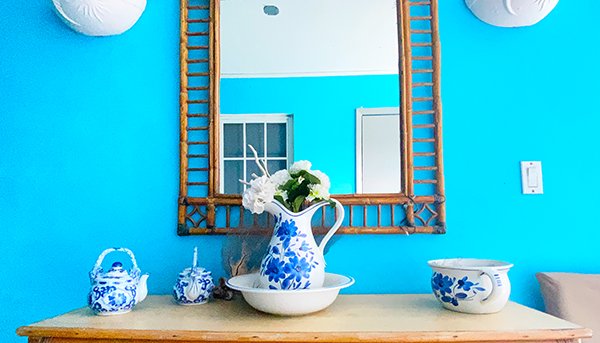 Anne Views a Painting Created by Her Former Student

Rooftop Terrace & Mini Mart
When it comes to common spaces, Sydan's final floor opens up to a rooftop terrace with sweeping, refreshing views of Sandy Ground's calm bay and Anguilla's largest natural mark, the Sandy Ground Salt Pond.
Stairs To The Top!

Back downstairs, Sydan's Mini Mart carries a small supply of canned goods, candy, wine and cheap liquor... staying true to "enjoying Anguilla on a shoestring."
With some of the cheapest drinks available on the Sandy Ground strip, patrons, revelers and explorers alike all frequent this convenience store, to top up on basics while out and about on Sandy Ground.
Sydan's Mini-Mart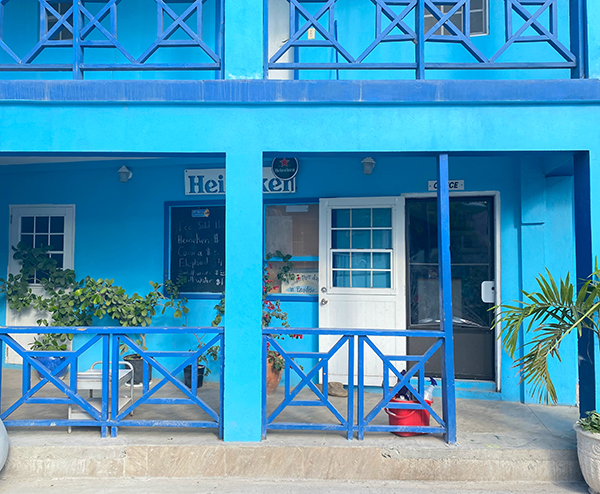 Sydan's truly originated out of hospitality, to be there for you, the visitor. It offers the quintessential ingredients for an unforgettable Anguillian experience: affordable accommodations, immediate beach access and a lovely location in one of Anguilla's most lovable communities.
The Beach at Sandy Ground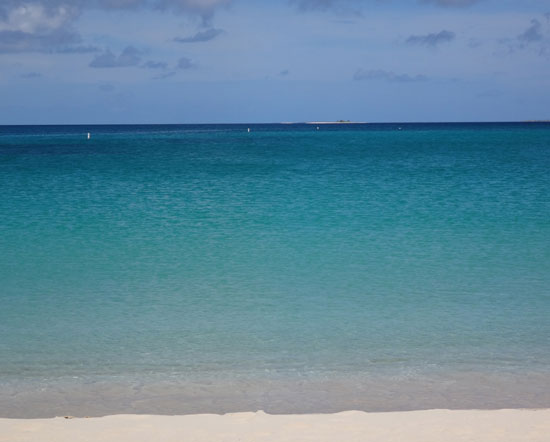 If you are interested in booking a room at Sydan's, my advice is to get in touch with Anne well in advance.
Prices range from around $150 - $250 a night. It's no wonder they book easily!
Directions, Hours & Contact
Directions: Edward's Inn and Sydan's Minimart are located just across the street from Johnno's through the main Sandy Ground Road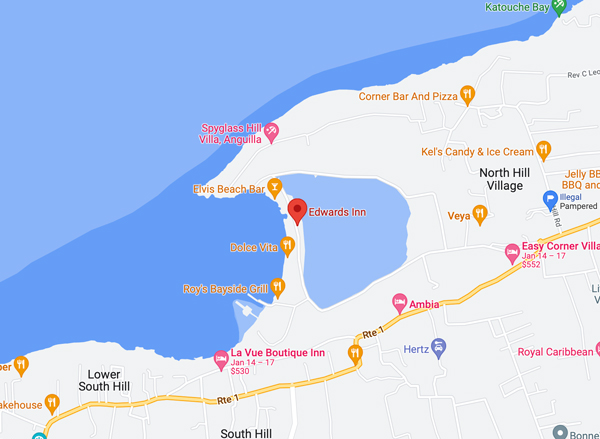 Hours: Anne can be usually be reached during the operating times of the Minimart and main office, 8:30-8pm
Phone: (264) 729-1738
More on Sydan's