The Evolution of
Sydans Apartments and Mini Mart...
Home to the "Cheapest Drink on the Strip"
By: Kristin Bourne
Anguilla is known and marketed for luxury. High-end villas and expansive resorts are mostly what's talked about.
While it's true that Anguilla is a luxury destination, Anguilla has lovely moderately priced hotels and villas and quaint bed and breakfast options, like Lloyd's Bed & Breakfast.
Another fine category for accommodation in Anguilla for the shoestring budget traveler are the "hotel apartments" like the hospitable Ferryboat Inn.
Sea View and Sydans are budget apartment hotels that are somewhat off the radar and for no good reason.
They are clean, they are in great areas and offer more than a standard hotel rooms does in providing a kitchen and sometimes a spacious living room.
One of the earlier budget apartment hotels is Sydans in Sandy Ground.
(Note: You may notice that the sign at Sydans is spelled, "Syd-An's". This makes sense given it's a combination of Anne and her brother's name! It is most commonly spelled "Sydans" seemingly everywhere else this hotel is listed... so we'll keep it that way for our purposes, to maintain consistency.)
The streetfront of Sydans Apartments and Mini Mart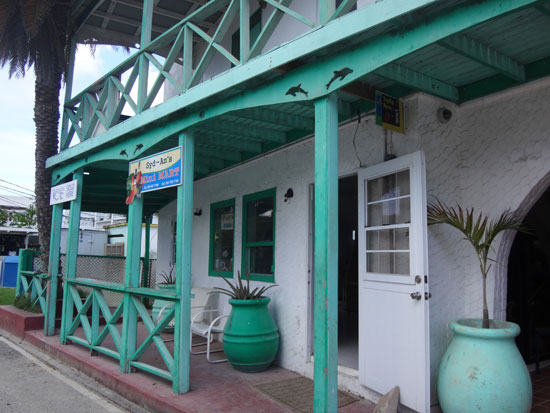 I met with owner/operator Anne Edwards one September morning.
She shared a lot with me. It all started with how Sydans came to be…
The Evolution of Sydans
In the late 70's and early 80's, Anne returned to Anguilla after being away at University.
Wide and pretty corridors at Sydans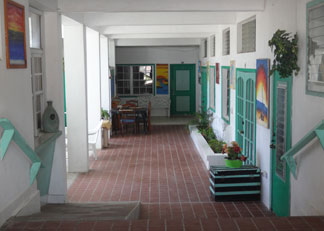 She noticed a need from visitors to Sandy Ground that were arriving via clippers from St. Martin.
Although still quiet, Sandy Ground is the hub of boat activity to Anguilla.
Boat passengers would disembark and roam around Sandy Ground where at that time, there wasn't much for them to find.
What they would find is nice people, fishermen, salt pond workers, and of course, the sparkling clear blue water that is nestled up inside the two barrier hills that form Sandy Ground.
Anne and her Aunt acted as unofficial hostesses if they came across a visitor with a need. Then, visitors were initially at the mercy of the local residents of Sandy Ground should they need something.
They would make hot tea in the event someone was feeling sick and make them feel at home.
This need led Anne to build a bar and restaurant where Sydans is today. It was called Sydans back then too. Syd is Anne's brother who was key in enabling Sydans to get up and running and continue through the years.
Others of Anne's family, like her brother Earl, have been instrumental too, even though the name Sydans hasn't been altered much since it opened.
Anne showed me where the original kitchen and bar was.
The Sydans courtyard

She told me that they used to hold a dance every month with different bands. They served burgers, chicken & chips, milkshakes, ice cream and drinks.
Back then everything was run from a generator that Anne and her brother had found in St. Barts and brought to Anguilla.
Soon after Johnno's began a humble operation under a tree across the street where where he had music every Sunday. His freezers and equipment were located at Sydans.
Still seeing the demand in Sandy Ground, the first two apartments of Sydans were built. 101 and 102.
Today, even though 101 and 102 are no longer used as apartments, Anne has not renumbered the units in the building.
So, if you have an affinity for the number "101", you'll just have to pop in to what is now Irie Life.
Irie Life's Sandy Ground location is housed in the very first Sydans apartment!

Likewise, if you are connected to the number "102", you can just go and visit Anne in the Sydans Mini Mart as it currently occupies the old apartment #102.
Anne went on to tell me about her "dream stairs" that were in place for quite a while as her dream was to build the second floor of Sydans.
As you can see, she achieved her dream.
Inside Sydans
Apartments now fill both the downstairs and upstairs of Sydans.
They are all spacious, fully furnished and decorated one bedroom units with a kitchen. They are all different from each other as well.
Many overlook the salt pond and have private outdoor spaces.
When I visited Sydans all of the rooms were full.
She's been renting to some of the more studious medical students on the island and her seasonal regulars are filling the rooms over the highest of high-season months starting in December and going through the end of February.
If you are interested in booking a room at Sydans, my advice is to get in touch with Anne well in advance.
It's no wonder they book easily. They are priced at $95 US/night plus taxes.
There is a 3 bedroom unit that will rent for $250 US/night.
If you find your dates for visiting Anguilla don't match up with availability at Sydans, Anne can always direct you to a contact with availability for a similar rate.
Anne Edwards looks at a painting from her former students that hangs on the wall at Sydans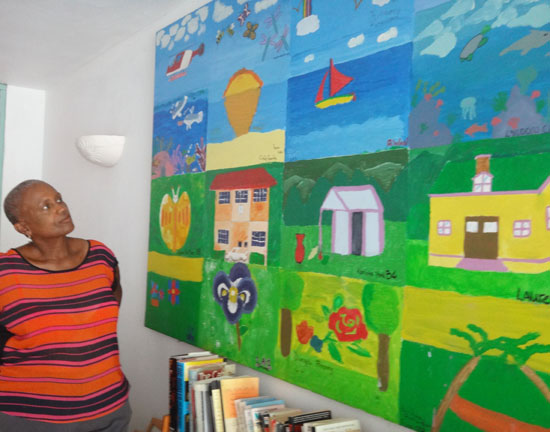 You can also still visit Sydans just to take a look around...
Sydans' last set of completed stairs goes up to the roof where you can get a birds eye view of the salt pond, Johnno's roof and the Sandy Ground strip. It's a nice perspective and it's breezy up there.
The Mini Mart
Back downstairs, the courtyard area that is behind the shop has the feel of an oasis. There are picnic tables there in the event you want to sit and have a snack from the Mini Mart.
Sydans Mini Mart does carry the "cheapest drink on the strip". The "strip" is the road through Sandy Ground. You'll find beers as cheap as $2 US in Anne's refrigerator at the shop.
She carries a small supply of canned goods, candy, liquor and wine too.
Her hours are from around 7:30am to 8 or 9pm but mind you, if Anne needs to run an errand, she closes up shop.
If you arrive and find the shop closed, you may easily find a neighbor or relative in the vicinity that can say when they might expect her back. This is your time to embrace the lovely Caribbean casualness that I happen to like so much.
Once Anne returns, if she has time, you'll find she's a nice source of knowledge on many topics. She's spent time in the United States working for Bank Of America, she taught school for a decade in Anguilla and she possesses details of Anguilla's rich but little known history.
Sydans truly originated out of hospitality, to be there for you, the visitor. It offers the basics of much of what we need aside from air in our lugns... a shelter, food/drinks and it doesn't hurt at all that it's across the street from this amazing beach.
The beach at Sandy Ground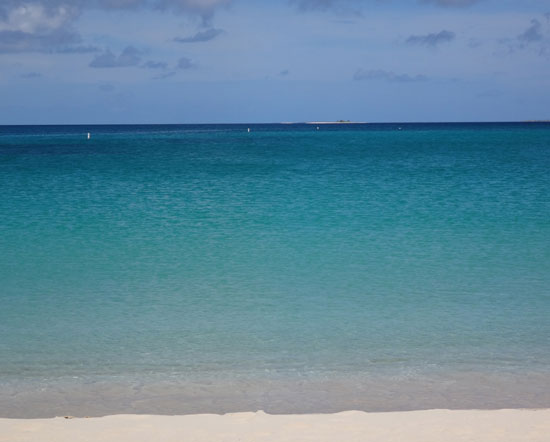 For more information, read reviews on Sydans here.