Anguilla Guide to May:
The Tropical Breeze of Freedom is in the Air
Visiting Anguilla in May is one of the island's best-kept secrets for many reasons. To start, the weather is idyllic. Before the official start to Hurricane Season (which is June 1st), May's weather is usually mild.
You'll encounter hot days and the occasional rainy afternoon in May, but the sea is calm and refreshingly cool and there is plenty of sunshine.
Anguilla Vacations: Staying at Meads Bay
As the island slides into summer weather, Anguilla hotel rates drop too. For almost all hotels and villas, their off-season rates are in full effect in May. These rates can sometimes be nearly half of their high season price.
Everything You Can Do Vacationing in Anguilla
While the island is remarkably quieter in May, with things slowing down from April's Spring Breaks and Easter, there is plenty to do in Anguilla in May...
The Anguilla Culinary Experience
Every May, Anguilla hosts the renowned Anguilla Culinary Experience (ACE), where local and international chefs showcase their creativity with the island's fresh seafood and farm-to-table ingredients.
The Annual ACE Draws a Global Crowd To Anguilla's Culinary Scene
ACE features chef collaborations, competitions, multi-course dinners, and other curated culinary delights, drawing food enthusiasts from around the globe.
An unforgettable experience for any foodie, ACE has featured world-renowned celebrity chefs like David Waltuck, Anthony Rose and the Michelin-Starred Daniele Lippe.
All Weekly Live Music Events in Anguilla
Also taking place in May is...
Anguilla Day
May 30th is Anguilla Day. This date in 1967 marks when Anguilla began its revolt against its association with St. Kitts, working towards independence.
Anguilla Day is a fun day of celebrations. Let's break down the day's events.
Anguilla Day Parade
First, there is a parade in The Valley that morning. Anguillians take to the streets for a parade featuring the island's uniformed forces.
The Anguilla Day Boat Race
The Anguilla Day boat race, the island's National Sport, is a captivating event as boats race around the island. Starting and finishing in Sandy Ground, spectators cheer the boats on and often trail the race by car, marveling at the sails and hardworking sailors.
The Island's Boat Races Draw Quite a Crowd!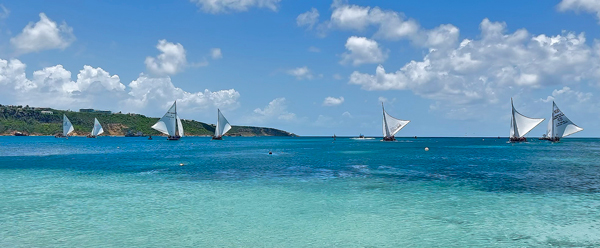 The festivities culminate at Sandy Ground with mouthwatering BBQ ribs and hopping parties, all while Anguilla's flag flies high in the sky.
What a way to end May in Anguilla!
Considering Anguilla? Consider visiting in May!...
More Travel Information
More Spring & Summer Information