Popular, Long-Standing & Hospitable...
B&D's BBQ in Anguilla's Long Bay Village
By: Kristin Bourne
The Sign Marks the Spot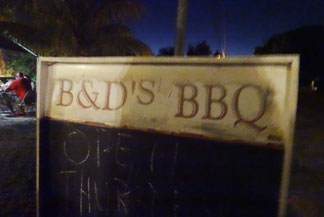 A family-run business that I had heard about plenty over the years, B&D's was one BBQ that I hadn't yet tried despite its popularity.
I have no good reason for not having gone before, but I'm glad I finally did.
B&D's BBQ is now top of mind for several reasons…
First, for the hospitality.
Second, for the food.
Third, for the prices.
A family-run affair, Bernice is the matriarch of the enterprise. It is set up in the yard of her family home.
The B&D's Experience
I arrived around 7:30pm on a Friday night to a decent crowd. Little did I know, many more folks had B&D's BBQ on their brain that evening. The place was about to be slammed!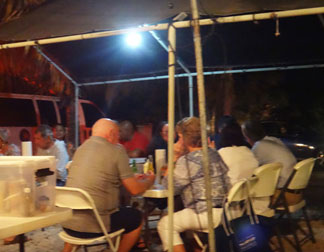 Bernice's daughter greeted me as I stepped up to the table to place my order. It's a busy spot full of diligently working people. That was obvious from the moment I walked up.
On that note, I had heard that you shouldn't be in a hurry at B&D's. The night I was at B&D's, I did wait a while. However, the many people they have working never slow up. The wait isn't for nothing. Grilling and homemade Johnny cakes take time. Also, the patrons keep coming at B&D's!
Busy as bees.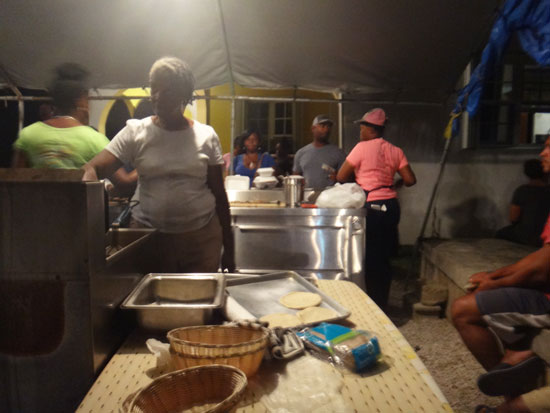 Prepared to wait to taste their popular BBQ, I settled in and relaxed.
B&D's is a casual affair. Dining on lawn furniture, with vehicles coming and going, this is a neighborhood hot spot with a welcoming vibe. Drinks (beers, soda, water) are chilling in a cooler. The trade winds keep the air feeling fresh and the smell of the coals isn't even so strong. The grills are set up away and down wind from where the bulk of people work, congregate and eat.
Curious about those grills, I went over to chat with the nice folks at the actual barbecue. Bernice's son was manning the grill and he showed me the entrees he was cooking.
What will it be? Chicken, lamb, lobster, fish or ribs?

He's not the only one in the family who cooks on B&D's grill. From what I saw, though he's a master. Laid out neatly and orderly was fresh lobster, chicken, racks of lamb and pork ribs. They all had their designated areas on the fire.
Meats are grilled to perfection over local coals made in a "coal keel" (coal kiln). A welcomed touch!
As we chatted, he told me that B&D's has been in operation in that very spot since 1990. That may make them the longest operating BBQ in Anguilla - with maybe exception to Valley, just around the bend from the Sandy Ground roundabout!
Realizing Bernice's children have grown up with their own front yard transitioning into a restaurant, it is no wonder they are good at what they do and friendly on top of that.
After watching the grill work, I walked back over to the tent where the hustle and bustle of taking and fulfilling orders takes place.
A tray of Johnny cake dough ready for the frier caught my eye. I'd never seen Johnny cakes that large before. An extra-special treat to go along with your BBQ.
Johnny cakes ready for the fryer

Look at the size of that Johnny cake!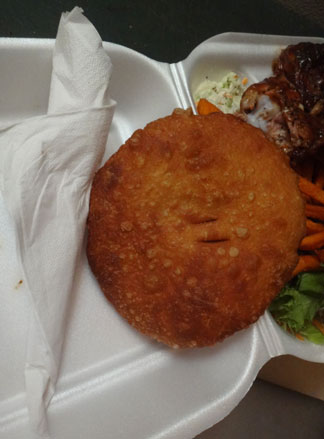 As I stood and waited for my order to be filled I noticed almost all of the tables and chairs were occupied. This is clearly a place for people who love the casual atmosphere and excellent eats.
Even though workers are busy as bees, that doesn't mean they aren't attentive.
They are used to being slammed.
Bernice's daughter walks to the seating area to help new arrivals get set up for a place to sit.
As busy as she is, she remembers everyone's order and where they might have moseyed off to.
While I was waiting several vans pulled up and a long train of eager diners walked up with wide-eyes, ready to experience B&D's for the first time. Many said how they'd been told it was good and a great deal.
Amazed at the volume of people, a business doesn't stick around for 27+ years unless it's successful. I saw that for myself that evening.
Filling The Orders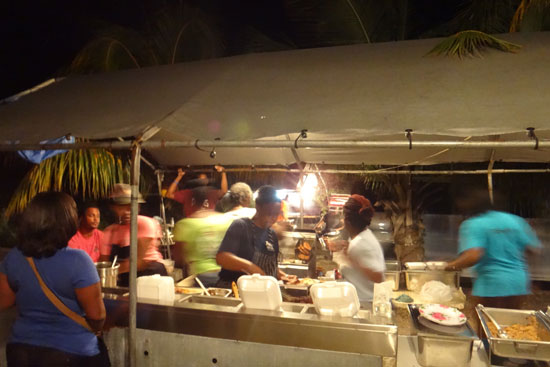 The Menu and Food
B&D's menu lists a number of "platters" (chicken, ribs, combo of chicken and ribs, rack of lamb, fish and lobster). These are served with your choice of French fries or sweet potato fries, rice and peas, pasta salad, fried plantain and green salad.
You can make additions to your order, such as side-dishes and meat-only add-ons. I added Johnny cakes ($1 each) and a side of chicken ($4).
My chicken platter with sweet potato fries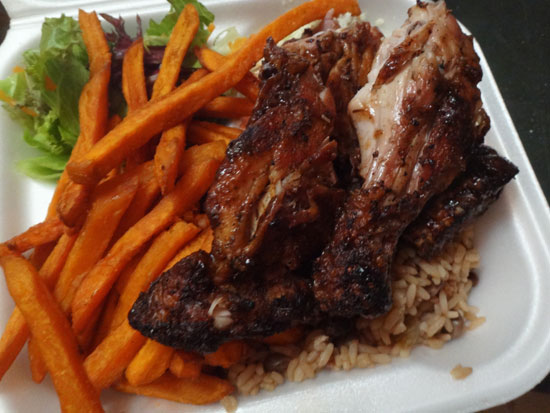 Platters run from $9 US (chicken) and go up to $30 (lobster) - an excellent and competitive price for grilled lobster in Anguilla.
As for the BBQ itself?...
The chicken is grilled with bbq sauce as are the ribs. The rack of lamb is grilled to perfection and served with a rosemary sauce. The fish is wrapped in foil with homemade olive oil and garlic sauce. The lobster is grilled with the same.
Fresh, local lobster grilled to perfection.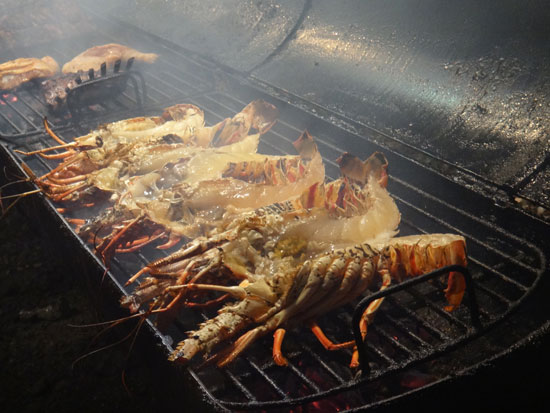 When the time came, my order was walked over to me. Six Johnny cakes, one chicken platter and an extra serving of chicken all only came to $19. I handed over a $20 and was on my way.
At home, I dug into the tender and flavorful chicken. The fries were good, not soggy and with a nice taste. Then came the Johnny cake. The size had not been compromised in the frying process. It was still so big, with a crispy outside, a soft center and a touch of sweet. A fantastic Johnny cake! It all made a perfect combination for a lovely BBQ dinner.
I had wanted plantain but they had already run out. That's just how it goes sometimes. TIP: For the best selection of side dishes, go early!
Next on my list to try, besides their plantain, is their rack of lamb. It is new to their menu and it's raising eyebrows it's so spectacular.
After one bite of B&D's, it's not hard to see how this BBQ spot caught on. Perfect for a leisurely evening with friends, or for take-out, B&D's offers a nice variety of BBQ at very reasonable prices. If you appreciate great, grilled food, B&D's will satisfy your palate!
Open hours: Thursday to Saturday from 12 to 9pm.
Tel & Email: +1-264-235-6670