Anguilla Roadside BBQ...
Best BBQ Chicken on the Island?
By: Kristin Bourne
If you are visiting Anguilla and choose to explore in an Anguilla car rental, you are likely to pass by a roadside BBQ known as Valley's BBQ place at least once as you drive through South Hill.
You may not notice this modest spot unless smoke is billowing from the grill.
It is located on the south side/right side of the main road, just before the Sandy Ground roundabout, if you are coming from the west end.
Valley BBQ in South Hill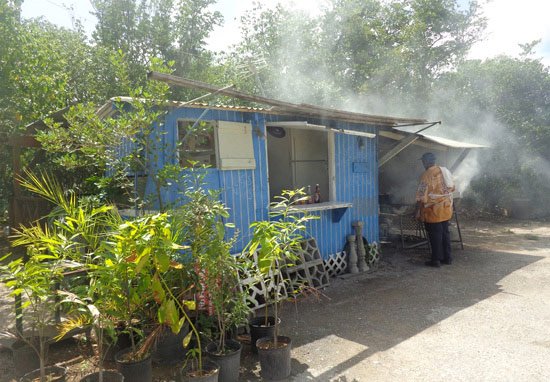 This roadside has been around since around 1992!
I have passed by many times and remained curious for quite a while before trying it.
It has Louise's vote for some of the best Johnny Cakes on Island...
Would you believe that this is the place that Janice (Nori's mom), and many others, say has at the "best chicken on the island"?
Best chicken? Really? Let's find out...
Valley's Anguilla Roadside BBQ Hours and Offerings
I investigated once I heard Janice's testimonial.
I've had the pleasure of eating chicken from many different BBQ's on Anguilla, and many of them are very, very good.
My favorite BBQ is a night-time treat in Sandy Ground - Kenny's BBQ. He tends to be there Thursday, Friday, and Saturday night, in-season.
Ken's BBQ in The Valley is good and is well-known, although I go there for ribs and garlic bread, not so much for chicken.
I was thrilled to know of a place with good BBQ chicken that is available at lunch time during the week. Perfect for a beach picnic!
Valley BBQ is owned and operated by "Valley", hence the name of the BBQ. He is there on the grill every week day except Wednesday.
You'll see him out there starting around 10:30am and he remains until about 3pm.
Valley the BBQ man at his BBQ with the chicken legs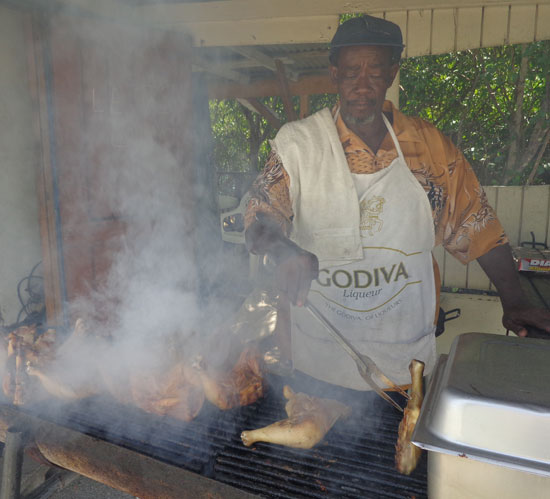 On Thursdays and Fridays, his son Preston takes over from 3pm until around midnight.
Valley offers large chicken legs for $4 US. Note: one is plenty for me, they are big.
He also has ribs for $8 US and Johnny cakes for $1 US.
On special occasions, he offers conch soup. Such occasions would include Anguilla Day, Anguilla Carnival, and local holidays where businesses are closed and more people are out and about.
Valley wraps everything up in foil and gives you a plate and napkin to take with you... neat and easy!
The Title of Best BBQ Chicken?
I ordered one of Valley's chicken legs and a Johnny cake. I must say, I agree with Janice. Valley's chicken is probably the best BBQ chicken I've ever had.
Valley BBQ chicken and johnny cake. Mmmmm!

I asked Valley if he had a secret to his chicken.
"Is there a special marinade or something that gives your chicken this special title?"
He told me that he just "cooks it right". He said that cleaning it properly and cooking it "right" was the trick.
He has years of experience and knows his way around a BBQ, that's for certain.
Prior to his roadside BBQ, he was affiliated with the former restaurant in Anguilla called Aquarium. It's been gone a long time.
The skills of pro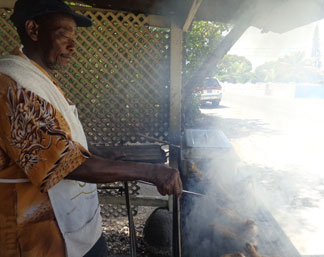 Valley credits his cooking skills to the time he spent in St. Thomas when he was younger.
After I finished speaking with Valley and started to walk away, chicken in hand, he asked if wanted any BBQ sauce.
I thanked him, but passed on the sauce.
I'm happy I did...
I love sauce, all kinds. His chicken is so flavorful, with that smokey BBQ taste, juicy and tender. It isn't the least bit dry. Even someone who loves their sauce doesn't miss it on his chicken. It was simply delicious.
Special Note: Valley's chicken is in demand. He can sell out, especially for lunch time. Many customers tend to call ahead to secure an order. If you are in the area, I recommend driving by between 10:30-11am and placing an order which will likely be ready for pick-up closer to noon.
Directions, Hours & Contact
Directions: If you are coming from the west and pass Ace Hardware, you've just missed it. Look for the blue paint of the BBQ stand and smoke from the grill. You can pull of the side of the road near the stand to park.
Hours: Open Tuesday-Saturday.