Anguilla's National Culinary Team...
Gearing Up For Gold!
Update: The fundraiser has come and gone. Read below for general information about Anguilla's National Culinary Team, one of the best teams in the Caribbean. Stay tuned for future fundraisers which will be posted here.
A tiny island rich in flavor, Anguilla boasts some of the finest cuisine in all of the Caribbean. This culture of excellent eating is attributed to the island's many talented, home-grown chefs.
In Anguilla, the art of cooking and nourishing has long been practiced with care. Recipes and secrets in the kitchen are often passed down, generation to generation. Speak to any Anguilla chef, and many will tell you how they grew up cooking in their grandmother's kitchen.
Beautiful Anguilla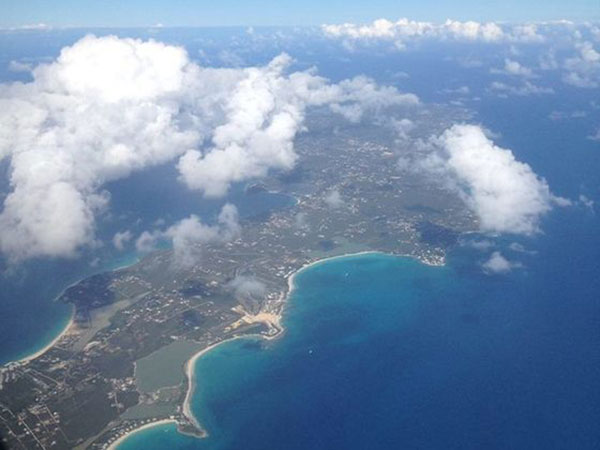 The excellence of ours chefs can be tasted at many of the island's fine restaurants and seen at one contest, the contest to end all contests... the prestigious Taste of the Caribbean culinary competition held annually in Miami.
Every year, islands come ready, armed with excellent chefs who have trained all year to compete for gold and the prestigious titles.
Anguilla's Chefs Bringing Home GOLD in 2015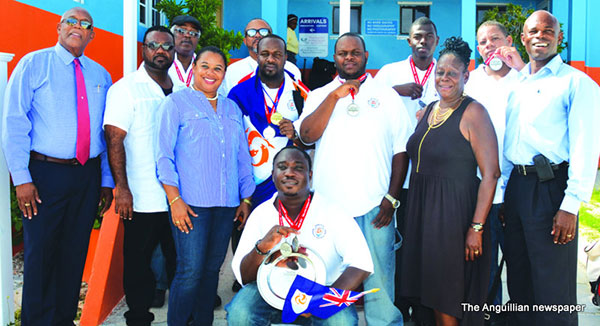 Photo: The Anguillian
Anguilla is no stranger to the competition. Our national team has attended repeatedly. They have an impressive track record of bringing home the grandest medals many years in a row, including...
GOLD for the highly coveted National Team award - 2008, 2009, 2010, 2011
GOLD for Multiple - 2008
GOLD for Chef of the Year - 2009 (Glendon Carty)
GOLD for Individuals - 2009
GOLD for Individuals - 2010
GOLD for Individuals - 2011
GOLD for Chef of the Year for Beef Category - 2012 (Darren Connor)
GOLD for Individuals & Best Menu Gold Plates awards - 2013
GOLD for Chef of the Year for Seafood - 2015 (Lester Gumbs)
Winning silver in 2016, the team collectively agreed to raise the bar and ramp up for gold, "We can do better."
Anguilla's Gold Plate Winning Chefs 2013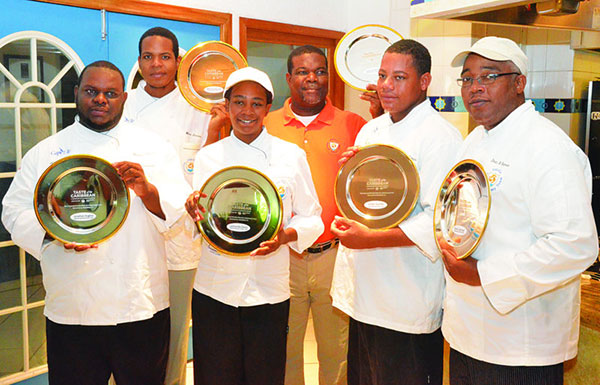 Photo: The Anguillian
This year, a new team has been assembled and rigorous training has begun. Their sights are set on one medal, gold. Meet your 2017/2018 Anguila team...
Meet Your 2017/2018 Anguilla National Culinary Team
Meet Anguilla's National Culinary Team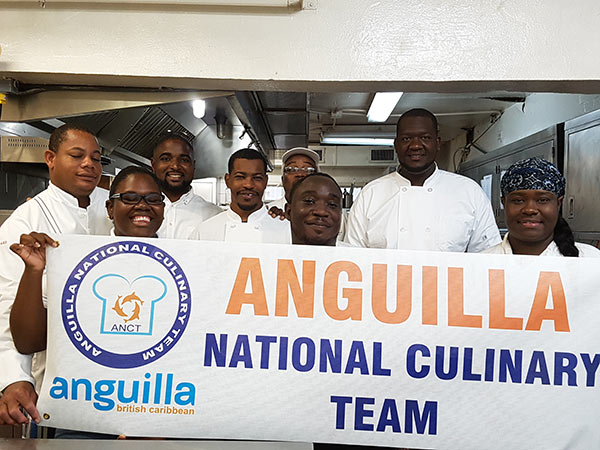 Jamal Hodge - Bartender
Jamal is an outgoing and charismatic lad who grew up in the small island of Anguilla.
Meet Jamal Hodge
(Pictured at Taste of the Caribbean 2016)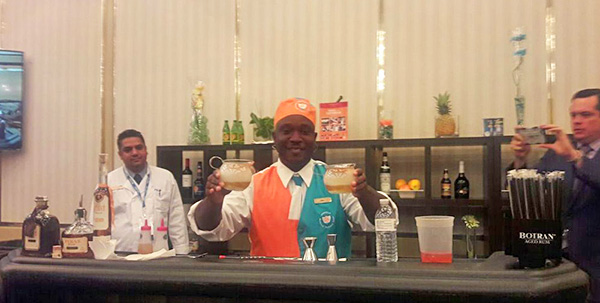 Though he didn't know it at the time, the forces were at work in 2001 when he started a career in hospitality as a waiter. Intrigued by the happenings behind the bar, fascinated by the mixes and the boldness of many flavors, he found his passion when he entered the field of bartending in 2002.
Meet Jamal Hodge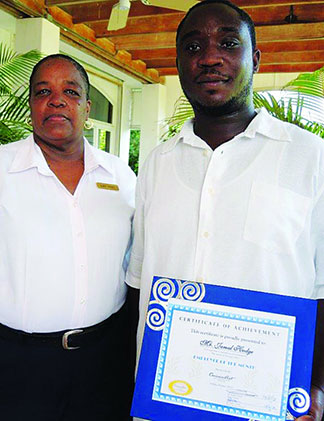 Photo: The Anguillian
By 2005, he became a licensed mixologist & bartender at the New York Bartending School in New York City.
During 2005 and 2007 he worked between New York and Anguilla fine tuning his skills in this crafty industry.
In 2005, he returned home and took employment at CuisinArt Golf Resort & Spa as a Bartender and Wine Steward where he is known for his creativity.
In 2007, thirsty for more knowledge about spirits and wines, he embarked on his second journey at the American Sommelier Association of New York where he studied and became a certified Sommelier in 2009.
Back to where it began, he continued his position at CuisinArt Golf Resort & Spa as Bartender and Rum Tasting Instructor.
In 2015, he joined the Anguilla Culinary Team in Miami, where his creativity and captivation for boldness and flavors earned him the silver plate and the title "Most Creative" in the Taste of the Caribbean.
Jamal's Bartending Drink at Taste of the Caribbean 2016

He is humbled by his over 15 years of continuous learning and growth in this craft and looks forward to his opportunities for growth and contributing to the development of new trends and styles in mixology.
Jamal's Watermelon Cocktail at Taste of the Caribbean

Dyesha Hodge - Jr. Chef
Dyesha Hodge is a 16 year old student of the Albena lake Hodge Comprehensive School (ALHCS) Anguilla.
Meet Dyesha Hodge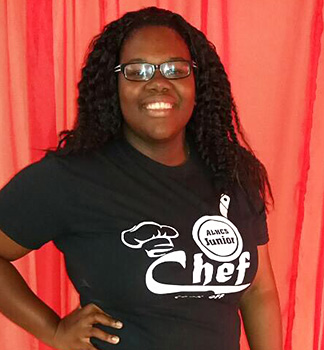 She is currently preparing to sit her CSEC examinations.
The subjects that she will be sitting are English, Mathematics, Integrated Science, French, Information Technology, Home Management and Culinary Arts.
In Dyesha's spare time she enjoys cooking, baking and decorating.
It has been her life long dream to pursue a career in Culinary Arts.
Dyesha has already started working towards her goal by winning the crown of the first ever ALHCS Jr. Chef Cook Off.
Chef Dyesha Hodge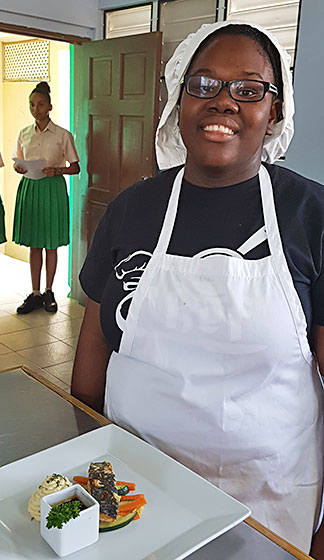 She has also shown interest in her career by job training at Sandy Island on her Easter Break of 2016. During that training she was exposed to a wide range of knowledge and experience which has assisted in her culinary education.
Leonicia Rey Richardson – Pastry Chef
Leonicia Rey Richardson began her career in Anguilla at Hall's Unique Bakery at the tender age of 8. After completing high school she worked for several bakeries and restaurants on the island such as Andy's Restaurant as the Sous Chef and at Fat Cat Bakery as the cake decorator.
Leonicia Rey Richardson with
CuisinArt's Executive Chef Jasper Schneider


Photo: The Anguillian
In 2005 she began working at CuisinArt Golf Resort & Spa as a Pastry Line Cook for two years. Her passion for pastry continued when she enrolled at the Johnson & Wales University (Culinary campus) in Rhode Island.
During her student externship and employment at La Salle Bakery in Rhode Island, she developed skills in plated traditional Italian desserts and pastries.
During her time in college Leonicia also travelled to Singapore on an internship to learn their authentic cuisine in baking and pastry. Here, she was exposed to a variety of new techniques and types of food.
Her career and education continued at the Ritz Carlton Amelia Island, where she was part of the original pastry staff for three months before graduating with cum laude in her Bachelor's degree in Baking and Pastry Arts and two concentrations in Beverage Service Management and Leadership studies.
Leonicia Rey Richardson's Dulcey Floating
Semi Sphere with Almond Crumb, Forest Berry


Photo: Leonicia Rey Richardson
In 2010, Leonicia moved baked to Anguilla and was rehired by CuisinArt Golf Resort & Spa where she enhanced her skills in preparing a variety of tarts, cakes, laminated doughs and other fine pastries.
In 2015 she later became Pastry Sous Chef at the resort.
Leonicia continues taking professional courses to improve and expand her mastery of pastries.
Although Leonicia works endlessly at the resort she still manages to run her own private business; doing catering and cake decorating for birthdays, baby showers parties and other gatherings.
Anguilla's Pastry Chef of the Year Entry at Taste of the Caribbean 2016

Leonicia joined the Anguilla Culinary Team where she participated in the individual cheesecake competition representing her island in June 2016. She won bronze out of 14 Caribbean islands that took part.
Dessert Entry From Anguilla at Taste of the Caribbean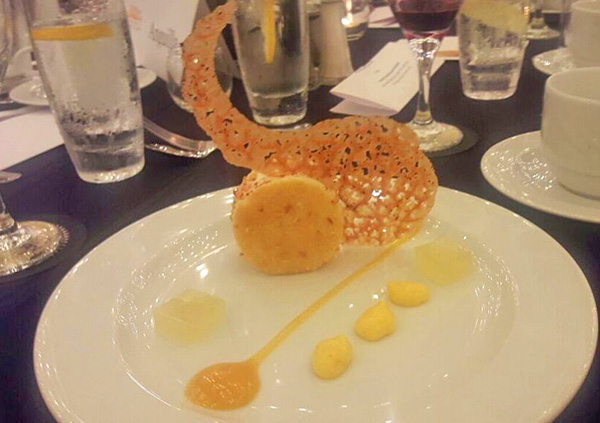 Kelston Connor "Chef Sweets" - Sr. Chef
Mr. Kelston A. Connor was born on February 17th, 1987 in Saint Kitts to parents Alvin & Rebecca Connor. Raised in Anguilla, he is respectfully known as "Chef Sweets" and is a proud husband and father.
Meet Chef Sweets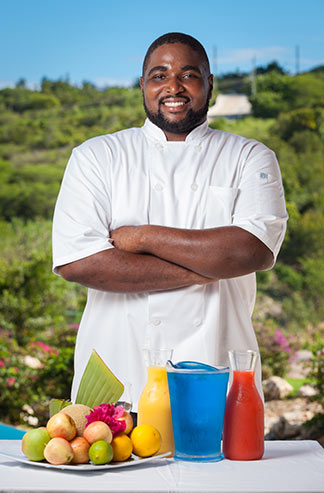 Photo: Ani Villas
He is a calm, pleasant, helpful and hardworking individual who has a passion for great food and who enjoys creating local and exquisite dishes for his clients.
His career truly began in high school where he and his classmates, under the leadership of Teacher Karl Woodley, came together and decided to open up a little High School Restaurant.
That shaped his career path.
Upon completing his high school education, his dream was to become one of Anguilla's finest chefs and he sought out to make that dream a reality.
He was given an opportunity to be a part of the team at Cap Juluca's "Pimms," where he worked under the leadership of Executive Chef George Reid who is one of Anguilla's leading chefs to date.
Since then Mr. Connor has had further experience, developing his career at various establishments in Anguilla. To list a few:

Photo: Ani Villas
Banana's by the Sea
Veya Restaurant
Elvis Beach Bar & Grill
Viceroy Hotels & Resorts
Le Bleu Villa
He is now the Executive chef for Ani Villas.
Mr. Connor also travels annually to some of the culinary capitals of the world to enhance, cultivate and develop his techniques.
Chef Sweets creates dishes that are simple yet elegant letting the essence of the star ingredients shine through. He works to deconstruct recipes, reinventing them to suit his sense of style and flavour.
An Artful Salad by Chef Sweets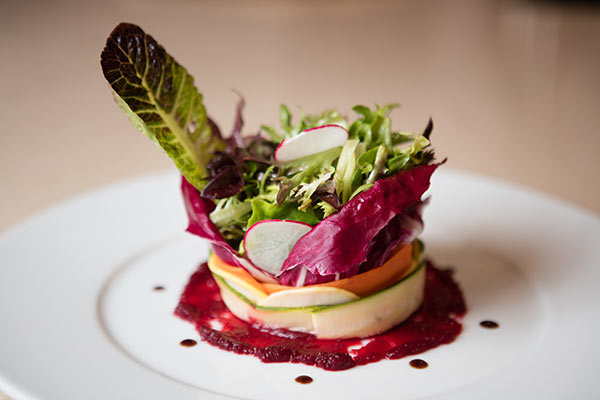 Photo: Ani Villas
When not in the kitchen Chef Sweets loves a good football game surrounded by all his family & friends and a nice plate of sushi. He also believes in giving back to the high school that started his career by annually donating kitchen equipment to help young students reach their dreams.
Chef Sweets endeavors to continue to maximize his potential and is not only dedicated to putting Anguilla first but is proud to do so!
Jamal Mc. Bean - Sr. Chef
Jamal Mc. Bean is a 26 year old chef from Guyana, who came to Anguilla 12 years ago with his mother when she worked as a chef at Hibiscus.
Meet Jamal Mc. Bean


Photo: Jamal Mc. Bean
He is currently the Sous Chef at Dolce Vita Restaurant in Sandy Ground, where he has worked for six years, and continues to learn to perfect his skills.
He has been with Dolce Vita from its inception and he is anxious to continue his culinary education and skills.
He is a quiet giant, and enjoys and has a passion for the Culinary Arts.
His hobbies are dancing cricket and cooking.
He loves Italian cuisine and enjoys making fresh pastas where he mixes in Caribbean ingredients, bringing a regional flavor to Italian food.
Seafood Risotto at Dolce Vita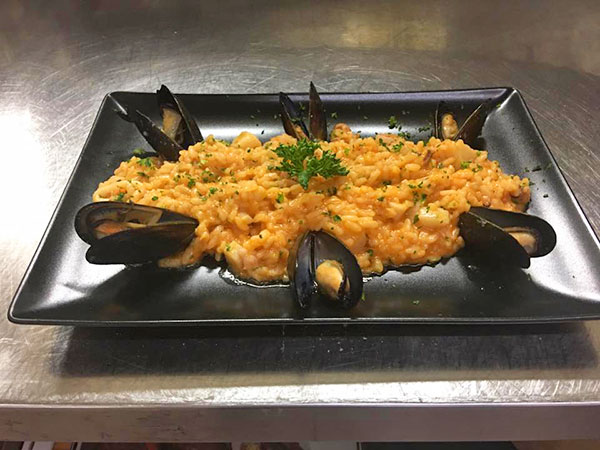 Photo: Dolce Vita
He is excited about being selected as a member of the Anguilla National Culinary Team, and is looking forward to representing Anguilla in Miami. He has been working closely with his team members, and predicts that this team is headed for gold.
Darren Connor - Jr. Chef Tutor/Mentor
Darren Connor is a 39 year old Anguillian. Darren started his training in 1996 at Koal Keel in Anguilla working with Chef Smoke. In 2000 Darren went to the Culinary Institute of America and took a short course in culinary arts. He returned to Koal Keel for a while and then went to work with Chef Deon Thomas at his two restaurants – Cornerway in Martha's Vineyard and The Overlook in Anguilla.
With Anguilla's "MVP," Chef Darren Connor

Darren spent two years as Sous Chef at Zurra working alongside Melinda Blanchard and later took up the position of Sous Chef at Santorini, CuisinArt Golf Resort & Spa's 4 diamond ranked, fine dining restaurant.
Darren Connor currently works at Anguilla's Four Seasons, in the capacity as head chef at Bamboo Bar & Grill in Anguilla. Darren has been part of the Anguilla Culinary Team since 2009 and has assisted the team in winning various gold medals over the years.
Chef's Steak Au Poivre with Aunty Joan's Curried Fries and Steamed Vegetables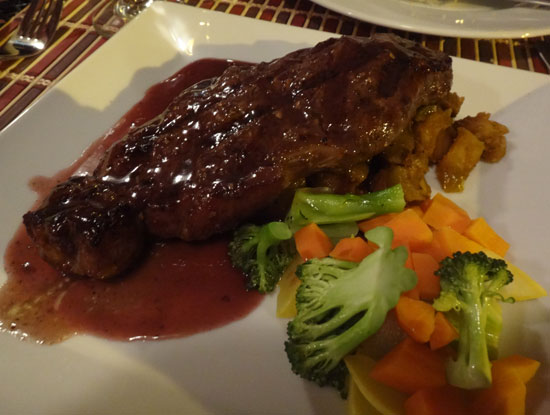 In 2015 Darren won an overall gold medal as regional chef in the beef competition for Anguilla, won best beef in the beef competition and best beef for the overall competition. He has been awarded two gold plates, and a trip to Omaha Nebraska, sponsored by Black Angus Farms, where he expanded his knowledge on how their beef are raised.
Darren's favorite quote is: Keep calm. I'm just a chef. Don't be afraid of seasoning.
Dean Samuel - Team Manager
Dean Samuels is 46 and although originally from Antigua is now an Anguillian Belonger. He has been a chef for 17 years and has a specialization in pastry. Dean trained in Antigua, in Naples, Florida and in Anguilla.
Meet Chef Dean Samuel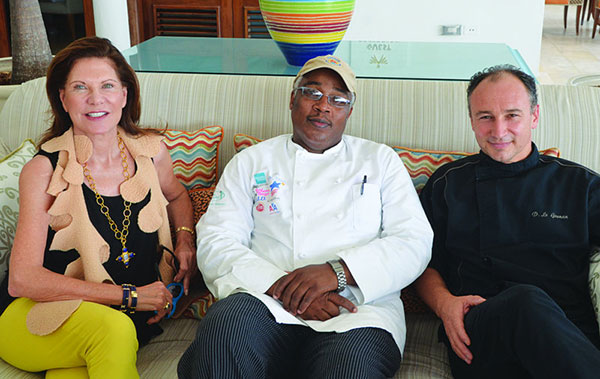 Photo: The Anguillian
Dean is currently Assistant Executive Chef at Cap Juluca working with the acclaimed Executive Chef Renee Bajeux. Dean worked with famous Anguillian Executive Chef George Reid for many years and is a passionate believer in training and bringing on local Anguillian talent.
Chef Dean (left) & Chef Lester (right) at Taste of the Caribbean


Photo: The Anguillian
He has successfully completed Train The Trainer Seminars (March 2005) and The Supervisor As A Coach (May 2005) among several other in house management development courses. He also attends professional development courses like World Pastry Forum (2004 - 2006). Dean is a past winner of the "Supervisor of the Year" title in Anguilla and has participated in many Taste of the Caribbean competitions.
Lester Gumbs - PRO and Individual Chef
Lester is a 32 year old native Anguillian and is currently the Sous Chef at CuisinArt Golf Resort & Spa
Meet Chef Lester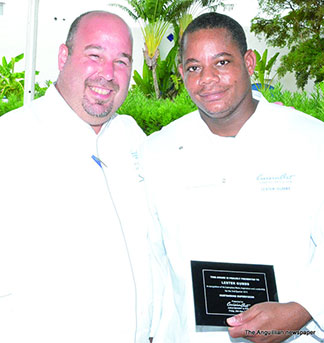 Photo: The Anguillian
Lester is a graduate of the Albena Lake Hodge School, and though school has long been out for Lester, he continues to expand his culinary education.
Lester has been interested in Culinary Arts from a very young age, and worked for five years at Malliouhana prior to joining CuisinArt Golf Resort & Spa.
He is very passionate about the field that he has chosen and aspires to be an Executive Chef and own his own food establishment one day.
Lester is quite often charged with the responsibility of running the busy resort kitchen at CuisinArt Golf Resort & Spa, and said he welcomes the challenge, as it forces him to develop his skills.
Gilda Samuel - Team Coordinator
Last, but certainly not least, none of it would be possible without Gilda Samuel's passion, care and persistence!
Meet Gilda Samuel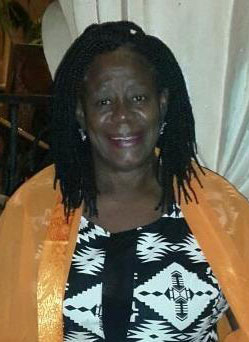 The one who keeps the team on track and makes sure hotel rooms are booked and uniforms are pressed, Gilda takes care of every last detail for her team she loves so dearly.
Gilda came home to Anguilla to live permanently in 2007. Since then, she has been running Anguilla's Hotel & Tourism Association and has been involved with Anguilla's Culinary Team since 2008.
A woman with vast experience, Gilda has been working in the industry for over 40 years.
Her life-long career began at Sheraton Hotel in Atlanta as a young lady, where she worked putting herself through college.
From there, Gilda has worked at Hyatt Hotels and the Georgia World Congress in conventions and sales, and then marketing manager and resident manager for St. Lucia's top hotels.
With five certificates in floral design and event management, her accomplishments speak for themselves.
An invaluable part of the team, Gilda takes care of it all so the team can focus on what they do best.
Gearing Up For Gold
Taking the best from across Anguilla, including villas, hotels and restaurants, the team is stronger than ever. Full steam ahead, "2017 is all about honing the skills it takes to be at the top. This means getting used to the competition's stage, timing, sharing kitchens with competing islands, and above all, developing focus," Team Manager, Chef Dean Samuels explained.
Anguilla National Culinary Team at Cap Juluca Fundraiser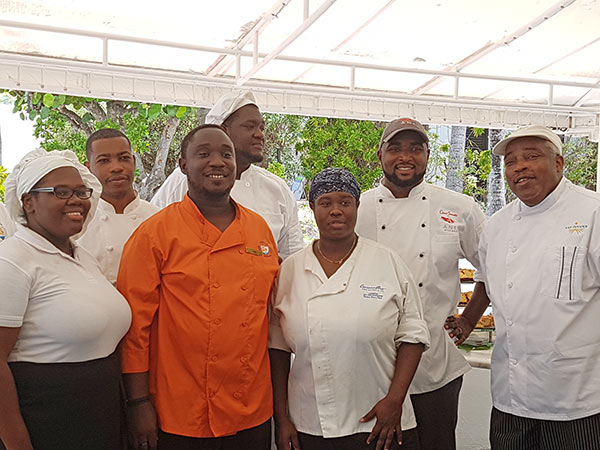 It's a particularly exciting year as the team has extended a tremendous opportunity to the island's junior chefs. This year's team includes new, young members, beaming with passion. "We are excited to give our young, enthusiastic chefs the opportunity to push their skills and step into the spotlight," says Team Coordinator, Gilda Samuel.
The team will be attending the 2017 competition on June 2nd not to compete, but to learn. The emphasis this year is on developing the skills and mindset it takes to bring home the gold next year.
Site of Anguilla National Culinary Team Fundraiser May 2018: Cap Juluca's "Blue"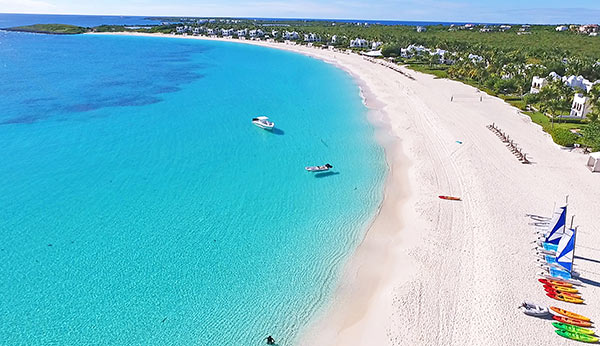 To get them to the gold, Anguilla's National Culinary Team has been holding a variety of fundraisers for their training in Anguilla and travel to Miami.
First up? Their annual Mother's Day Brunch, this year at Cap Juluca on Maunday's Bay. See below for some video footage of the beautiful event.
And now this...
Support Anguilla's National Culinary Team &
Win A $2,000 Value Anguilla Prize
To support the team, Gilda has put together a lavish raffle prize with a $2,000 value, including...
Two Nights at Frangipani in an Ocean View Room
Anguilla's charming luxury boutique hotel, Frangipani sits right on the stunning, powdery-fine sands of one of Anguilla's best beaches, Meads Bay.
Endless Blue at Frangipani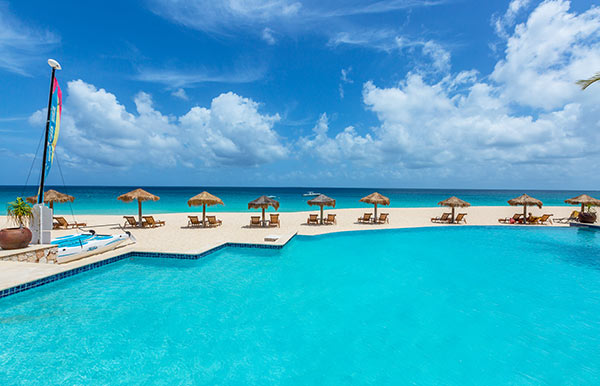 Photo: Frangipani
Frangipani is known and loved for its warm and welcoming staff who assist with your every need, their luxurious rooms that gaze out to Meads' infinite azure waters, and of course, its location right on the beach. It is no surprise that leading Caribbean publication, Caribbean Journal has dubbed it the Best Boutique Hotel in the Caribbean.
Private Dinner For 4 by Chef Sweets at Ani Villas
Perched high on a bluff that looks out to Anguilla's charming Little Bay, the ultra-luxury villa, Ani Villas, takes your breath away. This is the site for your lavish meal for four by none other than Anguilla National Culinary Team member, Chef Sweets himself!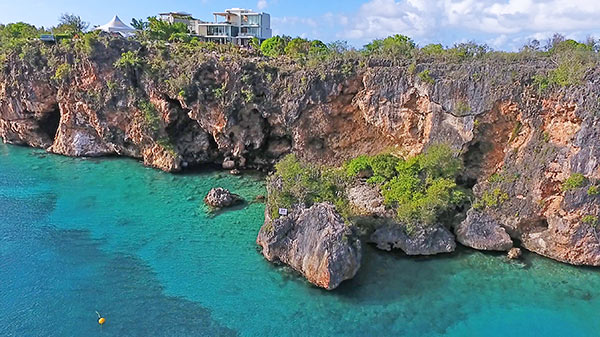 Dinner is inclusive of wine and welcome cocktails.
Prize Valid Through Dates: Now - Dec. 16, 2017
Fundraiser Details
Update: This fundraiser has come to a close. A big congratulations to Ms. Heather Wallace on winning the lavish prize & many thanks for all of your support of the National Culinary Team!
The Anguilla Culinary Team is only printing 100 tickets at $60 USD per ticket.
Last Date to Purchase: June 29th, 2017
Draw Date: June 30th, 2017
The draw will take place on June 30th on Radio Anguilla. The winner will be announced on Radio Anguilla and via the Anguilla Hotel & Tourism Association's radio program, Tourism is Key.
How To Enter & Support The Culinary Team
To win the luxurious prize and support Anguilla's National Culinary Team, here's how you can purchase a ticket in the draw...
Call Anguilla's Hotel & Tourism Association at: 1-264-476-2944
Tickets are also on sale at Anacaona and with members of the Culinary Team