Affordable Anguilla Apartments...
Casa Hughes
Casa Hughes towers over the bushy hillside of South Hill. This Anguilla apartment complex features picturesque views of St. Martin and a wide open yard with neighborhood goats that graze nearby.
A hedge of bright greens and colorful flowers run along the front side of the building.
With its honey yellows and smooth beiges, this building blends into the low-key, quiet country side that surrounds it.
There are four, two-bedroom units in total. Each unit is roughly the same. The main difference is that there are two apartments upstairs and two downstairs, each with their own small balcony/terrace.
With both bottom units occupied, we explored one of the units on the top floor. Tasteful, the indoor staircase leads up to the two second floor units.
Inside Casa Hughes
The unit opened up to a long hallway, with the first bedroom on the left and the second bedroom and bathroom/ laundry room to the right.
The bedrooms are identical apart from the color schemes used in each. Both are wide, spacious and clean with a sizable bed.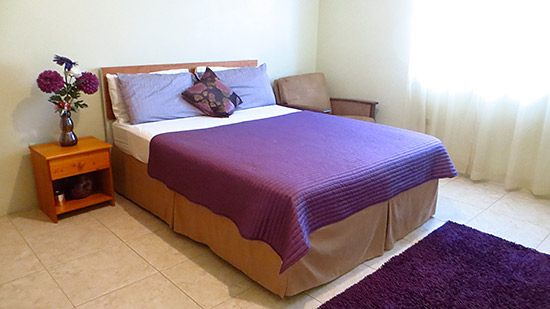 The large windows let in a lot of warm light during the day, but the thick curtains ensure that you still have all the privacy you need. Each room also has A/C units for added comfort.
Comfy Rooms With Lots of Light!

Sweet Touches

Bathroom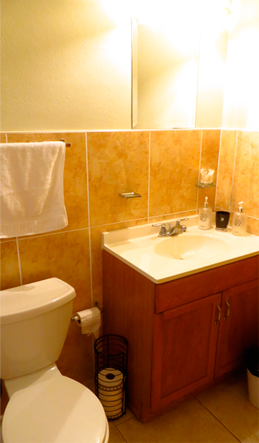 The bathroom and laundry area is clean and well-structured.
The bathroom is modern and contemporary.
It features a shower, which also has a built-in bench.
The laundry machines are set aside near the entrance to the bathroom, tucked away behind a large thick green curtain.
So cleverly hidden, we almost missed it.
It comes with a fully functional washer and dryer set.
Laundry Section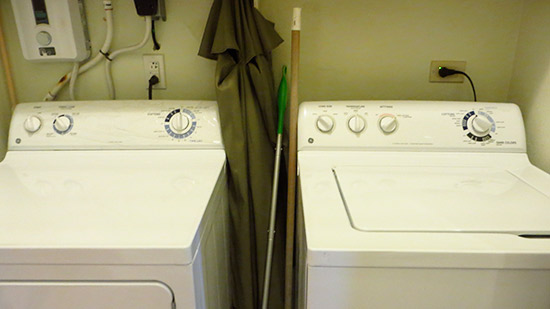 Walking towards the end of the hallway, you enter the kitchen/dining/living area. The kitchen features all appliances you need for living (ex., stove, oven, fridge) and even small appliances like a toaster oven and coffee maker. There's also a small dining area.
Kitchen Area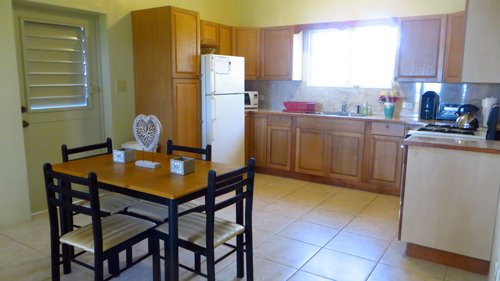 The living space has a nicely stocked bookshelf with interesting reads and a mounted flat screen TV with cable. Also, there is free WiFi throughout the apartment.
Living Room

Just beyond the living room is a private patio, with a refreshing view of the south side of Anguilla and the mountains of St. Martin. This spot is perfect for spending a relaxing afternoon taking in the cool Caribbean breeze gazing out towards the ocean.
The View!

The Owners
The owners, Angela Hughes and her husband Doyle, live on site.
Angela Hughes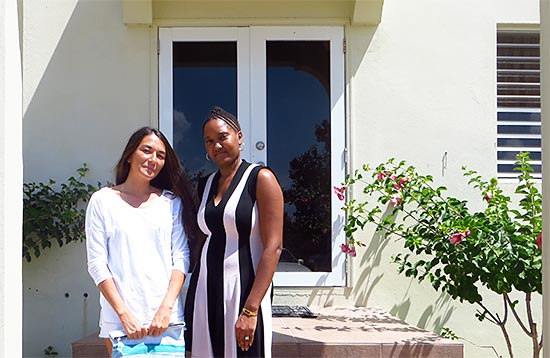 Originally from Anguilla, they met abroad in the UK and moved back to Anguilla to settle down. Sweet and accommodating, it is really a plus knowing that they are nearby.
Location, Rates & Contact
The rates for vacation rental is at $150 a night, with a 10% tax. Rates for long-term rentals can be negotiated.
Contact Casa Hughes
Phone Number: 1-264-582-4769
E-mail: hughesdoyle@hotmail.com