Connecting You with Apartments in Anguilla...
Squareless.ai
Many factors go into finding and selecting the perfect apartment in Anguilla...
Budget
Location
Size
Features
With a limited supply of information available online, the "hunt" can be a challenge.
The good news? That is changing!
Introducing, Squareless.ai...
Squareless.ai & Jermaine Payne
Meet Jermaine Payne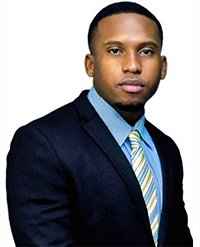 Originally from Anguilla, and with a BA in Business Administration from Monroe College in New York, Jermaine is an ambitious man.
We first met in 2012 at one of our family's favorite restaurants, da'Vida where Jermaine was their purchasing manager. He had previously honed his skills as a purchasing manager at Covecastles in 2010.
We would later learn that he was also a local artist, a founding member of the Supreme band (featuring Bankie Banx's daughter, Tahirah) and the hugely popular Better Band. He even won "best male solo soca artist" at the 2014 Anguilla Music Awards!
Indeed, Jermaine is a familiar face around Anguilla :-)
And, he is one person who is always looking for ways to give back and improve his island home.
An asset to the island, it came as no surprise to hear word of one business venture particularly close to his heart...
Squareless.ai
Squareless.ai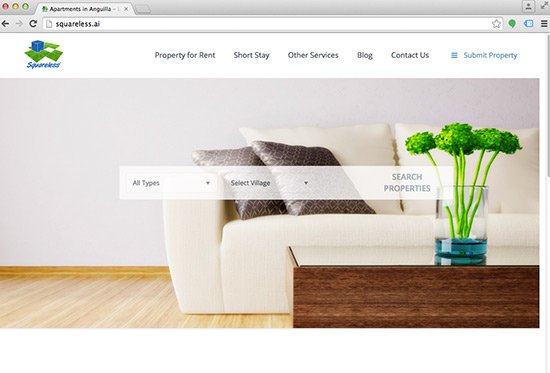 The idea came to Jermaine when he first came back to Anguilla from New York, looking for an apartment to rent.
"Finding the right spot was tough," Jermaine explained. "There was hardly any information online, especially for longer stays. A lot of how you found apartments back then was simply knowing who to call."
An inefficient way to find that just right rental, Jermaine founded Squareless.ai
Squareless.ai features a number of apartments in a variety of price levels across the island. With a modern design, its interface is a pleasure to use and seamlessly realizes Jermaine's vision. In his words? It's to "connect renters and rentees."
How Does It Work?
Visit...
Then, fill in the search form. There are two fields to fill in before pressing "Search Properties."
First, "All Types"
"All Types" has two drop down options to choose from.
Select the "Short Stay" option if you're looking to rent for under one month. Tip: Because Squareless.ai focuses on longer stays, there are less "Short Stay" apartments listed. If you do choose "Short Stays," do not fill in the next field. This will give you the largest number of search results.
Select the "Residential" option if you're looking to rent for over one month.
Second, "Select Village"
If you know the area where you would like to rent, select it from the drop down list. If not, leave the field blank.
In the example below, I have entered "Residential" and "Shoal Bay East."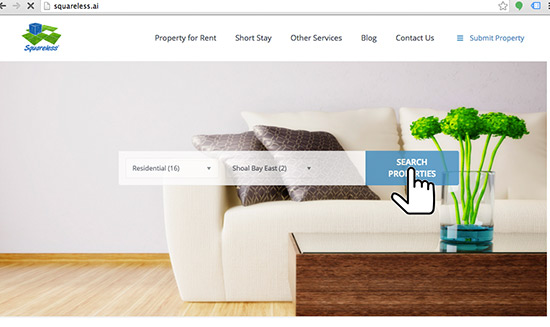 Click "Search Properties".
Your matching results are pulled back. Click on any property listing that interests you.
Then? You are shown full details on the selected property, with high quality photography as well.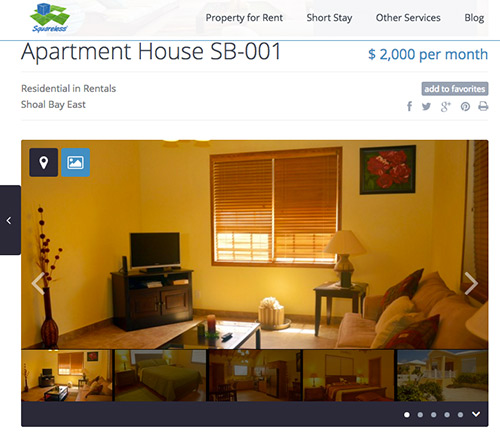 Listed details for each property include...
Rent
Number of bedrooms
Number of bathrooms
Availability start date
Features (ex., cable, water, laundry, internet, a/c, etc.)
When you're ready for more information? Simply contact Squareless.ai via the information provided on the listing.
It's that simple :-)
Squareless.ai currently features around 20 listings. Jermaine and his team are working hard at expanding their number of properties. Subscribe to their newsletter for updates on new listings.
A huge thank you to Jermaine for bringing Anguilla's apartment landscape onto the web!