Kamilah Suite...
Affordable Anguilla Rental
30 Seconds From Rendezvous Bay
By: Cassie Lewis
Calling all Anguilla lovers: Affordable Anguilla rental available! Located on the second floor of a beautiful home surrounded by a strong white gate, Kamilah Suite is a steal of an Anguilla rental deal if you are traveling on a budget.
Centrally located, easy to find yet off of the main road, it is a gem of a one-bedroom apartment. It is located in Anguilla's South Hill village. Here, Anguilla's ferry terminal, Blowing Point is just a ten minute drive away and you are only a 30 second drive from beautiful Rendezvous Bay.
You are soundly situated among Anguilla's best beaches, bars and restaurants (including the Dune Preserve, Garvey's Sunshine Shack and Meads Bay is a 5 minute drive away).
Up a quick flight of stairs brings you to the cozy and well-kept Anguilla apartment. The hospitable owners live downstairs, which is so convenient should you need any help or travel tips.
For location, comfort and price, Kamilah Suite fits the bill without breaking the bank!
Step Inside Kamilah Suite
Upon entering the apartment, the bright bedroom awaits you on your left. The bedroom is complete with everything you need. Fluffy rugs lay on the floor next to the comfortable queen size bed. A flat screen TV (complete with Apple TV) is fixed to the wall in front of the bed.
The Bright Bedroom


Photo: Anguilla Watersports
And, there is no shortage of storage space. The room features a dark wood chest of drawers and sizable walk-in closet. Air conditioning, ceiling fan and even a private patio round out the bedroom's features.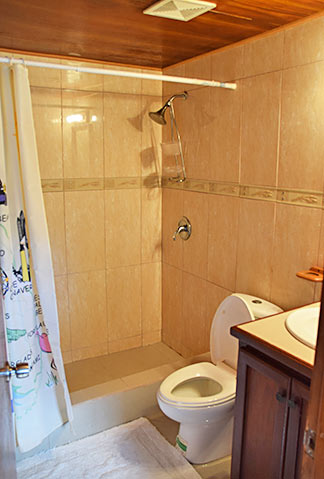 The patio bears weaved chairs with colorful and comfy pillows.
The furniture forms a perfect circle around a centerpiece of local sand, sea shells and candles.
It is an ideal spot to catch some fresh air or to simply relax on a nice warm day, iPad in-hand.
On that note, the entire apartment is complete with WiFi. Surf the web or answer emails anywhere in the apartment!
NOTE: If more sleeping space is needed, the unit comes with a roll-away cot.
Right next to the bedroom is the bathroom with shower. The owners thoughtfully include complimentary toiletries.
Just beyond the bedroom and bathroom is...
The Modern Kitchenette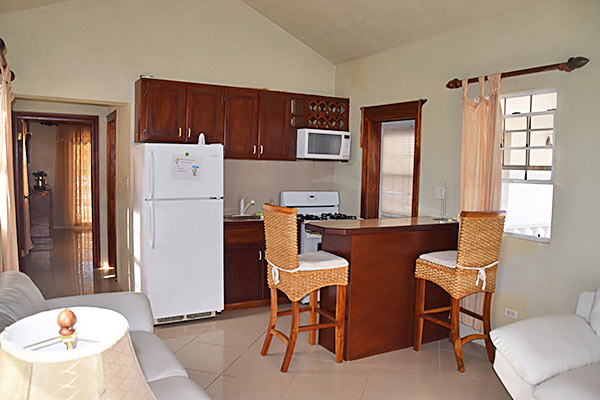 Marble-top island with accompanying high chairs, and all of the necessary appliances make it a sweet spot to whip up a cozy meal in! All-white appliances include a refrigerator, microwave, stove, oven, coffee maker and there's even a wine holder inside the wooden cabinets. To top off the spotless kitchen are large artistic paintings, which bring warmth and a "homey" feel to this apartment.
The kitchen breaks into the living room which has eye-catching white leather sofas, situated to glimpse the view of the Caribbean Sea.
Living Area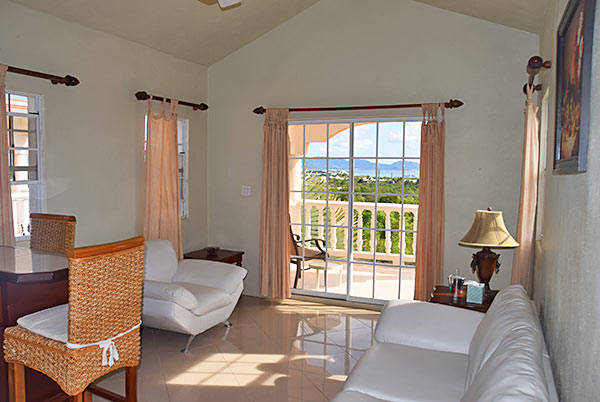 My favorite part of this apartment, and the aspect that makes it a stand-out among others, is its breathtaking view of Rendezvous Bay and neighboring island, St. Martin. You can take advantage of this view on the apartment's second veranda.
Rendezvous & St. Martin Views

Can you imagine how fantastic it would be to have a front row seat of St. Martin's fireworks on New Year's Eve? This veranda is simply the icing on the cake!
And... that's not all. As a guest of Kamilah Suite, you have complimentary use of the villa's large pool and jacuzzi downstairs and spacious manicured backyard (which includes hammocks).
This superb package of a rental is a total steal at an average nightly rate of $140.
Large Pool & Jacuzzi


Photo: Anguilla Watersports
A Second Anguilla Rental... Sunfish Townhouse
Need more vacation space?
The same hospitable folks are also renting a spacious two bedroom property, Sunfish Townhouse. Take a look below for a video tour.
More on Kamilah Suite & Sunfish Townhouse