Looking For Anguilla Hotels?
Why Not Try Boutique Bed & Breakfast,
Las EsQuinas
Update 2018: Las EsQuinas is no longer a bed & breakfast. It is available as a villa rental, Lime In Da Coconut.
By: Kristin Bourne
Searching for Anguilla hotels and resorts? Or maybe a villa?
Stop right there... have you considered a boutique bed & breakfast?
Anguilla continues to be special beyond its people and beautiful beaches. This top-notch Caribbean island forges forward in its variety of options of restaurants and accommodations from high to low, east to west.
Opening in December 2012, Las EsQuinas, a boutique bed & breakfast, expands Anguilla's offerings...
A glorious view from Las EsQuinas

Las EsQuinas' Location
Las EsQuinas describes itself as "part bijou hotel and part sybaritic guesthouse", but defies definition, really. Having seen the special space myself, I find it difficult to define... that's not a bad thing.
What I can convey is that if you appreciate wide open views, open-air privacy and being surrounded by the crystal clear, pale turquoise of the Caribbean Sea, you should keep reading.
The view from the Mexican Suite

Las EsQuinas is a stark white 4 bedroom villa sitting on a point in Anguilla's Little Harbour that juts out in to the Caribbean Sea and toward St. Martin.
Las EsQuinas is literally on the edge, where the sea meets the land.
Zen landscapring at Las EsQuinas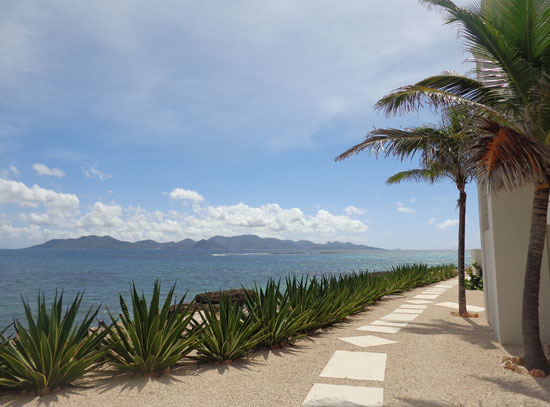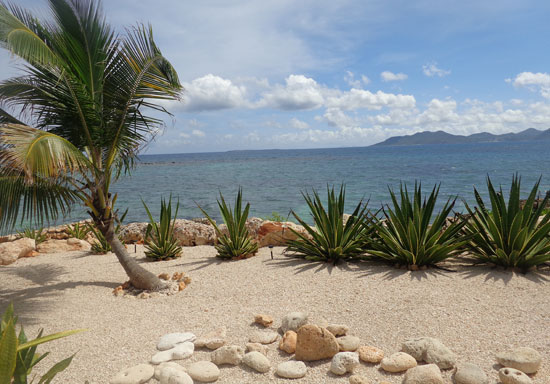 Just a few steps away there is a small sandy stretch to take a dip in the sea, if you can make it past the inviting pool.
Inside Las EsQuinas
The magnificent dining table

The first time I stepped foot inside Las EsQuinas I literally lost my breath.
The open-ness and decor, the sense of freshness and cleanliness, the hammock resting empty in a nook, the blue of the sea and the dark green mountains of St. Martin nearly knock you to your knees.
This villa has been made available, 4 rooms at time, to visitors to Anguilla ready for a experience with some amenities of a hotel and the comfort of a private villa.
The entire villa is decorated harmoniously with rustic and luxurious piece here and there.
The most special of all is the large dining table - how appropriate for a bed and breakfast.
Each room of Las EsQuinas has an ensuite bathroom and are furnished and decorated to fit a theme: Mexican, Mediterranean, Morrocan, and Balinese.
The Mediterranean Suite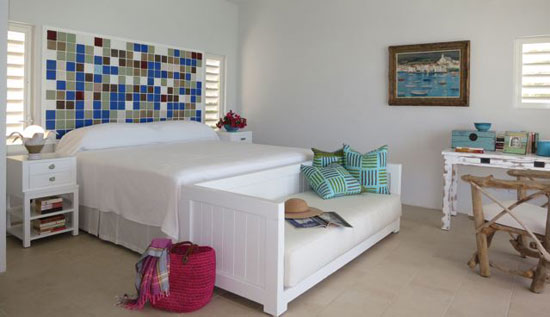 The Living Room in the evening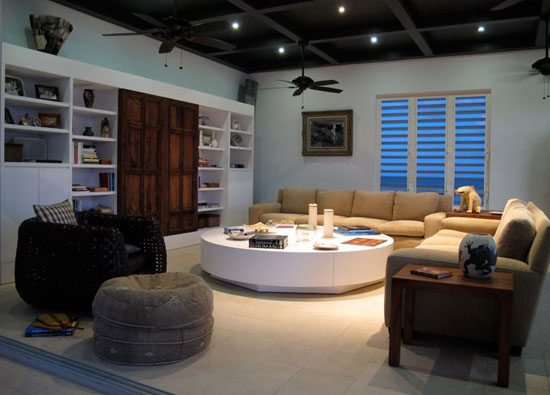 Its central open-air courtyard is not far from the shared living room, lounge area, kitchen, pool, or the walkway to your private room.
The landscape and villa work together to provide beautiful views each way you look, inside or out.
Las EsQuinas Amenities
If you opt to stay at Las EsQuinas, your experience includes a variety of niceties.
One of the many pool views

There is daily breakfast and sundown refreshments. All suites have air conditioning and ceiling fans.
Wifi is available throughout the house and the living room has a large flat screen television complete with satellite and cable channels.
Further your entertainment with board games and card games as well as a cd, dvd, and book library.
If you love music like I do, bring your iPod as there are iPod docks in each room. A Sonos Music System that reaches the common areas of the house as well.
Stay in touch with a free international and local telephone line too!
It truly is a breathtaking location and amenities are thoughtful.
Las EsQuinas maximizes the gorgeous locale with its architecture, decor, and with the naturally luxurious contents chosen for the space.
I will be checking back in with Las EsQuinas after their opening and will be hoping to hear from the guests that stay there!
Having walked through Las EsQuinas, and after spending an afternoon and an evening there, I can't imagine anything more than rave reviews. If the combination of the surroundings and sound of the sea doesn't put you in a restful state of mind, the view surely will.
More information coming soon.
(All images except landscaping photos are courtesy of Las EsQuinas)