High Value Hotel on Shoal Bay...
Serenity Cottages
By: Kristin Bourne & Kirmani Honoré
Anguilla is known for its famous white sand beaches. Its most popular, Shoal Bay, is known worldwide for its fabulous views, prestine white sands and its top-tier luxury hotels and restaurants.
There are some wonderful Anguilla villas that line Shoal Bay, our friend, Jackie Pascher at Island Dream Properties, manages some of the best. And many of our readers already know Manoah, Zemi Beach House and Shoal Bay Villas
But around the corner, looking towards Island Harbour's sleepy cliffside is Shoal Bay's calmer, more serene coast, with its only resident, Serenity Cottages and Restaurant...
Serenity Cottages & Restaurant - An Anguilla Hotel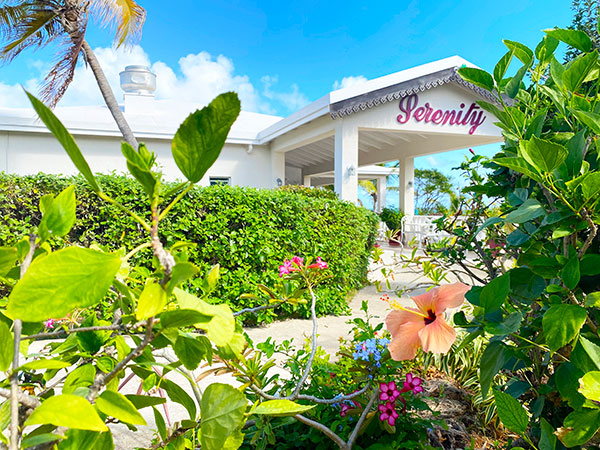 One of Shoal Bay's very first hotels, Serenity Cottages & Restaurant has stood the test of time, still perched along Shoal Bay's rocky cliffside in all its tranquil glory.
Exploring The Essence of Serenity
There are two ways to reach Serenity: By road or by beach!
Serenity on Shoal Bay Beach

Reaching Serenity by beach is a treat in itself. After crossing Shoal Bay's eastern-bank, which can be sort of a challenge depending on the time of year, you're greeted by an open expanse of swaying palm trees, the soothing sounds of the shoal and Serenity, perched in all its glory basking in the Anguilla sun.
A refreshing touch on Shoal Bay's otherwise busy coast, Serenity isn't just in a unique position, it offers a breathtaking glimpse into Shoal Bay's hoteliering and restaurant history.
The Tranquility of Serenity Cottages
Touring the grounds of the property, you can feel the pride and hard-work that goes into its upkeep.
Twin Buildings

Serenity comprises 18 rooms across 2 towering twin villas. Step outside and you're greeted by an electrifying garden made up of cacti and colorful oleander that are the main attractions away from the beach.
Serenity's landscaping, among its unique rocky desert landscape, is noteworthy!
Meticulously Kept Gardens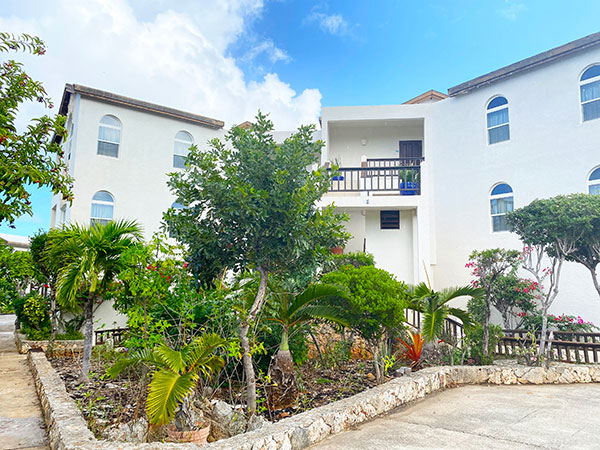 Serenity's rooms are divided into two categories: 1 bedroom apartments and studio suites that are perfect for couples.
Inside, the apartments are luxurious and their confident dark wooden furniture is timelessly Anguillian.
Inside a Serenity Apartment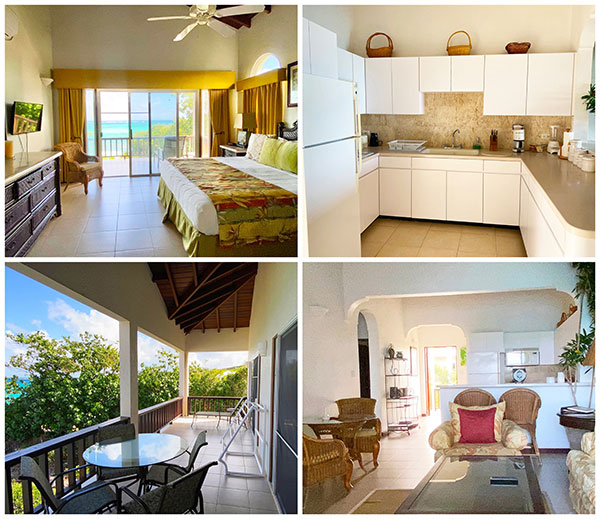 Each apartment unit comes with kitchenette, living area, bedroom with ensuite bathroom and a private balcony with breathtaking vantage points of Shoal Bay's coast.
Traveling with family? Each separate suite can further be connected to create an even bigger room.
Serenity Restaurant: The Beach, The Bar, The Beauty
Serenity's restaurant is open from 8am till 9pm and serves breakfast, lunch and dinner.
The restaurant's fully stocked bar pulls the entire room together...
Beautiful Caribbean Bar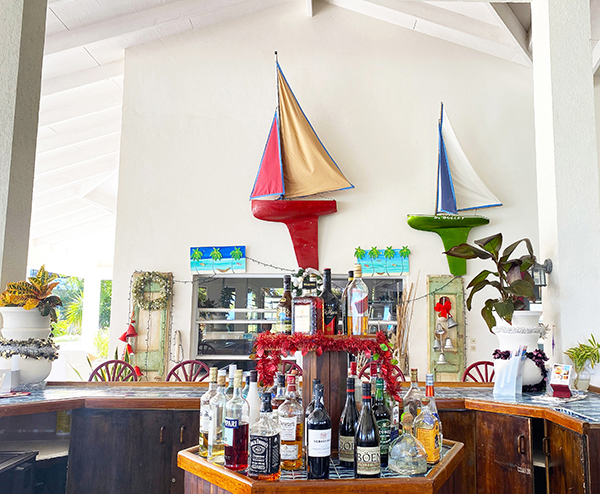 From the bar, the restaurant opens into an expansive dining room. From any and every angle, Shoal Bay's crystal clear blue waters are but a glance away.
360 Degree Panoramas

Bright and pleasant, Serenity takes full advantage of its environment with its wide open-air interior.
Its chic crimson and white, bamboo decor pairs so beautifully against Shoal Bay's blues.
When it comes to dining, don't miss a plate of their crispy homemade hashbrowns for breakfast. Come lunch hour? Their fish burger can't be beat!
Sumptuous Fish Burger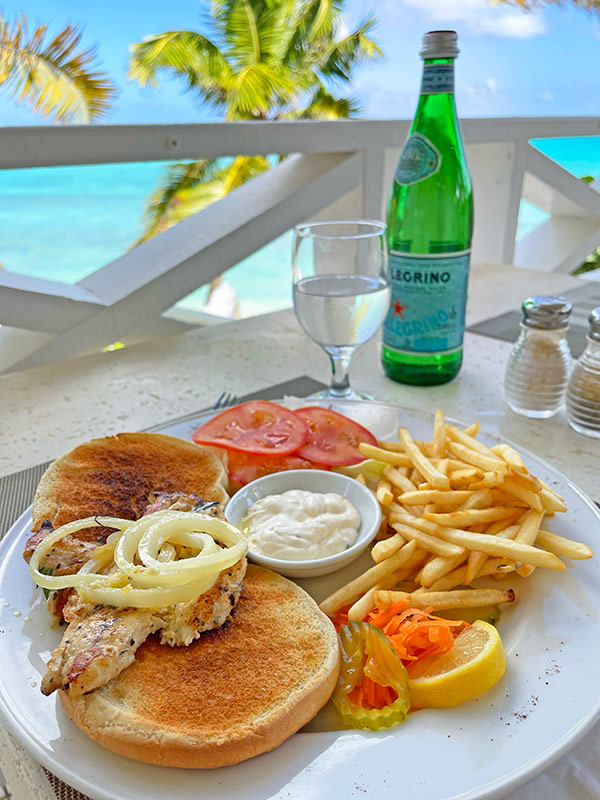 Dinner offers divine choices! Soups, salads, pastas and main courses of beef, pork tenderloin, and grilled lobster or crayfish all make up the menu.
After you lunch? Transition down to Serenity's garden patio, with open seating overlooking Shoal Bay's beach.
The Mid-Level Area
With Ocean Blue Views and Tall Dancing Coconut Trees Overhead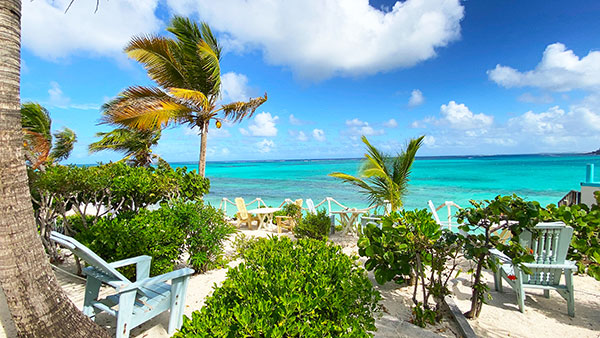 A few steps lower and you're on the soft serene shores of Shoal Bay. Beach chairs are available for the day.
Top Notch Serenity

With tall, swaying palm trees and a calm sandy nook of its own, Serenity has a prime location for absolute tranquility.
Anguilla Hotel Amenities and Rates
Serenity offers a number of Anguilla hotel amenities.
Snorkeling Gear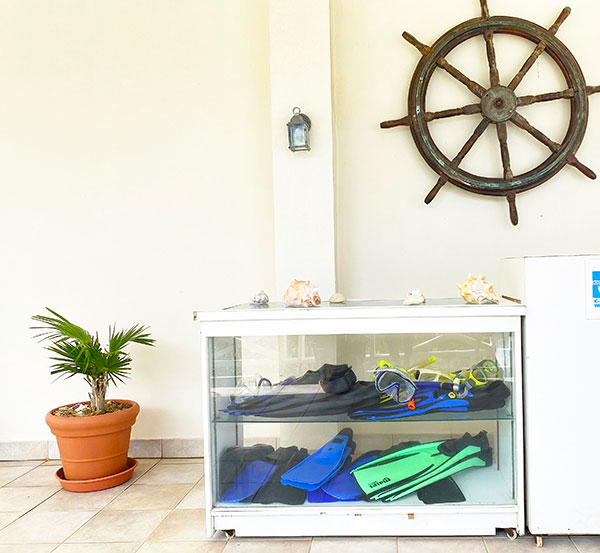 The shallow shoals around Serenity are great for snorkelling. Gear is always available at the front desk.
They also offer wi-fi, air-conditioned bedrooms, telephone, beach chairs and umbrellas, daily maid service, a library, and of course, a three meal per day restaurant.
The Vistas From Serenity Cottages

The rates at Serenity are as low as $225 US/night for a studio in low-season. A one bedroom suite with great views in high-season runs $475 US/night.
That view for that price? Serenity packs a whole lot of value!
How to Get There
Directions: Getting to Serenity is easy. Combing the beach along the upper eastern bend and arriving by foot is always recommended! However you can get there by car just by following the main Shoal Bay-Island Harbour "free-way."
Telephone:+1 (264) 497-3328