Anguilla Hotels
Lazy Days By Shoal Bay Villas
Shoal Bay Villas At A Glance
Shoal Bay Villas was reviewed by Nori Evoy.
Nori's Rating: 5 out of 5
Comfortable beach-front units with island-themed decor, Shoal Bay Villas is a secret gem of a hotel, located on one of the best beaches in the world, Shoal Bay East. At reasonable rates, and with terrific hospitality and service, this spot keeps guests coming back year after year.
Update 2016: Much has changed since our original article on Shoal Bay Villas was written. Click here for more on Shoal Bay Villas today.
An entire day on Shoal Bay's social shores (where people have even run into Keith Richards!) is one of Anguilla's unique and special treats!
Lie on the soft, silky, sand...
The boiling sun warms and browns your body...
Live music and pieces of conversations stream through the gentle breeze...
Dip into the refreshing, sparkling, turquoise water...
Meet people from all walks of life...
Grab a tasty, cheap bite to eat at any of the beach bars...
In the lazy, late afternoon, slowly walk the length of Shoal Bay's world-famous sandy shores. No worries, no problems, no exams(!) -- everything melts away.
My family and I have done this "routine" (it's never "routine") time and time again. Despite the fact that we have spent many beach days at Shoal Bay, we never peeked into an attractive hotel that we had spotted many times.
One day, my Dad and my sister decided to de-lazify, got off the beach chair and checked out...
Shoal Bay Villas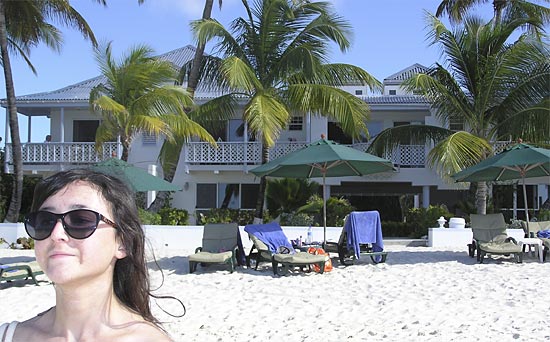 Shoal Bay Villas is a delightful Anguilla hotel directly on the best beach in the Caribbean!
That good ol' sense of adventure set in, and soon my Dad and my sister were exploring, seeing what Shoal Bay Villas was all about (some photos from Shoal Bay Villas)...
The Pool!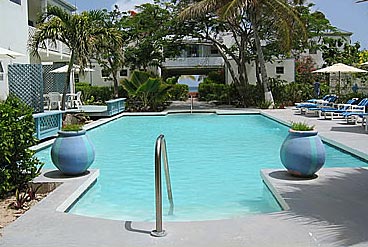 Ground-Level Room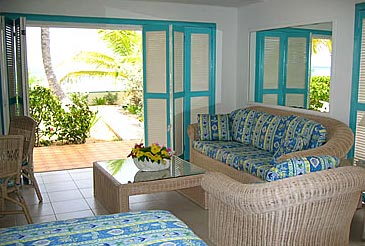 A Tropical Paradse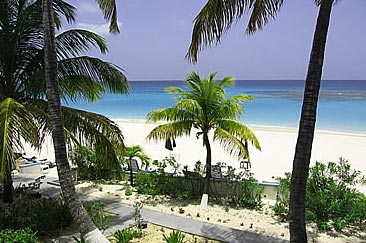 A Room With A View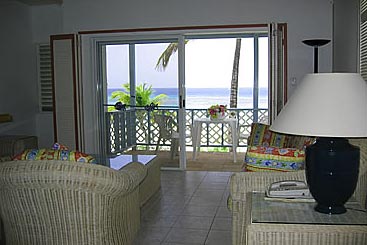 This Anguilla Hotel's Jungle!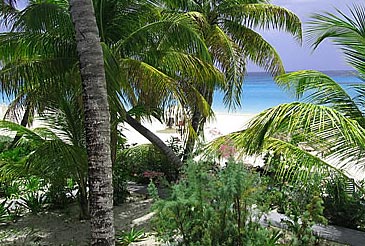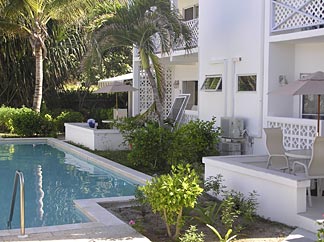 After a walk around the hotel, jealousy set in.
Stay in a ground-level room, literally open your screen door and you're on the beach.
Stay in a room with a view, admire it, grab a towel, head out. Two seconds later... you're on the beach.
Forgot your beach-reading book?
Just feel like going back "home" for a little while?
You don't have to get back into the steaming hot car all sticky and sandy!
Come and go as you please.
Have that lazy Shoal Bay day, all vacation long whenever you want.
And, for a reasonable price too!
I think Rendezvous Bay's Great House Beach Resort has some competition! ;-)
2016 Update
By: Kristin Bourne
For years now I've passed Shoal Bay Villas as I've walked along Shoal Bay. I've driven passed the back of the property on my way to Elodias and Malakh Day Spa many times, too.
Little did I know what was hiding inside their perimeter and beyond their façade.
Shoal Bay Villas ocean front balcony view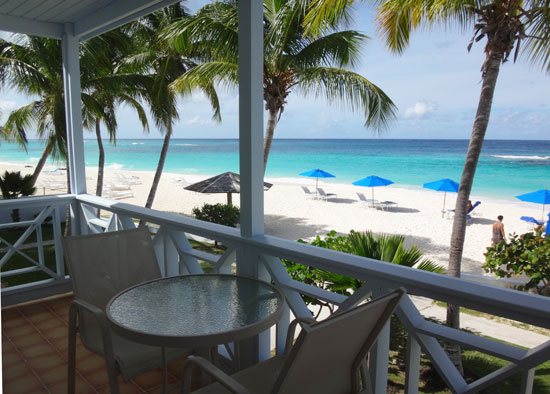 The size of this Anguilla hotel is just right with 23 rooms that offer 1 and 2 bedroom units (with sleeper sofas), a balcony or patio (depending on which floor you are on) and fully equipped kitchens. Welcome to your apartment in paradise!
17 of the rooms face the beach and the rest overlook the solar-heated, fresh water pool.
Solar heated, fresh water pool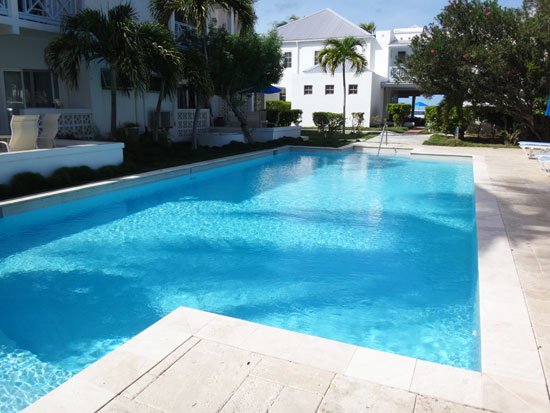 The grounds are very neatly kept. I almost felt bad parking my dirty Jeep amidst their fresh surroundings! ;-)
Parking is abundant and easy. Their office is bright, clean and well staffed.
The owners are regularly updating and upgrading the property, and also added a new building which was completed in 2012. It is located directly on Shoal Bay's beach.
Shoal Bay Villas ocean front patio view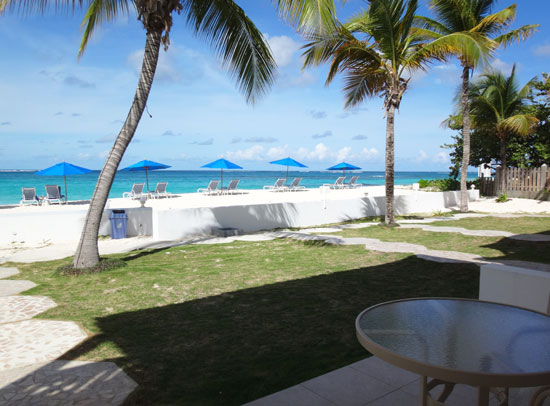 The Rooms at Shoal Bay Villas
Both the units in the new building and the original building are well maintained.
Shoal Bay Villas 2nd floor living room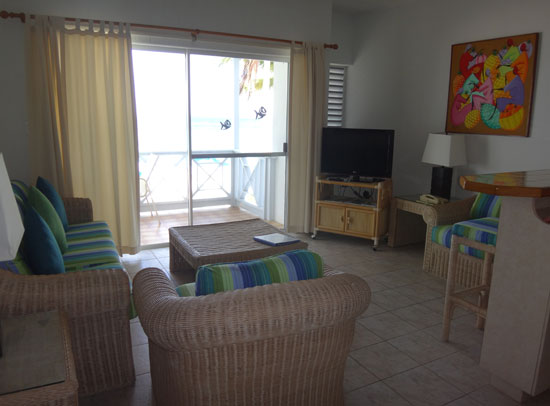 Fully equipped kitchen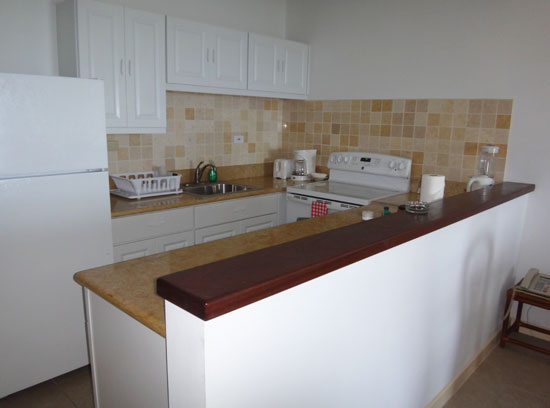 Quiet, cozy bedrooms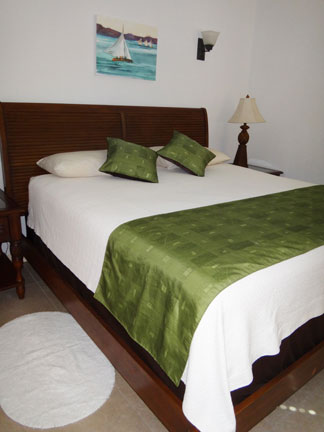 Each apartment has been designed for comfort and a beachy lifestyle.
In the oceanfront rooms (both the original and new building offer oceanfront rooms), the kitchen and living space open onto the patio/balcony.
Spacious, the views from both the ground floor and elevated units (reached by stairs) offer stunning views of the white sand and blue waters of Shoal Bay East.
The bedrooms are set back from the balcony/patio and living space.
This makes them more isolated and peaceful.
More Upgrades!
Workout on site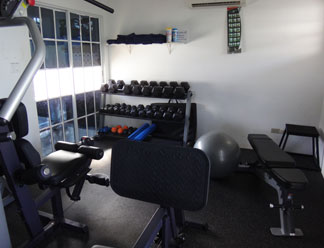 Other recent upgrades at Shoal Bay Villas include a small gym with enough equipment to maintain your workout regime.
Adjoining the gym building is a small spa room. The team at Shoal Bay Villas can make arrangements for massages and facials.
Their on-site spa provides a convenient location to maximize privacy and relaxation.
There's also a new gazebo on hand that provides shade and space for gatherings and cookouts. It's elevated and located near the pool.
New gym and spa room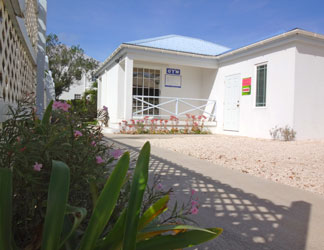 Parting Thoughts on Shoal Bay Villas
Shoal Bay Villas is the beach-lovers accommodation of choice on Shoal Bay's beach.
Other hotels on Shoal Bay sit further back from the sand and have more meandering walkways from your door to the sand. This is not the case with Shoal Bay Villas. Their beachfront units open right onto the beach.
The beach at Shoal Bay Villas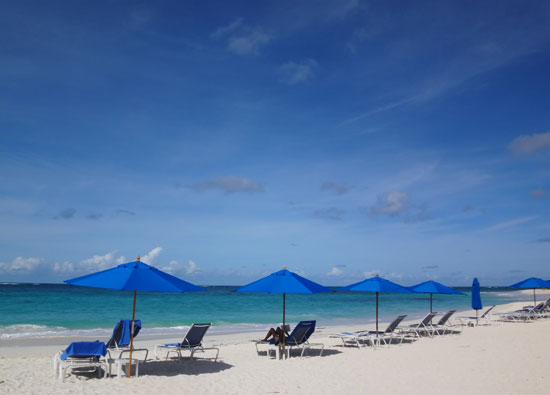 Shoal Bay Villas' former neighbor, the hotel Ku, was similar to Shoal Bay Villas in that way. Today, it is replaced by the construction of what will be a more upscale hotel, Manoah. That building's construction is nearing completion. More to come on that!
For those who don't need constant service, and who appreciate quiet, relaxed vibes and are in Anguilla for the beach, Shoal Bay Villas is an excellent choice at a reasonable price.
Beachfront buildings from the beach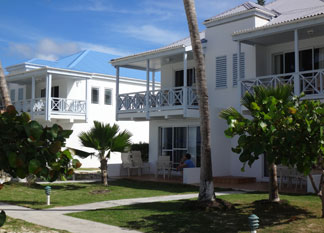 If you're interested in staying at Shoal Bay Villas when you visit Anguilla, do plan ahead. Just as Anguilla has a long list of repeat clients, Shoal Bay Villas does as well. Repeat visitors tend to book in advance, so check well ahead especially during peak season.
Friendly and knowledgeable staff, clean both inside and out, lovely amenities, reasonable rates (starting at $275 in the low season and $410 in high season), directly on the beach and run by a family and staff who want your Anguilla stay to be just right...
If you're looking to stay on Shoal Bay, this is your home.
Contact Shoal Bay Villas
Tel.: (264) 497 2051
Tel. (US): (562) 366 4813
Email: sbvillas@anguillanet.com