Sea View on Sandy Ground...
A Charming Budget Anguilla Hotel
Sea View At A Glance
Sea View was reviewed by Kristin Bourne.
Kristin's Rating: 4.5 out of 5
Affordable apartments right across the street from Sandy Ground Beach, Sea View is a high-value accommodations option. Set in the village of Sandy Ground, surrounded by tasty restaurants, the location is convenient (although can be noisy on a Thursday night when the bars are hopping). Offered at a very low price, if you're traveling on a budget, Sea View is well worth considering.
Sea View is termed an Anguilla hotel but it possesses the charm of a Bed & Breakfast and the accommodations of an apartment... an apartment nestled in between a salt pond, excellent for bird-watching, and the turquoise sea across the street.
If you are hoping to travel to Anguilla on a tighter budget, Sea View is likely to suit your needs, especially if you want easy access to the beach.
One of the two Sea View buildings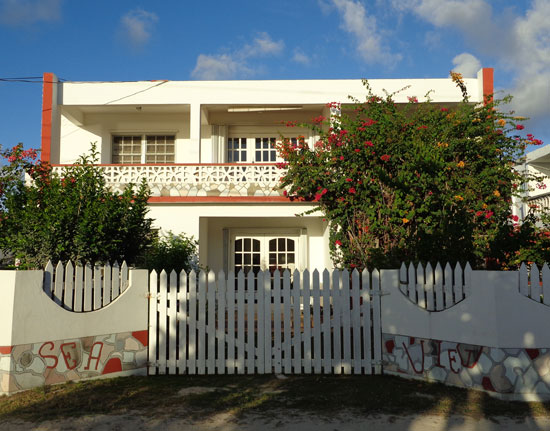 Likewise, if you are looking to do an extended stay of a couple of weeks or more, this is a place that you can expand in to and call "home" for a bit without an enormous financial expenditure, comparatively.
Inside Sea View
Beauty at Sea View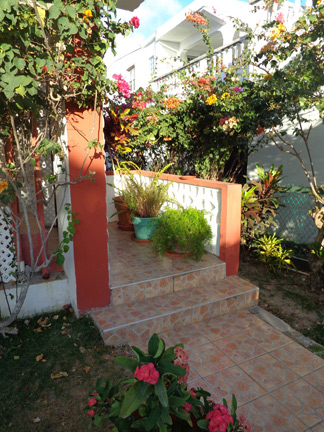 As a single traveler myself, I appreciate the one bedroom opportunity at Sea View.
Each unit has its respective bedroom(s), bathroom, a fully equipped kitchen, living space with sofas, chairs, and a television.
Additional amenities are air-conditioning in the bedrooms and wireless internet.
Upon touring the two bedroom and one bedroom units, I was immediately impressed with how clean everything was.
Downright sparkling!
Sometimes accommodations with a kitchen don't feel quite as pristine as one might like, but Sea View conquers that feeling.
I should note that I surprised Shermah (the owner) at Sea View with my visit, so it's not as if they operated in an out of the ordinary fashion for my tour.
A Sea View kitchen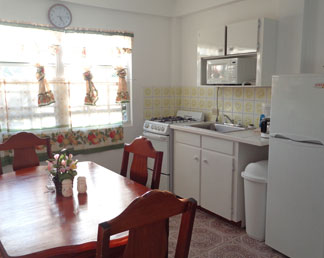 This family-run hotel was built in 1985 and continues to be updated.
Sea View consists of two buildings. One building houses a two bedroom unit and a one bedroom unit. The second building houses a two bedroom unit.
They are all on the ground floor amidst beautiful landscaping, potted plants and framed by colorful bougainvillea.
Each has a front porch and a private back porch.
A Sea View bedroom (in the one bedroom unit). I love the pink!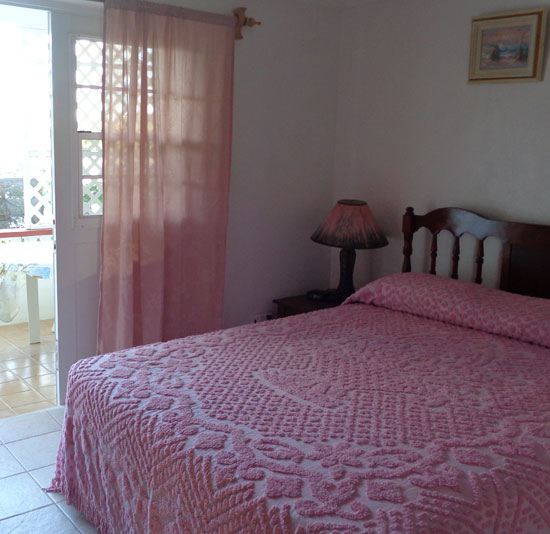 This Anguilla Hotel's Central Location
Sea View is located in Sandy Ground, a very central and historic spot on the island of Anguilla.
It's also in a great location in Sandy Ground...
You don't have to walk too far to reach fantastic dining at places like Johnno's, SandBar, Dolce Vita, Ripples, Roy's and Barrel Stay.
A Sea View bedroom (in the two bedroom unit)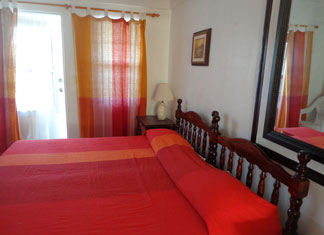 Sammy's BBQ Bar on the beach has a very lovely Sunday afternoon/evening live band set-up. Sammy puts tiki torches out in the sand adding to the fun and laid back spot to take in the sunset.
Earlier in the day on Sundays, Johnno's offers live jazz-style music.
Additionally, were you to stay at Sea View, you are basically next door to the nightlife and live music hot spot of The Pumphouse and Elvis' Beach Bar is about a 2 minute walk.
If this sounds convenient, it is! If this sounds loud, keep in mind that The Pumphouse's latest and busiest night tends to only be one night a week - on Thursday.
Rates, Contact & Reader Reviews
Sea View is open year round. The month of December tends to book way in advance, as do many of the Anguilla hotels.
This hotel really has a loyal group of repeat and first-time guests. Click here for a Sea View review written by a new guest who fell in love with the charming property.
Front entry at Sea View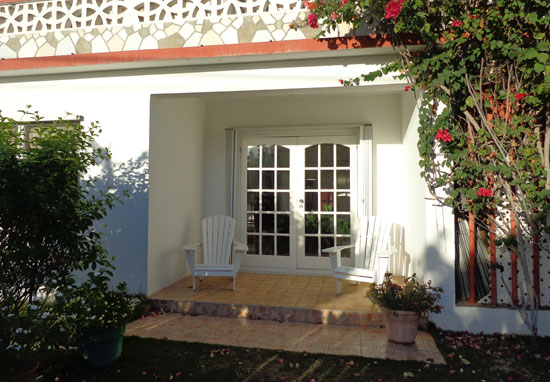 The rates for 2013 are as follows:
One bedroom -
$87/night (November - April 15)
$80/night (April 15 - October)
Two bedroom -
$170/night (November - April 15)
$150/night (April 15 - October)
If you are looking to stay for several weeks or more, ask about special rates as Sea View is willing to negotiate so that all parties are happy.
You can contact Sea View via phone at 264-462-2427 or email: seavrrdbay@gmail.com.
Your post-sunset scene, across the street from Sea View