"La Vue" of Views...
An Anguilla Hotel With Breathtaking Scenery
La Vue At A Glance
La Vue was reviewed by Kristin Bourne.
Kristin's Rating: 4.5 out of 5
With reasonably priced rooms overlooking picturesque Sandy Ground, La Vue is known best for its stunning views. Location aside, its on-site restaurant is delicious and well-priced, the staff is always accommodating and the rooms are modern and affordable.
Many of Anguilla's hotels have pretty views, but only one has "La Vue" of all views. ;-)
Whoever named this modern Anguilla hotel hit the nail on the head...
The View at La Vue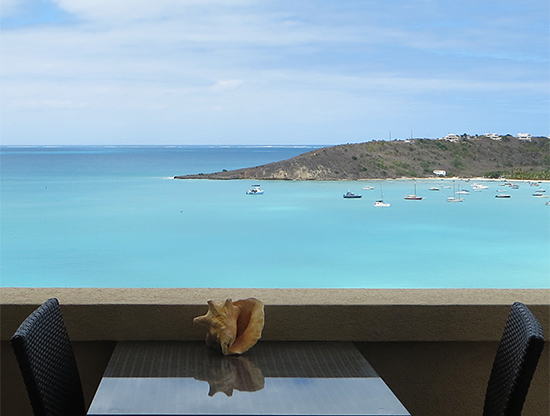 La Vue is located high above Sandy Ground in South Hill on "Back Street." From this coveted spot you can watch yachts and sailboats come and go, you can marvel at Sandy Island in the distance, and see the open ocean beyond. And, every night, the sunset is yours to behold!
The only other places with a similar view are Topaz Villa's Pinnacle and Cascade Villa (currently for sale and listed with our friend and real estate agent Jackie Pascher of Island Dream Properties).
But, everyone who loves La Vue doesn't just love it for the view! ;-) The rest of its features are equally lovely...
Inside La Vue
La Vue is family owned and operated, with a warm and welcoming bed and breakfast type of a feel.
Welcome to La Vue, where everything feels fresh!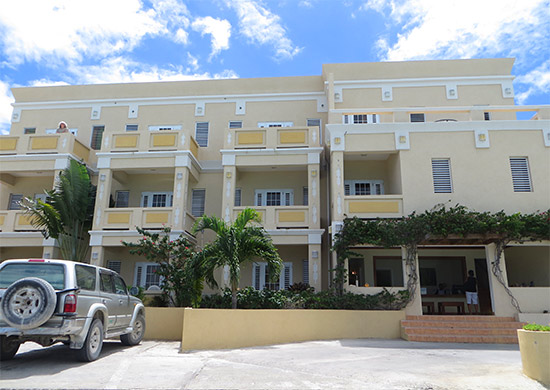 Its 32 rooms are spacious and neat. They vary in layout, from one and two bedroom units, to those with oceanfront views to those with garden views (some have a view of the clear, blue pool).
In case you don't feel like heading down to the sea...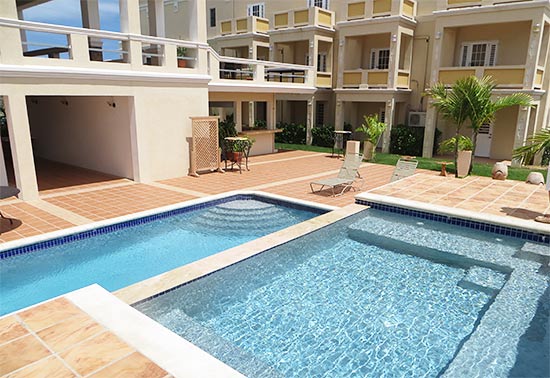 Insider tip: Room 204 is one of their most popular rooms! Its loved for its amenities, that picture-perfect ocean view annnnnd its location on the second floor, elevated from the parking lot area. Rooms like 204, the one-bedroom ocean-front view rooms, are truly high-value.
Spacious king size beds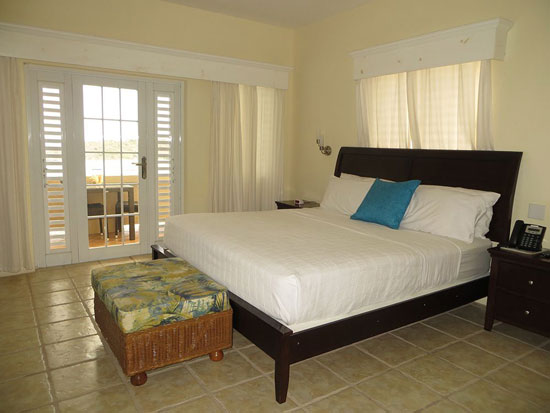 Dining and cooking area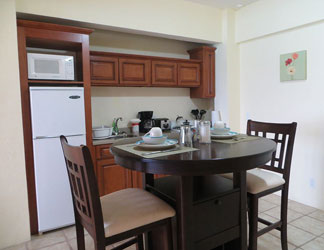 All rooms are air conditioned and have a kitchen with dining table, a balcony and desk.
Additionally, each room has TV with cable and internet.
I don't think they overlooked anything in their planning!
For all that is included, the rates at La Vue are very fair...
$200 US/night for one bedroom and $322 US/night for two bedrooms.
The rates include the necessary 20% tax, $1 US per person per night Government Levy, and thoughtfully so, it includes continental breakfast.
On the note of breakfast and eating...
La Vue's Restaurant
La Vue has one tasty restaurant on site!... Flavours.
Flavours' building at La Vue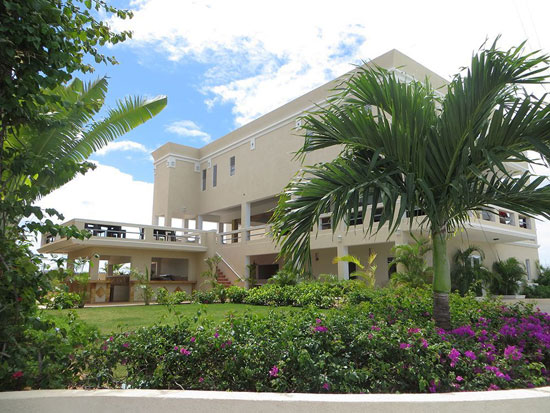 Flavours serves Caribbean fusion cuisine and is open for dinner. Some refer to Flavours as "Anguilla's steakhouse" (steak is the menu's focus), but they offer a wide variety of appetizers and entrees.
Another delight right on property is that La Vue offers Jazz In The Garden every Thursday from 7PM to 9:30PM. Cocktails and bites from Flavours are offered, all by La Vue's poolside bar.
If you're not for much exploring and would rather relax and keep it all "close to home", you can enjoy your continental breakfast at La Vue, hang out at the pool, enjoy a light lunch prepared in your kitchen in your room, and walk a few steps to dinner at Flavours.
The Location
... On the other hand, if you want to get out and about, La Vue's location is perfect for that, too. Centrally located on the island, La Vue isn't too far from anywhere in Anguilla.
Nearest of all, La Vue sits high above the white sand of Road Bay in Sandy Ground. Just across the street from the hotel there is a path down the hillside that will have you swimming in the cerulean sea in no time!
Ah, the beauty of Sandy Ground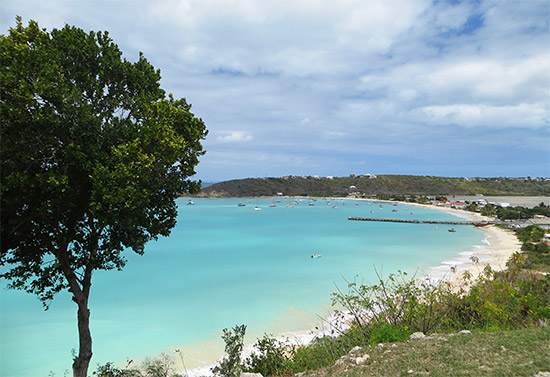 Just remember, what goes down must come up. The reward at the end of your hike back up the hillside is a soft bed and fresh pillow at La Vue, looking out at "la vue". :-)
Note: Since our visit at La Vue, I have read mixed reviews online that claim rooms have become dirtier and beds are more uncomfortable. I would love to hear about your experience at La Vue. Click here to share it!