Flavours...
An Anguilla Steakhouse With a View
Update 2018: Flavours is under brand new management with Chef Kevin Paul at the helm! Update here.
Flavours At A Glance
Overlooking picturesque Sandy Ground, Flavours is an Anguilla restaurant that has it all. A five-star view, friendly and inviting service, and some of the best food on the island. Although they are known for their outstanding steaks and ribs, there is plenty of variety on the menu. From appetizers, to entrees, to desserts, it's hard to choose just one dish from each!
More on Flavours, below...
Back Street has always been a favorite spot for our family.
Before we moved to Anguilla, I remember taking drives along the ridge road overlooking tranquil, calm Sandy Ground Village and Road Bay.
The vistas would take our breath away each and every time without fail.
There's something about the turquoise sea on one side, the salt pond on the other, and the charming village right down the middle that just captivates the imagination...
The view from Back Street

Now that we live in Anguilla, we still can't get enough of that view. Whenever we drive home from the West end (we live more in the center of the island in an area called The Farrington), we always take "the long way" and drive along Back Street.
Back Street is a destination for many locals and tourists alike, especially now with the opening of several more roadside BBQs, Darvin's Place, and La Vue.
Flavours Restaurant is now part of the scene, bringing in a crowd all its own. We were delighted to hear that Flavours was re-opening. Flavours had been a favorite spot in 2002-2005 when it was open. Then, it was located where Topaz Villa is now. Today, it is in the adjoining building to La Vue.
Flavours inside La Vue

Inside Flavours
This Anguilla restaurant is located on the second floor of La Vue. The restaurant is part of the hotel. If you stay at La Vue, continental breakfast is included in your rate in fact, and is served daily at Flavours
Inside, the restaurant is open and spacious. It is no surprise that they recently hosted the Police Week banquet dinner (amongst other large events). They have the facilities for it!
Wide open space inside Flavours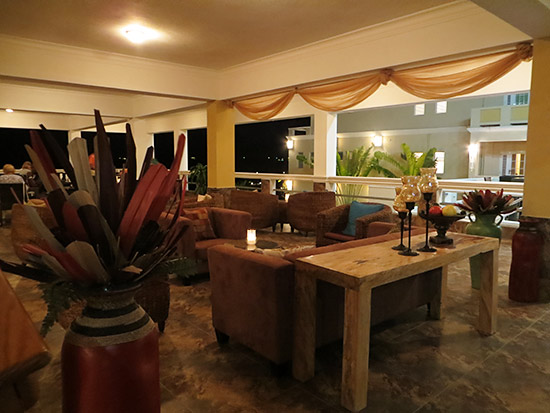 Its elevation provides a pleasant breeze (if the North wind is particularly strong, be sure to bring a sweater!) and of course, that eye-pleasing scenery. Gazing off at the lights of Sandy Ground twinkling in the distance is so special.
Sandy Ground at night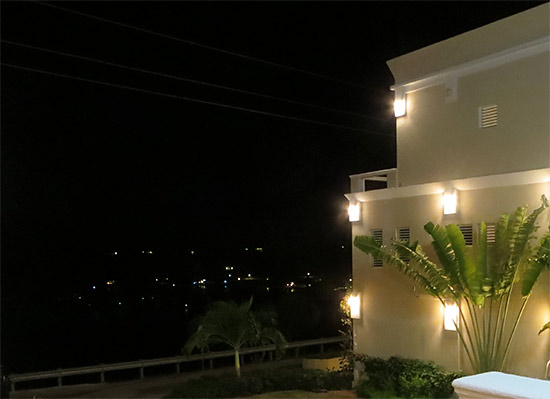 My Mom beat my Dad and I to Flavours. She had tried it two weeks before we did with her friend Claire Devener from Anguilla Life Magazine. She raved about the meal!
The meal all began with our kind and fun waiter, Devon Halley. Devon is a sweet, good-humored and hard working guy. During the day he works at First Caribbean International Bank and on the weekends he helps out from time to time at Tropical Treats.
He brought us the cocktail list. There are plenty of refreshing looking drinks on the list, from daiquiris and coladas, to house specialties like "Almond Joy" made with Amaretto cream de cacas and cream. It's no surprise that Flavours has an innovative drink list. After all, their bartender, Catherine Niles was a member of Anguilla's Culinary Team!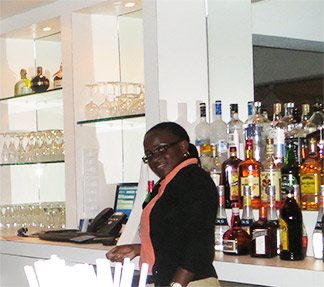 Despite all of the cocktails on the list, my Dad went with what he always does...
The classic rum punch!
Drinks ordered, it was time to focus on eating.
Meals begin with a cone of fried Johnny cakes and the chef's freshly prepared ratatouille. What a nice change to your standard bread basket! The Johnny cake is light and crisp, and mixes wonderfully with the spicy ratatouille with its large chunks of vegetables.
The Johnny cakes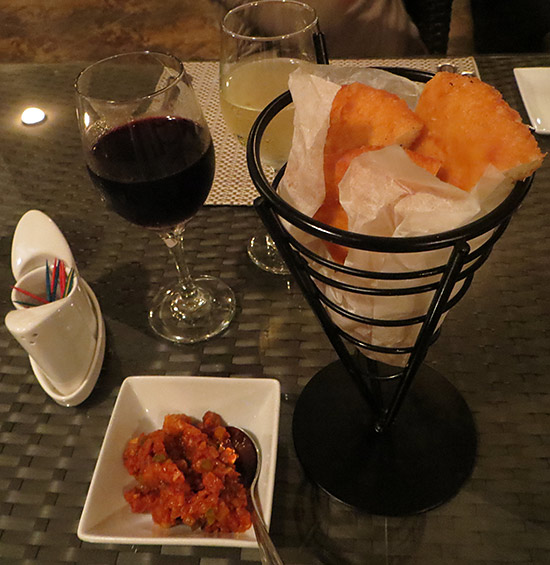 Flavours' menu has something for every palate. The hardest part for me was the beginning of the meal. Each and every appetizer sounded just divine.
Appetizers include: vegetable spring rolls, pumpkin soup, conch chowder, coconut shrimp empanadas, warm goat cheese salad, seafood salad and a "rasta" salad (with avocado). I was eyeing the empanadas and goat cheese salad. But, since it was a cool evening and my Mom's friend Claire had been in raptures over the conch chowder (she says it's the best she's ever had), I couldn't pass it up!
The Conch Chowder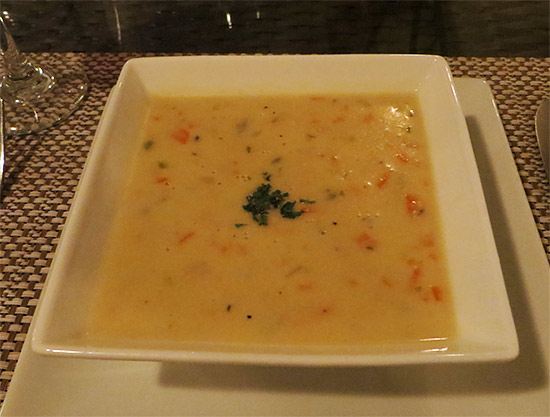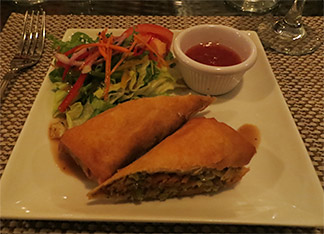 The conch chowder is $10, which is a reasonable price considering the good serving size AND the quality.
It really is THE best conch chowder.
My Mom chose the vegetable springrolls which she raved about on her last visit and couldn't resist the second time round. They go for $9.
The rest of the menu has good range, too.
They have a couple of pastas (seafood pasta for $22 and vegetable pasta for $16), fresh fish and sea food (around $22-25 each) and plenty of chicken, pork and steak.
Although not a formal "steak house," Flavours is known for their big, juicy steaks.
Note: Next time, I might try the "Pyrat Rum Braised Short Ribs." They have been getting rave reviews! If you have tried them, I would love to hear all about them in the Facebook Comments below :-)
We weren't going to walk away without having sampled some of their top quality beef.
My Mom and I each went for the "Steak Joy" a 12 0z. Angus beef steak.
My Dad skipped appetizers on purpose. He was holding out for the "Lily's House steak" an 18 oz. porterhouse ($38).
In classic steakhouse fashion, you order your "extras" on the side.
The options are: sweet potato steak fries, fried potato strips, garlic and chive mashed potatoes, rice and peas, steamed vegetables and fried plantains.
Each entree (fish, chicken, pork or steak) comes with two sides.
And, each steak comes with either a red wine sauce, a mushroom sauce, green peppercorn sauce, and, your steak can also be smothered in onions!
My Mom went with the fried potatoes and steamed vegetables.
The garlic and chive mashed potatoes had me and my Dad from the start!
I also ordered a side of fried plantains.
My Dad recommends the peppercorn sauce, and my Mom and I suggest the mushroom sauce. Both compliment the meal perfectly and have nice, tangy flavor, not overpowering.
Each bite was more delicious than the last! The steaks were cooked to perfection, not over cooked, as some restaurants here have been known to do when it comes to steak. The meat itself, even without the sauce, was quite, well... flavorful!
Still, we had plenty of food left over. 12 oz. seems small when you're starving. Halfway through I realized I was going to be making steak sandwiches the next day for lunch. That's not a bad thing! ;-)
When Devon asked if we were interested in dessert, we told him we couldn't hold another bite. But, my Dad did spy a decadent looking chocolate cake on the menu. He brought it home and devoured it for a midnight snack.
He is a real chocolate lover and said that it is a serious chocolate cake!
It had simply been a perfect evening, from the warm, inviting and helpful service, to the first sips of our drinks, to the last bites of our steaks.
As we were leaving, we even had the chance to meet the owner, Kirk Hughes. We thanked him for such a wonderful night.
Me with Devon Halley and Kirk Hughes

Overlooking the twinkling lights of Sandy Ground, and La Vue hotel, prettily lit up, we thanked Kirk and Devon for such a wonderful evening. We'll be back soon!
Directions, Hours & Contact
Directions: Flavours is located on Back Street, overlooking Sandy Ground.
Hours: Open for breakfast daily. Dinner Monday-Saturday.
Tel: 584-2300