Flavours Restaurant...
Chef Paul Brings The Food Fireworks!
By: Cassie Lewis
High above the village of Sandy Ground, nestled on the second floor of La Vue lies the breezy and modern Flavours Restaurant.
Night View of Sandy Ground from Flavours Restaurant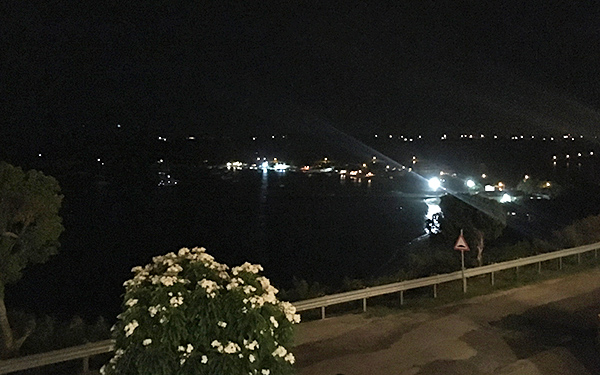 Flavours has changed hands a few times over the years. The restaurant first opened on Back Street in 2004 to rave reviews. It later closed for a short period and was re-opened as Flavours - a part of La Vue. Through different owners and different chefs, Flavours has consistently upheld its reputation for its idyllic location, excellent service and outstanding food.
With Executive Chef Kevin Paul and owners Shiren and Desmond Paul, today's incarnation of Flavours just may be the best yet.
Inside Flavours
Set on Back Street overlooking Sandy Ground, Flavours boasts one of the most beautiful day-time views. Come nightfall, Sandy Ground's still waters glimmer in the distance, the lights of the village dancing on the night sea. Serenity overcomes you as you glimpse this restaurant's view. Before the meal begins, enjoyment and fulfillment set in.
Chic, glass-covered tables are adorned with a candle placement, shiny glasses and spotless white napkins. Our efficient waiter greeted us upon arrival and seated us in view of Sandy Ground.
Dining Area at Flavours Restaurant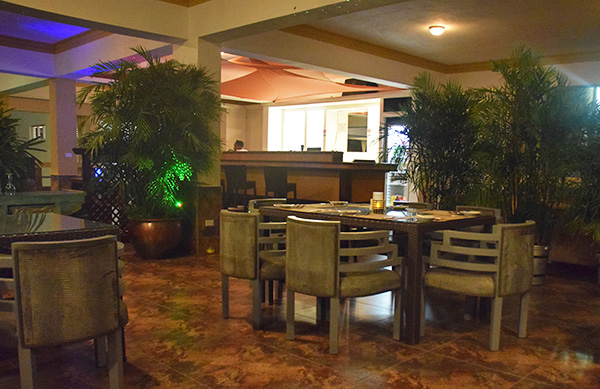 In the midst of admiring the Sandy Ground lights below, our waiter snapped me out of my daze when he handed me and Louise chilled hand towels. Talk about five star service! This small gesture set the standard for the evening. Few spots offer Flavours' high level of hospitality.
Executive Chef Kevin Paul's Dinner Menu
Chef Kevin Paul is a familiar name here in Anguilla. He is best known for his years at Straw Hat restaurant, where he introduced many Straw Hat favorites back in the day, including the decadent tomato pie. Chef Kevin Paul's menu today offers tempting appetizers, including his famous crab cake, tuna sashimi, seafood crepes and foie gras with mango chutney.
Louise and I shared a special that evening, the pineapple rum glazed shrimp. Juicy shrimps are sweetly drenched in a thick pineapple sauce. From first bite, you know this dish is prepared by a Caribbean chef. The seasonings and combination of rum and pineapple flavors are spot on.
Pineapple Rum Glazed Shrimp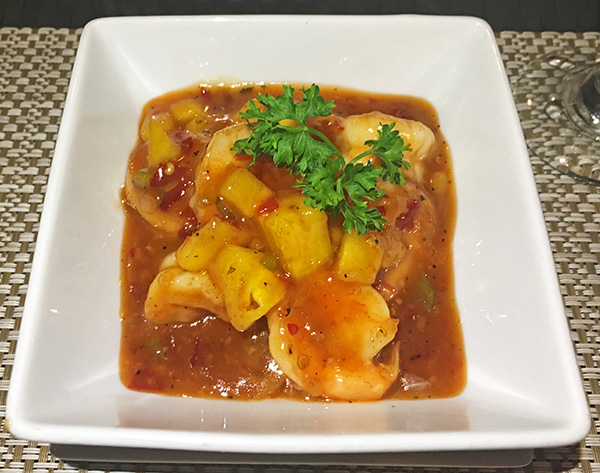 So good, I must admit, as the last bite of shrimp touched our lips, we were sad the appetizer was over.
Flavours starts you off with fresh-baked, warm and fluffy bread. The remaining pineapple rum sauce was its perfect complement.
After a goosebumps-generating appetizer, we anxiously awaited our mains. In good time, they were presented before us...
Mahi Mahi with Stir Fried Vegetables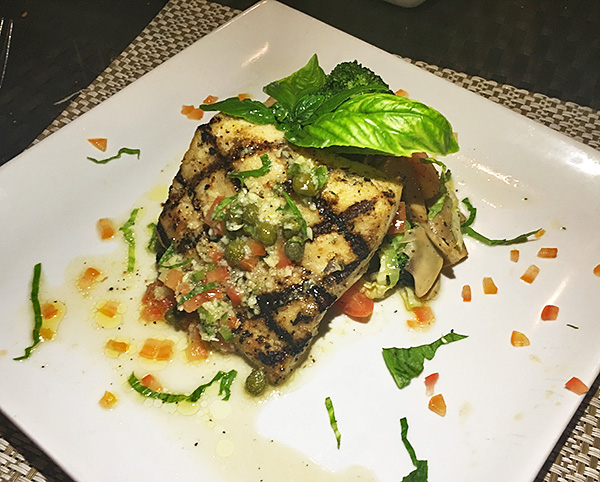 Flavours' entrée menu features a section called "Grilled or Pan Seared." You select your choice of seafood (mahi mahi, lobster, crayfish, shrimp, snapper) or meat (pork chops, rack of lamb, steak, duck, chicken), sides and sauce. In addition to "Grilled or Pan Seared," Flavours offers a number of specialty dishes including salmon, jerk porkloin and curried goat.
Louise selected the mahi mahi. Grilled with lemon, olive oil, garlic, minced red onion and topped with a light caper sauce, each aspect enhances the flavor of the fresh mahi.
Coconut Rice

The meal is complete with your choice of stir fried vegetables, asparagus, garlic mashed potatoes, broccoli, pumpkin purée, mushrooms and coconut rice. Louise's eyes widened when she saw coconut rice as a side dish. Her absolute favorite, "this is the best coconut rice I have had yet," Louise enthused.
Grilled Striploin Steak with Mushroom Sauce and Vegetables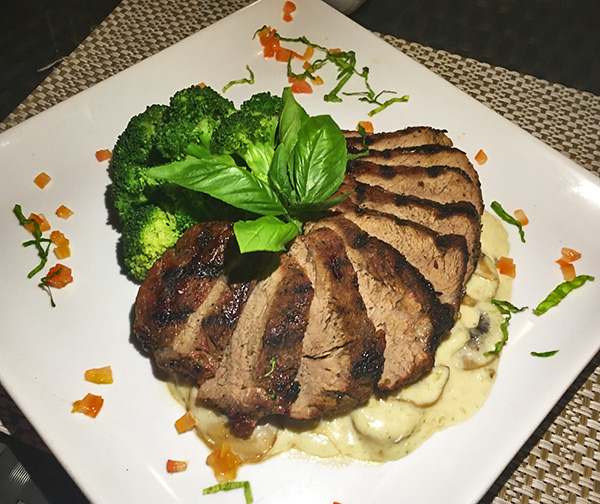 So Much Flavorful Food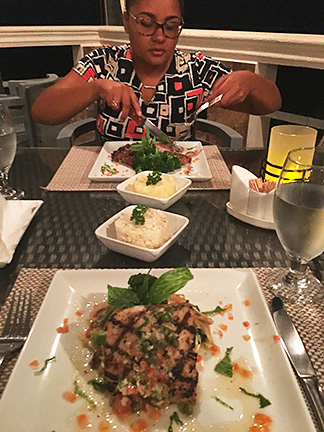 I went with the grilled striploin steak topped with a mushroom cream sauce.
Beautifully presented, the tomato cubes and strips of lettuce decorate the plate like celebrative pieces of confetti.
"Foreshadowing that my taste buds are going to have a party while eating this dish?" I thought.
That is precisely what followed.
The real chunks of mushrooms sealed the deal and the steamed broccoli and side of creamy, buttery, garlicky mashed potatoes were the icing on the cake.
This was indeed the best prepared steak I have ever eaten at a restaurant.
I simply could not get enough, even though the portion sizes are substantial!
Creamy, Buttery, Garlicky Mashed Potatoes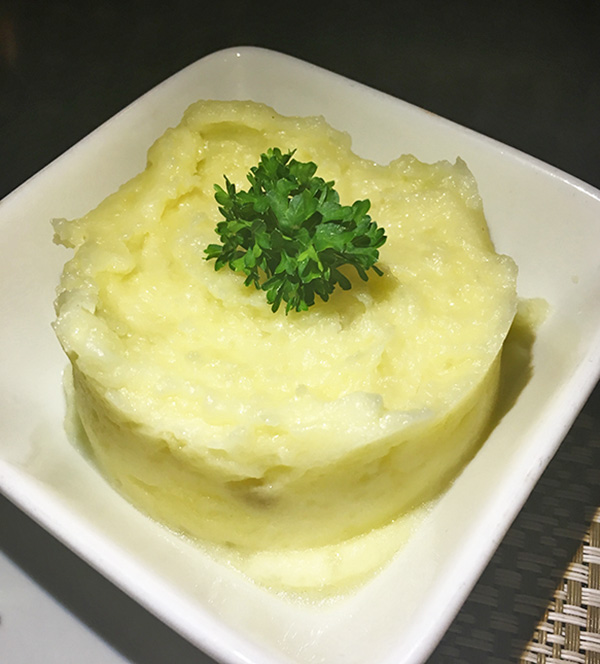 By the meal's end, Louise and I were on the verge of becoming emotional. Our meals were that phenomenal.
Chef Kevin Paul came out to greet us as the evening was winding down. The man responsible for setting off these tasty food fireworks, we couldn't thank him enough. As kind as he is talented, he even shared some of his cooking techniques with us. A genuine and passionate man, definitely pop into the kitchen to say hello to Chef.
Yet again, Flavours more than lives up to its name. Here's wishing the entire team the very best!
Contact, Hours & Map
Directions: Located upstairs of La Vue on Back Street, overlooking Sandy Ground.
Hours: Daily for breakfast, lunch and dinner. Closed Sunday.
Tel: 264-581-0017