Anguilla Villas: The Owner's Story behind
Topaz Villa's "Pinnacle",
overlooking Sandy Ground
The Topaz Villas in Anguilla are comprised of two independent villas - Pinnacle and Imperial.
Both are gated and located on Anguilla's only one-way street, Back Street, which is a scenic hillside in South Hill.
The signiture topaz spiral staircase at Anguilla villa "Pinnacle"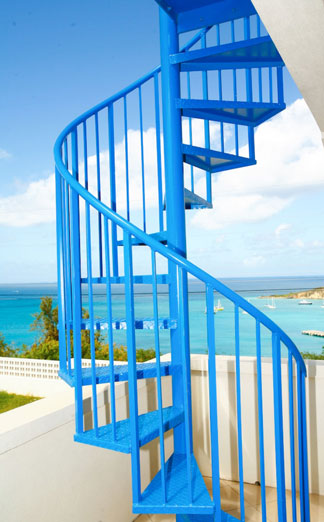 Both are gated and located on Anguilla's only one-way street, Back Street in South Hill.
Pinnacle is a 3 bedroom villa that is available as a vacation rental.
Built and designed with the owners' love for the location in mind, this villa offers ease of accessibility along with the stunning and coveted view of Sandy Ground.
Topaz Villa has been built on family land that goes back many generations.
When the villa owners, Robert and Dionne, made a trip to Anguilla in 2004, they agreed it would be nice to build on Robert's family's land.
The home of Robert's great-grandmother which used to sit on the land had been destroyed by Hurricane Luis in 1995 and the land had not been in use since.
With that, they took a recommendation to use award-winning Ian "Sugar George" Edwards as their architect.
He is the creator of the amazing and highly recommended Tequila Sunrise Villa, gorgeous Spyglass Hill villa, and the more modest Little Butterfly, along with many other masterpieces in Anguilla and beyond.

Inspired by the luxurious spa villas in Thailand, they worked with Sugar George on a an elegant design that would include what they loved about Thailand and the land the home was to be built on.
What they loved about Thailand was the simple, modern, clean design of the architecture that focuses on natural and neutral colors (blue, white, brown, green) as well as on natural elements such as the rich hardwoods used in the artwork and furniture they chose.
Elements of Thailand accent Pinnacle Anguilla villa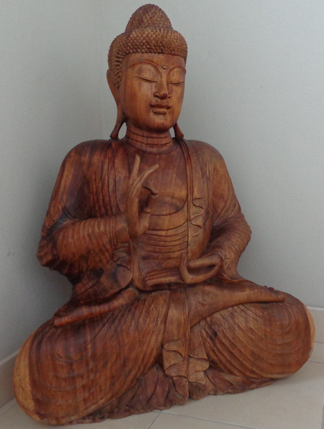 They agreed to build a villa that combined both Caribbean and Thai influences as the perfect platform to immerse yourself in the location's great view.
They were excited to create an experience for others to enjoy, maximizing the location and the amazing view that they enjoy so much when they are there. 
Goals were to provide guests with "a holiday getaway" place that they could enjoy and create wonderful memories and experience what they liked most, which is sitting on the upper deck looking out onto Sandy Ground and straight out into a vast blueness, as the pool seems to melt into the blue of the sky and the ocean.
The second story living room at Pinnacle

The foundation was purposefully built 2 feet higher than normal to ensure the view from even the first floor. Good thinking!
Reason being, is during construction they often found boat racing (Anguilla's beloved National sport) fans on the property taking pictures while cheering on their favorite boat. They realized what a vista their land held, especially with a little additional elevation.
There's the view from the pool deck!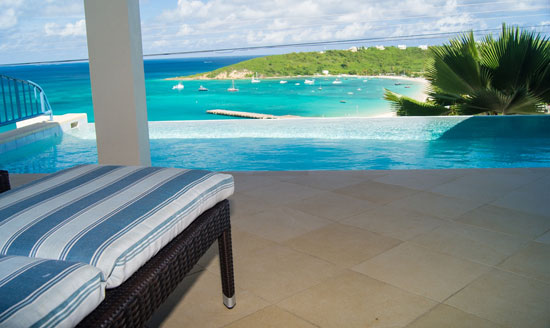 The Layout of Pinnacle Anguilla Villa
The day I (Kristin) toured Pinnacle, I was shown around by one of the owners, Dionne. What a lovely tour! It was so nice to hear the enthusiasm and thought process that went in to creating Pinnacle.
The first floor dining room and kitchen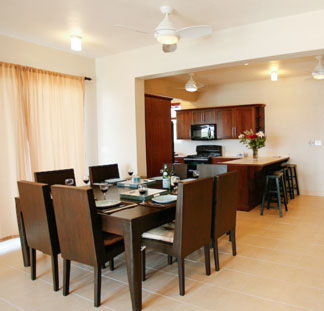 As you enter Pinnacle, you ascend several steps, enter through the double glass doors and step foot in the open living room and dining room.
The kitchen is immediately behind the dining room. There is also a small office area and a bathroom, and two bedrooms on this level.
The stairs to the second level is home to the buddha (seen higher up on this page) and the stairs take you to the larger living room (termed the entertainment lounge), more bedrooms (including the master and its whirlpool tub and outdoor shower) and what is sure to be a prime spot for many guests… the pool deck!
This is where they really did well to reel in the incredible view. The pool seems to disappear in to the blue of Anguilla's Road Bay down below.
You can hang on in the infinity edge pool and watch sailboats come and go...
The master bedroom at Pinnacle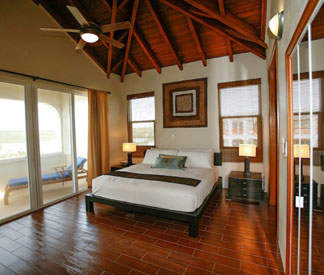 If that view isn't enough, take the outdoor spiral staircase up to the roof deck where you can see a panoramic view including Anguilla's Sandy Island, St. Martin in the distance and Saba on a clear day.
There is a grill and loungers and tables, or anything you need to enjoy the outdoor space with the tremendous view.
The condition of this Anguilla villa is stellar and Robert's mother, Jonice, lives next door. She is the one making sure the guests are happy at Pinnacle.
One last thing I must mention that makes an arrival and stay at Pinnacle so lovely…
The welcome package!
If you are a guest at Topaz Villas, you arrive to a welcome package complete with plenty of snacks, beverages, and treats to tide you well into your stay.
Pinnacle guests love it!
Many arrivals come in the late afternoon and would prefer to settle in as opposed to running out to the store to prepare for quick and easy to eat snack, breakfast, etc. Topaz offers a generous spread that typically last their guests several days and eases the transition for those not used to renting a villa.
At Topaz, prior to arrival, guests are asked their preferences as Topaz creates a customized complimentary welcome package along with fresh fruits, juices, water soda, milk, bread and eggs as well as beer and wine accompanied with cheese and crackers.
Dionne and the Topaz Villas' Signature Welcome Package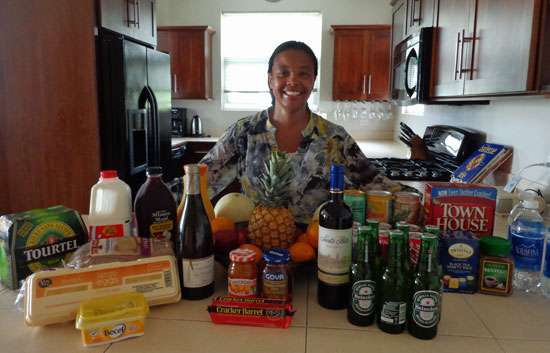 Pinnacle's guests love it there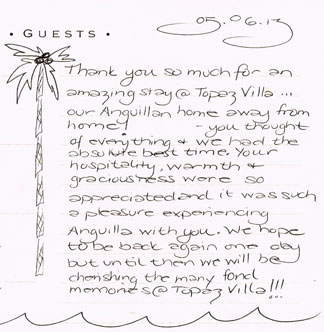 Even better, the daily rates include access to a vehicle, cleaning service and of course, the signature welcome package. All the things you need to create a light snack, a continental breakfast or a cold drink that you can enjoy from the infinity pool deck, minutes after your arrival at Topaz Villas in fabulous Anguilla!
The guests that stay at Topaz Villa's Pinnacle seem to be quite pleased with their decision.
Dionne shared the comment book with me and there was only nice and happy remarks from their time spent at Topaz either during their vacation or business trip.
Dionne, Robert and Jonice have really thought of everything to make you feel right at home in Anguilla.