Bella Blu Hotel...
Affordable & Chic Stay on Meads Bay
When it comes to "best hotels in Anguilla," you do not need to break the bank. Anguilla has many affordable hotels that offer terrific value, right on Anguilla's best beaches. One hotel that comes to mind in terms of "bests?" The beautiful Bella Blu, set right on majestic Meads Bay.
Welcome to Bella Blu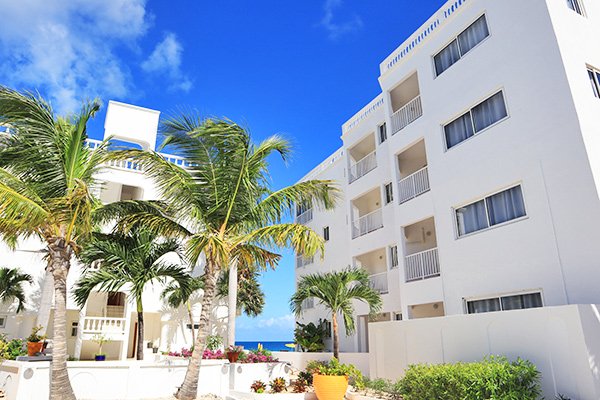 Formerly part of Turtle's Nest, Bella Blu boasts eight spacious and bright condo-style units overlooking Meads Bay. The boutique hotel features 2 bedroom condos, 1 bedroom condos and a studio suite. They are all housed in the two buildings that make up the combined property of Turtle's Nest and Bella Blu.
The Location: Meads Bay
Bella Blu wins on location alone. The hotel sits right on the shores of one of Anguilla's most visually impressive and expansive beaches, Meads Bay.
Crystal Clear Waters of Meads Bay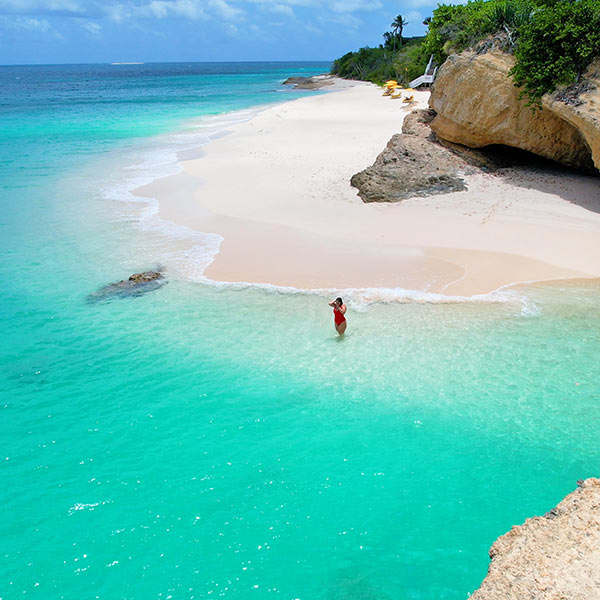 These waters are some of the clearest and bluest you will ever find. The color and clarity of the water rivals the top beaches around the globe. From Western Australia, to the Maldives, Meads Bay ranks with the world's best.
Its beauty has not gone unnoticed. Over the years, Meads Bay has become a destination in Anguilla. Four Seasons and Malliouhana book-end the beach. Terrific restaurants including Straw Hat, Jacala and Blanchards line its shores. And it is not uncommon to see many mega yachts moored offshore.
Meads Bay View from A Bella Blu Balcony

Bella Blu is beautifully positioned, right next door to Straw Hat and with sweeping views of the shoreline.
Step Inside Bella Blu
Bella Blu's one bedroom and two bedroom suites take full advantage of these views. As you enter your suite, the Meads Bay panorama immediately captures your attention.
180° Views of Meads Bay

The suites layout with a full kitchen, living, dining area that gazes out to Meads Bay.
Kitchens are complete with stove and oven, refrigerator, cutlery, microwave, coffee maker and toaster. With plenty of counter space, they are perfect for cooking and eating in.
Another special perk? Best Buy Supermarket is only a 5 minute drive from Bella Blu, making shopping and "eating in" most convenient. It's an excellent way to save money and still dine on the beach! Enjoy the sweet sea breeze, the gorgeous blue view and then watch the sky turn pink, purple and orange as the sun dips below the horizon later in the day.
Full Sized Kitchen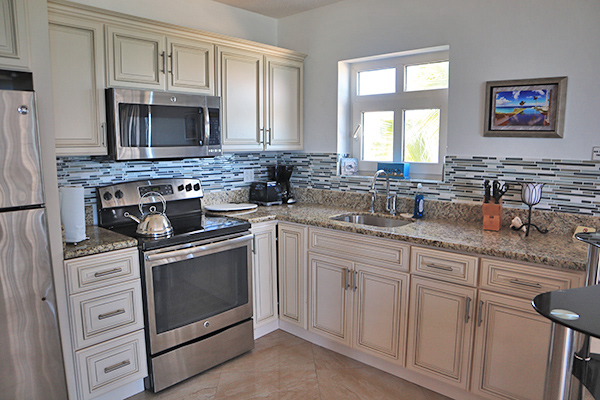 A full-sized dining area and living area are adjacent to the kitchen. The living area is complete with flat-screen TV and cable. (WiFi flows throughout your unit.)
One Bedroom Living Room (Foreground) and Dining Area (Background) at Bella Blu

Two Bedroom Living Area with Meads Bay View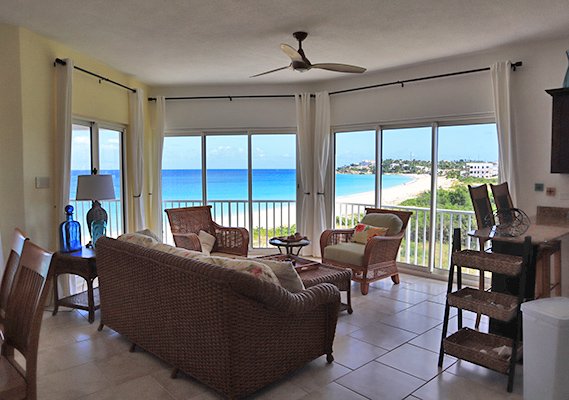 Each unit's living and dining area opens onto Bella Blu's famous terraces with non-stop views...
Bella Blu Views

They simply make you gasp!
Back inside, set behind the living, dining, kitchen area are the bedrooms and bathrooms.
The one bedroom suites all have king bedrooms. The two bedroom suites have one king bedroom and one second bedroom with twin beds (these can be pushed together).
Master Suite in Two Bedroom Unit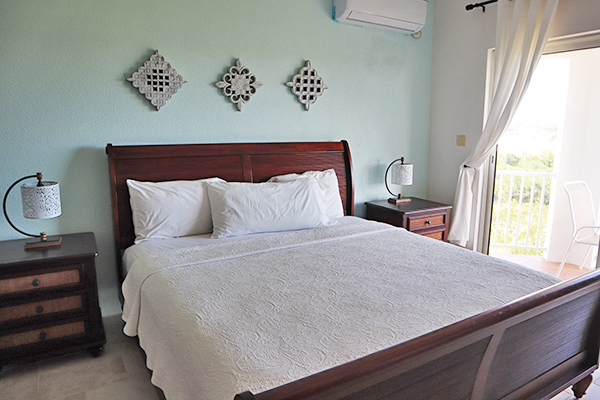 Second Bedroom in Two Bedroom Unit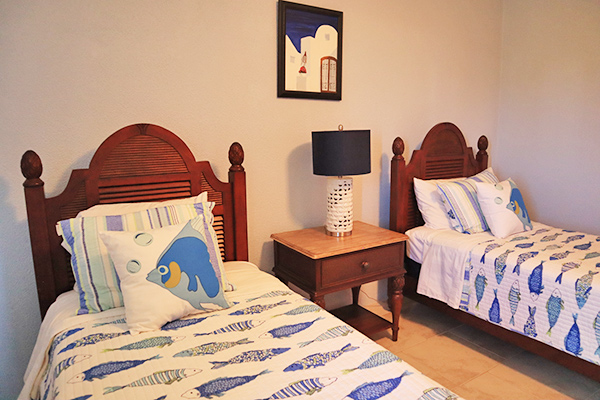 Each bedroom has air conditioning and an en-suite bathroom. The bathrooms are complete with walk-in showers. Depending on the unit, small details like sea shell artwork and turquoise-painted cabinets and walls make the bathrooms pop with personality.
Sweet Bathroom Touches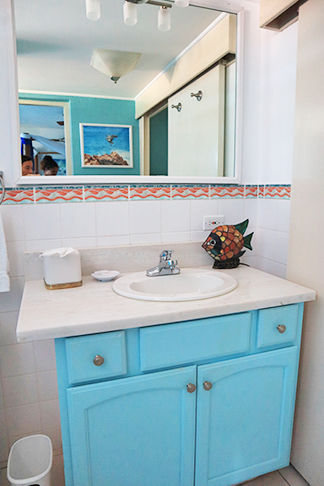 Each unit at Bella Blu is privately owned. The suites are artfully adorned, reflecting each owner's taste and personality. From art-filled hallways...
Colorful & Artful Hallways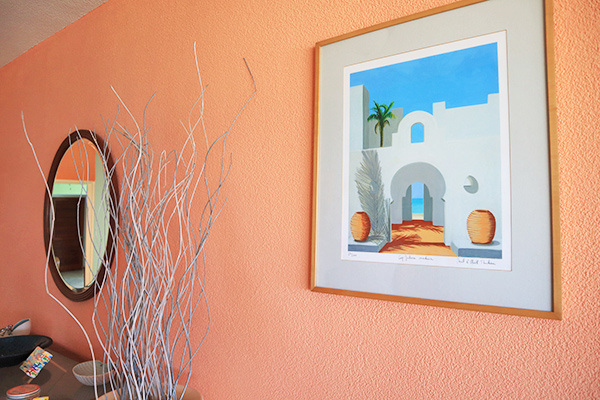 To those adorned with touches reminiscent of the sea...
... each unit is so sweetly decorated. The little touches go a long way, making you feel right at home.
Pool, Beach Amenities & More
The benefits of Bella Blu don't end there!
The property features a large pool, right on the beach. Lounge by the pool, then laze away under your beach chair and umbrella.
When hunger calls? Straw Hat is right next door. They deliver directly to your beach chair!
Beach & Pool Living on Meads Bay

With dedicated and personalized service, Bella Blu is the total package for a chic and relaxing beach getaway that doesn't break the bank. How to save even more at Bella Blu? Bella Blu is an Anguilla Card Partner. Use your Anguilla Card to book your stay and save 10%!
How to Book & Contact
Email: booking@bellabluanguilla.com
Tel.: 1-264-476-2355
Book directly via Bella Blu's official website: Click here.
Directions: Right on the beach on Meads Bay.