Oliva at Aurora Anguilla...
An Elegant Seat To a Five-Star Italian Feast
Oliva emerges from the Caribbean night sky like a dream. Elegant, chic and above all glamorous, it is one of Anguilla's most impressive dining rooms.
Approaching Oliva at Aurora Anguilla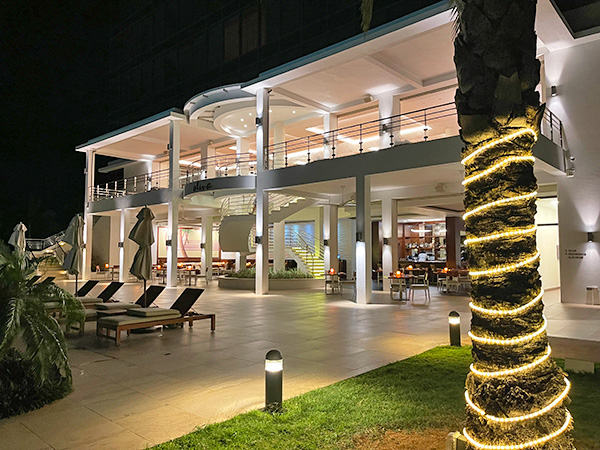 Located at The Tower at Aurora Anguilla, Oliva is the hotel's fine dining restaurant on Merrywing Bay. It has become a favorite for celebrations and fine Italian dining. With a few steps inside and one look at the menu, it is not hard to see why.
Inside Oliva Restaurant
Crisp white is offset by the warm use of wood and orange dimmed lights.
Dining Room at Oliva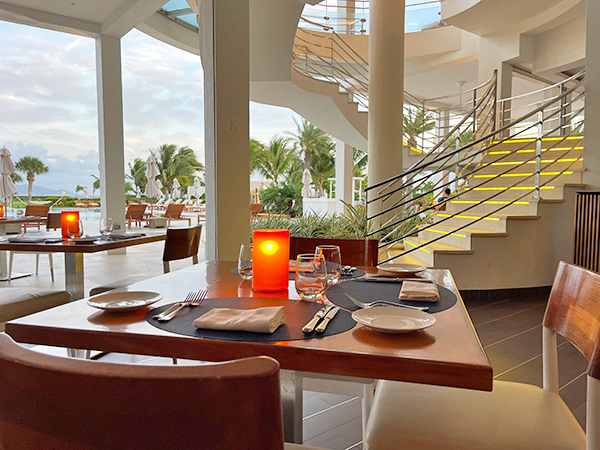 Booth seating lines the restaurant's walls, with elegant tables and chairs making up the central part of the dining room.
The entire room gazes out to the hotel's stretch of pool, surrounded by palms, twinkling with lights.
At the rich wooden bar, friendly faces greet you and lead you right to your table for the evening.
Bar at Oliva

Drinks & Appetizers
First things first, start the night with a couple of cocktails. The menu offers a wide variety of drinks, spritzes and aperitifs, mocktails, champagnes, whites, roses, reds and fortified and sweet wines.
If you don't see your favorite cocktail on the menu, the bartender can whip up anything you like!
Mojito and Elderflower Spritzes & Grapefruit Martinis

Tasty and creative, cocktails are the best way to start the evening.
Now, time to eat!
To start, Oliva sends out an olive oil sommelier and a cart of oils to choose from. Pair these oils with their freshly baked Focaccia bread.
Warm Focaccia Bread & Olive Oils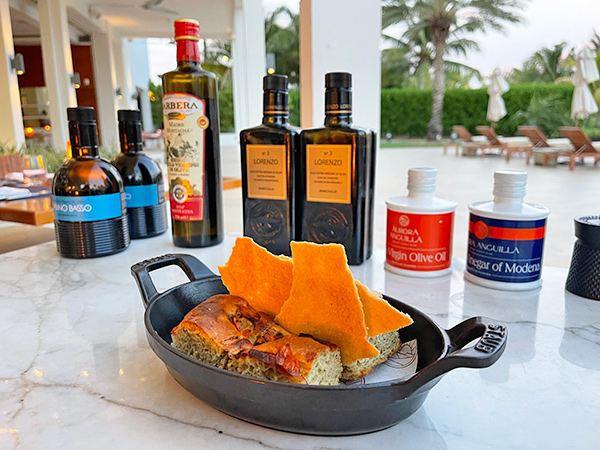 The collection of olive oils at Aurora is surely impressive. From all over Italy, you have options of sweet oils, nutty oils and even the Aurora Anguilla olive oil and vinegar!
The menu starts with the "Appetizers" and small plates to share. Here, Chef's creative, Italian flair is on full display.
Baby spinach salad with smoked ricotta, burrata with passionfruit and basil, Yellowfin tuna carpaccio, crispy risotto, bruschetta, crispy calamari and...
Insalata Di Pomodoro

Anguillian grown tomatoes, heirloom cherry tomatoes and almonds are topped with straciatella and basil. The elegant dish is then finished with drizzles of extra virgin olive oil. For an extra burst of flavor, try this dish with the Aurora vinegar from Modena.
The colors of this starter jump right off the plate! It is a fresh way to begin the evening.
Homemade Pasta
With no doubt, this section is a favorite!
Spaghetti with tiger prawns, gomiti with raw tomato coulis, gluten free fusilli pasta with pan seared eggplant and...
Tagliolini Al Ragu Di Manzo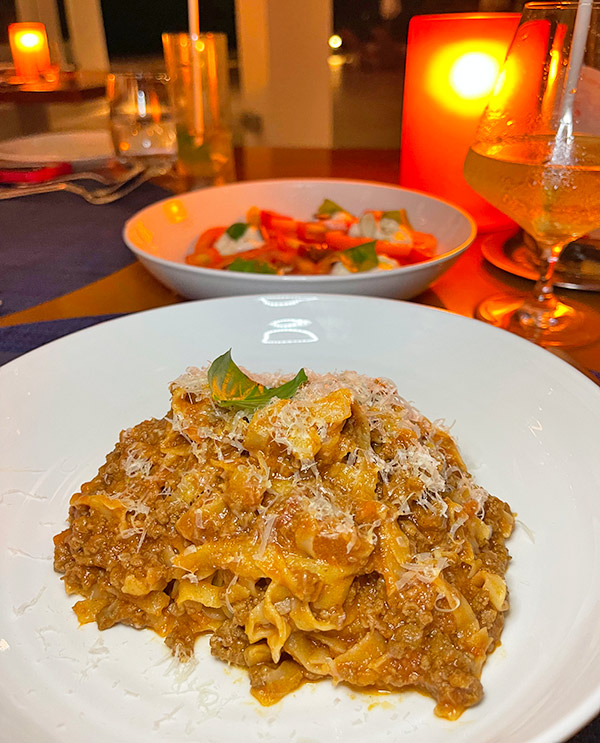 Tagliolini pasta is delicately coated in a finely minced wagyu beef bolognese, radiating an unparalleled depth of flavor and texture. This pasta is so savory and rich. We love the subtle undertones of red wine.
With a grating of parmesan cheese, it is a feast for the senses and the soul. This Tagliolini is a slice of authentic Italian dining right here in Anguilla.
Moving on to the "Second Piatti" section of the menu.
First up? The Mahi Mahi Grigliato...
Grilled Mahi-Mahi is served with property grown heirloom baby carrots and an herb salad. The dish is paired with an impressive side of olive oil whipped potatoes. The result? A savory and silky-smooth mash that is irresistible and will have you licking your fork clean!
Perhaps most tempting of all is the...
Filetto Di Manzo

Your tastebuds are in for a flavorful ride! Beef tenderloin is grilled and laid on a bed of potato cream and bathed in a red wine jus. The dish is finished with plancha bitter greens, harvested from the Aurora farm. The tender beef soaks up the red wine jus with each bite.
Sweet Endings At Oliva
Saving the star of the menu for last...
When it comes to sweet endings at Oliva, you must go for the traditional Tiramisu!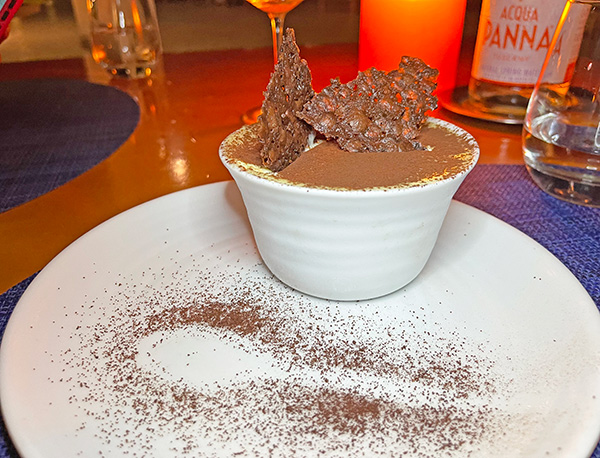 This dish's presentation is matched by its excellent flavor. First, Chef adorns the plate with a dusting of cocoa powder. The main attraction is then garnished with pieces of brittle.
The Tiramisu goes down as one of the best we have ever had! Rich and full-bodied, it is an all time favorite, ever.
Between Breezes and Oliva, The Tower lives up to Aurora Anguilla's high culinary promise. Under the helm of Auroras's Executive team, Oliva is an elegant seat to a five-star Italian feast.
To view mouthwatering videos of our dinner at Oliva visit our Anguilla Food Instagram!
Opening Hours: Daily for breakfast, 7:00 a.m. - 11:00 a.m. Tuesday - Saturday for dinner, 6:00 p.m. – 10:00 p.m.
For reservations, call: 1-264-498-2000