Breezes...
Easy, Breezy, Bluuuetiful!
On an island known and loved for "beach lounging," Breezes is a winning concept.
Breezes on Merrywing Bay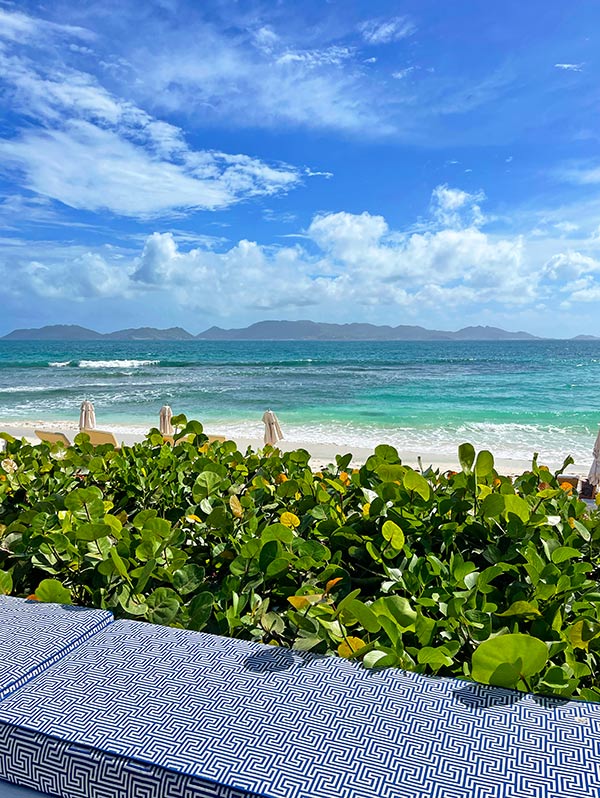 This Aurora Anguilla restaurant is set on a sandy cove of its own called Merrywing Bay. Little-known, this palm-tree lined spit of smooth sand curves to Cove Bay on one side and Rendevous on the other.
True to its name, a cooling sea breeze almost always graces this chic eatery. In the distance, St. Martin's high mountains divide endless azure sea from sky. In the foreground, the beach's blue lagoon is ripe with active reefs.
The setting invites you to "beach on" all day long.
Expansive Outdoor Terrace

Inside Breezes
The restaurant itself can be described in two words: Comfortably chic. Oversized and spacious, take a seat. Relax. Stretch out. No space has been spared for dining, dancing and lounging.
True Beachfront Dining

The terrace's lower level is made up of plush wicker couches. One step up from the sand, here, a "sip, swim, sip, swim, eat, repeat" routine is within easy reach.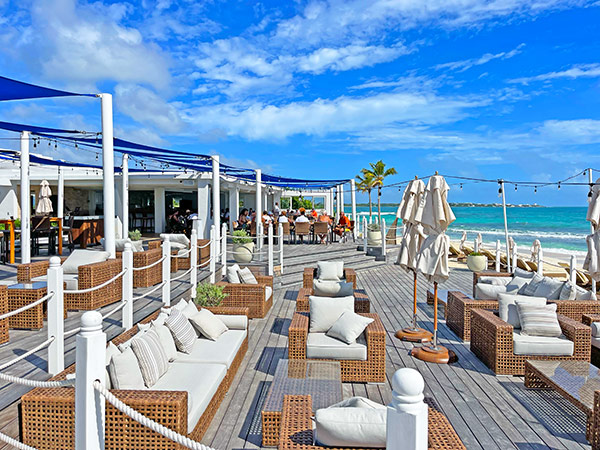 Happy patrons take to the dance floor when music pulses on Sunday. The Caribbean Sea shimmers. Tradewinds blow in, cooling your body. The sun warms you back up as you drift into total relaxation mode. This is "beach lounging" at its finest.
One level up is the restaurant's main dining area and bar. They, too, claim an awe-inspiring view of St. Martin.
Vivid St. Martin View

Crisp white umbrellas, white walls and modern beach furniture are offset by warm wood underfoot, wood tables and stonework in the bar.
Dining Area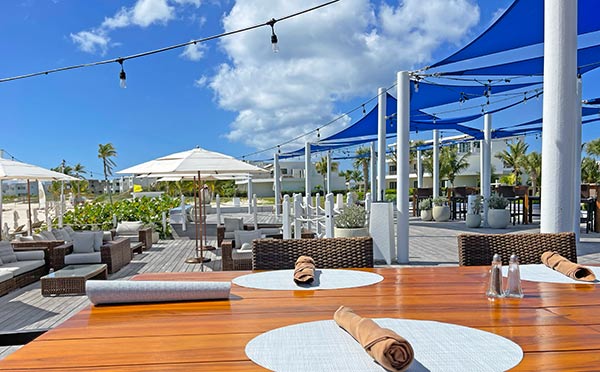 With an Anguilla beach backdrop, coastal-chic meets Caribbean-cool at Breezes.
Crisp Cocktails & Light Bites
Part of Aurora Anguilla, Breezes boasts the resort's familiar five-star level of cuisine and service.
A varied drink list includes a number of sparkling wines, white wines, rosés and cocktails...
Rum Punch & Prosecco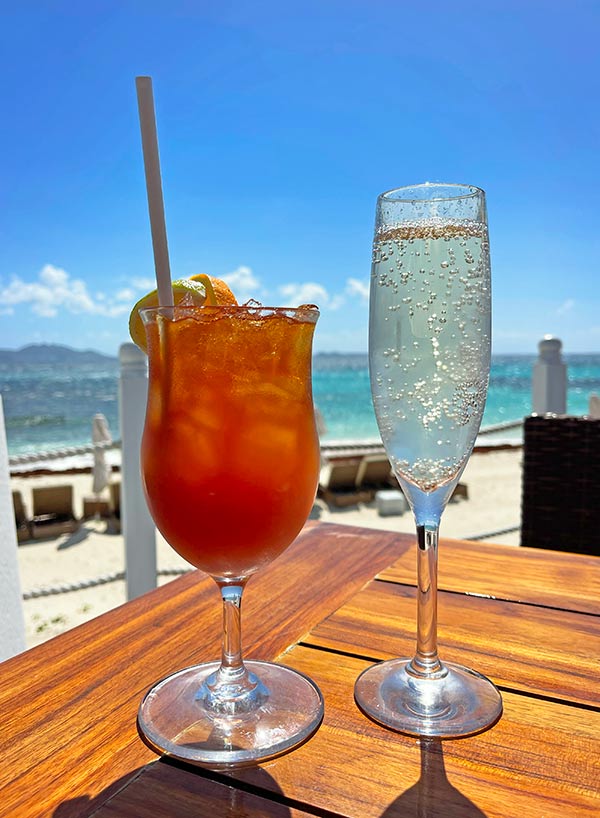 Nothing goes better with a cocktail than a light appetizer. Breezes' menu features a selection of tropical plates to share, including conch fritters, fish tacos, shrimp tacos and a particularly mouthwatering plate of...
Saltfish Fritters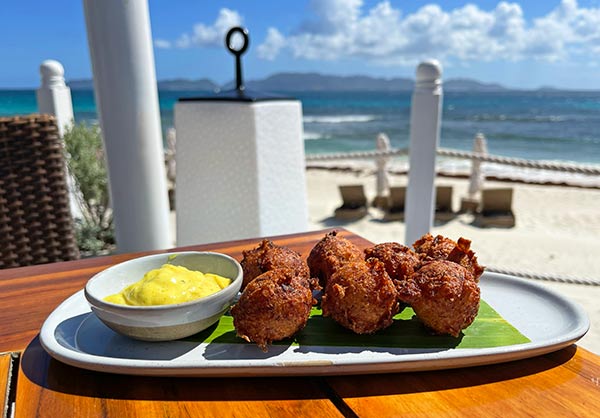 This plate packs a whole lot of flavor! Saltfish is infused with heavenly coconut and deep fried to perfection. The slightly crisp exterior gives way to a soft, sweet and savory interior. Dip the saltfish fritters in the curry aioli for tastiest results.
BBQ-Fueled Lunch Fare
Come lunch hour at Breezes, the sweet, sweet smell of BBQ fills the air.
Warm summer days on the coast go hand in hand with grilled delicacies. Breezes delivers with a number of signature items from the BBQ. Two of our top picks?...
Mahi Mahi Fish Fillet

This mahi mahi is succulent and sumptuous. Chef simply grills it, allowing the mahi's natural flavor to shine.
Let's Dig In!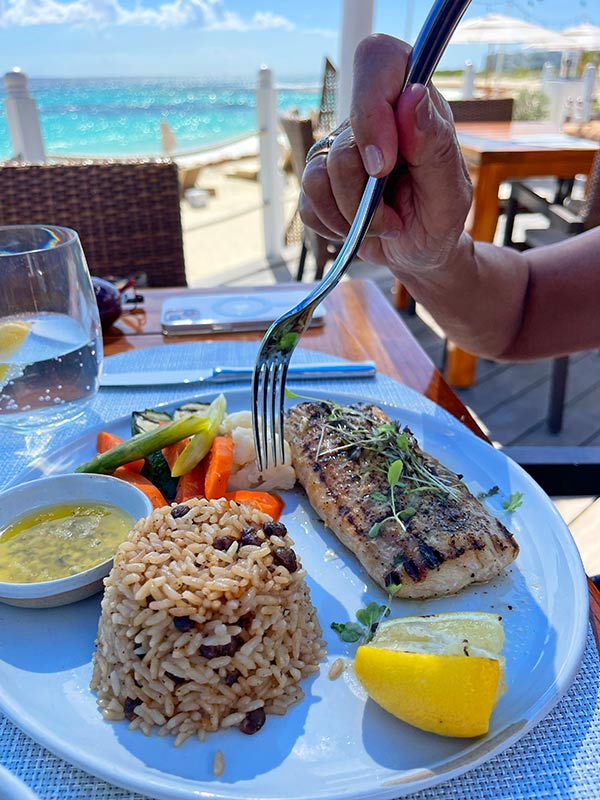 With a squeeze of lime and a drizzle of the side of garlic-basil oil, the flavors are light and bright, like an Anguilla day.
For something shrimply amazing, don't miss the...
King Tiger Prawns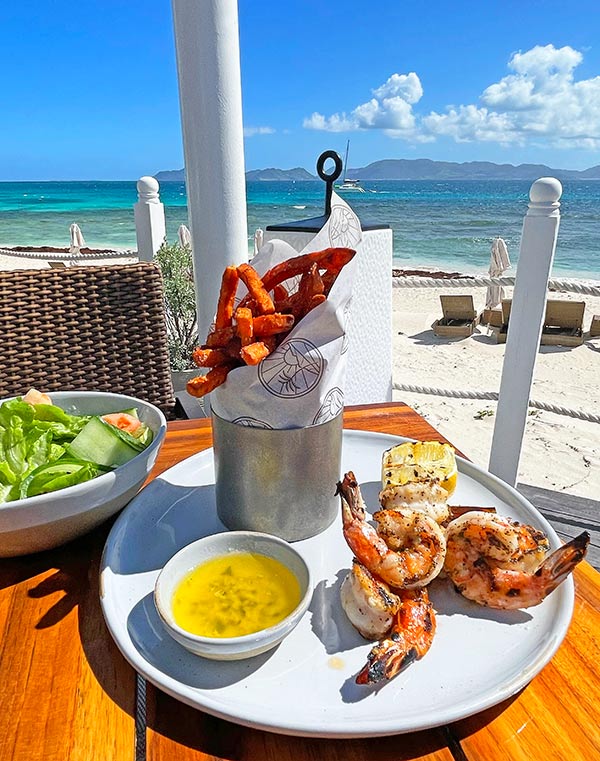 Five plump prawns are lightly coated in salt and pepper and expertly grilled. The rich blackened flavor will leave you licking your lips for days.
All grilled items come with your choice of two sides: French fries, sweet potato fries, rice & peas, grilled vegetables and farm-fresh salad. Special Note: Aurora's salads are all grown on property in their hydroponic gardens. It doesn't get fresher than this!
The menu doesn't end there. Breezes is also loved for its gourmet pizzas, baked in a 900° wood oven, its salads and excellent burgers and sandwiches.
Breezes' Jerk Burger

The menu features a decadent jerk burger, a crispy chicken sandwich with onion rings and the star of the show...
Fried Fish Sandwich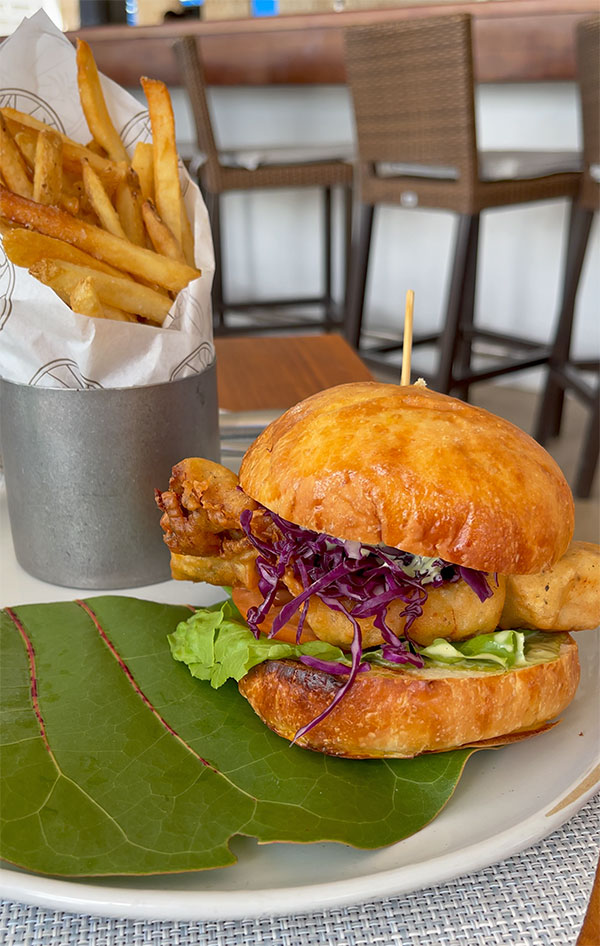 This sandwich awakens your tastebuds. Fresh fish is deep fried golden brown, popped on a homemade bun and layered with red cabbage and jalapeño. The combination of slaw with fried fish? Genius!
After such a divine meal, there are only two things left to do...
One more cocktail, please!...
Round Two!

... while we soak up the Caribbean Sea.
Endless Blue Views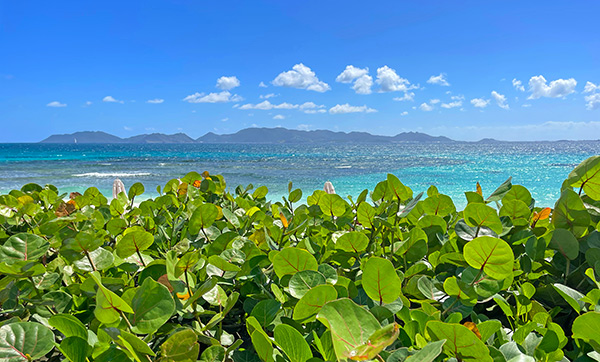 From its coastal chic vibe, to its menu that rivals any of Anguilla's top beach restaurants, to its exceptional service, Breezes hits every high note.
Directions, Hours & Contact
Directions: Located at Aurora Anguilla.
Hours: Lunch daily, dinner Sunday's only.
Tel: 264-498-2000
Menu: Breezes menu