Breezes...
Anguilla's First Beach Lounge
On a sandy cove of its own, at Breezes "beach" and "lounge" make an indulgent match. Quickly becoming one of Anguilla's most popular spots, this is the island's first beach lounge.
Breezes at The Reef on Merrywing Bay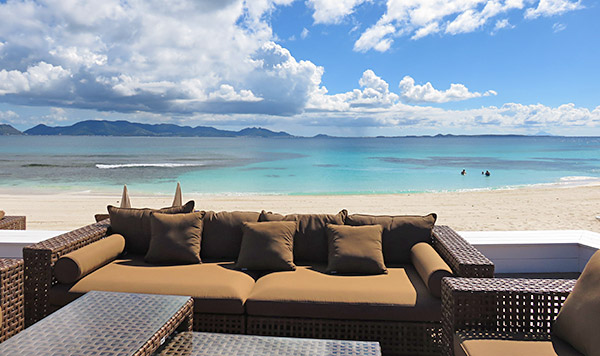 It is set on a little-known slice of paradise called Merrywing Bay. A palm-tree lined spit of smooth sand, Merrywing curves to Cove Bay on one side and Rendevous on the other.
St. Martin's high mountains divide endless azure sea from sky. In the foreground, the beach's clear-blue lagoon is ripe with active reefs. Plunge under the sea and you realize why they named this luxury Anguilla hotel The Reef.
The resort's beachfront restaurant, Breezes is just one step up from this secret beach. Accessible only by boat or if you are a hotel or restaurant guest, Merrywing Bay breathes a distinctly peaceful and private air. This is true beachfront dining of an exclusive kind.
True Beachfront Dining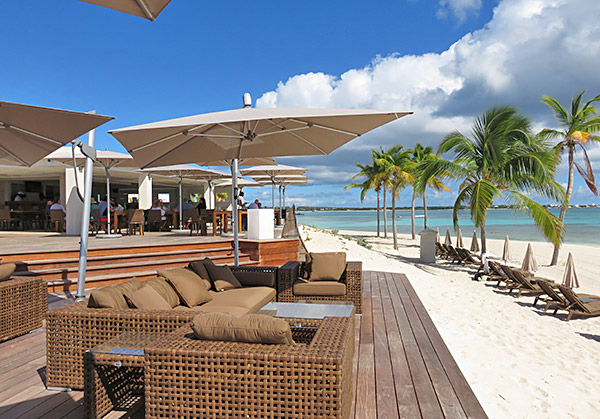 The restaurant itself can be described in two words: comfortably luxurious. Oversized and spacious, take a seat. Relax. Stretch out. No space has been spared for dining, dancing and lounging.
The terrace's lower level is made up of wicker couches so large they could double as day beds. Plush, you sink right in. With the beach just one step down, the front row is the most coveted seat in the house. A "sip, swim, sip, swim, eat, repeat" routine is within easy reach.
Couch Seating at Breezes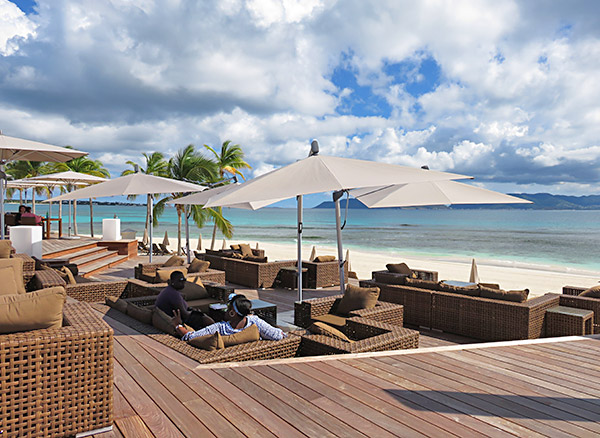 No matter the seat you choose, every corner of the restaurant boasts an HD vivid view of Caribbean blue and St. Martin's mountainous landscape.
The addictively comfortable couch seating is one level down from the restaurant's main dining area and bar. They, too, claim an awe-inspiring view of St. Martin. Tucked to the side of the bar is where DJ Michael plays daily.
Expansive Outdoor Terrace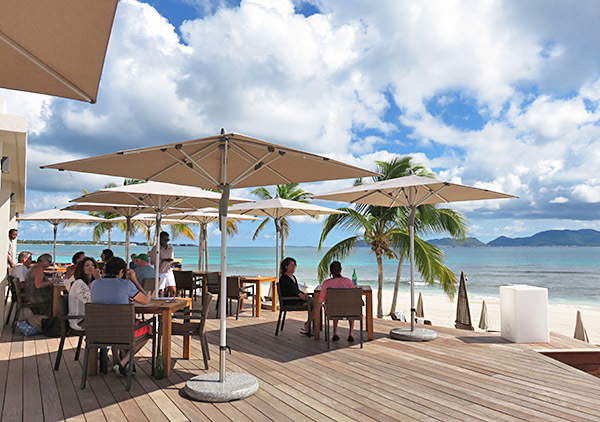 DJ Michael's beats set a smooth and hip vibe, complementing the restaurant's atmosphere. Crisp white umbrellas, white walls and modern beach furniture are offset by warm wood underfoot, wood tables and stonework in the bar. With an Anguilla beach backdrop, European-chic meets Caribbean-cool at Breezes.
Happy patrons take to the dance floor. The music pulses. The Caribbean Sea shimmers. Tradewinds blow in, cooling your body. The sun warms you back up as you drift into total relaxation mode. This is "beach lounging" at its finest.
Inside Breezes' Bar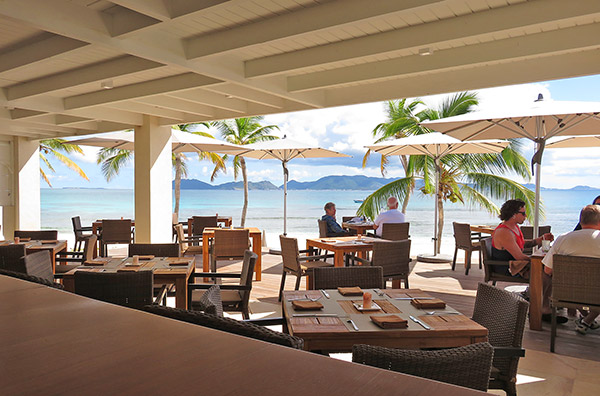 With an A+ atmosphere, Yuki, Louise and I settled in for an afternoon of gentle Breezes...
Yuki & Louise at Breezes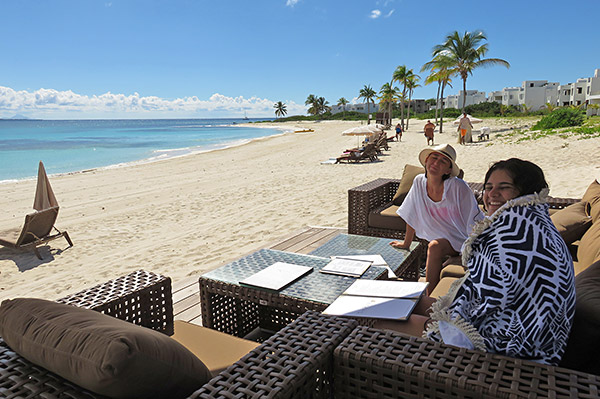 Crisp Cocktails & Light Bites
Sister property to CuisinArt Golf Resort & Spa, Breezes at The Reef delivers that familiar five-star level of cuisine and service.
A varied drink list includes Miraval rosé...
Rosé All Day at The Reef

... and a number of syrupy cocktails whipped up with ingredients straight from CuisinArt's hydroponic gardens.
Cool Cocktails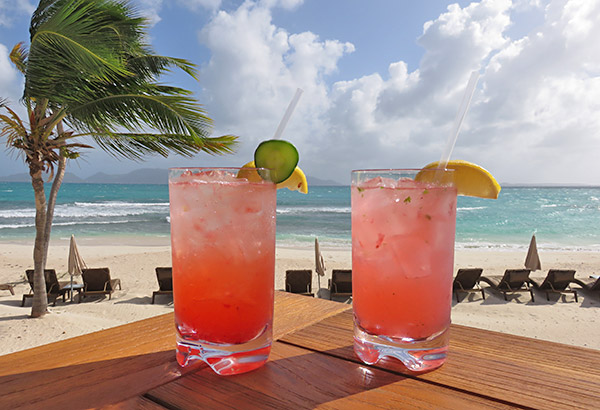 Pairing perfectly with a crisp cocktail are Breezes' "table snacks." A selection of gourmet plates to share, they include blistered shishito peppers, crudité with hummus, raita whipped ricotta and truffled honey.
Mezze Platter of Dips

The garlic rosemary pita with house-made tzatziki makes for a refreshing pre-meal bite.
Garlic Rosemary Pita with Tzatziki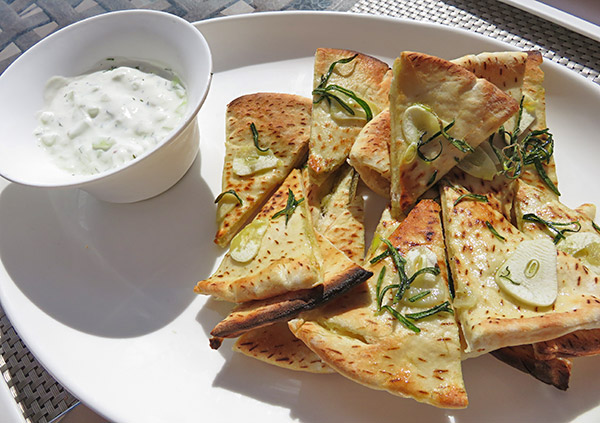 Buttery pita is grilled and topped with sprigs of rosemary and slices of garlic. With a dollop of fresh tzatziki, it is a cooling treat on a warm Anguilla day.
Passion-Fueled Lunch Fare
Presiding over the kitchens at both CuisinArt Golf Resort & Spa and The Reef, you won't find a chef more passionate than the resorts' Executive Chef Jasper Schneider. Fueled by a passion for creating cutting edge and fun cuisine, a chat with Chef Jasper always excites your tastebuds.
"We are growing many different types of bok choy, lettuce, herbs, melons and now we've just started papaya," Chef Jasper enthused as he explained the hydroponic offerings at Breezes. The resort's hydroponic gardens supply their menu of salads including baby tomatoes with mozzarella, little gem caesar and...
Chopped Salad

Little gem is tossed with tomato, cucumber, feta, olives and a touch of oregano before being doused in a light red wine vinaigrette. An explosion of fresh flavors, it is undeniably good for you, too.
Next on the menu are a number of artisan pizzas baked in a 900° wood oven. Margarita with pecorino, pepperoni with spicy honey, stracciatella with ricotta, mozzarella and melted onion. Rich combinations of complementary flavors, the stracciatella with melted onion is next on our "to devour" list.
We opted for mains off of their "Argentina Wood Grill."
Mahi Mahi Fish Tacos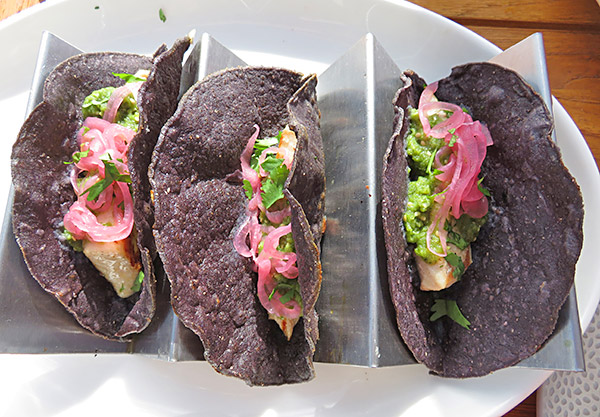 Fresh mahi mahi is succulent and sumptuous, layered with salsa verde and served in a blue corn shell. The touch of pickled red onion brings a nice tang to the modern favorite.
My sister opted for the burger that has been called "Anguilla's new #1"...
Short Rib Burger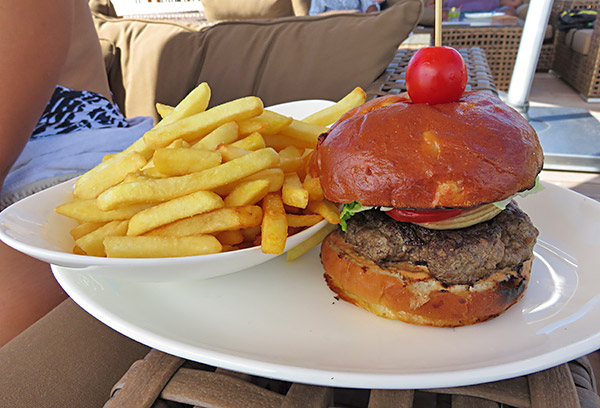 A sizable and juicy patty is topped with thick slices of grilled onion, tomato, lettuce and Chef's secret sauce. The entire creation is then popped on an onion brioche. "Worcester sauce, cornichons and about a thousand other ingredients make up the secret sauce," Executive Chef Jasper smiled as he playfully withheld his zesty-sweet recipe.
Saving my personal favorite for last, the tuna poke is the best I have found yet in Anguilla.
Classic Tuna Poke

Thick chunks of fresh tuna are lathered in a spicy sesame oil with shaved onion, chili and pieces of nori seaweed (perhaps this is why I am so partial to this dish ;-)). A classic tuna poke with a kick, "I up the heat factor," Chef explained, "it's designed to go with a cool beer."
In addition to gourmet beach eats, Breezes offers excellent entrées of organic slow-roasted chicken served with haricots verts and chimichurri, snapper farro with roasted cauliflower and a number of daily specials.
Plates cleared, it was time to rinse...
Caribbean Sea Soak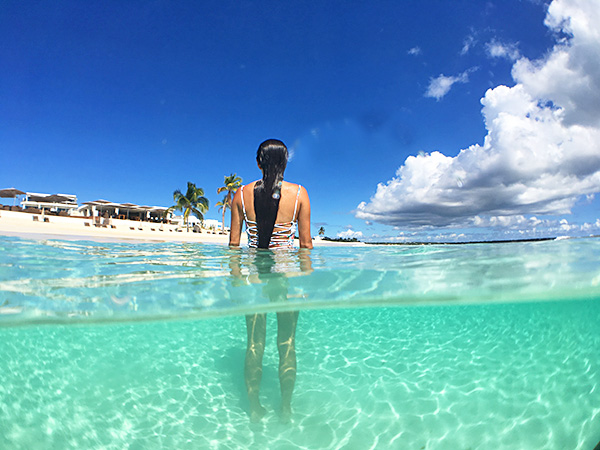 And repeat...
Piña Colada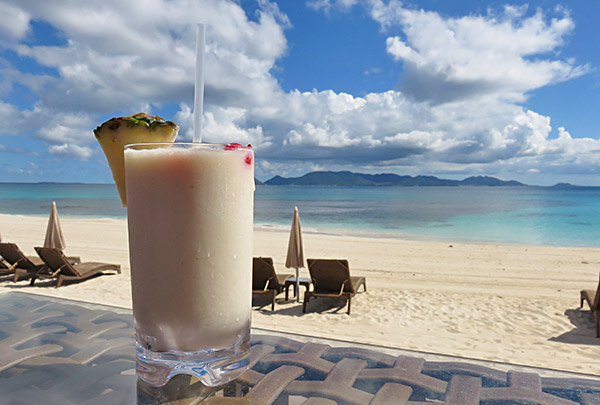 On an island known for "beach lounging" The Reef's beach lounge is a winning concept. Add a menu that rivals any of Anguilla's long-established top beach restaurants and you have a "must do" beach experience. Breezes hits every high note.
Directions, Hours & Contact
Directions: Located inside The Reef. Drive to CuisinArt's golf course and continue on that road past the golf course club house until you reach The Reef. Once you arrive at The Reef, park in the parking lot to the left of the hotel (on the east side). Follow the path around the hotel, past the pool and down to the beach where Breezes is located.
Hours: Lunch & dinner daily, closed Monday.
Tel: 264-498-2000
Menu: Breezes menu (To see the Menu, login with your Anguilla Card credentials and search for "Breezes")