Chef's Table...
All-Day-Dining That Dazzles
Aurora Resort & Golf Club is a destination for excellent cuisine in Anguilla. One of the resort's most beloved restaurants has long been its pool-side eatery.
Over the years, it has gone through many transformations. From Famiglia by Chef Daniel Orr, to Café Med under the helm of Chef Jasper Schneider, each iteration of this restaurant has improved upon the next.
Today's Chef's Table may be its best incarnation yet, open for breakfast and dinner.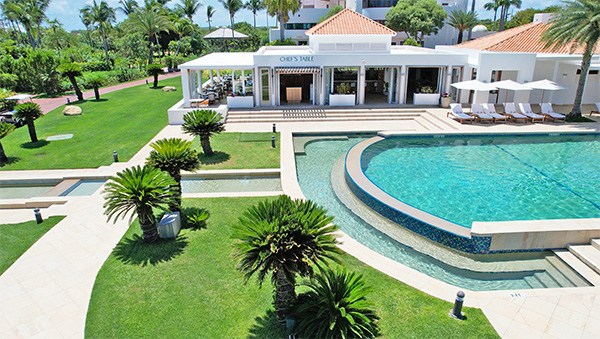 Welcome to Chef's Table
Chef's Table is modern, chic and open air. The restaurant's white walls, dining tables and chairs contrast elegantly against its warm wooden accents.
Welcome to Chef's Table

The restaurant's dining areas layout around the restaurant's bar. Invitingly breezy, each seat is comfortably cool. We always choose to gaze out to Rendezvous Bay and St. Martin.
The seats near the kitchen are recommended for peaking in on Chef's Table's kitchen. An open kitchen concept, it is complete with an oak wood fire oven. The aromas that flow from the kitchen through the restaurant whet your appetite.
Naturally, those aromas beg the question, what's on the menu?
Meet Chef Lester Gumbs
Chef's Table's menu begins with one man, Executive Sous Chef, Lester Gumbs. Born and raised in Anguilla, Chef Lester brings over 22 years of culinary experience to the team. Chef knows fine dining.
Louise and Chef Lester

In 2005, Chef Lester joined the team at Aurora (previously Cuisinart Resort), where he worked in various restaurants specializing in Mediterranean, French, Japanese, and Italian cuisine.
He also represented Anguilla on the national culinary team, winning several awards for the island, including Best Seafood in the Caribbean.
Equal part skilled chef and genuinely kind-hearted, warm-spirited soul, chatting with Chef Lester is always a delight.
What's on Chef's Table's Menu?
To begin, Kendelle whips up two of my all time favorite cocktails at Aurora, the Island Margarita and Ocean Punch.
Kendelle Gumbs Mixing up an Ocean Punch

Now, let's settle in for an evening of magic.
Island Margarita & Ocean Punch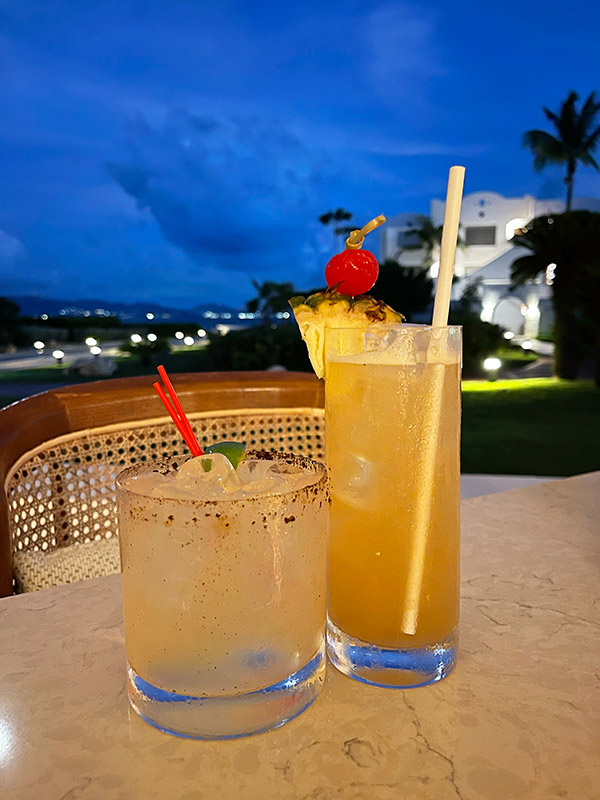 Chef's menu boasts a wide variety of dishes, with plenty of flair. Its first sections, "Small Plates" and "Hydroponic Farm-to-Table", make choosing "just one" appetizer nearly impossible.
Choices include conch fritters, tempura garden vegetables, octopus 'a la plancha', Anguilla tomato salad, roasted beetroot and greens and...
Wood-Fired Roasted Chicken Salad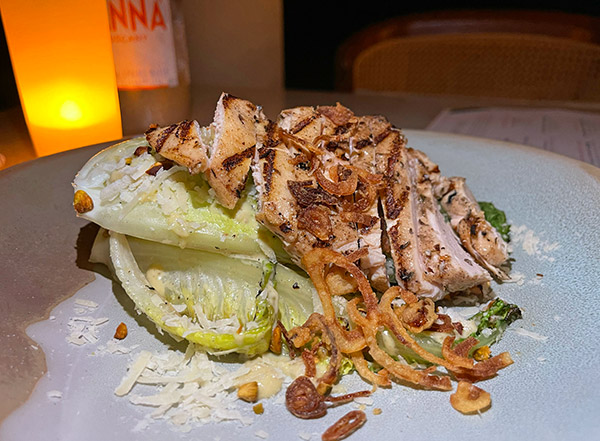 Sizable pieces of jerk spiced chicken are served on roasted romaine lettuce in a creamy pistachio dressing. It is accompanied by delightfully sweet and crispy shallots and parmigiano reggiano. All elements work to create an especially refreshing dish, the pistachio dressing enhancing the salad's light flavors.
Next up is Chef's Table's "Grass Roaming" section of the menu, a variety of meat dishes. Choices include the charred chicken, USDA prime NY strip 14oz, bone-in berkshire pork chop and the tamarind braised short rib.
Tamarind Braised Short Rib

Braised and roasted short rib is laced with a bone marrow jus and served with a yoghurt tahini. The dish is paired with charred carrots, cashews and greens. The meat melts in your mouth. This is quality beef. It is perhaps the richest short rib we have had yet.
Moving on are the "Soup and Homemade Pastas" and then the "Line Caught" section where we find my star dish of the evening.
Anguillian Lobster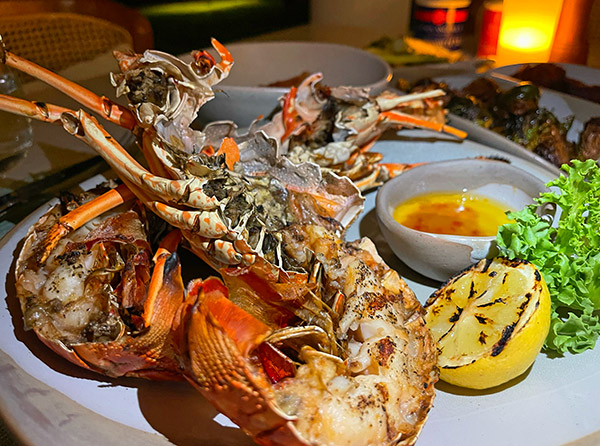 Cooked to perfection, the lobster falls right out of its shell. With a drizzle of the homemade scotch bonnet butter, this lobster is decadently mind-blowing. Take each bite to another level with a fresh squeeze of lemon.
If there is any dish to try in Anguilla, this is it!
Other seafood options include the crayfish casserole, seared snapper and the highly talked about Rendezvous Bay seafood curry.
The menu offers a variety of side dishes. Chef does not skimp on size. The sides come in generous portions.
Side Dishes at Chef's Table

Sweet plantain in honey and sea salt, creamy potato au gratin, grilled vegetables, French fries, jasmine rice and my absolute favorite, the charred brussel sprouts in a honey vinegar. Talk about addicting! We could not get enough of those brussel sprouts.
Of course, dinner is not complete without dessert...
Pineapple Rum Cake

Chef serves his roasted pineapple cake with his homemade lemongrass and soursop swirl ice cream, a combination that is both novel and delicious!
A robust menu, where each dish is done to perfection, it is almost hard to believe that such variety can be had all day. Yes, Aurora's Chef's Table Restaurant and Chef Lester Gumbs impress on every level.
Directions, Hours & Contact
Hours: Open daily for breakfast, Friday-Wednesday for dinner.
Tel.: 264-498-2000
Directions: At Aurora Golf Resort & Spa.