A Light & Refreshing Lunch at CuisinArt's
New & Improved Café Mediterraneo
Update 2022: Cafe Mediterraneo is now Chef's Table at Aurora Anguilla. Updates to come.
By: Kirmani Honoré
When Nori said that we'd be going to lunch at CuisinArt Golf Resort & Spa's Cafe Mediterraneo with her Mom, I didn't know what to expect. I had visited CuisinArt for a few events, but not during the day, and never to Mediterraneo.
I looked online for some reviews, but those offered little to no-help at all. The reviews were inconsistent, ranging from really bad, to really great.
I'm more than certain most online reviews were written way before CuisinArt's new executive Chef Jasper Schneider arrived and reinvented the menu. TripAdvisor's reviews just don't this restaurant justice!
The Setting
When we arrived at CuisinArt, there was a lot to take in... the perfect poolside setting surrounded by tall, towering palm trees, St. Martin in the distance, ahhh...
It goes on forever!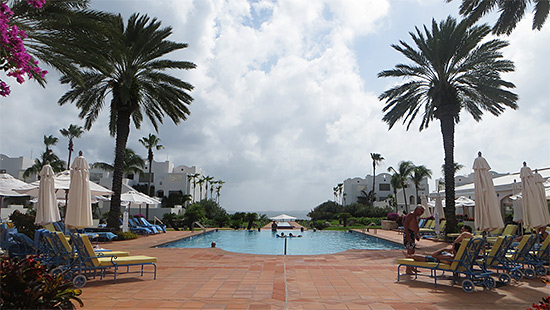 We approached Cafe Mediterraneo. To our right was, Mediterraneo's open kitchen with its wonderful aromas filling the air.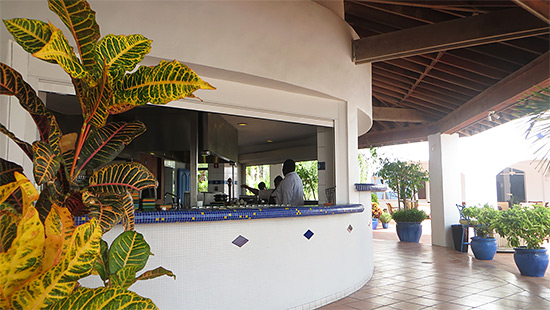 Straight ahead was the large, tented restaurant itself.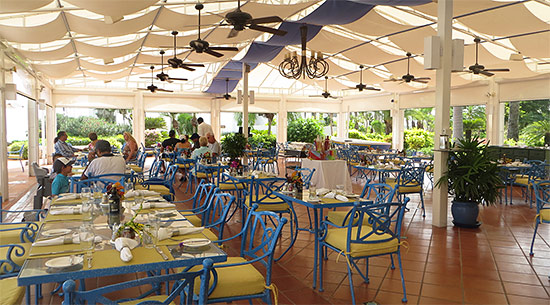 To our left, a little outdoor seating area and that beautiful, cool pool.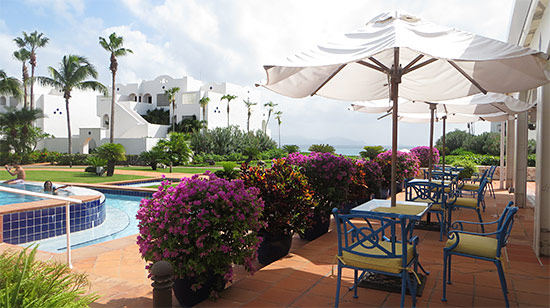 Mediterraneo's open air setting, along with its pastel blue and yellow color-coordinated decor and attentive but not intrusive service really sets a sort of "light-and-laidback-afternoon" mood.
After taking it all in, a sense of calm swept over me. This place is relaxing.
We chose to sit closer to the pool to get that great view of St.Martin. We were promptly given the menu and we made our orders.
So open, I love it already!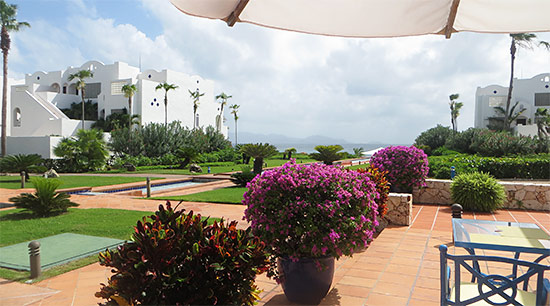 The view to our left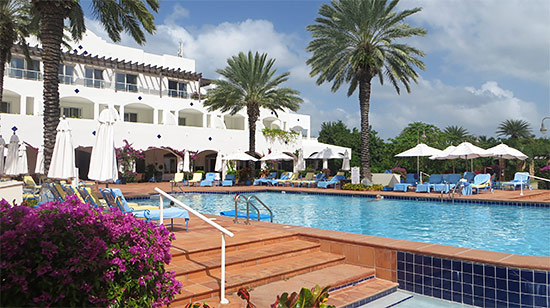 The Menu
Mediterraneo offers a very varied menu list, from light snacks, to full pizzas and a wide array of salads with vegetables grown onsite in CuisinArt's very own hydroponic farm.
We started off with a light snack, the whipped ricotta and grilled bread.
So fluffy, so good!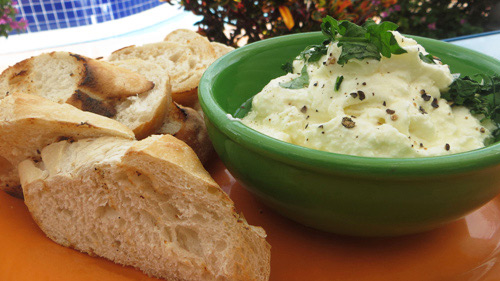 It was deliciously fluffy with a hint of oil and a pinch of pepper. With such a generous serving of ricotta, we soon ordered a second batch of grilled bread! It was reasonably priced at $14. The other appetizers (platter of baba ganous, hummus, feta, basil pesto with naan bread, a cheese & charcuterie platter, mushroom paté with herbed focaccia and calamari) ranged in price from $15 - $27.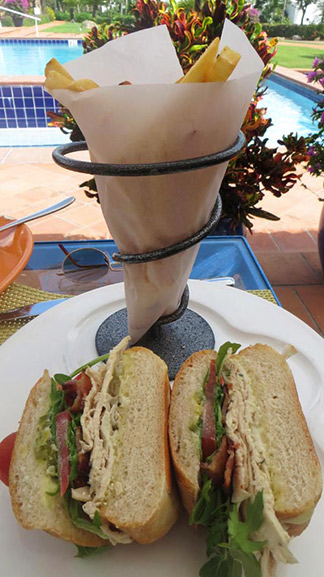 After a short conversation, mostly about the amazing whipped ricotta(!), our main dishes were served.
Nori's Mom, Janice had the chicken sandwich with arugula, bacon, tomato and pickled jalapenos. It was served on a crispy roll. Janice went on and on about how wonderful it tasted. The chicken was tender, the bacon crisp, and the vegetables succulent.
With so many different flavors in the sandwich, with every bite she took, she found a different, delicious taste.
Nori ordered a light salad with spiny lobster. From the first bite she commented on the succulent tomatoes, the vinaigrette and the sizable portion of lobster. At $24, you do get your money's worth.
I had the margherita pizza (though I was tempted by the white pizza with crème fraîche, onion, pancetta and chives!), "The best pizza on the island," as our waitress called it, and it was. It was thin crust yet juicy, powdery and just the right temperature. Cooked in their very own wood oven, this was seriously good pizza.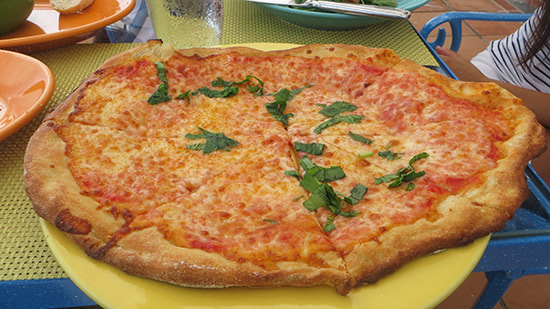 It was big too! After 3 slices I still had more than half the pizza left but I was too full to continue. Janice still had half a sandwich left, but had also gotten quite full. We took our meals to go. (They made delightful late night snacks!)
Even Nori's light lunch filled her up . She had crossed that line between comfortably full and accidental over-eating. "But it was soooooo good," she laughed.
After Lunch Beach Walk
It was pretty clear that we were all more than satisfied. To walk off some of the lunch, we exited Cafe Mediterraneo and took a short stroll down to Rendezvous Bay.
Looking back at CuisinArt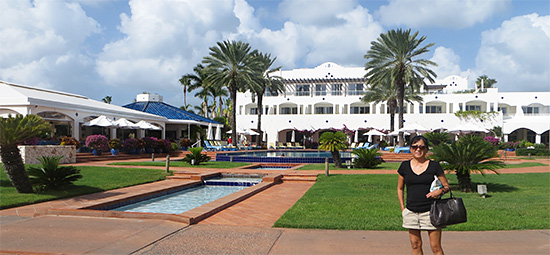 Great way to end lunch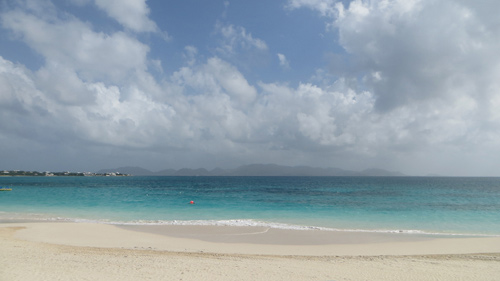 After soaking in the scenery we decided to say goodbye to the one-of-a-kind CuisinArt, promising to come back and try out more of Chef Jasper's enticing creations!