The Best Anguilla Resort Restaurant
Update 2023: This restaurant is no longer Café Med. Today it is part of Aurora Anguilla. More on Aurora Anguilla's restaurants here.
Nothing in the Caribbean matches a 5-Star Anguilla resort.
However, wherever our family may travel, from Italy to New York to Anguilla, we are generally not big fans of hotel or resort food.
We prefer to explore, off the beaten tourist path. And the price for an appetizer at an Anguilla luxury hotel, for example, could easily cover a delectable main dish at local restaurants.
Of course, there are exceptions...
We enjoy light lunches at Kemia at Cap Juluca, perhaps the most luxurious Anguilla resort. But our general prejudice against "hotel food" generally keeps us on the hunt for the slightly more esoteric.
Key word: Generally.
CuisinArt Resort & Spa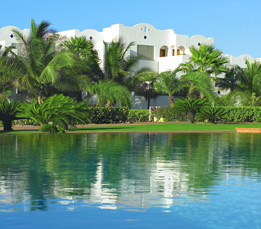 Picture Taken From
"CuisinArt Resort & Spa: Official Site"
There is one Anguilla resort restaurant that we can wholeheartedly recommend. CuisinArt.
Yes, the same company that makes kitchen appliances blends (sorry about that!) wonderful food into an exotic Anguilla resort experience. Why did we bend our no-resort-food rule? How did we find it?
Our friend, Claire Devener, from Anguilla Life Magazine had written my Dad to tell us about her latest culinary discovery...
I highly recommend to you and the girls to try the CuisinArt Dinner at Famiglia. The redone restaurant by the pool now serves family style ENORMOUS platters of Mediterranean food to be shared at dinner. And taking home the leftovers is encouraged. You will all love Exec Chef Daniel Orr and what he has been doing over there.
Claire knows Anguilla inside out, so my Dad took her advice and made reservations. As soon as we entered the CuisinArt Resort and glimpsed at what lay ahead, we knew that this was not going to fit our stereotype of a resort restaurant experience!
Inside Famglia
CuisinArt is definitely one of the classiest, if not the classiest, Anguilla resort. It was dark when we arrived. The main grounds were illuminated by small pools of water. Lights sparkled off the turquoise of these "perfect ponds".
Famiglia's dining area is set inside an open-air tent, with a sensational swimming pool in the foreground and the ocean in back. A comfortable and serene setting.
We were seated in the atmospheric dining room, munched on freshly baked bread sticks and rolls, and scanned the menu, which revolves around Mediterranean-inspired dishes.
The dining concept is itself Mediterranean in nature. Order several dishes and share! And don't worry about ordering too much food. The "doggie bag" provides a yummy lunch the next day, a reminder of a unique experience from the night before.
After placing our order, a waitress appeared with a tray full of complementary Pescatore pizza. Delicious! The Arawak Beach Inn has long had our vote for best pizza, but Famiglia's is right up there with it!
Shortly after the antipasti, the main course arrived.
My sister and I enjoyed pasta, pasta and more pasta. My parents went for the catch of the day, Wahoo.
They love grilled fish. But, judging from the way they were devouring their meal, this fish was something special. They slowed down only to moan their satisfaction. The roasted potatoes and hydroponic greens were perfect accompaniments.
Just as we were leaning back from the table in satisfaction, the executive chef himself appeared... Mr. Daniel Orr. He had heard that the "girl with the Web site had arrived" and was excited to meet my family and me.
Wow! What an honor!
We shared a wonderful conversation, finding out a lot about him and his experiences in Anguilla. He was so nice. And he certainly knows the way to two girls' hearts... through their stomachs... complimentary desserts!
Scrumptious Goodies!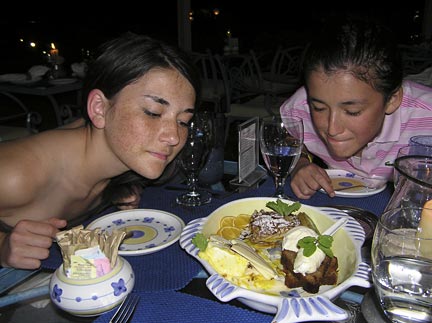 There was "semi-fredo", "yogurt cake" and "puff filo pastry". My stomach was nearly filled to the brim from the delicious dinner, but I could not say no to these desserts. I had to take at least one bite.
Well, OK, two bites. Actually, Yuki and I polished the plate of desserts. Stomachs full, Daniel Orr returned to our table. The sweetest treat was about to begin...
The Kitchen Stadium
He escorted my family and me away from Famiglia, towards CuisinArt's central building, into a dark room, and switched on the lights...
"Welcome to the Kitchen Stadium."
Wow!
He explained the Kitchen Stadium. Diners
He literally shows you how to cook the gourmet meal, taking you through each course step by step, that you are about to eat.
We'll have to return for this exciting new way to dine during our next trip to Anguilla, my Dad was saying. In the meantime, he contented himself with this photo...
My sister and I with Daniel Orr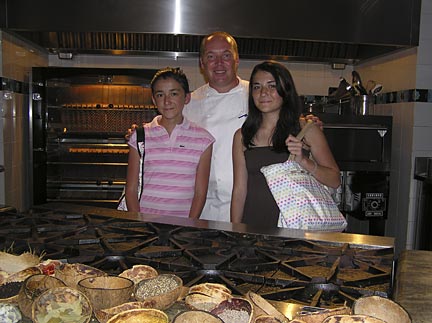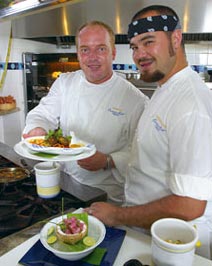 He continued the tour, leading us through the magnificent spotless kitchen. We said "hello" to his assistant chefs. I couldn't believe that they were all fans of my Web site.
What a thrill!
We all lost track of time, Mr. Orr included. Suddenly, he looked at his watch and exclaimed, "Oh my, the governor is here. I really should say hello!"
And with that, he shook our hands and we thanked him for a truly memorable evening. And what a night it was.
Exotic, calm surroundings in an Anguilla resort.
Original, delicious food.
A charming executive chef who really cares about his guests. He certainly made us feel like family at Famiglia.
Our taste buds were thanking Claire for weeks!
Directions, Hours & Contact
Directions: Today, Famiglia is known as Mediterraneo. Mediterraneo can be found right outside of the lobby/bar area in CuisinArt Golf Resort & Spa. It is roughly a 20 minute drive from the east end, a 5-10 minute drive from anywhere in west end.
Mediterraneo
Good for salads and fresh vegetables.
Hours: Breakfast is served 7am-10am, lunch is served from 12-4pm.
Tel: 264-498-2000