A Memorable Meal In
The Most Memorable of Caribbean Houses
I'm sad to report that Koal Keel has closed.
Koal Keel At A Glance
Set in a charming, historic, wooden and stone Caribbean home, Koal Keel wins for one of the top restaurants on island for restaurant interior alone.
With terrific, Caribbean-Indian cuisine, it's a unique spot and a good choice for a quiet, special meal.
More on Koal Keel, below...
We have tried the entire spectrum of Anguilla restaurants. From the outrageously priced "5 stars" to the delicious local BBQs, we have "been there, done that, and ate that."
Little did we know we were about to dine in what has to be best ambience in an Anguilla restaurant, thanks to the careful restoration of one of Anguilla's most spectacular Caribbean houses.
Welcome to Koal Keel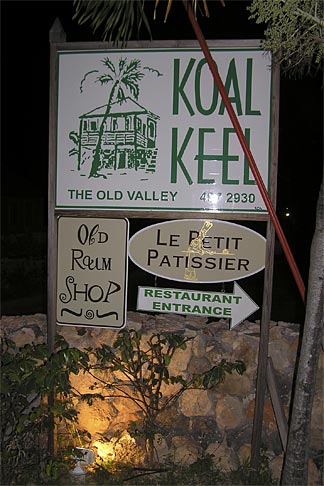 In previous years, we have often, during a pickup for pastry in the Koal Keel bakery/patisserie, poked our noses into the old Victorian restaurant, but it appeared to be abandoned.
The bakery makes tasty croissants and danishes. But the real reason my family and I returned was for the sense of history of this wonderful old Caribbean house.
Back in the 1700s, Koal Keel was built for a Dutch family to serve as their sugar and cotton plantation. Upon setting foot inside, you can feel the history... The white, rustic walls. The dark, mahogany tables and chairs. The delicate china. The antique lamps. The embroided pillows...
Sometimes, they would even let us sit and have breakfast in the unused tea room.
Recently, this historic Caribbean house was scrubbed down, cleaned up and open once again for dinner. What a treat. The last two hurricanes left few old-style, wooden Caribbean houses in Anguilla.
And Koal Keel is magnificent.
I stepped foot out of our car and walked in the warm night air to the pretty establishment.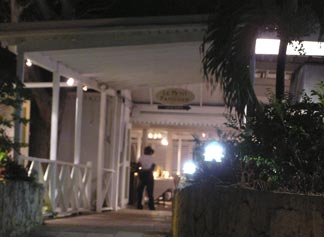 In the near distance, lights were twinkling on freshly-ironed table cloths.
Bottles of white wine sat graciously in silver buckets of ice.
Live, classical music streamed through the air.
At last, we were going to try Koal Keel in the beauty of the night.
The host graciously welcomed us and brought us to our table (making a reservation is usually a good idea!).
Menus were placed in our hands, but I was still distracted. The room was beautiful...
The Dining Room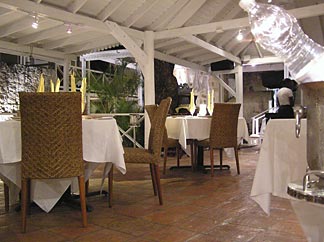 The Bar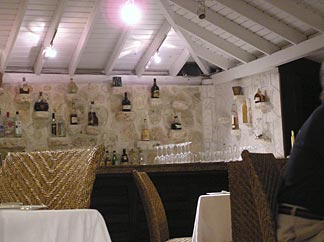 The ambience was just perfect. A feeling of warmth and class washed over me. But, I was quickly pulled from my daze, when I smelled fresh bread.
But it wasn't just any bread.
It was naan bread!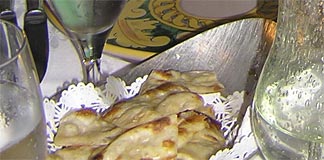 The naan was cut into tasty triangles, that were lathered in butter. They were out of this world!
As a matter of fact, my sister enjoyed it so much, she ordered their Stuffed Naan appetizer as her main dish.
A friendly waiter took the rest of our orders. My family and I returned to just enjoying the whole feeling of rustic elegance Koal Keel offers.
We had only been enjoying the atmosphere for a short moment, and my Dad only a quarter way through his cigarette, when they brought soup and salad for my parents.
In no time, my parents had polished off their food. And my Dad tried again, lighting another cigarette to accompany his glass of white wine.
Three puffs only! The main course was placed in front of us.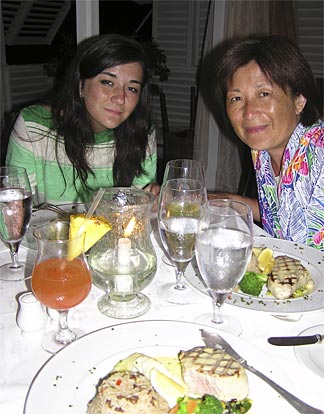 "Can't a guy finish his cigarette?" My Dad joked.
I rolled my eyes.
I didn't want to wait a moment longer to try the grilled snapper, which came with sweet potato cake and wilted spinach.
My parents went with steamed Mahi Mahi which was served with rice and peas and "winter" vegetables.
As for my sister, she was digging into her nan stuffed with chicken.
The food was unbelievable! We didn't speak much over dinner. If we opened our mouths, flavor might somehow escape. We couldn't risk that.
Delicious flavors filled my mouth. For once in my life, I ate slowly to savor every taste. Too soon, however, my plate was empty and my stomach quite full.
No dessert for me, I was too full. My sister, though, chose the fine apple tarte.
The apple tarte looked better than any chocolate cake I've ever seen. (And I love chocolae cake!)
My Mom and Dad eyes Yuki's tarte, too. This was not an ordinary dessert.
All over the Koal Keel, you could hear Yuki repeatedly yelp... "No, stop it! Put your forks down."
We did after a bite each, and Yuki finished her "heavenly dessert" in piece. She says it was the most amazing dessert she ever ate.
My Dad finally finished "a ciggie" (he does not smoke much, but does love a good cigarette with a good meal).
The night appeared to be coming to a close, but then the sommelier came over to greet us...
A Tour of Koal Keel
Dave Fleming & I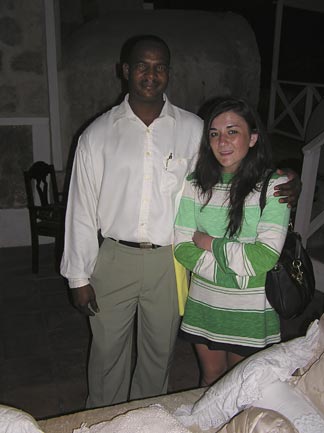 The evening was not yet over!
He offered to give us a tour of the recently restored Caribbean house. We gladly accepted.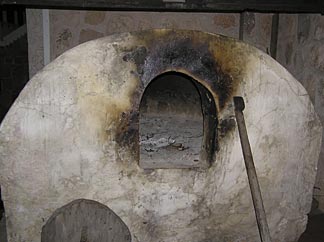 The Rock Oven has been here for over 200 years!
They still use it today for their Traditional Rock Oven Chicken.
You have to order this delicious dish 24 hours in advance, so Koal Keel can cook it to perfection!
Yum! I can hardly wait for our next Anguilla vacation!
Next stop?
The Wine Cellar!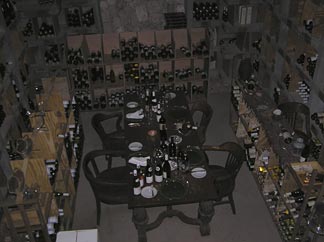 Endless rows of wine.
And see the table? Make a reservation and ask to sit down there for a truly unique Anguillian dining experience.
Of course, we had to try it out. ;-)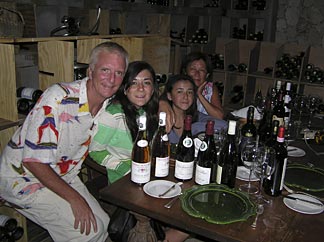 Shortly after that, we visited their rum shop, which has bottles and bottles and bottles...
The Rum Shop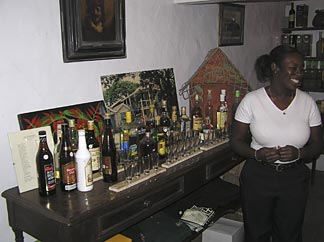 We explored a little bit more, and then the night really did come, sadly, to a close.
We gave our sincere thanks to the woman who was so kind to tour us through this most magnificent of historic Caribbean houses.
Of course, a big thank you to Dave Flemming, too!
Koal Keel is back, and it has my vote for "Best Anguilla Ambience" with 5-star food second to none.
Directions, Hours & Contact
Directions: If you are coming from the Valley, turn left at the round about. Continue on that road to the Old Valley. Koal Keel will be on your left, across the street from the Savannah Art Gallery.
Koal Keel
Good for a five-star meal in a historic, charming Caribbean setting.
Hours: Dinner only. Call in advance.
Tel: 264-497-2930