A Yum Overload With Geraud's Catering!
Anguilla's King of Pastries, Geraud has introduced a genius service. Launched in 2018, flaky pastries and French specialty dishes are all only a click away. His delicious delights are now more accessible than ever.
With an easy to use ordering system, it is love at first click!
Take a look at the video below for an overview of Geraud's Catering service.
How does it work?
Step 1: Get Your Tastebuds Going (Optional)
Before logging on to Geraud's website, pop over to Geraud's Instagram to get your tastebuds flowing. Anguilla's resident baker and chef extraordinaire posts photos daily of his latest creations. It's a "must follow" Instagram account for any foodie.
Fresh baked artisanal bread basket, soups of all kinds, an array of crispy and addictive appetizers, extra-cheesy pizzas, exquisite desserts...
A look through Geraud's Instagram is the way to begin a foray into Geraud Catering's extensive menus.
Step 2: Place Your Order
Appetites whetted, it's time to log onto GeraudsCatering.com.
Click the website's "menu" button (circled in red in the screenshot below).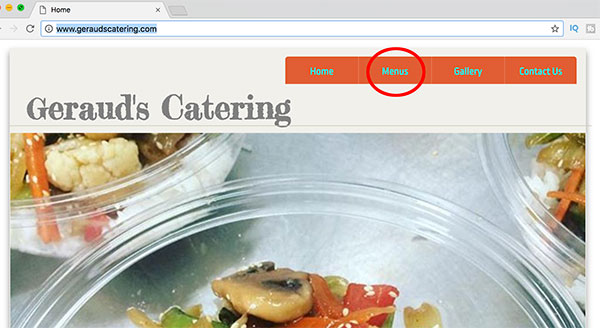 All of Geraud's menus are listed here. His menus include...
Breakfast: Pastry platters, bagel plates, English muffins, wraps, burritos, fruit, pancakes, etc.
Breakfast Meet: Platters of pastries, breakfast sandwiches, doughnuts, etc.
Family Corner: Large meals of roast chicken, mahi mahi, chicken Teriyaki, burritos, chicken pot pie, etc.
Veggie Corner: All things vegetarian including, Mediterranean plate (hummus, tzatziki, etc.), Asian-style stir fry, etc.
Munchkins: Food for kiddies, including fish bits with fries, grilled cheese and tomato soup, etc.
Budget Friendly Canapes: Fit for parties, this menu includes pizza squares, mini quiches, piggies in a blanket, fish fritters, and mini sweets.
Soups, Sandwiches & Salads: Variety of soups, sandwiches (on baguettes or bagels) and large salads (ex., chicken Caesar).
Tea Time: Assorted platters of scones, tea sandwiches, fancy bites, etc.
Pasta Corner: Bolognese, pesto, gnocchi, tortellini rose, etc.
Fancy Shmancy Corner: A variety of haute cuisine soups, appetizers and mains (ex., seared duck breast with orange soy glaze).
Dessert Corner: Cheesecake, lemon bars, brownies, banoffee pie, bread pudding, etc.
Beach Bites: Cheese straws, plantain chips, Vietnamese veggie rolls, kabobs, etc.
Quiche Corner: Lorraine, spinach & feta, lobster, bacon-onion-cheese, etc.
Slider Club: On mini brioches, the choices include foie gras, pork, Cuban, crab, etc.
NOTE: Certain menu items have "minimums." For example, the "Slider Club" menu. Your order must include a minimum of 12 of same type of slider.
TIP: As you build your order, keep a separate Word Doc open. Jot down the name of the dish you want (ex., Cuban Sliders) and the quantity. This method helps keep track of the entire order, so it is ready for a quick copy-paste when you are ready to submit your order to Geraud.
When your list is all set, click the website's "Contact Us" button in the top right corner (circled in red in screenshot below).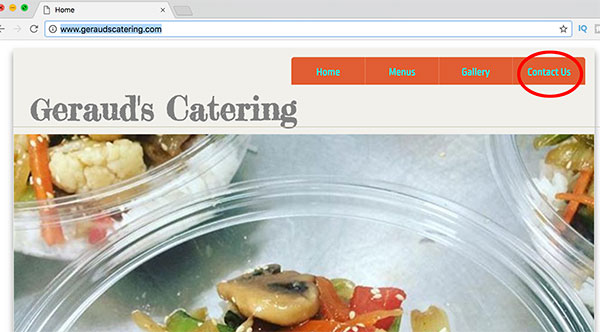 Enter your Name, Email address and Subject line. Paste your order from your Word Doc into the Message box.
Don't forget to include the date and time when, and the location where, you would like your order delivered to you.
Yes, that's right! Geraud delivers straight to your hotel room or villa, no matter its location on-island.
NOTE: Orders must be placed 24 hours before delivery date and time. If you would like your order on Sunday morning, for example, the order must arrive to Geraud Saturday before 12pm noon.
Once you have submitted your order, you will hear back from Geraud in instant speed!
Step 3: Meet Geraud at Your Door
The easiest step is next. Simply open your hotel room or villa door.
Geraud runs a tight ship. Like clockwork, his delivery is always right on time.
The tastiest step is next...
Step 4: Yum Overload!
Our Geraud's Catering order was for a birthday celebration. Until the party arrived, we popped Geraud's goodies in the oven to heat them up and keep them warm.
What was on the party menu?...
Piggies in a Blanket Geraud is the master of pastry dough! Never have we had Piggies in a Blanket so flaky and savory as these. The plate comes with a side of French mustard.
Piggies in a Blanket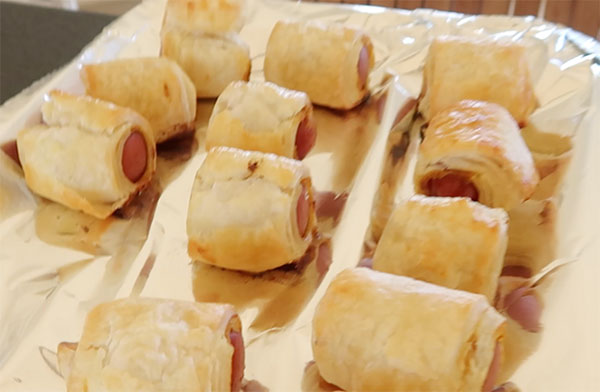 Cuban Sliders THE winner, we will order this over and over again. Roast pork is layered with ham, pickles, Swiss cheese and a dollop of mustard. It is all popped onto a homemade mini brioche bun. (If you are reheating these, put the mini sandwich in the over for 5 minutes on 425F. They reheat and crisp up perfectly.)
Cuban Sliders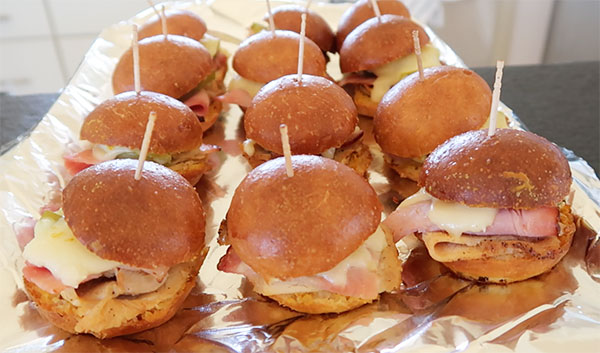 Mini Puff Pastry Pizza Light and airy, these little treats are almost too fun to eat!
Mini Puff Pastry Pizzas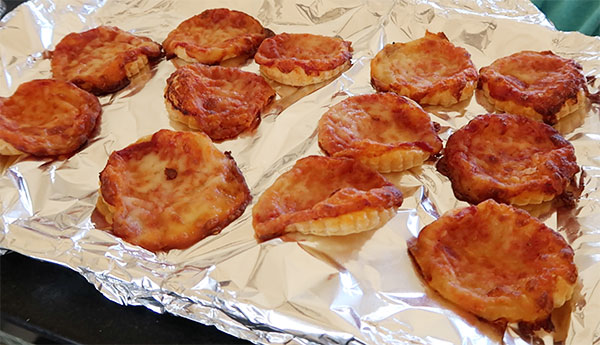 Smoked Salmon Rolls Salmon and a crisp, fresh chive spread is lathered between pieces of a pillowy-soft tortilla wrap.
Smoked Salmon Rolls

Chicken Caesar Salad Forever our favorite Caesar salad in Anguilla, Geraud's dressing is spot on. Garlicky and rich, it is the perfect complement to the ultra-fresh and vibrant greens. The sauce comes on the side, keeping the lettuce light and crisp. To get an even dressing spread on the salad, open the salad's container and pour on the dressing. Close the container, shake it up and your dressing is perfectly spread!
Chicken Caesar Salad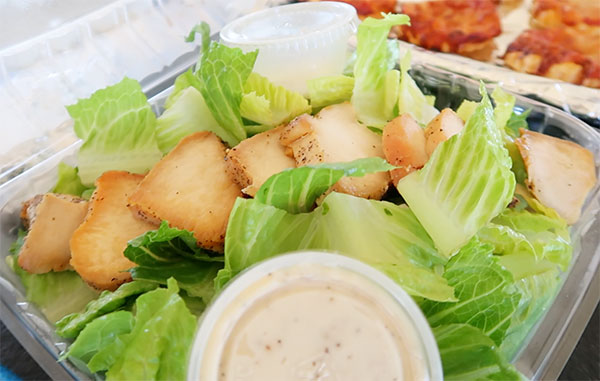 Banoffee Pie Geraud is a pastry chef extraordinaire. Need I say more? Each bite of Banoffee Pie is banana and toffee delight!
Banoffee Pie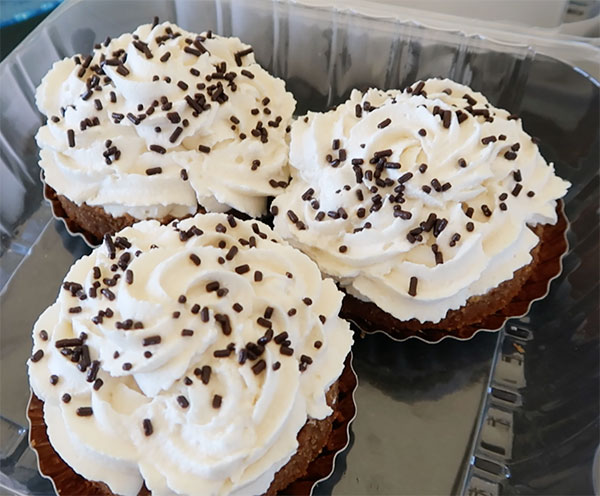 With such a varied and extensive menu, it is impossible to order only once from Geraud. The perfect solution for early morning breakfast (no need to run out to the bakery), or an evening wind down with cocktails watching the sunset, Geraud's is the answer.
An A+ and ultra-convenient service at reasonable rates, Geraud, we will be emailing you soon! :-)
So many congratulations on a tremendous operation, Geraud!