<![endif]-->
Geraud's Patisserie...
For Breakfast, Lunch & Dinner
Update 2018: NEW from Geraud? Geraud's Catering! With an easy to use system, Geraud's tasty creations are only a click away. More on Geraud's catering here.

NOTE: The storefront mentioned below is closed.
Don't be fooled by the name. Geraud's Patisserie may emphasize "pastries," but Geraud's abilities go way beyond the confectionery.
A French native who relocated to Anguilla years ago with his wife, Geraud, with his bakery and pastry shop, has cultivated a little piece of France right here in Anguilla. From breakfast, to lunch, to baked goods and decadent wedding cakes and desserts, to a little French gourmet shop, Geraud's has it all.
Whether you stop in and grab a quick bite, or take some sweet and savory treats to go, Geraud's doesn't disappoint.
The Setting
Geraud's is located in the west end of Anguilla, just before CuisinArt Golf Resort & Spa if you're coming from the east.
Next to Grands Vins de France (a match made in heaven!) on the north side of the road, you can't miss it.
Outside Geraud's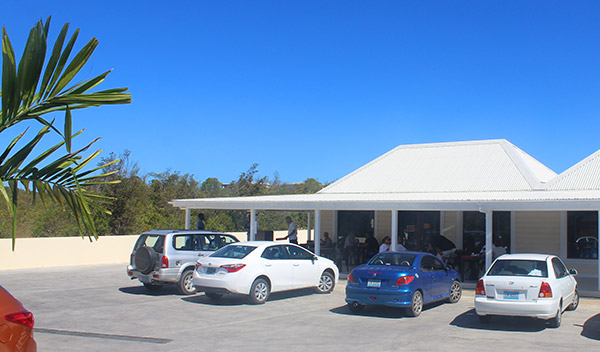 Inside, chic, custom-fitted display shelves showcase the mouth-watering, golden crusted treats...
Golden Flaky Goodness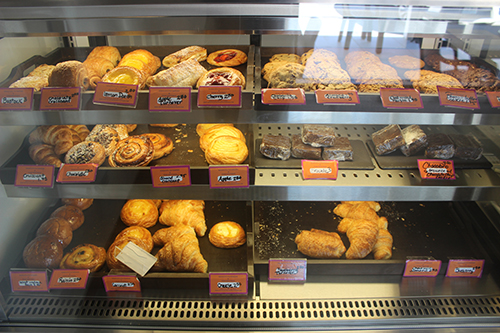 And the stark white walls bring a fresh feel to the space...
WE can't get enough of Geraud's!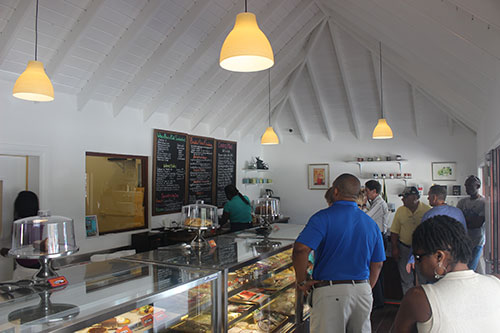 Assortment of spices, coffees and condiments

Inside gets cozy, especially with patrons in the double digits waiting to place an order for some unmatched morning pastries! (Tip: Go early if you want the best selection. Geraud's gets busy!)
The exterior is breezy and open with plenty of seating...
Walking into Geraud's

Outside, the seats go fast!
Take a seat outside and you will see most of Anguilla drop in throughout the morning. Nothing brings people together like tasty treats from Geraud's.
Smiles from everyone around!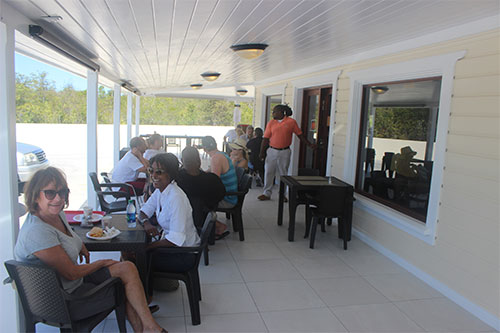 Let one of the ladies at the cash know that you've taken a seat and they will take your order as soon as they can. Service is friendly and the staff try hard, despite really being put to the test daily with a high volume of orders.
Now enough about the setting. Most people come here for the food anyway. ;-)
Menu
The #1 rule when dining at Gerauds? Don't simply order a quick coffee and croissant. With so much on the menu, there's plenty more to treat your tastebuds to!
Breakfast
Classic Menu !

I've had some truly terrific breakfast specials at Gerauds.
Eggs, wraps, sandwiches, bagels! In fact, I had one of my most favorite bagel creations at Geraud's first. Now, I make this sandwich almost regularly.
On a large, New York-style sesame seed bagel, Geraud toasted it to perfection and added cream cheese, tomato and perfectly cooked bacon. The salty bacon nicely offset the sweeter tomato. The blend of flavors was just right!
More recently, we tried a BLT with egg and avocado served on the softest, white country bread. Note: ask for the bread to be well toasted.
With so many healthy options (whole wheat, egg whites, etc.), Geraud makes eating right easy, too.
B.E.L.T. With Avocado

What would breakfast be without a coffee or a good morning smoothie? Geraud's has you covered there, too, with virtually every kind of coffee and FRESH fruit smoothie you could ever crave. All drinks can be made with soy milk, almond milk and rice milk.
Sugar-wise, Geraud's menu features a variety of croissants and other baked goods, including cinnamon rolls, muffins, brownies and cookies. We always take the brownies for the road!
Cinnamon Roll with Icing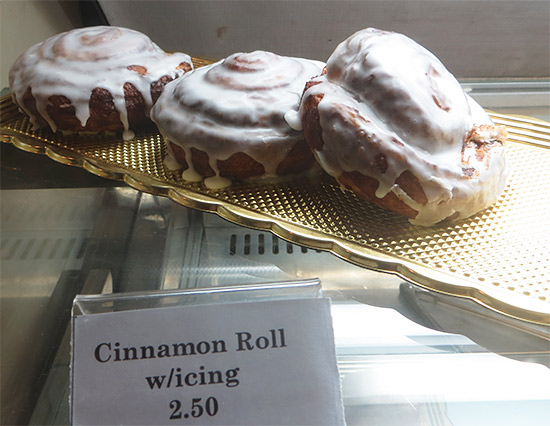 Lunch
For years, lunch at Geraud's was all about sandwiches, wraps and croissant sandwiches. Turkey, ham, cheese, tuna, chicken salad, chicken caesar, egg salad, you name it, they can make it. Their sandwiches on a whole fluffy baguette are the best on the island, prepared with fine and fresh ingredients.
Want something a little heartier? They've got it! Of the items listed above, I highly recommend the chicken caesar salad. My sister swears by it. "It's all in the dressing, which is soooo garlicy and mayonnaise-y," she says.
Geraud really makes choosing hard. Just as you've placed your order, if you're taking it to go, and as you're standing, lingering, looking at the counters, the urge to order more creeps in...
Veggie Patties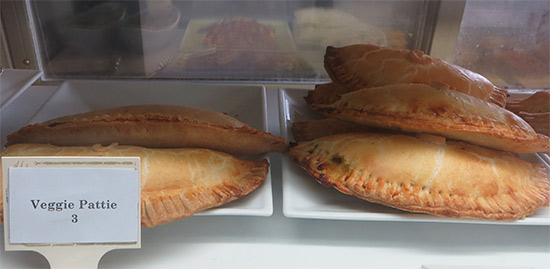 An Anguillian Classic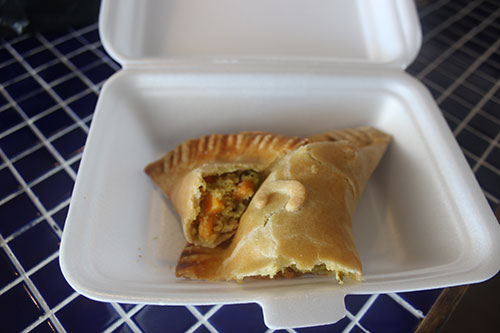 Quiches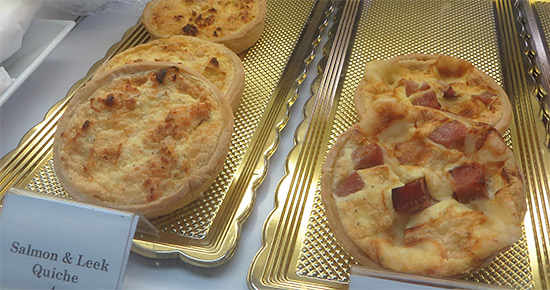 Fougasette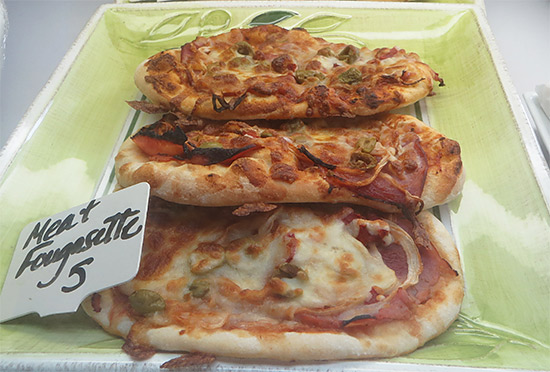 Temptation always wins and I end up adding a couple of quiches to every order. The goat cheese and spinach is so savory in a flakey crust. Mini-size, it makes a good late night snack.
Pastries
Last, but certainly not least, the pastry window...


Ready to Devour!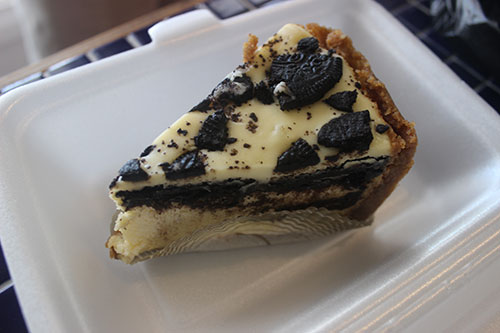 Over the years, I've somehow lost my sweet tooth. As I've lost mine, my sister has gained hers. The strawberry tarts are #1 choice!
Take Out For Dinner
Sometimes Geraud's gets a little too busy for our liking. So, we decide to drop in and take out. It's a terrific option if you're staying at a villa and want a quick and easy solution for dinner or a late afternoon snack. There is so much selection...
Fresh-made Bread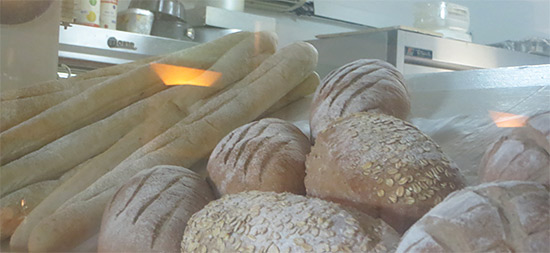 Cheese imported from St. Martin (flown in from France weekly)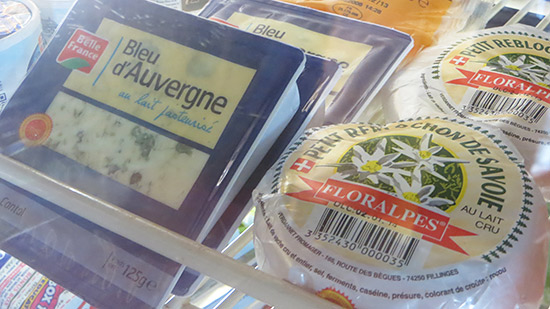 More cheese!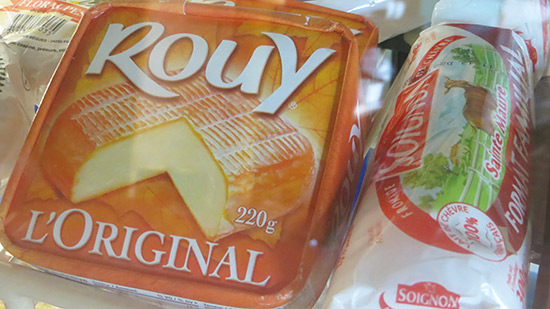 Even more cheese!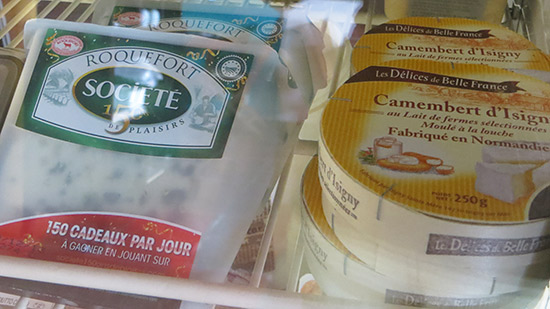 Our Dinner Spread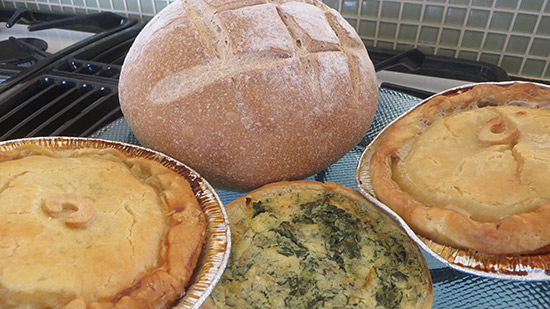 A few chicken pot pies (my Dad's favorite from Geraud's), a couple of mini quiches, fresh bread and cheese, with a bottle of wine you are all set for a simple and affordable nice French meal at home. Re-heat and ta-da!
For breakfast, lunch and dinner, Geraud's is one of our go-to spots. See you again soon, Geraud.
Tel.: 264-497-5559
Hours: Open daily. Tuesday to Friday 5:30am-1pm, Saturday 5:30am-12:00pm, Sunday 8:00am-12:00pm. Mondays closed.