Cha Cha San...
A Little-Known Spot
Steaming With Authentic Asian Flavor
Update 2018: Cha Cha San has closed.
Cha Cha San At A Glance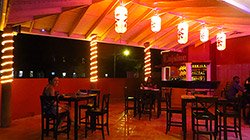 At first glance you might not expect this Asian-Anguillian escape to deliver on oriental-cuisine dreams.
But, hesitation evaporates upon first step inside the restaurant.
Savory, Asian aromas fill the air. Guests dine on perfectly crisp chicken curry spring rolls, plates of Yaki Udon and even Anguillian crayfish tempura on special nights. The staff works quickly, efficiently with genuine laughs and big smiles.
At Cha Cha San, the eating is excellent and the vibe is low-key and friendly.
The vision of owner and Chef Ken Lin, a passionate man, Cha Cha San has become one of our top spots for a meal out!
NEW for serious sushi lovers: Chef Ken Lin introduces sophisticated Asian cuisine to Anguilla with his NEW private dining menu. A "must" for sushi lovers, this menu goes down as my Dad's "best sushi meal of all time." More on Chef Ken Lin's private dining menu here.
More on Cha Cha San, below...
We all have a favorite neighborhood eatery. That little-known spot we eagerly tell our friends out of love, passion and the joy of sharing a secret and being in the know. In Anguilla, a dining capital of the Caribbean, the choices for such restaurants, undiscovered treasures with cult followings, are many.
The one that keeps us coming back?
Cha Cha San!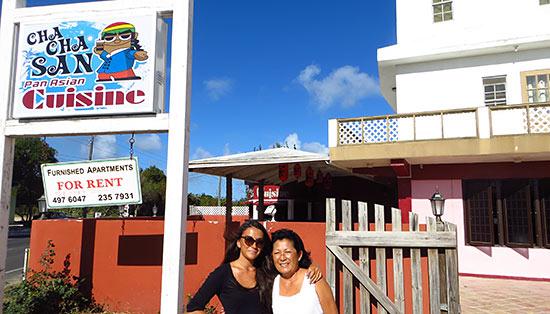 Like many hidden gems, Cha Cha San easily goes overlooked. It sits right on the island's main road in a non-descript building you have probably driven past a hundred times.
Its speciality? Asian cuisine on a world-class level.
Meet Ken Lin
We first met Ken back in his days when he was Executive Chef at CuisinArt's Tokyo Bay. We had never known him well, but were thrilled when we first heard he was bringing authentic Asian cuisine to the island.
Owner and Chef, Ken Lin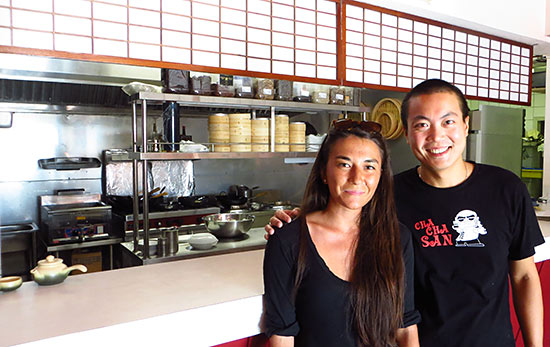 Since our first introduction a couple of years later, this time at his Cha Cha San, we've developed a long and trusting relationship with Ken Lin.
Passionate about his product and craft, hard-working and committed to delivering a consistently terrific experience, Ken's tenacity, determination and sincerity are impressive. And, once you build a relationship with him, you have a friend for life.
Originally from Taiwan, where his parents owned and operated a restaurant, he is far from home.
His first job as an Executive Chef was in the ultra-posh Turandot restaurant in Moscow. At Turandot, food is an art and the dining experience is something out of the Romantic period. One of the most expensive cities in the world, with the most discerning high-end clientele, it was here where Ken Lin learned to create and deliver five-star food.
Turandot, Russia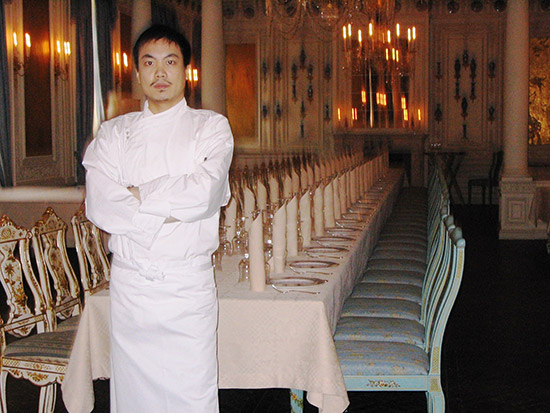 From Russia, he moved to Tokyo and then to Mauritius where he honed his sushi skills.
Ken in Mauritius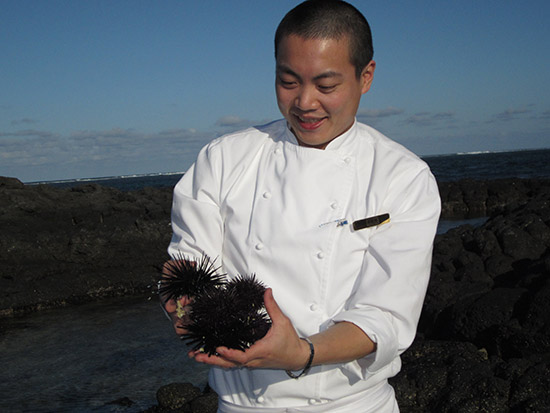 Following Tokyo and Mauritius, he relocated to London where he applied his sushi knowledge as sushi chef at Sake No Hana, a modern, elegant Japanese restaurant with a second location in luxurious Dubai.
With a range of interesting experiences that demanded he learn a vast array of skill sets, he was well prepared for his final stop... Anguilla.
Sake No Hana, London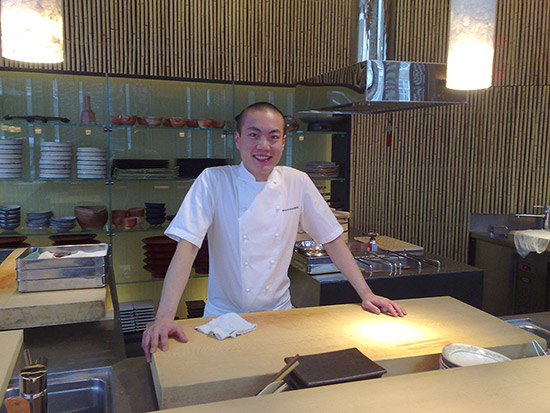 It was when he moved to Anguilla, working at CuisinArt, when he decided he wanted to create a restaurant all his own, one born out of his vision. He had fallen in love with Anguilla and dreamed of putting down roots and seeing that vision come to life.
... and Cha Cha San is precisely that.
Inside Cha Cha San
Cha Cha San is more than just another Chinese-Japanese restaurant. It merges Asian design with a light and cool Caribbean atmosphere and features a menu ruled by Asian classics prepared with locally-available ingredients.
Cha Cha San By Night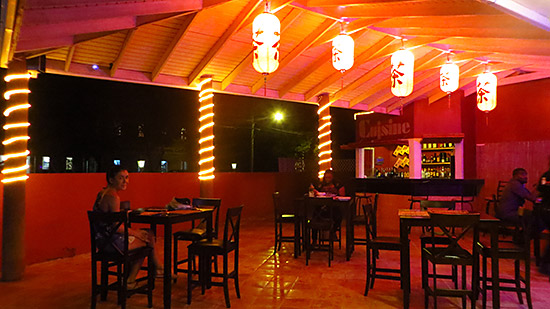 From the moment your foot steps out of your car and into the warm Anguillian night air, mouthwatering aromas fill the air.
Paper lanterns hang from the ceiling, twinkling lights brighten the expansive outdoor eating area, and red and white rules the color scheme.
The building itself has been transformed into a laid-back Asian escape. Japanese style paper fixtures, modern seating, bowls of salt by the door to keep spirits away (a Chinese custom) and you can't miss Mr. Tea...
With Mr. Tea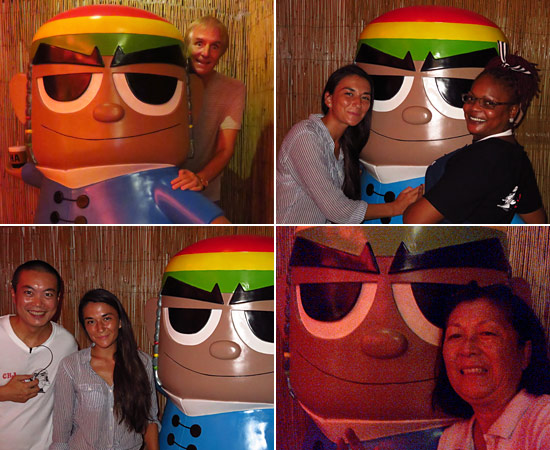 Lovingly called Mr. Tea (Cha in Chinese and Japanese means tea after all), he is Cha Cha San's mascot. Ken would later tell us that his friend in the Orient drew him up.
So fun and full of life, Ken's logo and mascot himself is symbolic of Ken's vision. Mr. Tea is a rasta anime character, a blend of Caribbean and Asian influence.
The restaurant also features plenty of interior dining space, a large private dining room and a bar...
The Interior By Day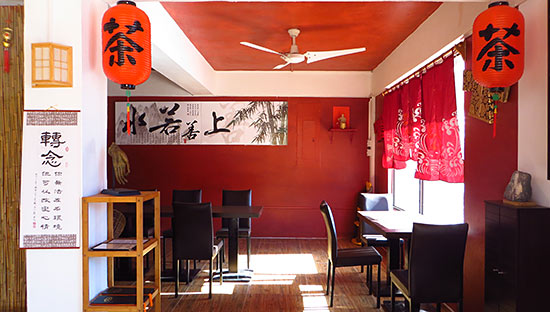 The real reason to come to Cha Cha San, though, is, for the food and the people.
Ken has a stellar staff including the ever sweet and warm Crystal, Debbie and Cherese.
Cherese, Your Bartender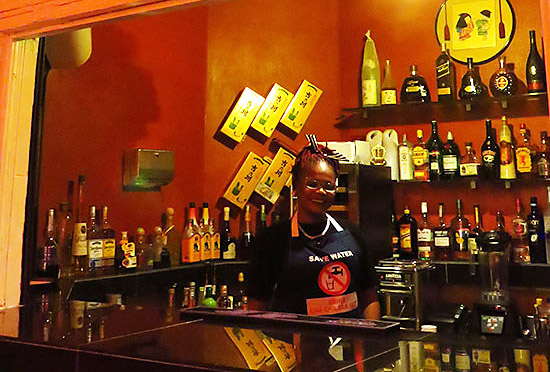 Always with the warmest, most genuine smiles, these ladies are professional, helpful and efficient. They make a terrific team. You are in good hands while Ken prepares outstanding creations in the kitchen in the back.
What exactly are those creations?
The Menu
Ken's menu takes dishes from different Asian countries, melting them down into an eclectic menu with all of your Asian favorites.
First things first, the sweet cocktails and of course, sake...
Cocktails & Sake
Ozeki Hana Awaka Sake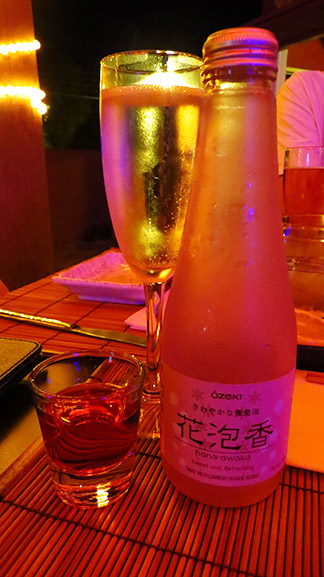 Cha Cha San's cocktail menu features all of the Asian classics, including Singapore Slings, Mai Tais and a few unique creations.
Ken's Sake list is extensive.
The Ozeki Hana Awaka is my favorite.
Chilled and sparkling, it's slightly sweet and goes down nice and smooth at a lower alcohol content.
The Hakushika Gold Flake Sake and Ozeki Komo Taru are especially fun.
The Gold Flake sake is actually filled with 18 karat gold flakes!
And the Ozeki Komo Taru is bottled in a cask, just as they were back in ancient times.
Ken also carries a number of other sakes with a variety of different subtleties to them.
They can be enjoyed hot or cold.
Mai Tais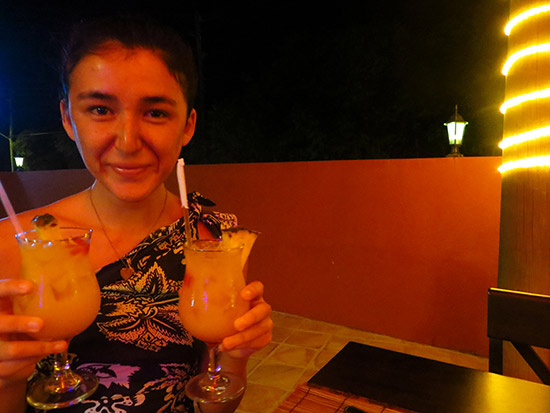 While sipping sake, it's time to take a look at the menu...
Small Dishes
Ken's menu is split into "small dishes," sushi rolls, main courses and dessert.
As is tradition with oriental style dining, we tend to order a few plates off of each section of the menu and share.
Small dishes include curry chicken spring rolls, edamame, angus beef dumplings, tuna tataki, a large soup of seafood wontons, organic tofu salad, shrimp wontons and cha-style shrimp tempura.
Curry Chicken Spring Rolls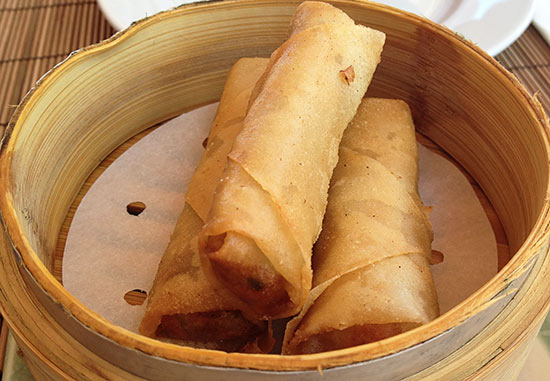 The spring rolls are simply perfect. On the outside, they are light and crispy, without being oily or the least bit heavy. Don't bite in too quickly, though. They are served piping hot! Inside, the flavor is tangy and flavorful, with a curry kick.
The steamed beef dumplings and the shrimp wontons are another favorite. You can never have too many!
Shrimp Wontons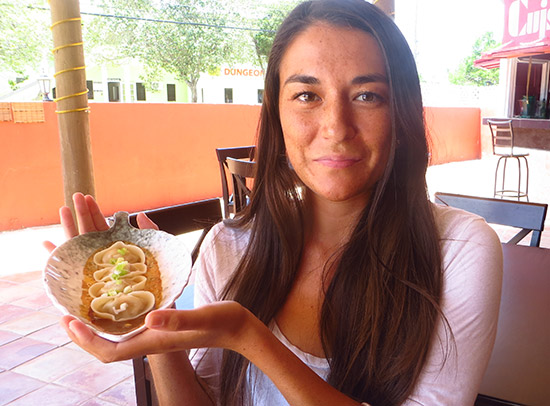 My Dad always orders (and practically refuses to share!) an order of tuna tataki. Fresh tuna bathed in a gentle sesame sauce and served on seaweed makes for a light and refreshing appetizer.
Tuna Tataki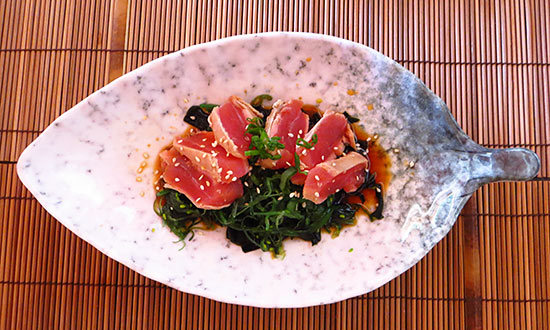 Next up? Sushi.
Sushi
Ken's sushi menu features California roll, spicy tuna roll, salmon and cucumber roll, Philadelphia roll, hamachi scallion roll, dragon roll, soft shell crab roll and others which rotate.
One of the prettiest rolls he's served to date is the Rainbow City Roll made in celebration of Anguilla!...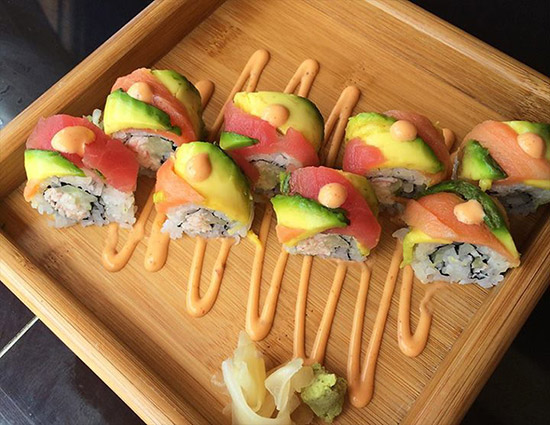 Photo Courtesy of Cha Cha San
It features tuna, salmon, crab, avocado and cucumber. And it sure tastes as good as it looks.
Special sushi rolls aside, the California roll is hands down my favorite. Ken makes it extra memorable by using REAL crab, not crab stick. Each and every bite is creamy crab heaven.
California Roll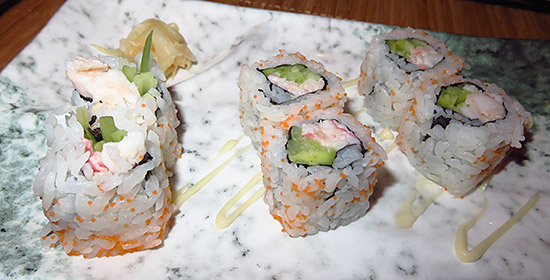 The Philadelphia roll, salmon and cucumber and the hamachi scallion are all equally excellent.
Salmon Cucumber Roll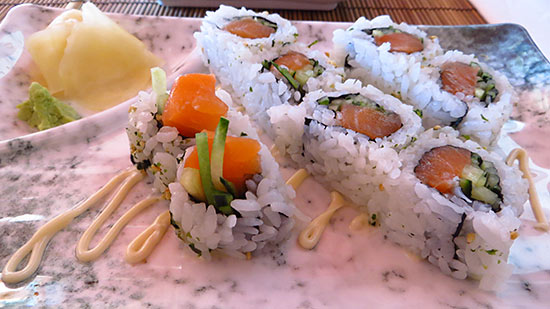 Philadelphia Roll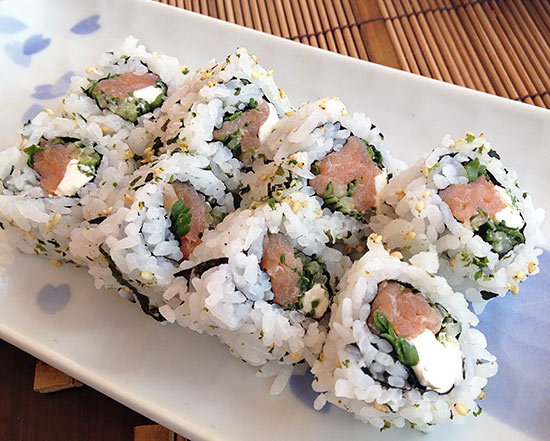 Main Courses
By the time we get to the main courses our stomachs are nearly full, but we always save room for the star of the show...
Angus Beef Yaki Udon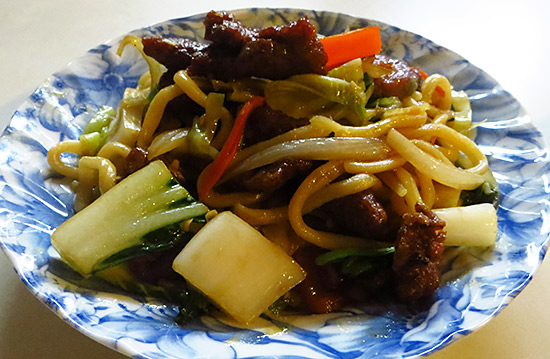 We have fallen in love with this dish. Pieces of perfectly seasoned, pan-fried Angus beef are mixed amongst tasty veggies and thick, Japanese udon noodles. Rich with flavor, our chopsticks are never set down until the plate is empty.
I still remember the night I first brought these noodles home for my Dad and I to share. That concept of "sharing" became obsolete upon his very first bite. "This is too good for Main Street," he exclaimed, walking away, our udon in hand.
Other dishes available include General Tso's chicken, sweet and sour pork, Mongolian beef, shrimp chow mein, crispy green curry chicken, Chinese stir fried lamb loin and fish of the day.
Shrimp Chow Mein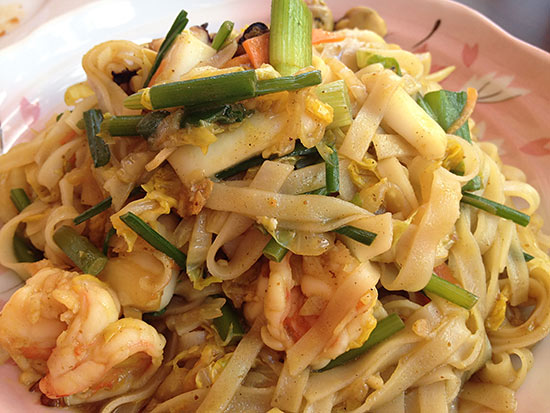 Ken often prepares other items on occasion, too...
Special Dishes
First, bento boxes. Every Thursday night Cha Cha San celebrates sake with their Sake Night.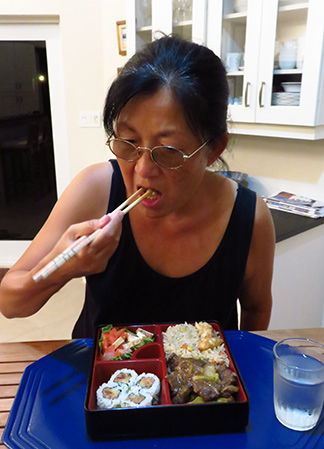 Sake Night features Ken's signature Bento Box dinners available only on Thursday nights. All Bento Boxes come with your choice of entrée...
Beef Teriyaki
Sweet and Sour Chicken
Anguillian Crayfish Tempura
... in addition to Jasmine rice, salad and a choice of sushi roll.
For $26-28, depending on your choice of entrée, it's an affordable (and tasty!) way to sample a little bit of everything on Ken's menu.
Second, unique bites. Every now and then Ken will have something extra special that's arrived fresh in his kitchen and he will whip up a tremendous creation.
One of my favorites was the simplest...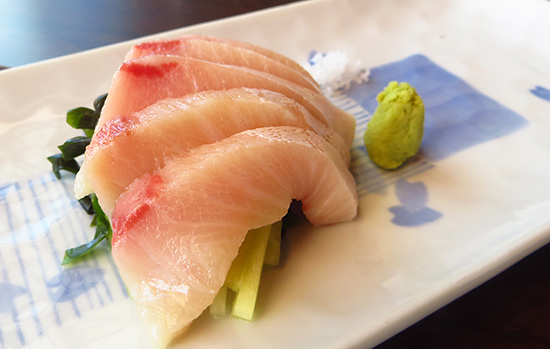 Japanese Yellowtail sashimi. Professionally sliced and served with a side of salt and sweet ponzu sauce, it was melt in your mouth perfect.
Dessert
Finally, the sweet finish.
By dessert our stomachs are normally at capacity, but on the off chance that we have managed to exhibit even the slightest ounce of self control, something sweet is in order.
The dessert menu includes banana chocolate spring roll, tempura ice cream, mochi ice cream and a selection of green tea, azuki red bean and vanilla/chocolate ice cream.
Mochi Ice Cream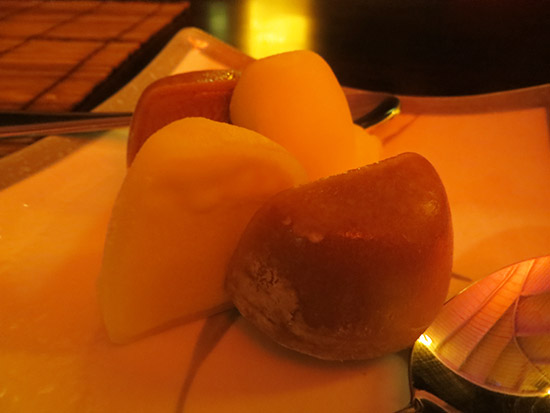 Mochi is the way to go if your stomach is feeling stressed!
After dessert? There's only one thing left to do. With a warm, satisfied feeling in our stomachs we've noticed that time and time again, we thank Ken for bringing his vision to life.
Excellent food at fair prices, terrific service and a vibe that puts you right at ease, it's no wonder Cha Cha San has become a popular hang out with locals and visitors alike.
Directions, Hours & Contact
Directions: If you're coming from the west, Cha Cha San is located after the turn off to CuisinArt and Great House, before you hit Geraud's. It's on the right-hand side of the road. If you're coming from the east, Cha Cha San is located after Geraud's, across the street from Dungeon Gym. It's on the left side of the road.
Hours: Open daily for dinner - closed Wednesdays. Open daily for lunch - closed Wednesdays.
Update 2016: You can also now purchase Cha Cha San's excellent sushi rolls at Proctors every Monday, Wednesday and Friday starting at 11am!
Official Website: Click here
Tel: 264-583-1988 / 264-498-1988