Chef Ken Lin...
Introducing A Caliber of
Japanese Cuisine Previously Unseen
Chef Ken Lin is a popular name in Anguilla. He is known as the man who has introduced the island to authentic Asian cuisine. His restaurant, Cha Cha San has become a favorite for familiar oriental eats.
Since becoming regulars at his restaurant, our family has become close friends with Chef Ken Lin. Over the years, we have discovered that his talents extend beyond the comfort food we so loyally love at Cha Cha San.
Before moving to Anguilla, Chef Ken Lin honed his skills in the finest Japanese restaurants world-wide. Humble beginnings in Tokyo led to prestigious jobs at the most revered restaurants in Moscow and London. Sushi was his area of expertise.
With Chef Ken Lin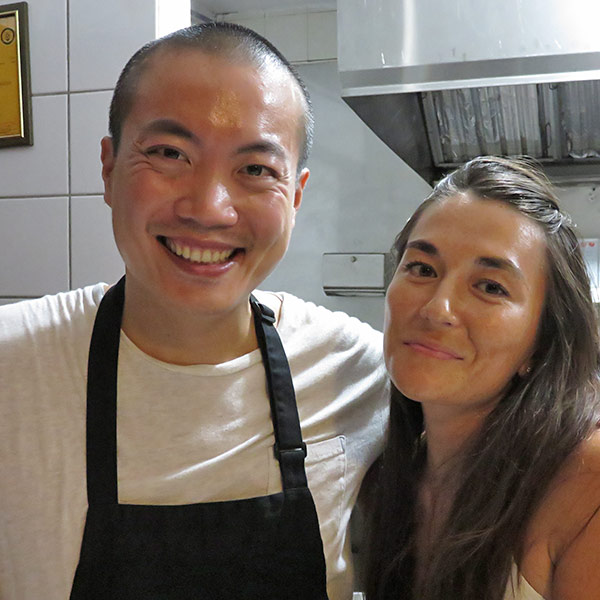 Chef Ken Lin swapped high-pressure and non-stop city buzz for laid-back tranquility and peace of mind when he moved to Anguilla. Over his past five years in Anguilla, Chef has found his inspiration. Anguilla's crystal clear blue waters and myriad of colorful fish have ignited his imagination.
Ozeki Sake DRY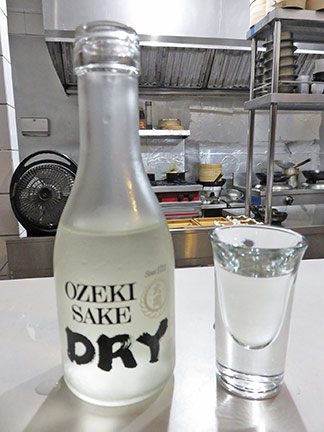 Today, Chef Ken Lin re-introduces Asian cuisine to Anguilla.
This time, it is of a completely different caliber.
A creative dining experience that exudes elegance and finesse, cuisine on this level belongs in the world's fastest cities.
To have it in Anguilla is a gift.
Available for in-villa dining, and potentially as an off-menu special (one day, Chef? Please? :-)), Chef Ken Lin's private dining menu is an impressive display of raw talent and passion.
The experience begins with an Ozeki Sake DRY as you dive in...
Under An Incredible Blue Ocean
Chef Ken Lin's private dining concept begins with a splash of blue. He brings Anguilla's underwater beauty to your plate with his first course.
Local Fish Tartar, Seaweed, Crispy Local Crayfish
Wild Conch, Octopus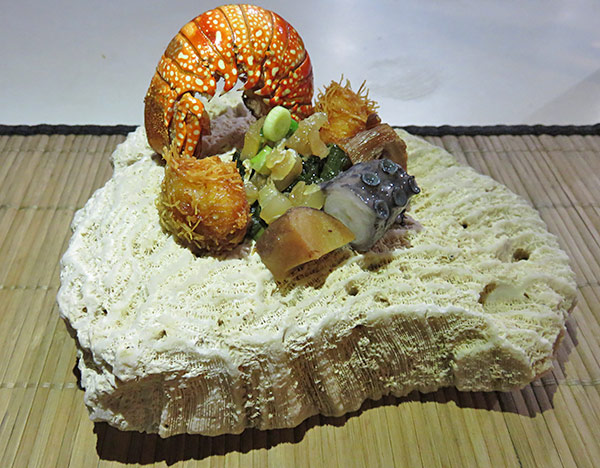 Artfully presented atop Anguillian coral, the dish features a variety of native Anguilla species. First, sumptuous and chilled octopus. Then, fresh conch. Both the conch's and octopus' flavors are left to speak for themselves.
Two bite-size pieces of crayfish are coated with noodles and fried. The star is the fish-of-the-day tartar (Kingfish was the catch this day) mixed with cabbage and scallion.
A gentle and light foray into Chef Ken Lin's world.
"Tea Time"
The next chapter in Chef Ken Lin's story brings a playful Anguillian twist on a traditional Asian soup. Served in tea cups, the soup is also a nod to Bush Tea. Bush Tea (often accented with lemongrass) plays a large role in Anguilla's culture.
Cherry tomato, basil, Galangal, lemon and local lemongrass are mixed together, fusing Thai flavors with Anguillian influences. Each element is distinctly tasted. And, your "5 a day" is taken care of by the soup's end.
Chef Ken Lin serves his soup with a side of crispy rice, a fun counterpoint to the soup.
Mini BBQ
The experience jumps a notch higher with Chef's third course, Mini BBQ. Here, he brings his own background to BBQ.
Red-hot charcoal is popped into Japanese fire pots. Thin slices of U.S. Kobe Beef Ribeye are placed to one side. A citrus soy-Anguilla sea salt sauce to the other.
U.S. Kobe Beef Ribeye with Citrus Soy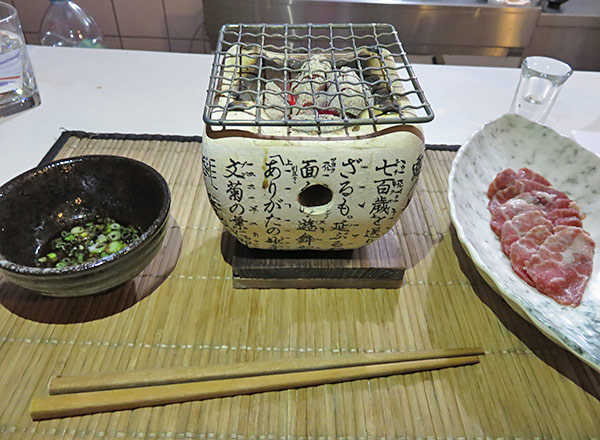 Grill your Kobe to your liking as you go. A fun touch that serves a practical purpose throughout the rest of the meal (see next course).
Each dish building on the last, we could sense that a culinary grand finale was on its way. But, nothing could have prepared us for what came next.
Welcome To My Sushi World
Sushi is Chef Ken Lin's life. In Anguilla, where the fish is fresh and the selection diverse, this is Chef Ken Lin's playground. This is the climax of his menu's story.
Trompe L'oeil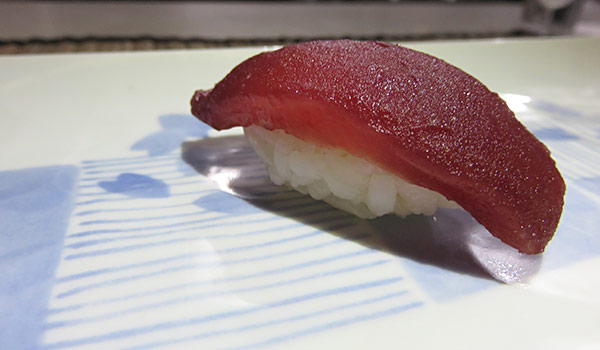 Ozeki Nigori Sake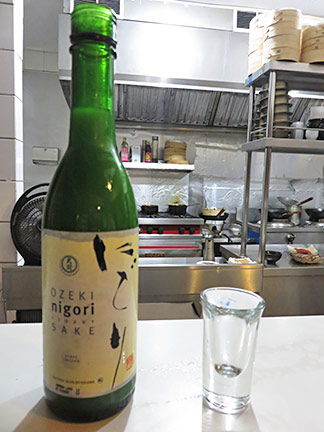 To begin, Chef Ken Lin presents the opening piece.
"Tuna, definitely," we thought.
A tart rush upon first bite, "that was not tuna," I exclaimed.
Chef laughed, "tomato bathed in red wine."
"It is to clean your palate," he explained as he poured the Ozeki Nigori Sake.
Unfiltered, and a touch sweeter than the previous sake, this sake is the perfect coupling for sushi.
"Now, let's start," Chef said.
"No tricks this time, right Chef?"
Fresh Snapper with Lemon Salt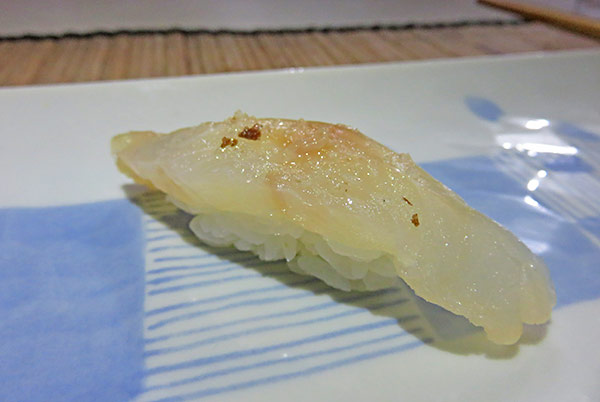 No tricks, and no soy sauce either. You are to experience the nigiri Chef's way, "and soy sauce takes away from the flavors of this uniquely flavored nigiri," Chef explained as he presented a beautiful piece of ultra-fresh snapper.
My Dad grumbled about that at first. He likes to mix a soy and wasabi dip. The grumbling ceased quite quickly.
Assembled before you, Chef Ken Lin had rubbed the snapper with lemon salt. Melting in your mouth, the fish gently dissolves while the lemon salt added a spectacular twist to the snapper's fresh and gentle taste.
My Dad loves sushi. He has enjoyed the best of it from Nobu in London to little holes in the wall in certain Tokyo neighborhoods. His delighted smile was an exclamation point of pleasure.
But, Chef was just getting started.
As my Dad and I savored, Chef seared salmon over our previously used coals.
Lightly Seared Salmon Sushi with Charcoal Salt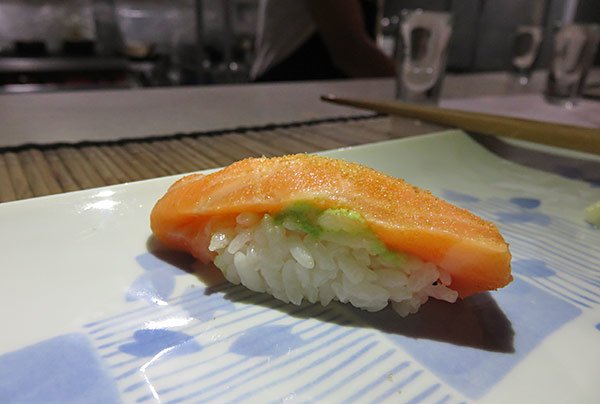 Eight seconds on one side and the salmon is lightly sprinkled with charcoal salt.
Rich in smokey flavor, the charcoal salt re-inforces the coal-fueled flavor. This time, my Dad's eyes literally popped.
My Dad later told me that only pride kept him from begging for another piece. Chef moved onto the next delicacy.
Kingfish with Black Sea Salt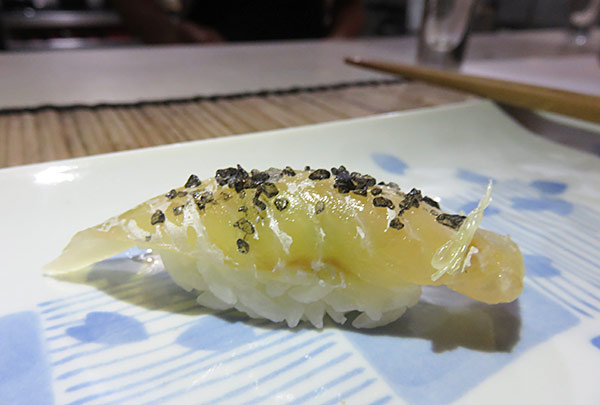 Aesthetically stunning! Kingfish is a local favorite, often caught in shore. It is known to be a tougher fish. Its tenderness here is a credit to Chef and his expertise.
Chef tops this one with Black Sea Salt all the way from Hawaii. An especially exotic touch, Chef explained how much he had experimented to find the perfect salt for each fish.
On to my Dad's favorite nigiri, Hamachi...
Hamachi with Scallion and Sesame Oil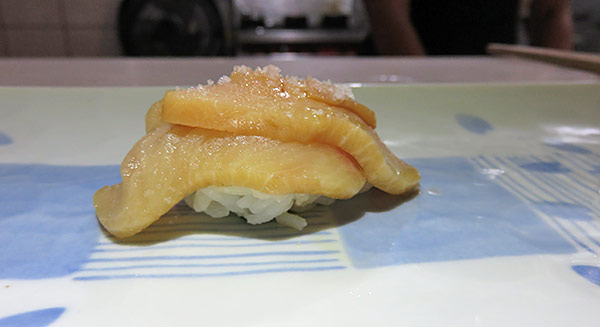 The next piece piqued our curiosity. Though simple to the eye, the taste of Hamachi was complemented by a swirl of flavors. "What are we tasting, Chef?" my Dad and I asked.
My Dad was officially in sushi heaven. (You should know that this is a person who does not like anyone messing with his fish. Chef Ken Lin had become the sole exception to that rule.)
Chef layers sushi rice with wasabi and obscures slices of scallion beneath generous slices of Hamachi. The Hamachi itself has been lightly bathed in sesame oil, creating a full flavor. A winning combination, it is all topped with Anguilla sea salt.
Expectations were heightened as Chef prepared the next dish's details.
From high in the Himalayan mountains, rock salt is ground down to top...
TORO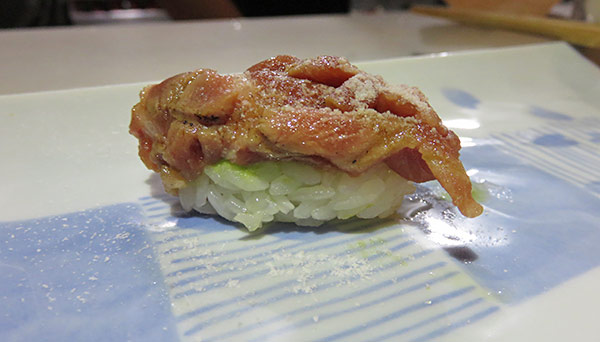 "Can you guess this one?" Chef asked with a smile as he presented the nigiri. From the moment it hit our tongues, we knew. A quick massage of the tongue and a little push against soft palate is all it takes. This fish is that soft.
"Toro, of course!"
A delicacy, Chef Ken Lin makes Toro a creation all his own. By now, we wanted this night to never end.
Straight from Anguilla's deep blue waters, Wahoo followed.
Wahoo with Lime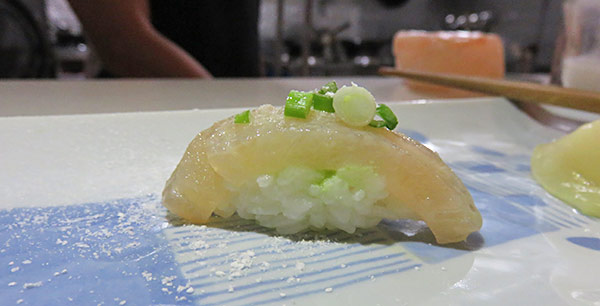 Chef enhances the Wahoo's natural flavor with squeezes of lime, topping it with gentle scallions. The flavors work together to create a burst of fresh flavor. I would call this a stand out of the evening, except everything stood out.
Chef returned with a second salmon creation...
Salmon with Ginger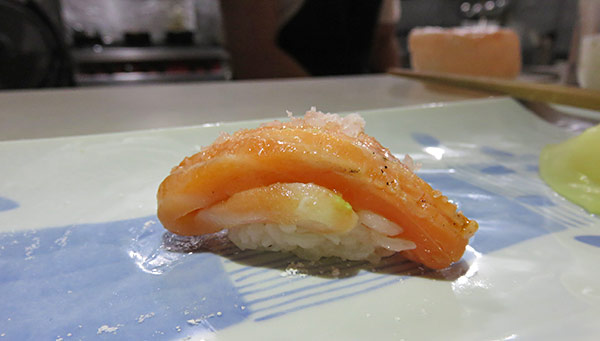 Close to the end, Chef puts the coals to use once again. This time, quickly seared salmon is accented by ginger. We had died and gone to sushi heaven.
Finally, Chef's pièce de résistance...
Closing Piece, The Toro over Charcoal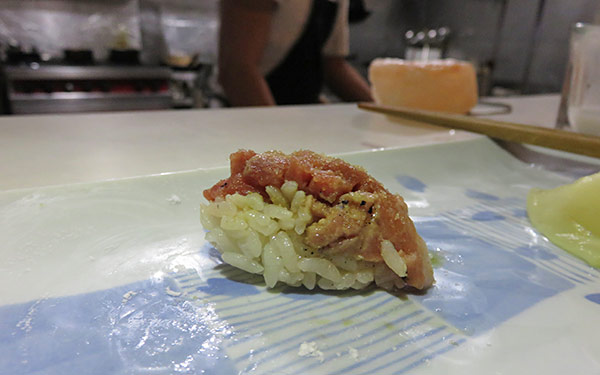 Chef Ken Lin closes strong with a final piece of the coveted Toro. Heated over the goals, the decadent tuna belly is infused with smokey, charcoal essence.
A grand close to an exceptional meal. My Dad said it simply, "this may have been the best sushi meal of my life."
Sweet Thank You
Chef brought us down gently from stratospheric heights with a sweet ending...
Green Tea Cake, Rum Punch Macaron & Sesame Ice Cream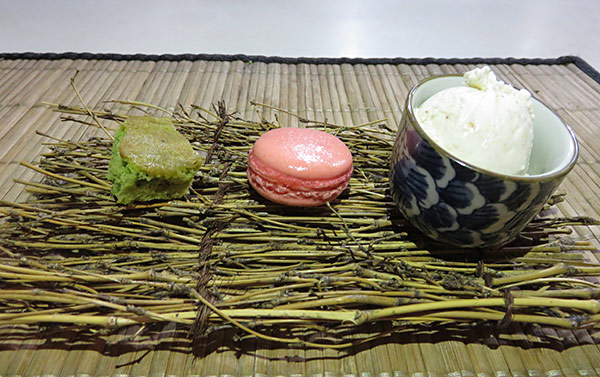 A bite-size portion of Green Tea cake is carefully placed next to a Rum Punch Macaron and a scoop of Sesame Ice Cream. The Sesame Ice Cream is particularly interesting. Somewhere between salty and savory, the first bite hooks you as you attempt to determine the dominant flavor.
At the night's end, my Dad congratulated and thanked Chef Ken Lin profusely. From private sushi dinners in San Franscisco and New York, to nights at Nobu in London, to talked about hidden gems in Tokyo, our little known island is home to his most memorable sushi experience. One last time, as we were leaving, he turned around to Chef Ken Lin and repeated, "the best sushi of my life."
This was more than a meal. It was a "forever memory." "That, is exactly what I hope to achieve with this meal," Chef Ken Lin replied with a proud smile.
Thank you, Chef Ken Lin.
Chef offers this purely as a catered villa experience. To book a private dinner with Chef Ken Lin at your villa, call: 1-264-584-6899
Addendum: We tried our best to convince him to offer this off-menu to serious sushi lovers from hotels. If you love good sushi, we can promise you a unique culinary memory. If you are interested in this special menu, call Chef Ken Lin at 1-264-584-6899 or email him at chef@chefkenlin.com