<![endif]-->
Village Bakehouse...
Breathing "Sweet" Life into Historic Koal Keel
By: Cassie Lewis
The ancient stone rock exterior and the inviting aroma of freshly baked goodies lure you into Anguilla's French bakery with a historic background. Owner and award-winning pastry chef, Pascal Baronnier's pastries fiddle with your taste buds mercilessly, as you journey up the dark wooden staircase that gives way to the main entrance of Village Bakehouse.
Outside Village Bakehouse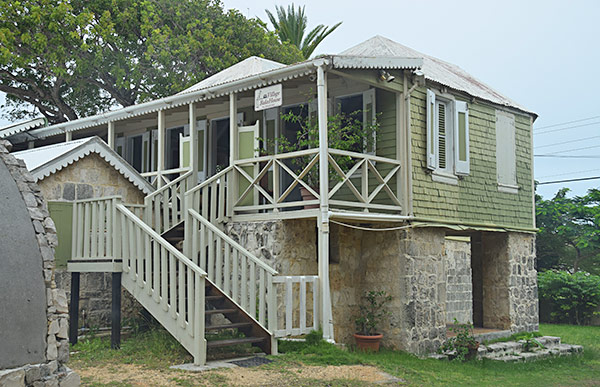 Village Bakehouse, A Historical Masterpiece
Village Bakehouse isn't your average bakery. It is a historical masterpiece! Set down the road from Crocus Bay, it is located in the Historic Valley. True its neighboring buildings, it, too, has a rich history.
View From The Veranda
(Building in Yellow is Anguilla's Oldest Building)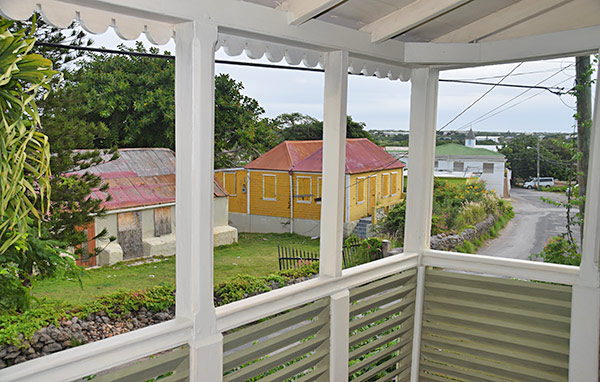 Built in the 1700s, the building is known as Koal Keel. It was constructed by slave labor for a Dutch family from St. Maarten. It operated as a sugar and cotton plantation.
Emancipation of the slaves in the 19th century combined with years of drought and famine resulted in abandonment by the plantation owners. Eventually, the forsaken property was purchased by the descendants of the very slaves whose blood and sweat tilled the land. How ironic!
Let's step inside the historic Village Bakehouse...
Inside Village Bakehouse
Prior to placing your order, walk through the building's different rooms. An appreciation for its historic background sets in.
Enjoying Village Bakehouse's Atmosphere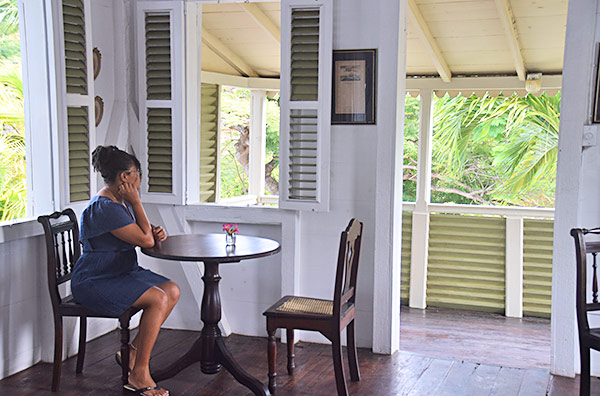 As you move into the bakery's dining and sitting room, your senses are awakened by the sounds of soft, smooth jazz bouncing off of the walls. A delight for your eyes sits on each varnished wooden table. Resting in transparent jars, the faint rustle of the thym montagne flowers' pink and purple petals lull you into a state of calm.
300 years ago, the bakery's sitting room was in fact the house's bedroom. Today, a bed and armoire have been replaced with wooden tables, chairs and antique couches, which secure pattern-filled rugs beneath them. They bring an effortlessly warm contrast to the bakery's wooden floors.
Antique Furniture Inside Village Bakehouse's Sitting Area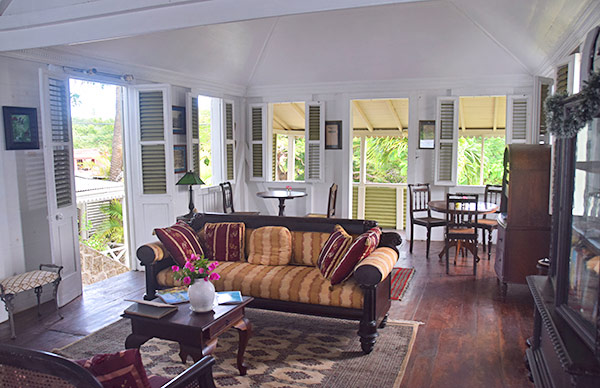 The walls were not constructed with today's norm of concrete or sheetrock. Instead, wooden shingles have stood the test of time, hanging strong and brave, bearing (without complaint) beautiful paintings of African descents and light-hearted caricatures. Likewise, wooden casement windows allow luminous daylight and gentle breezes to enter, without the need for permission.
Don't worry if there isn't enough seating upstairs. There's another floor downstairs for your breakfast and light lunch dates.
Downstairs Dining Area of Village Bakehouse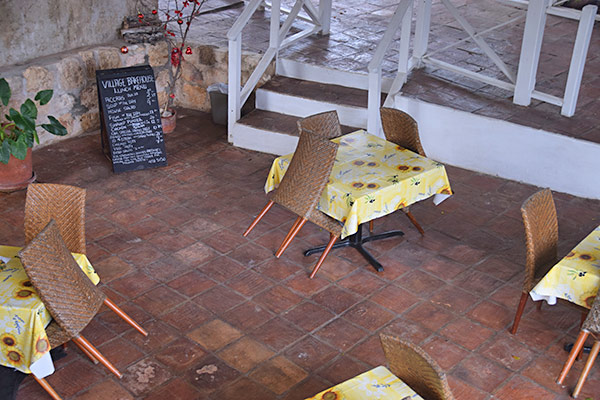 Meet Pascal & Suzan Baronnier
Pascal & Suzan Baronnier have re-kindled the flame that was once Koal Keel. Before becoming Village Bakehouse today, in recent history, Koal Keel was a popular fine dining restaurant with an adjoining small bakery.
Originally from Lyon, France, Pascal met his wife Suzan (from Sangre Grande, Trinidad) 22 years ago in Anguilla. At the time, Suzan was managing Scilly Cay and Food & Beverage at Vue Point Hotel while Pascal worked in the island's first pastry shop. He simultaneously trained Anguillian bakers and pastry makers, and won the First international pastry award for Anguilla in 1997!
The couple later criss-crossed the globe from Tobago, to Portugal, to Switzerland, to the Cotswold in England. It was there in the English countryside where Pascal learned the art of artisan bread making.
Shortly after, St. Barths called their name. And then? Anguilla. You may remember Suzan from Bonjour Cafe and West Indies Cafe. Today, you can find her and Pascal's award-winning creations at Village Bakehouse.
Award-Winning Pastries, Artisan Breads & French-Trinidadian Specials
Just as warm as the ambiance are the personalities on the opposite sides of Village Bakehouse's pastry cases, the temporary homes for many crisp French pastries.
What lies inside the glass cases?
Colorfully assorted macarons...

Simultaneously soft and flaky croissants...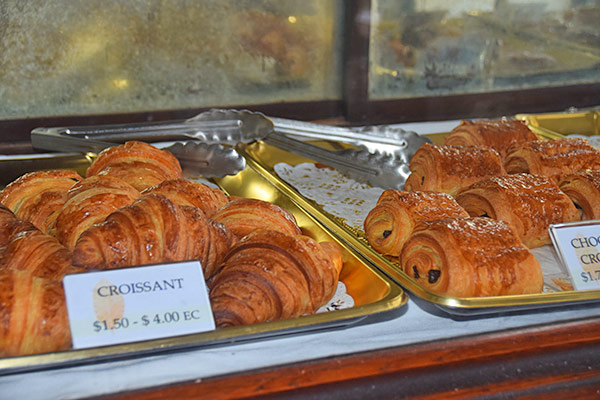 Deliciously melted, REAL dark chocolate-filled brownies...

Tender, mouth-watering ciabatta rolls &
attractively slim viennoises, baring a lightly brown tint...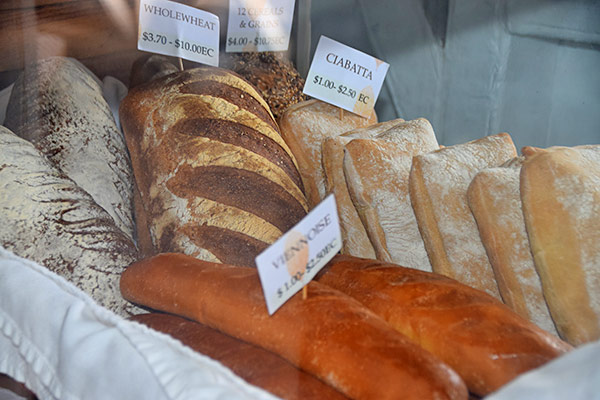 These are just a few breads and pastries on display that are all so eager to be chosen and owned. Coffee and hot chocolate makes a loyal and promising companion to said pastries!
Coffee & Hot Chocolate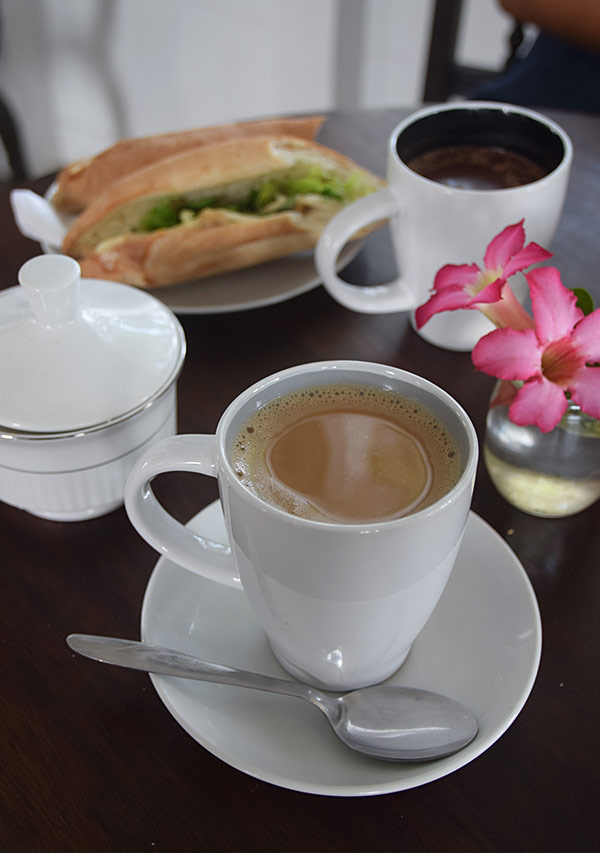 In addition to pastries and breads, Suzan also has a breakfast and lunch menu. Sandwiches of cheese, ham, tuna, fish, egg and chicken are served on your choice of artisan bread. For lunch, Suzan prepares a number of Trinidadian-French specialities including accras, a variety of rotis and dishes of chicken, steak and shrimp.
Visiting for breakfast, Louise opted for a chicken and cheese sandwich and I went with egg...
Chicken and Cheese Sandwich (Foreground)
Egg Sandwich (Background)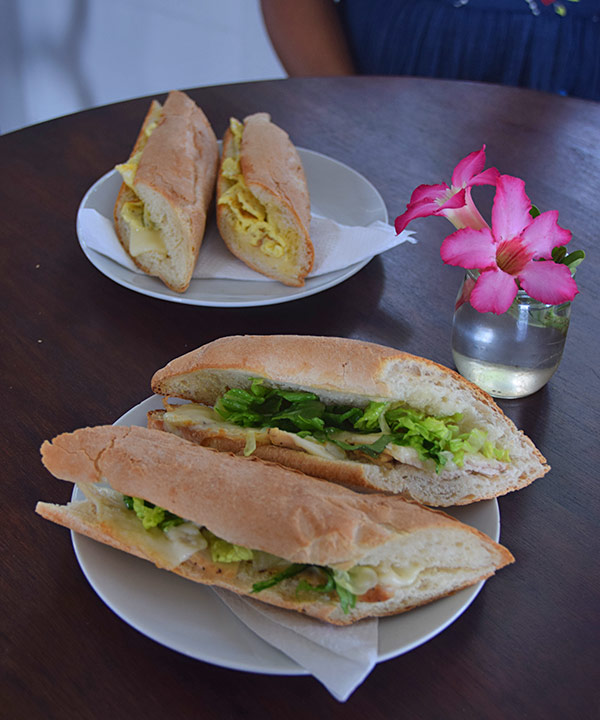 Almost like an omelet, the fluffy egg was embraced by the crisp baguette. Louise's sandwich was all dressed up with fresh lettuce and sliced tomato.
From the unique ambiance and decor, to the attentive service, to the food prepared with love and passion, Village Bakehouse is sure to become a popular breakfast and lunch spot in the heart of Anguilla.
Map, Hours & Contact
Directions: Drive from The Valley towards Crocus Bay. Village Bakehouse will be on your left as the road veers right. If you hit the Red Cross, you have gone too far.
Hours: Tuesday-Saturday 6:30am-3pm, Sunday 7am-12pm, closed Monday.
Tel: 264-498-5050