Village Bakehouse...
A Slice of Sweet, French Island Life in Anguilla
By: Cassie Lewis
You may remember the name Suzan Baronnier from Bonjour Cafe, West Indies Cafe and more recently from Village Bakehouse at the historic Koal Keel.
Outside The Original Village Bakehouse at Koal Keel (2016)

We all took notice when Suzan and Pascal breathed new life into the historic Koal Keel building.
Koal Keel's ancient stone rock exterior and the inviting aroma of freshly baked goodies lured us all inside the most special Anguilla bakery. Owner and award-winning pastry chef, Pascal Baronnier's pastries fiddled with our taste buds mercilessly, as we journeyed up the dark wooden staircase that gave way to the main entrance of Village Bakehouse, in search of those buttery croissants.
Soft & Flaky Croissants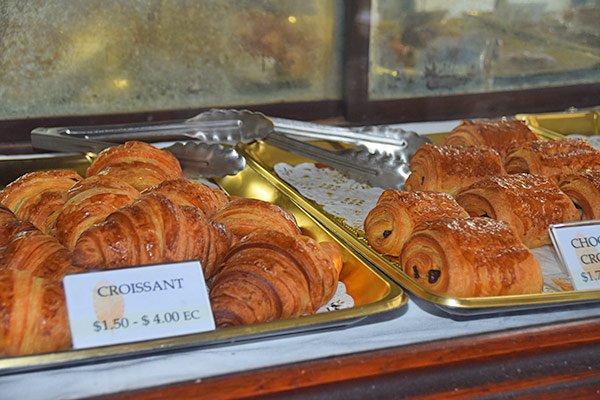 Yes, since re-kindling the flame that was once Koal Keel, Suzan and Pascal have become two popular names in Anguilla!
The Original Village Bakehouse
Originally from Sangre Grande, Trinidad, Suzan met her husband, Pascal (from Lyon, France), 22 years ago in Anguilla. At the time, Suzan was managing Scilly Cay and Food & Beverage at Vue Point Hotel while Pascal worked in the island's first pastry shop. He simultaneously trained Anguillian bakers and pastry makers, and won the First international pastry award for Anguilla in 1997!
The couple later criss-crossed the globe from Tobago, to Portugal, to Switzerland, to the Cotswold in England. It was there in the English countryside where Pascal learned the art of artisan bread making. Shortly after, St. Barths called their name. And then? Anguilla.
In 2016 they opened Village Bakehouse at the historic Koal Keel.
Village Bakhouse is no longer at Koal Keel (more on where Village Bakehouse is today below), but it is worth nothing because this building is a historical masterpiece! Set down the road from Crocus Bay, it is located in the Historic Valley. True its neighboring buildings, it, too, has a rich history.
The Koal Keel building is now home to The Butchery, a shop selling high quality meats and goods.
Where can you find Suzan and Pascal and Village Bakehouse today?
Village Bakehouse in West End
Keep your eyes peeled for this sign on the road to West End...
Pascal and Suzan have moved next to Grand Vins de France, in Geraud's former location. Conveniently located in West End, Pascal's pastries are now only an 8 minute drive from Meads Bay and a 5 minute drive from Rendezvous Bay.
Outside Village Bakehouse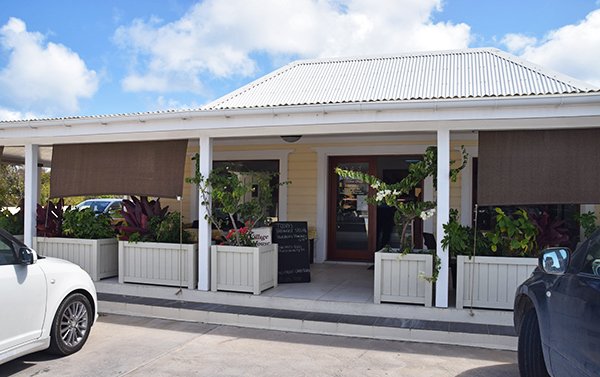 In a French-Caribbean chic building, it is a picture-perfect home for Suzan and Pascal, and their seemingly endless selection of pastries, breads and savory lunch specials.
Step inside...
Inside Village Bakehouse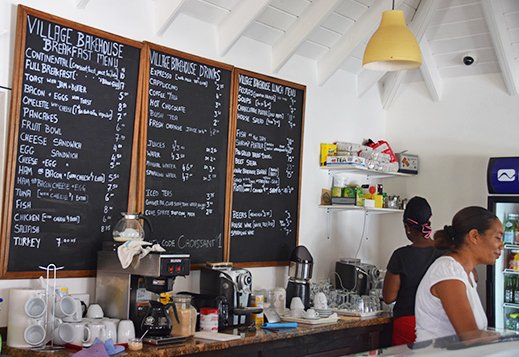 ... and you are greeted by Suzan. A sweet and soft lady, there is something so comforting and warm about Suzan's presence. She always keeps her calm, even demeanor as the room hustles and bustles in the morning with patrons placing their breakfast orders.
Award-Winning Pastries, Artisan Breads & French-Trinidadian Specials
Just as warm as the ambiance are the personalities on the opposite sides of Village Bakehouse's pastry cases, the temporary homes for many crisp French pastries.
What lies inside the glass cases?
Miniature quiches and pastries of all kinds...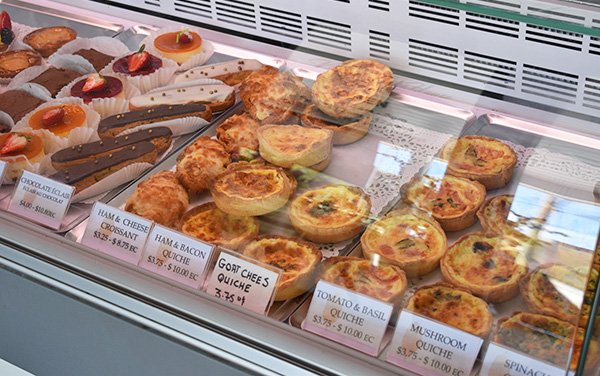 Chocolate twists, croissants, artisan breads...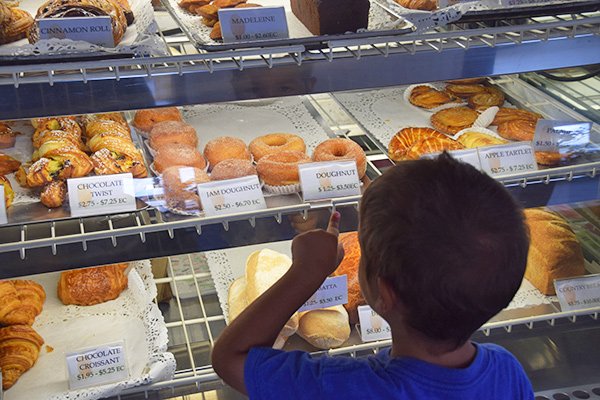 And you cannot forget the jam doughnuts, covered in sugar...
Jam Doughnut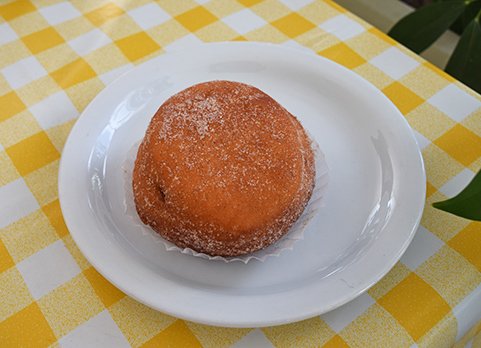 And Pascal's immaculate apple turnovers...
Apple Turnover

Breads available include mouth-watering ciabatta rolls & attractively slim viennoises, baring a lightly brown tint and plenty of crisp baguettes...
Baguettes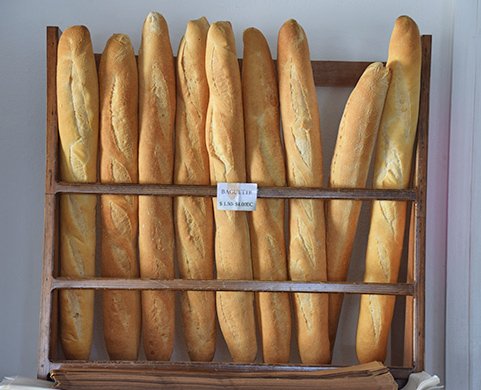 These are just a few breads and pastries on display that are all so eager to be chosen and owned. Coffee and hot chocolate makes a loyal and promising companion to said pastries!
Coffee & Hot Chocolate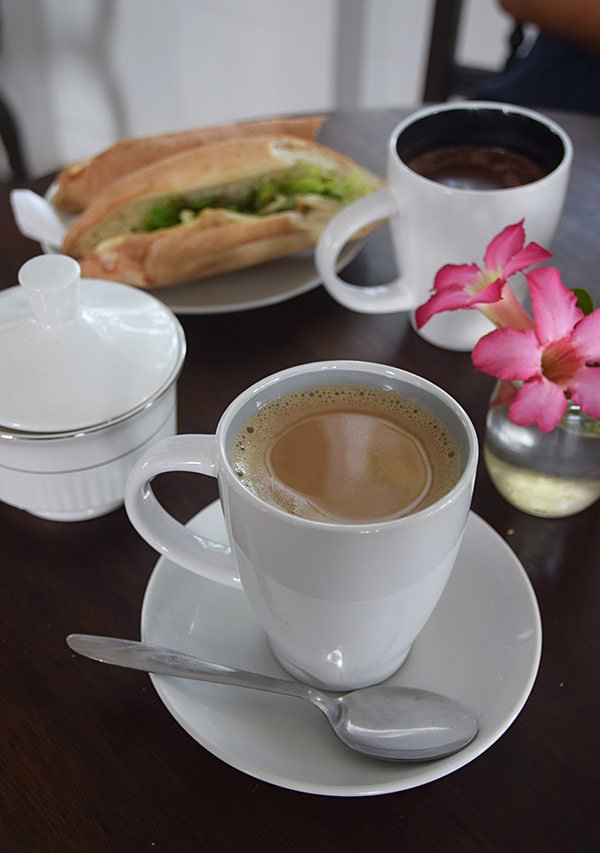 In addition to pastries and breads, Suzan also has a breakfast and lunch menu. Sandwiches of cheese, ham, tuna, fish, egg and chicken are served on your choice of artisan bread. For lunch, Suzan prepares a number of Trinidadian-French specialities including accras, a variety of rotis and dishes of chicken, steak and shrimp.
Two of our favorites for a late breakfast or early lunch? The chicken and cheese sandwich and the egg sandwich...
Chicken and Cheese Sandwich (Foreground)
Egg Sandwich (Background)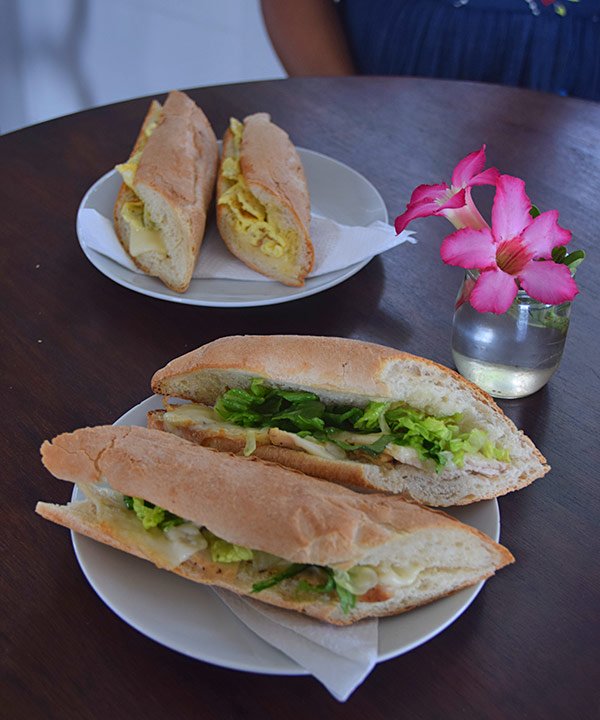 Almost like an omelet, the crisp baguette embraces the fluffy egg. The chicken sandwich comes all dressed up with fresh lettuce and sliced tomato.
Village Bakehouse hits the spot for a very reasonable price, and is more convenient than ever at its current location in the West End of Anguilla.
Map, Hours & Contact
Directions: Drive from The Valley towards West End. Village Bakehouse will be on your right. If you hit Rendezvous Bay, you have gone too far.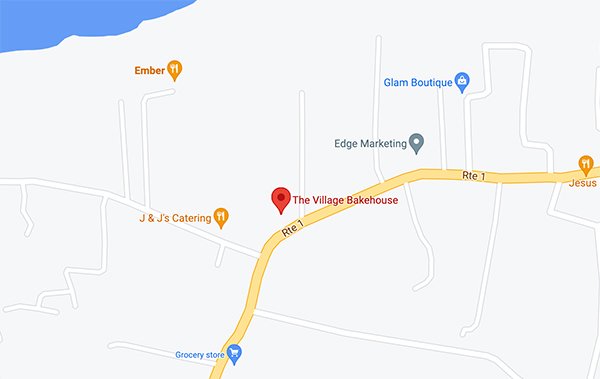 Hours: Wednesday-Saturday 7am-1pm, Sunday 7am-12pm, closed Monday and Tuesday.
Tel: 264-498-5050
Menu: Click here