Bonjour Cafe...
An Anguilla Restaurant in Full Bloom
Update: Bonjour Cafe has moved. Now called West Indies Cafe, read more on it here!
Before it was known as "Bonjour Cafe," this special spot was Roadwell Cafe, one of our family's favorite places for breakfast.
Amidst a fragrant garden (complete with beautiful trees that attract hundreds of graceful butterflies) you could count on Roadwell Cafe to deliver a tasty breakfast of crisp bacon, eggs, rolls, and freshly squeezed orange juice.
Today, Roadwell Cafe is no more. "Bonjour Cafe" takes its place.
My friend, Kristin Bourne, has visited this eatery multiple times for lunch. She has many nice words about the experience at Bonjour Cafe...
Bonjour Cafe At A Glance
A wooden, Caribbean home, Bonjour Cafe has a certain historic charm to it that doesn't go unnoticed. In a lush, fragrant garden, the surroundings are special.
The menu has an obvious Tobagan influence. Everything is tasty and well-priced.
More on Bonjour Cafe, below...
Beauty surrounds you at Bonjour Cafe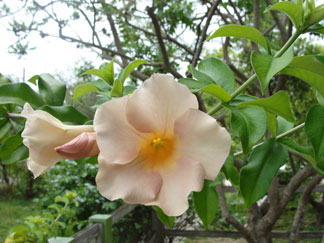 Tucked into a lush hillside near Sandy Ground, Bonjour Cafe is one of the most hypnagogic restaurants I've been to in Anguilla.
Anguilla's foliage is not usually described as "forest-like" but somehow, as you sit on Bonjour Cafe's porch, it feels as though you are at the edge of a magical forest with a bouganvilla border.
The Ambience
The building itself has a certain historic Caribbean feel.
The exterior has been completed with stone, wood and charming traditional gingerbread trim.
Approaching Bonjour Cafe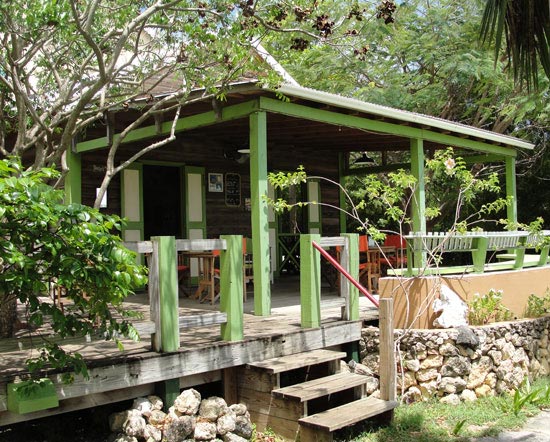 The colors are Caribbean yet blend in to the environment.
There are casual, comfortable sitting areas just inside from the covered porch.
This area also has books and games. Original paintings hang on the walls.
This Anguilla restaurant reminded me of an inviting, and ever-so-slightly enchanting, cottage out of a Brothers Grimm story. Caribbean-style, of course.
A snippet of the view from the deck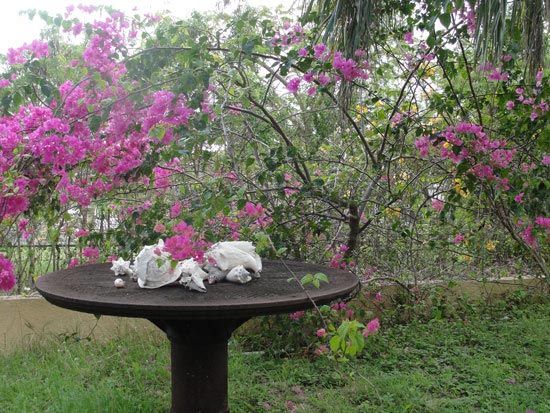 Inside, the building is mostly made up of wood. Floors creak under your footsteps.
It is such a cozy, relaxing place. I can't think of another one in Anguilla quite like it.
Of course, unlike a Brothers Grimm story, you won't find any evil witches here, but a beautiful hostess named Suzan.
Suzan, your gracious hostess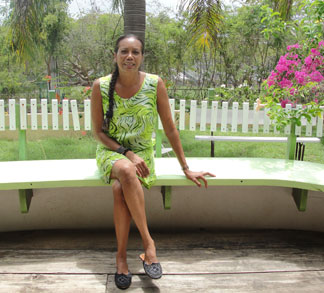 Intrigued, I chatted with Suzan and found that she opened Bonjour Cafe in November of 2009.
She's been working since to maintain the charm you feel here and share some lovely French cafe-style offerings on the menu, with a Caribbean blend.
Suzan also stressed the importance of being reliable, and providing consistent hours of operation too.
Bonjour Cafe is open for breakfast and lunch Monday through Friday from 8:30am to 3pm.
They are open on Saturday s from 9am to noon during the season (November - April).
When I went for lunch the first time I made my mind up on what I wanted before I even saw the menu.
As I walked in my eyes went to a chalk board that said "SPECIALS." I read further, "Pastelles, Fresh Garden Salad OR Vegetable, Chicken, Shrimp Roti, OR Quiche Lorraine".
Who knew that you get get a fresh homemade roti at Bonjour Cafe? I was thrilled.
Vegetable Roti with Garden Salad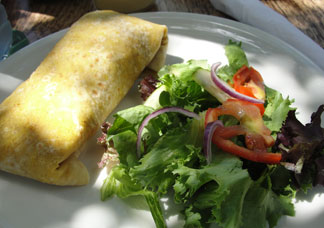 The only places I knew of in Anguilla that consistently have roti on the menu are the Roti Hut and Amy's Bakery in the Quarter.
It turns out that Suzan was born in Tobago and naturally, with an Indian influence, roti makes it to her specials menu.
There is a different lunch special at Bonjour Cafe each day.
Friday is the day for rotis.
Mind made up and excitement aside, I asked to see the regular lunch menu in order to see all they have to offer for future reference.
I wasn't disappointed there either.
Olive and Pepper tapenade on baguette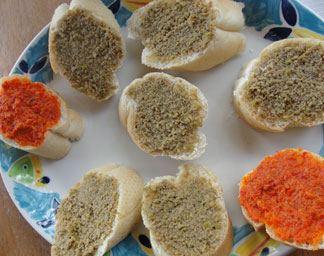 Sandwiches... Grilled Cheese, "Smoked Picnic" Ham, Tuna, Chicken Club, and a Croque Monsieur.
Vegetarian options... Tapenades and a lovely Ratatouille (done the proper Provencal way) served with rice pilaf.
Other... Bonjour Cafe Salad, Accras (Cod Fish Fritters with salsa), Charcuterie Platter, Shrimp Platter, Caribbean Platter (Grilled Chicken, Asian Rice, Plantain Fritters), a Soup du Jour, and Fish of The Day.
There are also a couple of beef options on the menu including a Cheeseburger.
And, if you have a sweet tooth, Bonjour Cafe has you covered. First on the menu under "indulgences" is a Chocolate Molten Cake with ice cream... Wow. There's a cheesecake option and ice cream and sorbets too.
Sitting under the cedars, black pearls, and palm trees, surrounded by nature, while watching tiny lizards play hide and seek, and birds fly high overhead is a splendid way to enjoy delicious food.
I look forward to getting back to this very spot for breakfast and to test out the rumor that Bonjour Cafe has the island's best coffee, too!
Stay tuned for an update on Bonjour Cafe for breakfast.
Directions, Hours & Contact
Directions: Drive to the round about at Sandy Ground. Go down the round about as if you're going to Sandy Ground. Take a right down the first road (not driveway - there are two driveways before this road) you see. Bonjour Cafe will be on your right.
Bonjour Cafe
Good for a quiet, Tobagan-influenced meal, in a lovely, aromatic garden.
Hours: Monday-Friday, 8:30-3pm.
Tel: 264-461-3200