The #1 Anguilla Dining Challenge?
Breakfast... Here's A Great Spot
Update 2010: Roadwell Cafe is now "Bonjour Cafe".
Update 2015: Bonjour Cafe has moved and is now West Indies Cafe. More on West Indies Cafe here.
There's nothing like starting off the morning with a glass of fresh-squeezed orange juice, followed by a plate of crisp bacon and eggs.
Anguilla dining is, of course, legendary. From 5-Star restaurants that rival the best in Manhattan, to local BBQ spots, eating in Anguilla is always a treat.
Except breakfast.
I won't tell you the names of all the places that have disappointed, but it has not been easy. We've searched high and low, but the term "Anguilla dining" seems to exclude "breakfasts" in its definition.
After trying countless Anguilla dining spots that were rumored to serve great breakfasts, we had pretty much resigned ourselves to taking breakfast at home in our villa.
But one day, we got lucky and stumbled upon...
The Roadwell Cafe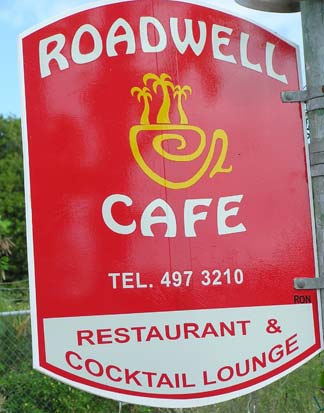 We were out on a morning drive down by Sandy Ground, half looking for a spot for breakfast, when... the faint aroma of fresh coffee filled the air.
"Do you smell what I smell?"
We went with our instincts and let our noses lead the way!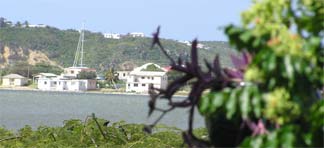 From the moment we were seated, things were off to a good start.
We sat outdoors on the terrace, the gentle morning sun caressing us, along with delightful views of Sandy Ground in the distance.
As we settled in, I looked around the lovely terrace that we had all to ourselves (it filled up by the time we finished breakfast)...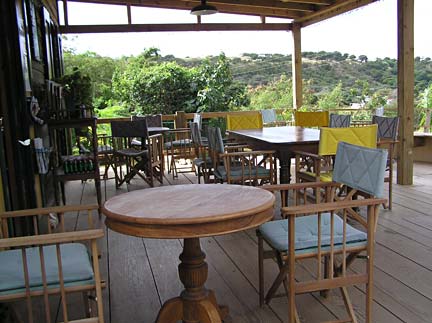 As I scanned to the right, I spotted the most curious tree. And it was, apparently, not just curious to me! I never learned the "scientific" name of the tree, but the waitress told me it was called...
The Black Pearl Tree

The tree captivated my attention, at first because it "mysteriously" grew out of the deck. But then I immediately noticed fluttering around its foliage.
Tons of butterflies!
Here's a short video clip -- it's more impressive in real life, though.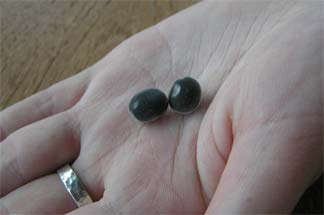 So, why do Anguillians' call it the "black pearl" tree and not the "butterfly tree?"
Our waitress replied that the tree bore seeds that closely resembled black pearls.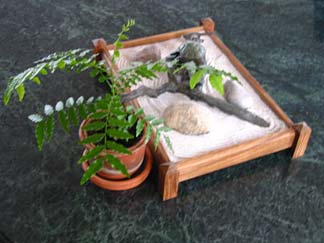 We brought those two black pearls home and planted them, just for fun. And surprise!
They both germinated.
One died (ummm... someone forgot to water it, but I won't say who! But he's the only male in the family!).
The other one lives on as you can see in the photo!
It's about 6 months old here, so it's obviously not the fastest growing plant in the world.
And here's some information on another kind of Anguilla black pearl, so named because of the same trees!
Anyway, back to breakfast...
We ordered the basics. Bacon/sausages, eggs, toast. Would we be disappointed again?
We held our breath in anticipation.
And while we waited, we explored other parts of the restaurant.
My sister and I enjoyed a quick game of checkers.
My Dad discovered that the Roadwell Cafe is the unofficial club house of the pitch 'n putt golf course across the road.
Before we could finish the game of checkers, and just as my Dad was returning from the golf course, breakfast came.
We rushed back to our seats (nothing worse than soggy toast and cold eggs). And...
The Anguilla Dining Breakfast Challenge was on!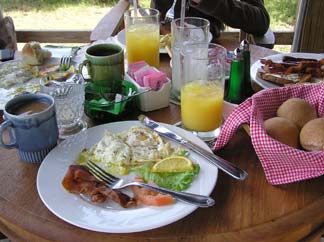 The verdict?...
Delicious!
Anguilla dining, in the morning, at its best!
Crispy, tasty bacon. Eggs to perfection. All rounded out by toast, rolls, O.J., and coffee.
All in all, one of the best breakfasts on the island that we've had.
My parents enjoyed it, too. They said it was a bit pricey, though, for breakfast fare. But, by Anguilla standards, not too expensive.
So... if you're looking to eat out in the morning, The Roadwell Cafe wins our vote for Best Anguilla Breakfast. But, breakfast is probably the best meal to eat in the comfort of your own villa.
Update 2010: Bonjour Cafe
Roadwell Cafe is now Bonjour Cafe, serving similar fare including scrambled eggs, croissants, grilled cheese, ratatouille and more cafe-favorites.
They serve until mid-afternoon, lasting until the evening on Fridays.
Click here for a full review on Bonjour Cafe Anguilla restaurant for lunch.
Bonjour Cafe

Bonjour Cafe