Celebrating in Anguilla?
Call the Cake Divas!
By: Kristin Bourne
Anguilla is loaded with immaculate beaches, a variety of fine dining and delicious street fare, profound culture and history, ear-pleasing music and nice and talented people…
Meet the Cake Divas: Joyah and Nicole.
Nicole & Joyah at their seaside
Anguilla-themed cupcake shoot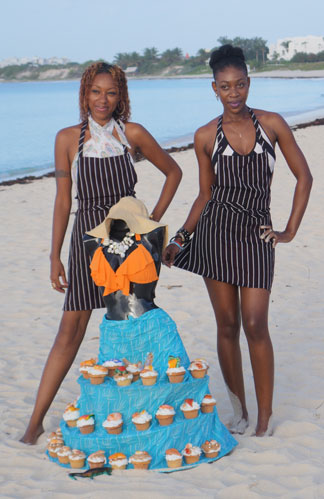 These two ladies' creative baking can make your Anguilla event in to something memorable that tastes delightful too.
Many who travel to Anguilla are often celebrating a special or important life event: Birthdays, weddings, anniversaries, graduations, honeymoons, reunions, retirement.
One of the goals of the Cake Divas is to make their clients happy enough to smile once they see and taste their work.
If you're celebrating or solely want to surprise someone with a special sweet treat, the Cake Divas are perfectionists who are passionate about what they do in helping you.
Long time friends, Joyah and Nicole have lived in both Anguilla and New York.
Party planner extraordinaire, Nicole, started Cake Divas out of her home and for several years was nudging her pastry chef friend, Joyah, to join forces with her.
Together they make a dynamite team.
Joyah's name has made its mark as a coveted pastry chef known for her "make it from scratch approach" and as Anguilla's first performing female bassist.
Her signature and delicately divine "Island Joyah bread" remained on the Viceroy's Bamboo Grill menu long after her departure as one of their pastry chefs.
She is also known as the sassy, soulful bass player for Anguilla's successful touring band and recording artists, British Dependency.
Nicole's passion lies in growing the business and creating Anguilla events that serve as a dream come true for their clients.
With her attention to detail and her skills with decor along with Joyah's love for baking and their shared love of creating - they have been causing a buzz in Anguilla with their work.
Cake Divas Treats
Spidey!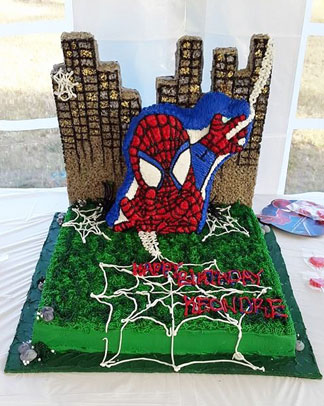 What can't they make?
I'm not sure!
This Cake Divas team loves a challenge... Any theme thrown their way seems to be something they can accomplish.
They can compliment their themed cakes with a variety of other sweets: macaroons, cupcakes, chocolates, cookies and more.
While they've served Anguilla villas for a while now they are more recently getting requests for wedding cakes too.
They can assist with such basic needs or they're happy to hear out your idea and come up with something that's truly one of a kind. So go ahead and challenge them!
Stunning cake details...

and complimenting cupcakes!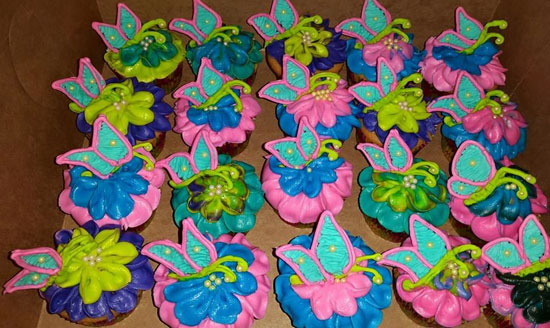 Here's a look at more of their work: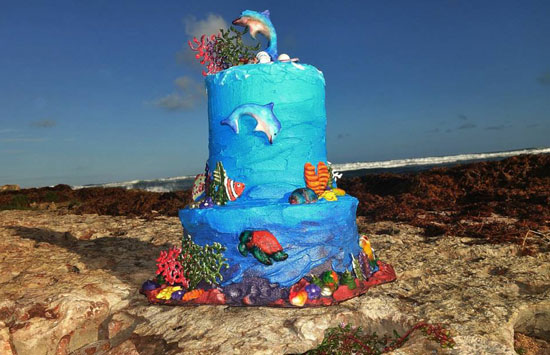 Macaroons!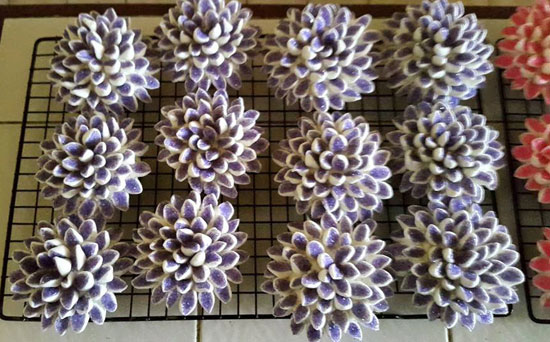 Cake Divas are pros who are quick at turnaround times but they prefer at least 2 days lead time on orders.
Cake sizes start at 10 inches for $50 US.
If you're interested in contacting them to see what they can do for you, call 264-772-4396 or email: cakediva411@yahoo.com.
I'd like to thank Cake Divas for the use of their images - all except the first two pictures on this page are from their portfolio.