An Anguilla Resort with an Ideal Lunch Spot...
Viceroy's Bamboo Bar & Grill
Update 2016: Four Seasons Anguilla now manages Bamboo Bar & Grill. Four Seasons has doubled the size of the restaurant and the menu has changed. More on Bamboo Bar & Grill at Four Seasons Anguilla here.
Viceroy's Bamboo Bar & Grill At A Glance
An ideal lunch spot with healthy and nutritious options (we recommend the Island Joyah Bread salad!), Viceroy Bamboo Bar & Grill is an upscale, yet laid-back spot.
Set on one of Anguilla's best beaches, the view of Meads Bay is hard to beat.
More on Viceroy's Bamboo Bar & Grill, below...
Where in Anguilla can you get an upscale version of the famous "In & Out" Burger, masterfully baked bread topped with jerk prawns and fresh greens, delicious and healthy smoothies, and a variety of other just as tempting options to choose from all while gazing at the turquoise sea?
This can all be found at one of the five-star Anguilla resorts, The Viceroy's Bamboo Bar & Grill.
Your view of Meads Bay from Bamboo Bar & Grill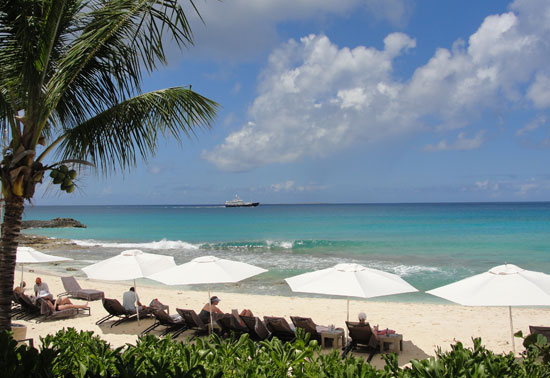 I (Kristin) have eaten at the Bamboo Bar & Grill four times now and each time the food has been impeccable.
From their variety of salad and starters to sandwiches/pizzas and entrees, and tempting desserts… the menu is well-rounded and island flavors dot the ingredients.
While I can't claim to have tasted everything on the menu, all that I have had has been delicious. That includes: conch fritters, blackened mahi-mahi, the "In & Out" burger, sweet potato fries, a banana boat smoothie and the Island Joyah bread topped with jerk prawns and another time topped with grilled snapper.
Mahi-Mahi on mashed sweet potatoes

Viceroy's "In & Out" burger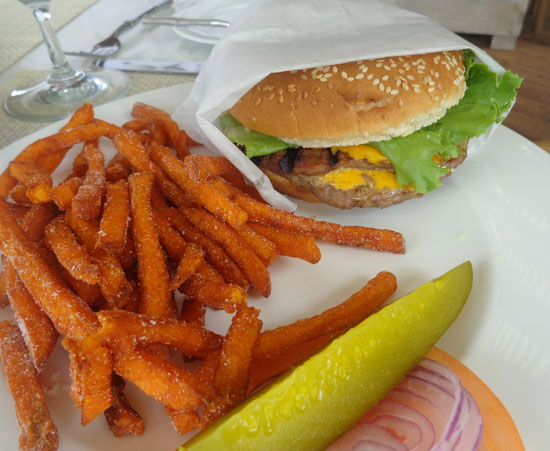 Island Joyah Bread with Grilled Snapper

The Island Joyah Bread, named after the restaurant's chef, is one of my favorite dishes. The bread is a soft type of flat-bread, topped with fresh greens and tomatoes, served with a creamy sauce. You can add more toppings (chicken, snapper, prawns), too. Zesty and tasty, it's a one of a kind "salad."
Next on the list to try... the white chocolate bread pudding!
Prices at Bamboo Bar & Grill start around $12 US and go up to $32 US (for the crayfish entree).
The Setting
Late lunch at Bamboo Bar & Grill

The palm tree-lined Bamboo Bar & Grill is best enjoyed for breakfast and lunch as magnificent Meads Bay and one of Viceroy's alluring pools is your view.
It is a high-end and peaceful setting, one for allowing yourself to relax and indulge, as all rejuvenating vacations should be.
If you're staying at the Viceroy, Bamboo Bar & Grill is a nice spot to start a beach day.
Meads Bay is wide and large, perfect for long walks. It also has plenty of wave action. This is where Viceroy's water sports center is set up, and where they have most of their beach chairs (there is a smaller number of beach chairs on the other beach at the hotel, Barnes Bay). So, it's not far to your beach chair after lunch at Bamboo.
If you visit Anguilla and are not staying at the Viceroy, Bamboo Bar & Grill is a good choice for a more upscale lunch.
Simply park in the visitors parking lot and walk to the right along the road until you reach the sidewalk where you will find signs that point the way to Bamboo Bar & Grill. The hotel room buildings will be on your left after you walk right from the parking lot.
Directions, Hours & Contact
Directions: Located at Viceroy Resort & Spa on Barnes Bay. This spot is a 20 minute drive from Shoal Bay.
Viceroy's Bamboo Bar & Grill
Good for a healthy, nutritious bite to eat on Meads Bay.
Hours: Lunch daily.
Tel: 264-497-7000