Sugar & Spice Bakery and Bistro
Update 2017: Sugar & Spice is no more. Today, it is Anthea's Bakery and Pastry Delight. Open Monday to Friday 6:00am to 4:00pm, Saturday and Sunday 6:00am to 12:00. Tel.: 264-581-2608
By: Kristin Bourne
Anguilla is filled with goodness, not excluding a fair amount of economical and delicious bakeries.
With my favorites being Mary's Bakery and Hall's Bakery, I was curious to investigate a new bakery... Sugar & Spice Bakery and Bistro.
Easily spotted from the main road in George Hill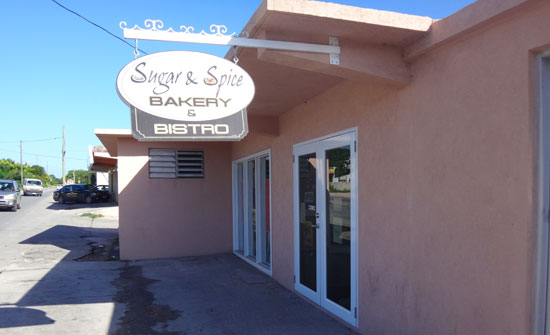 Welcome to Sugar & Spice Bakery and Bistro where there's FREE WIFI!

Sugar and Spice opened in the former George Hill bakery location on the main road in George Hill. It's on the right if you are going East toward The Valley from the West End.
Parking is located behind the bakery.
What can be found inside is plenty of space to eat-in. The dining area is complete with little cafe tables and free wifi.
The owners are also working to finish the back porch area, just above the parking area, which will allow for even more seating options while eating in.
Why visit Sugar & Spice?
Smoothies
First of all, the location is very central and convenient. I happen to like its location because it overlooks the airport's runway. The back porch is a nice spot to watch jets and airplanes come and go.
Lots of options for seating...

Convenience aside, what I found exciting is that Sugar & Spice has an extensive green juice and smoothie menu!
A corner of Sugar & Spice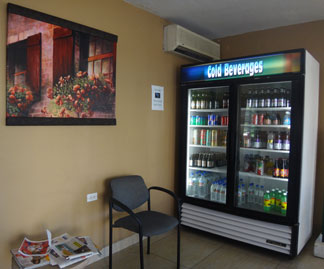 According to Sugar & Spice, the three that seem to be the most popular are Lemon Ginger Zinger (Carrot, Ginger, Lemon), Morning Glory (Orange, Apple, Pineapple, Ginger) and Lemon Sense (Lemon, Ginger, Carrot, Apple).
I'm very curious and soon plan to try the Banana-Rama Smoothie (Banana, Milk, Cream of Coconut, Spices) and the Fast & Furious Smoothie (Banana, Guinness, Milk, Spices), until then I love the Spicy Carrot Reboot (Apple, Carrot, Beet, Ginger).
Prices for the Green Juice and Smoothies range from $4 US to $6 US.
"Spicing" Up Breakfast in Anguilla
Sugar & Spice does spice up the breakfast scene in Anguilla…
On weekends you can indulge in a Caribbean-style breakfast of items like Saltfish, johnny cakes, cheese biscuits, garlic bread, fried ripe plantain, scrambled eggs, Veggie quiche and salad. The quiche and side items vary from week to week.
During the work week, every morning you'll find pancakes, bacon/salami, scrambled eggs, garlic bread, cheese biscuits, hash browns ready for you.
They always have their island Bush Tea, coffee, cold beverages, freshly made green juices & smoothies, pastries, hot bread and sandwiches.
Fresh-baked bread from Sugar & Spice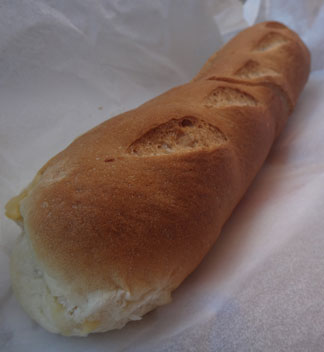 On special days you might like to order their popular fish cakes and even a Shark Sandwich... Made from smaller, local reef sharks, they cook them with their unique blend of seasoning. Sugar & Spice recommends it with their Honey Mustard Sauce.
Rounding out the bistro menu is a soup of the day. They vary from chicken soup, vegetable soup, souse and many more homemade concoctions.
Don't forget, Sugar & Spice IS a bakery too, not just a bistro so of course, fresh hot bread, pastries, cakes, palmiers, turnovers, danishes, cookies and other sweets are made fresh and served daily.
Try a fresh-baked baguette bread sandwich for lunch with your favorite fillings... you can watch them make your sandwich and pick what you like.
Their prices are fair, with small items starting around $2 US and up.
Yes, the name Sugar & Spice fits the offerings and their hours of business could be considered "everything nice", as they are open every day of the week!
Directions, Hours & Contact
Directions: If you are coming from the West, Sugar and Spice is located just past the set of lights that head down the Jeremiah Gumbs highway. It will be on your right.
Hours: 6am to 9pm daily.
Tel.: (264) 497-0099