Anguilla's Wide Range
of Caribbean Food
Update 2017: Fruity Web has moved and expanded. More on the NEW Fruity Web here.
Anguilla serves up a wide variety of special and different memories and stories. From guest houses to 5-star Cap Juluca, from wonderful hikes to luxurious boat tours, you can make of Anguilla what you want.
And that is most true when it comes to the range of Caribbean food. Anguillians cook up the entire spectrum of culinary experiences...
From five-star Caribbean food to B&D's front-lawn BBQ, Anguilla restaurants certainly do deliver some of the most wide-ranging, delectable Caribbean food...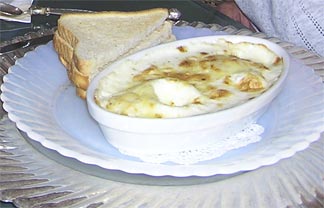 Head-chefs in Anguilla really know how to scramble an egg, fry a fish and top it all with succulent greens.
But, how do they make everything taste so good? Perhaps years and years of cooking school in old Paris. No joke! Top resorts bring in executive chefs from France.
Of course, they don't work in the Roti Hut, another great spot for typical, affordable, Caribbean food. However, we have met a sous-chef from Cap Juluca eating there!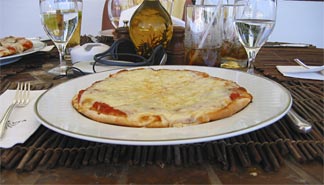 The 5 star chefs insist, of course, upon starting with only the finest ingredients...
Luxury Anguilla resorts like CuisinArt have their very own hydroponic gardens.
Other ingredients are grown organically on the island or flown in. High-end!
Which leads me to a big surprise. For years, we've driven past what looks like a "hole-in-the-wall" fruit stand...
Fruity Web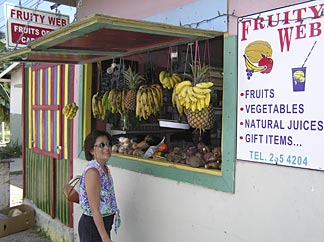 Well, it turns out that Fruity Web is a "go-to" place for many of these chefs when they need some exotic Caribbean foodstuff, be it fruit or veggie (or whatever!).
So if you're feeling a touch adventurous and want to try some exotic Caribbean fruit or simply want to bring a bunch of mini-bananas (bite-sized!) back to the villa, Fruity Web is the place.
Don't pass up this neat little Caribbean food spot. You'll find it in the Valley, on the road to J.W. Proctor's grocery store.
Fruity Web's Caribbean food may not magically transform your meals into five-star, haute-cuisine. But you will have a healthy TV snack for later. And if you've eaten at any of Anguilla's fine restaurants, you have probably already sampled its wares!