Fruity Web... Eat Fresh, Live Healthy!
A Must-Visit For Vegetarians
If you have driven through The Quarter, heading from The Valley towards Proctors, you likely know this hole-in-the-wall...
Fruity Web's Fresh Produce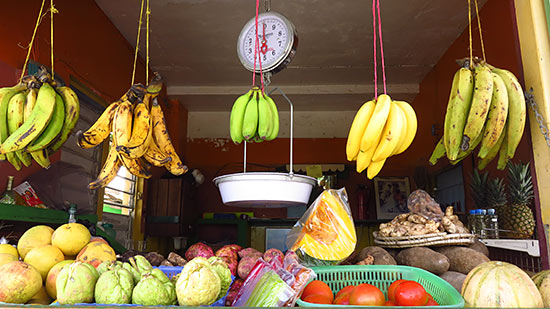 Locally loved, loyal patrons line up, overflowing into the streets, in early mornings to get that fresh smoothie fix from Fruity Web!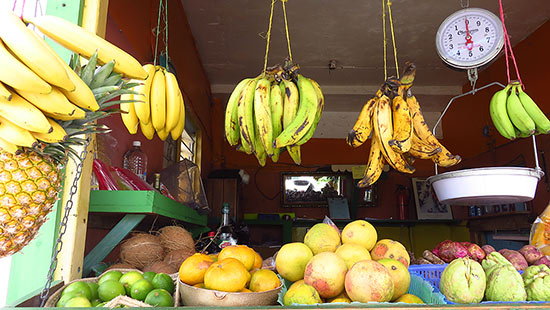 Fruity Web is known to have some of the freshest produce on the island, and a wide variety, too. Banana, plantain, starfruit, tomatoes, melons, coconut, sweet potato, limes, pineapples... whichever vegetable or fruit you seek, Fruity Web is your best bet for the freshest and widest selection.
They receive produce shipments from neighboring islands regularly, making it one of the most popular "fruit stands" on the island. And, the only one who also makes fresh fruit smoothies!
Meet Mr. Fruity Web
The man behind the operation? Wilbert, A.K.A. Mr. Fruity Web (left in the photo below)...
Originally from St. Lucia, Mr. Fruity Web is all about fresh eating. Perhaps it is because of his homeland, where fresh fruit are in abundance and many eat vegetarian. Mr. Fruity Web is now bringing even more of his healthy habits to Anguilla with his latest addition.
Fruity Web, Expanded
From hole-in-the-wall to a picture-perfect eatery, complete with outdoor seating, Fruity Web has expanded just across the street from their previous location.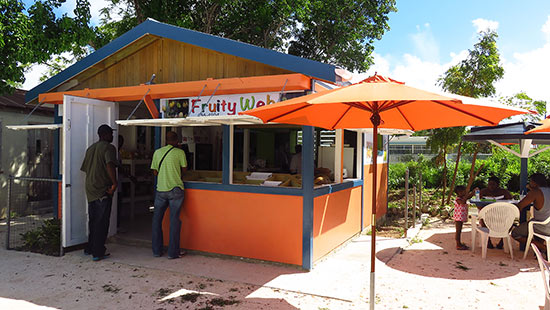 Inside a colorful wooden building, Mr. Fruity Web stocks a number of items available for purchase...
Vanilla essence.
Almond essence.
Guava jam.
Cashews and almonds.
Even a special Caribbean treat, tamarind balls.
He doesn't just sell these items, though.
He cooks with them, too!
If you are a vegetarian, or simply health conscious, you will love Mr. Fruity Web's menu.
What's on it?
Food Menu
Vegetable burger, tofu burger, vegetable pasta, vegetable burger salad, vegetable soup and vegetable pasta.
A simple menu done well!
All is prepared in a health conscious fashion, too.
Golden Apple Juice, Squeezed Fresh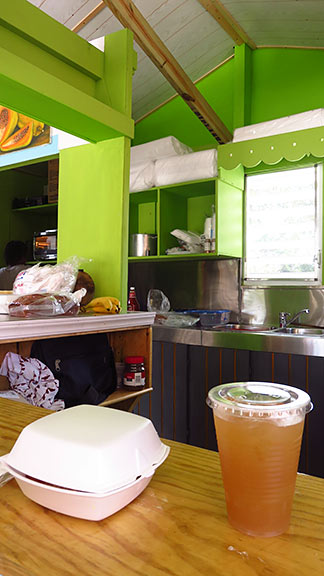 No additives, no fats.
"The fattiest oil we use is avocado," Mr. Fruity Web explained when my Mom and I dropped in one afternoon.
Drink Menu
His menu doesn't end with food!
Fruity Web's drink menu has been popular for years.
Made with the freshest produce he has available, Mr. Fruity Web offers a variety of fruit juice.
And, no sugar added.
Just ask for what he has.
You can also get any fresh fruit available made into a real fruit smoothie!
When we dropped in, my Mom and I lucked out with a sweet golden apple juice, made fresh that day.
Sweet, without any extra sugar, it was refreshing on a warm day in Anguilla.
What was for lunch? The veggie burger and the tofu burger!
Veggie Burger & Tofu Burger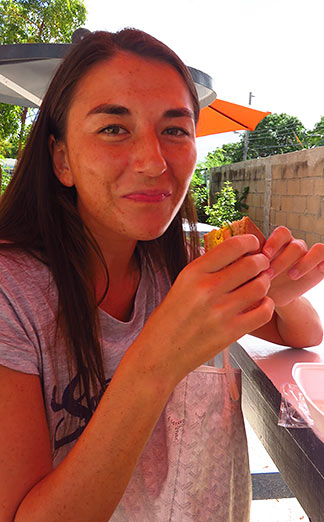 Now, I have a confession to make. I don't eat veggie or tofu burgers. At least, before I stopped into Fruity Web I believed I didn't.
My Mom and I, curious about Mr. Fruity Web's operation, ordered one of each anyway to share.
On a fresh-baked whole wheat bun, a well-seasoned tofu burger is placed in between layers of fresh, crisp lettuce and ripe tomato and a peppery sauce.
The veggie burger is lighter. It's made with a vegetable mix seasoned with turmeric.
Healthy from start to finish, you just feel good about yourself after polishing off these tasty sandwiches.
For a little bit of indulgence, we added a couple of pieces of plantain and eggless banana bread on the side
Classic Caribbean treats done well!
For around 10 EC dollars, the price is more than fair.
For the freshest fruits, vegetables, and vegetarian food prepared by a man who lives and breathes what he preaches, there's no better choice than Fruity Web!
Directions, Hours & Contact
Directions: Located before Proctor's if you are coming from the West End or The Valley.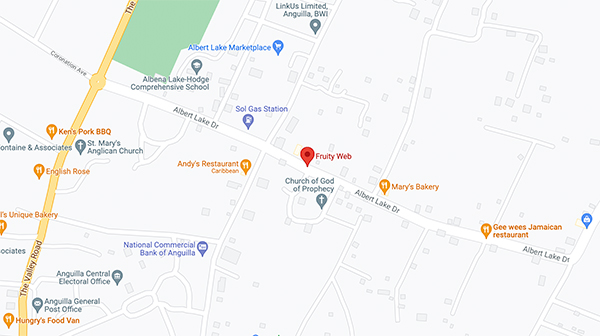 Hours: Monday - Friday. 9am-5pm.
Tel.: 264-235-4204