Anguilla Island Bakeries
Update 2017: Since this page was written, a few of the bakeries listed below have closed and one has changed hands. 1) Gee Wee's Bakery and Amy's Bakery no longer serve baked goods in-shop. 2) The Koal Keel bakery is now known as Village Bakehouse. For the most up to date information on bakeries, click here.
The Anguilla island is a British colony, not a french one. So you know one thing for sure, before you even get off the plane...
Great bakeries do not jump out at you, showing themselves on every block.
Yes, just a few miles south in the french colony of St. Martin, you can close your eyes and walk into one by accident. But sometimes you just want a great croissant or pound cake and not have to take a ferry to get it! Luckily, among our many adventures, we stumbled across two scrumptious ones!
Gee Wee's

Gee Wee's is on the main road, westward towards our Barnes Bay villa. It's in a rather simple strip mall. We had passed it many times on our outings, but by the time we thought of stopping and visiting, it was back in the dust.
However, we did "discover it" for real one day, because we were visiting the National Heritage Museum, which is in the same complex. We were sorry we had missed it before!
We ordered bread, and pound cake, and my dad brought brownies home (of course!). Mmm, they were the best baked goods we had tasted since our trip to St. Martin! Our taste buds were pleased! And we were pleased to have a place nearby where we knew we could get great fresh bread, cake, cookies, pizza, and other goodies whenever we liked.
Koal Keel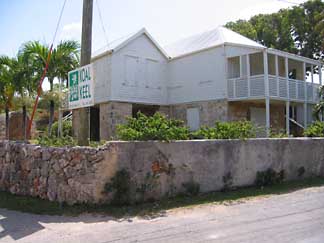 We were coming back from a long day of exploring the fascinating Anguilla island, and passed by this charming bakery, housed in a historic building. It looked warm and inviting, but it was closed. Anyway, we were too tired, and baked goods are usually freshest in the morning.
So the next morning, my Dad and I woke up early and headed off to Koal Keel, which is easy to find very near the Valley. We picked up two baguettes, some croissants and some chocolate ones too -- they looked rich and flakey, just begging me to sample them before we got home. On the ride back, I could only think about the croissants.
Mom and Yuki were up and waiting for our breakfast treat. The Koal Keel didn't let us down. One word: Yum!
We visited Koal Keel again - Click here to read the update!
We've spotted signs for other bakeries, so I'm sure there are many more on this Anguilla island, and we'll be stopping in to try them next trip. If you find one, do let me know! I'm beginning to think that bakeries are one of Anguilla's biggest secrets!
Addendum: I was right! Within a day of writing this page, Darryl and Irene Brown, from Colorado Springs, Colorado, 11-year visitors to Anguilla and subscribers to Anguilla Beach Lovers, wrote to tell me about these bakeries that sound so good I can almost smell them...
Halls Bakery in The Valley has great coconut turnovers. They are usually available mid to late morning. If you happen to get there when they are "fresh from the oven," there is no way you cannot keep from eating them right then.
Au Bon Pain Bakery, on the road to Island Harbor, makes a wonderful coconut danish. And their sandwiches are a meal in themselves. One is more than enough for two people.
Amy's Bakery in Blowing Point is another good stop if you are in that area.
Thanks very much, Mr. and Mrs Brown, for these great tips! I can't wait to try them next time we're back!
And to anyone else out there with a favorite "MUST TRY" bakery... please share your secret by clicking here!