Ripe Anguilla Food:
The Best Anguilla Tomatoes
Frankie's has closed.
Finding fresh Anguilla food is rarely a troublesome task.
From five-star gourmet Anguilla restaurants, to salty seaside shacks, and everything in between, Anguilla food is anything but your average, run of the mill, overly starchy and salty holiday meals.
Despite being so blessed with restaurants that rival even the best of New York City and other "world capitals" graced with the likes of Chef Ramsay, cooking at home can be a different story.
Our nagging frustration on such an arid island? Fresh vegetables! Mainly, tomatoes.
The restaurants are always well supplied with fresh vegetables (bought in bulk), but what about the rest of us cooking for ourselves? We don't need 20 lbs of tomatoes! Where could we buy just 2 lbs?
In most Anguilla grocery stores they are imported, so the freshness just isn't there. And, although my Grandad had a green thumb, specifically for vegetable gardening (and was known for his prize winning tomatoes!), that wasn't a passion that had been passed along, so growing our own was out of the question.
It was time to scour the island.
Funny enough, our search was over before it really began.
One morning, on our drive home after running errands in The Valley, our hungry hawk-eyes spotted...
Frankie's Fabulous Anguilla Tomatoes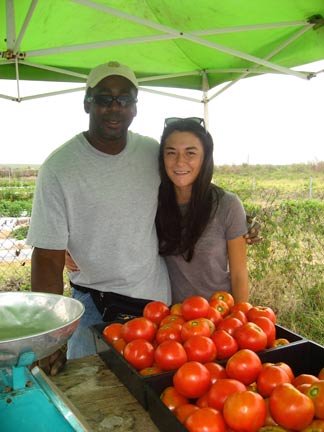 Frankie is passionate about organic vegetables!
His farm is located just outside of The Valley on the road towards Proctors Supermarket and the medical school, heading east.
The farm is plentiful, shining a deep green, rich with a variety of fruits and vegetables:
Pumpkin, eggplant, cucumber, celery, melons...
And of course, his famous tomatoes.
All are grown organically without GMOs or hormones.
No one knows organic methods like Frankie!
Frankie's Fresh and Organic Fruits & Veggies

Frankie invited us on a peaceful stroll through row upon row of his delectable farm, proudly showing off all of his luscious produce.
Rows of Red Tomatoes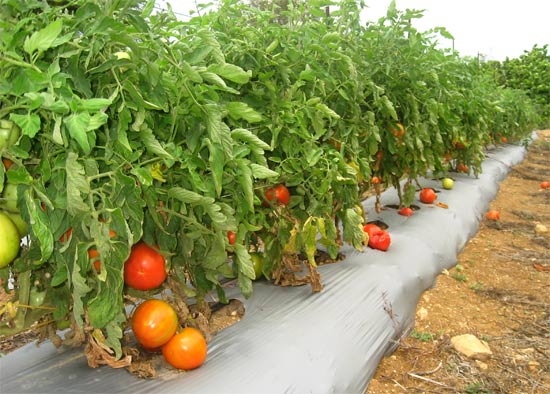 You can find Frankie's Fabulous Tomatoes stand open on Saturdays at 8:00 am.
My tip? Get there early! By noon all of the ripest fruits and vegetables are all eaten up.
Directions
Directions: Going towards Proctors Grocery from the Valley, keep going on that road. Continue past the Medical School. Frankie's tomato stand, if open, is located on your right, just across from Gumbsy's Bar & Grill.