Gumbsy's Bar & Grill...
Ask For The Catch Of The Day!
Gumbsy's Bar & Grill At A Glance
Owned by Mikey Fabian, Gumbsy's Bar & Grill serves up straight-from-the-sea lobsters, crayfish and other delicacies all weekend long. Grilled to perfection and made to order, give Mikey a call to see what he has available fresh!
More on Gumbsy's, below...
It was a cool, early morning. The waves were beautiful and blue, with a few bigger sets rolling in. While I was out trying to surf them, my Dad was onshore playing lifeguard. A fateful day, I wouldn't have guessed we would meet a man who would come to be a good friend... Mikey Fabian.
A fisherman, Mikey was out early, too, catching bait. It wasn't long before he and my Dad got to talking. (You can see Mikey casting his nets in the video below!...)
We were surprised to learn that Mikey owns Gumbsy's Bar & Grill, a BBQ stand just up the street from our house on the Main Road.
It turns out that Anguilla is a small place! ;-)
With the Gang at Mikey's

Gumbsy's is open weekends only. Come Friday evening, once the coals heat up, mouthwatering aromas waft through the main road. Everything from chicken and ribs to fish and seafood is on the menu.
Mikey With Our Gumbsy's Favorite... Lobster!

What's Really Good?
Being a man of the sea, with many friends who also spend night and day on the water fishing, Mikey gets some of the freshest seafood around.
Our pick?...
The Lobster!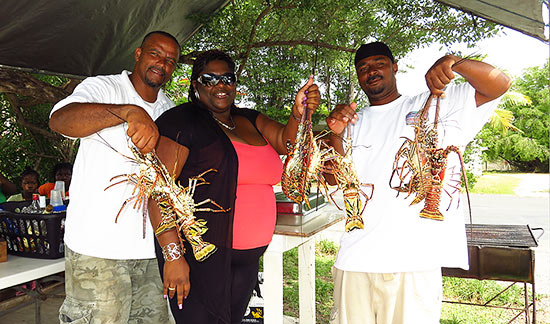 Our first taste of "Gumbsy's lobster" was just a few days after we met Mikey on the beach. We gave him a call that weekend to see what he had available. "What's the catch of the day?"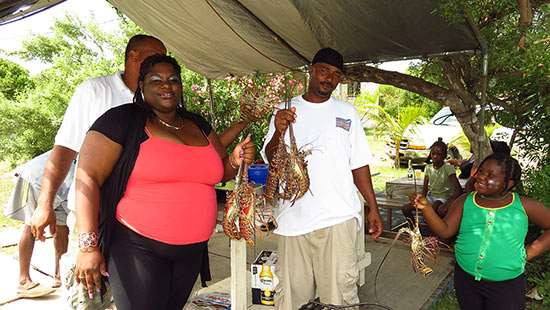 He had a couple of huge lobsters, fish, chicken and ribs. We considered for a moment before unanimously choosing that savory spiny lobster.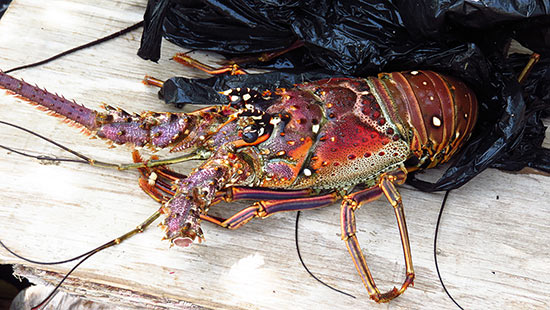 "No problem," Mikey said. Forty minutes later my phone rang, "Dinner's ready!"
All wrapped in foil, its heat was warming my hands. Salivating, we could hardly wait!
I stepped through the door, my Dad peering over my shoulder.
No time for plates.
We tore open the aluminum and dug right in.
Succulent!
Grilled to perfection!
And spiced just right!
Straight from the sea to your plate...
That makes a big difference when it comes to flavor and texture.
There is no better way to dine than to dine fresh :-)
Following that very first bite of lobster, we asked Mikey to give us a call whenever he has lobster or other delicacies from the sea.
And, call us he does...
Special Sea Treats
... sometimes for lobster, other times for something completely different...
Do you know that sea creature?
Alive, squirming and piled high on Mikey's work space, they were a sight to see. "Alien life form?" we thought.
I kept staring at them, my brain working hard to find a match in its database of experience.
Finally, I asked "Is it Sea Lice?"
I have only seen Sea Lice once, and it was in a grainy photo, but it was the closest connection I could make.
Note: You can find Sea Lice served at a few high-end restaurants in Anguilla from time to time.
Mikey smiled and shook his head, "Nope."
It's a Sea Bat!
They are in the same family as Sea Lice, but are a separate species.
I have to admit we were a little wary of eating a "bat."
Even cooked (see photo to the right), it looked a little menacing and fearsome.
That day, to be on the safe side, we ordered the Sea Bat with a little side of our favorite, the lobster...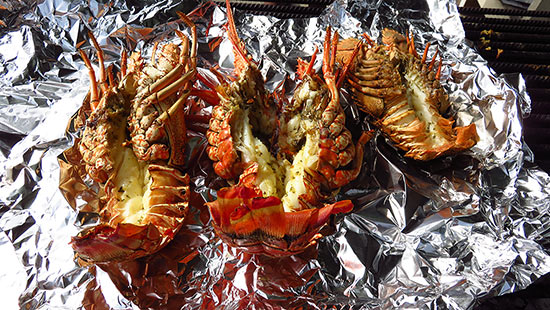 Mikey scooped them all up and went to work.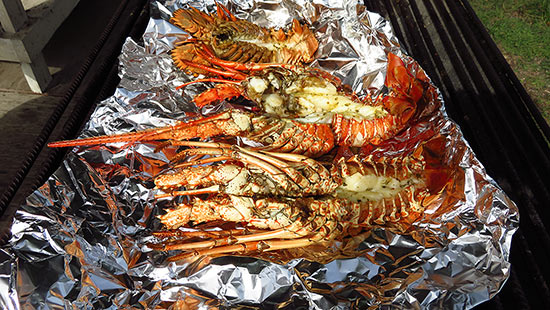 When all was ready, the real question was how does it measure up to our usual Anguillian go-to's of lobster and crayfish?
Size-wise it is smaller than a lobster but bigger than a crayfish.
In terms of taste, it's slightly sweeter than a lobster, but still more savory than a crayfish.
All in all, it was a repeat!
A fresh and tasty dinner, I never thought I would recommend a "bat" of any kind to anyone. ;-)
To get in touch with Mikey on your next visit, you can reach him here: 264-772-5719
He will prepare an entire seafood dinner for you (including sides of scalloped potatoes and Johnny cakes or whatever he has cooked that day). Just give him a ring to see what he has available. And, let me know if you get to try the Sea Bat.
Directions, Hours & Contact
Directions: If you are coming from The Valley, drive as if you are going to Best Buy in the East End. You will pass Proctors, the Medical School and a car wash in a blue building. Shortly after, Gumbsy's Bar & Grill will appear on your left (look for a grill, a large white tent and a crowd!).
Hours: Open weekends only.
Tel: 264-772-5719 / 264-581-1662 and ask for Mikey!