Tropical Building: We Break Ground
Everyone had told me that tropical building would not be the fastest experience of my life. And it helps to understand that...
Things just go a bit more slowly and, remember after all, that relaxed pace (and the warm people and weather!) is why we want to live here. And so...
Twenty-one months after we purchased our oceanfront lot (August, 2005), we are ready to build in Anguilla. Much of that time was of my own doing... "just not enough time" to get to it
Thank goodness I ran into Mike Vallinis, my friend from Montreal who was so keen to take on this tropical building adventure. As I've explained, Caribbean construction takes a ton of research and preparation.
From site inspections to networking, you have to take your time and build a great team so that everything from tropical house plans to caribbean building codes and permits, everyone from caribbean architects and engineers to the very best builder in Anguilla... it all needs to be top-notch and come together until finally...
The surveyor, Baeeson Richardson (everyone calls him "Bee"), is on site.
Here you see him laying out the boundaries for the excavation that will mark the official "start" of building our tropical home.
There will be a ton of excavation because the land sits on about 5-6 feet of sand. And you know the old saying...
"Don't build your foundation on sand."
So Bee is carefully laying down the location and orientation of the soon-to-be-dug foundation hole. The home will face towards St. Barts, with views to the right to St. Martin, and out to the endless horizon of the Caribbean Sea on the left.
As you will soon see, this is going to be one monster excavation (for a single dwelling). First, though, we start small...
The Official Groundbreaking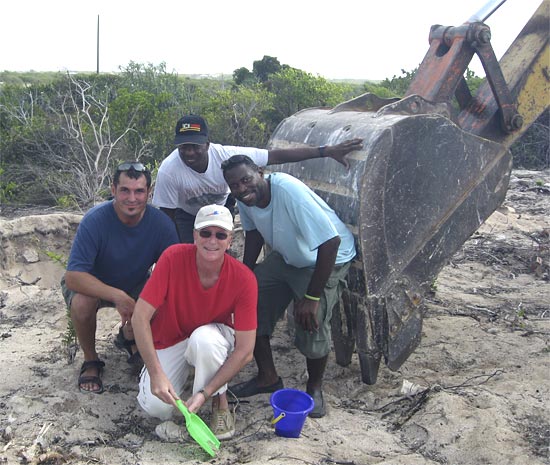 From left to right, you see...
Mike Vallinis -- my tropical-building friend from Montreal
Jimmy Lewis
Cheddie Richardson -- Cheddie is an old friend on-island, skilled sculptor and wise business person in their new Anguilla construction company.
The new company, called TurnKey Construction, will bring advanced and green building technologies to Anguilla. Our home will be built out of ICF, a remarkably strong, fast and energy-efficient way to build a concrete tropical house. More on ICF and concrete homes later.