Our Anguilla Home's Second Floor ICF Walls
The second level has been poured, so you know what's next...
Yep, that's right, the second floor ICF walls are going up!
The construction will be very similar to the first floor ICF walls, but this time the team is on their own.
No Ernie (the ICF expert).
No help.
No ongoing advice.
Never fear, I have the most faith in Mike & the team!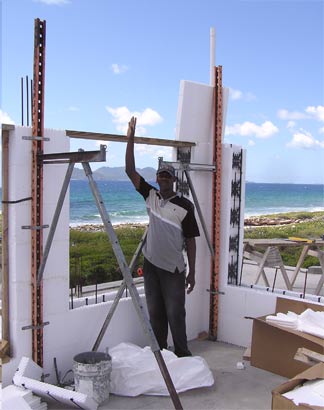 Curtis & Boxes of ICF
They reviewed the notes that they took during the first floor ICF work with Ernie.
Focused and confident, they opened the container.
Out came the blocks, and the assembly began.
Row by row they erected the blocks.
Simultaneously, Freddie, our electrician, and Vanti, our plumber, followed suit and worked on their installations...
The plans came right off the paper and materialized into 3D...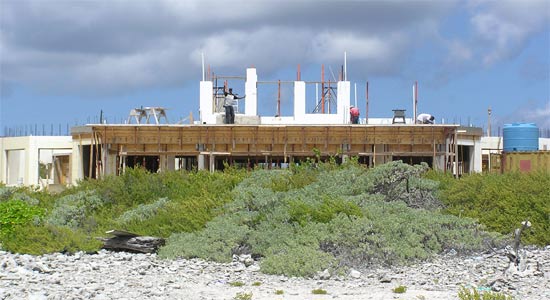 Mike and I spent a lot of time discussing and re-discussing the window layouts and sizing. No window was left unexamined. From the sills, to the heads, to the sides, everything was considered.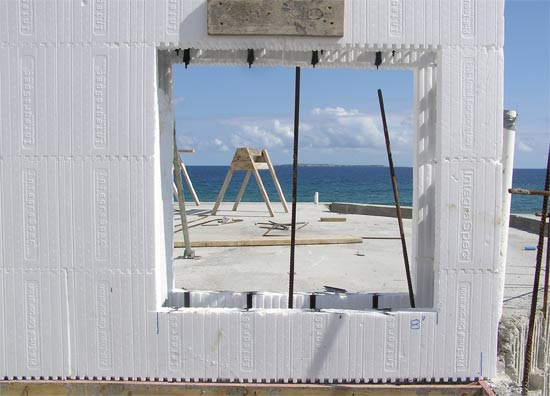 The second floor offers panoramic views, so it's hard to go wrong, but we are working for perfection! ;-) I visualized Janice and I waking up to watch the sunrise from the comfort of our pillows. Mike and I work to adjust the window sills so they will deliver just that.
At the time, there was no bed for the fitting session, so we mocked one up with lumber and plywood. Not quite orthopedic, but good enough for the job, ha ha!
To the east, there are a few obstructions that we would rather cut out of our view, so we worked to edit them out, too. And then, you can't ignore the spectacular mountain views of St. Martin. We had to make sure to give them justice!
Like with the first floor, we tweaked the heads of the windows so they wouldn't cut off the peaks of St. Martin. If we had followed the architectural plans our St. Martin views would have been half of what they are now.
The team has worked on many construction sites, but they have never seen things done like this before! Attention is paid closely to each and every, last detail. In the end, these changes will all shine through. :-)
The order of ICF was a touch short on some of the corner panels, but the guys never fail to amaze me. They figured out ways to rework things with what was available on hand. Wow!
Once the last block is placed, the inspection is made and the last wall pour begins...
The team moves more slowly than the first time around, trying to detect any weak spots in the formed wall.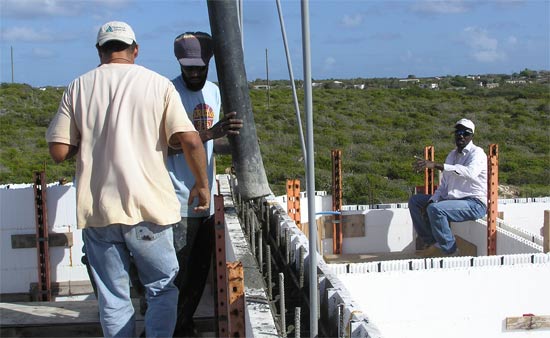 Before we know it, the pour is over.
Everyone breathes a heavy sigh of relief. Today, the team all became certified ICF installers. Congratulations all around!