CGI Hurricane Windows & Doors
Choosing hurricane windows in the Caribbean is not a straight forward decision.
On the list of considerations, storms and salty sea blasts are high up there!
These are the realities of building in a hurricane zone (Anguilla), but also building on the windward side of the island where the prevailing winds and waves are the strongest for most of the year.
Decision #1: Shutters over regular windows? Or impact resistant hurricane rated windows and doors?
Typical windows and doors are constructive from a variety of materials such as wood, alumnium, PVC, and fiberglass. Hurricane windows and doors are mostly constructed from either PVC or alumnium.
We opted to use hurricane windows for two reasons...
#1) We did not want to install, take off and re-store the shutters every time there was a possible storm approaching. It is also hard to find help preceding a hurricane warning since most people are scrambling to prepare their own or their family's homes.
#2) Although we could have used the roll up type shutter and avoid this hassle, we didn't see it as a real option for us since the boxy cases did not fill well with the design of the house. We also deduced that the roller type shutters have more moving parts which translates to a greater possibility of break downs, especially in areas where there is a generous amount of grainy salt being deposited on all exterior surfaces on a daily basis.
Once our decision was narrowed down a bit, I planned a quick visit to Miami with Mike to visit various manufacturers.
Florida's building codes, especially Dade County's, have the most rigorous of all the building codes when it pertains to building for hurricanes. We can say that they have had their share of hurricanes and have learnt lessons with each one. Each time they learn to improve construction methods and products. Although we considered using PVC frames, which offer no corrosion, we finally decided on aluminum.
Frames constructed from aluminum offer higher wind load ratings than PVC. PVC has a tendency to flex more therefore the design spans are restricted. Our hurricane windows and doors were big and wide so the decision here was a quick one. Aluminum.
It also, generally, gives a better overall finish.
To help combat the corrosion factor with alumnium hurricane windows, we took an upgrade on the paint that coats the alumnium so that it can better withstand the salty air. There are quite a few companies that are on the Dade County list of approved manufacturers.
After visiting a variety of factories, we selected CGI Windows and Doors to prepare our order. These frames are built tough. Their focus is more geared for commercial rather than residential applications. The gauge of the extruded alumnium is much thicker and all the hardware is stainless steel.
We have two openings that are 8' high by 20' wide and many of the other openings are between 6' and 8' wide. So, we felt more confident using this top of the line manufacturer!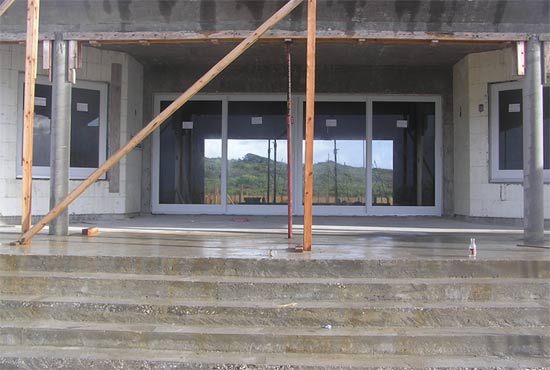 We selected a tinted glass for additional filtering of sunrays. The glass in the window frames are actually two sheets of glass laminated together with a vinyl membrane in between.
What this does is that if the window breaks the membrane in between the glass remains intact and connected to the frame, and does not allow for hurricane winds and rain to enter the house.
There is a ton of reading that one can do when selecting the windows and doors they want for a home. It is time well spent not only aesthetically speaking, but also for the safety of your family and our home.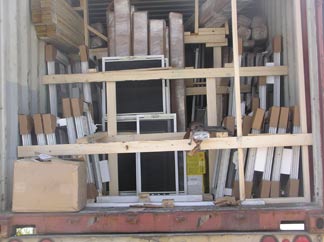 We needed a complete 20' container to ship our order.
We were very impressed with the way that CGI packed everything for us.
That container, filled with glass, could have gone around the world without experiencing a break or a rub wear.
Here Comes The Container...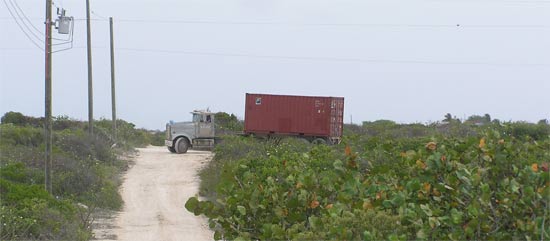 Ta-Da!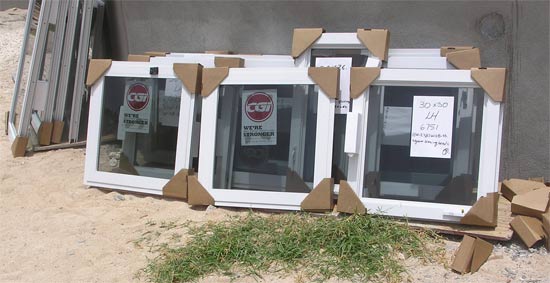 The team installed the hurricane windows, but just to be sure Mike brought in John, a CGI factory trained installer to overlook the installation and make sure everything was done to spec. Mike thinks of it all!
John and Toby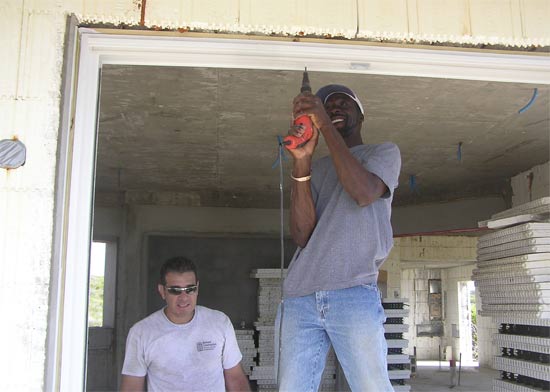 Inside Shots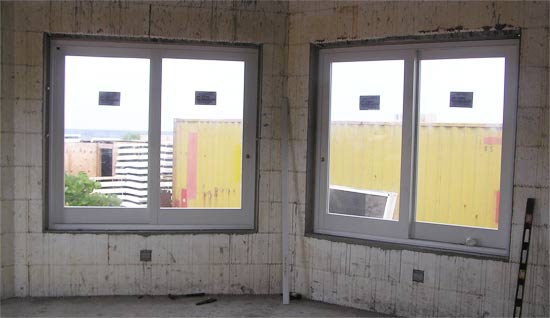 The Finished Product!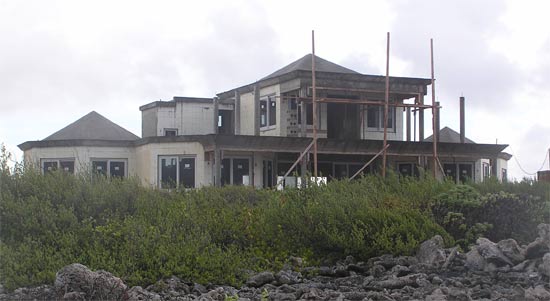 The house is completely closed in now. I still can't believe how cool it feels here. The ICF is doing one heck of a job keeping the heat out.