One Year Later...
Thoughts On Our New Anguilla Home
"Building a home in Anguilla?" I can still hear the dubious questions ringing in my ears. "From Montreal?" Even close friends looked at me a little quizzically.
I'd heard many nightmare stories from friends who'd tried to build a home in Canada, let alone build one in Anguilla from thousands of miles away?
It turned out to be one of the most interesting and rewarding experiences of my life. At that time (pre-recession), the island was white-hot. Every builder was busy. I also wanted to build an eco-friendly home, using ICF construction, something no one had done on the island.
Ultimately, that led me to Mike Vallinis in Montreal. And that led Mike to Anguilla and to a friend of mine and a future partner of Mike's, Cheddie Richardson (artist and restaurateur).
And so TurnKey Construction was born.
Throughout the 18-month construction of our Anguilla home, I got to know everyone on the core construction crew as well as the sub-trades. While our tropical family home was being built, I watched TurnKey evolve.
The crew members forged a bond of mutual respect and a common love for construction. Weekly after-work barbecues and fishing excursions became rituals.
The strongest bond was the one between Toby Proctor and Mike. Mike and Toby both had extensive construction backgrounds, totaling more than 45 years of construction experience.
Both are perfectionists, taking great pride in their work. "Good enough" is a phrase I'd never hear from them. Toby became the team leader and main carpenter at the site. Each learned a lot from the other. And Mike had found someone just like him to work with.
Not all of the original crew survived Toby's and Mike's rigorous requirements. Replacements and the team worked more efficiently and to higher standards, as Mike and Toby led by example.
That top-quality-and-attention-to-details attitude spread to the sub-trades as well, who understood that "good enough" would not, in fact, be good enough.
After our home was completed, the TurnKey Construction crew and sub-trades moved on to their next project, a family home overlooking Katouche Bay, which is rapidly moving ahead. Here's a picture of them in front of their second site near Katouche Bay...
The TurnKey Team: (Mike and Toby front left, with
Curtis, Greg, Major, Freddie (electrician), Skibby (plumber) and sub-trade assistants)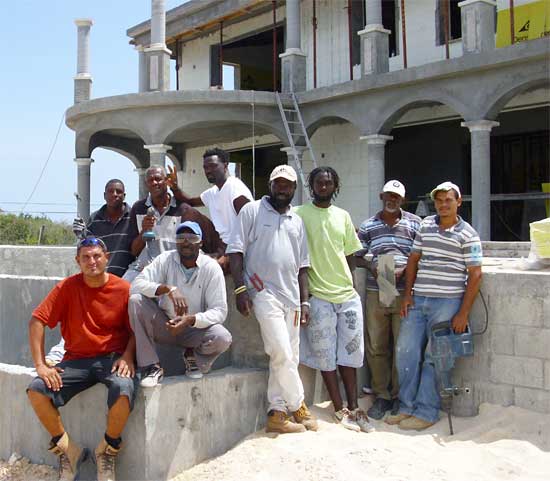 Real estate agent friends of mine, both here and back in Canada, tell me ours is the very rare story where the builders (Toby and Mike and crew) and the client (Evoy family) became best of friends, especially when the home owner is thousands of miles away...
They drop by to say hello regularly. We had a wonderful BBQ dinner to christen the genuine Anguillian charcoal BBQ. I'm not particularly handy and they know that. They'll help out with little things, Mike included.
One year after moving into our new home, I can only ask myself, "what took us so long to do this?" If I had known how smooth and special the experience was going to be, we'd have done this a long time ago.
We're home. In Anguilla :-)